Come join me for the trip of a lifetime! We'll spend 16 days on a Himalayan adventure that is sure to check an item off your bucket list. Explore the cultural city of Kathmandu, take a helicopter ride to the Himalaya mountains, and trek to Everest Base Camp. Experience Sherpa culture, taste traditional Nepali cuisine, and visit a Tibetan Buddhist monastery.
Nepal is home to eight of the fourteen highest mountains in the world. On this route, you'll be able to see four of them including Everest, Lhotse, Makalu, and Cho Oyu. You'll also get incredible views of Ama Dablam which is known as the Matterhorn of Nepal and is a crowd favorite due to its unique shape.
Come experience Nepal with expert local guides from Beyul Travel & Treks and me, Michelle from Full Time Explorer, as your host!
---
Why Nepal?
---
It was five years ago that I came to Nepal for the first time and trekked to Everest Base Camp. I was quickly won over by the country and its people who were often described to me as the friendliest in the world. Between the views and the incredible hospitality, I knew I wanted to return. But coming back once wasn't enough. I came back every year after that trip, met my husband who is Nepali, got married here, and now I live here! I love sharing my world with others and can't wait to introduce them to the country that I now call home.
---
Trek Overview
---
Dates: October 9th – 24th, 2022
Available Spots: 12
Difficulty Level: Strenuous
Max Altitude: 5,644 m (18,517 ft)
---
Cost: $2975 USD per person
---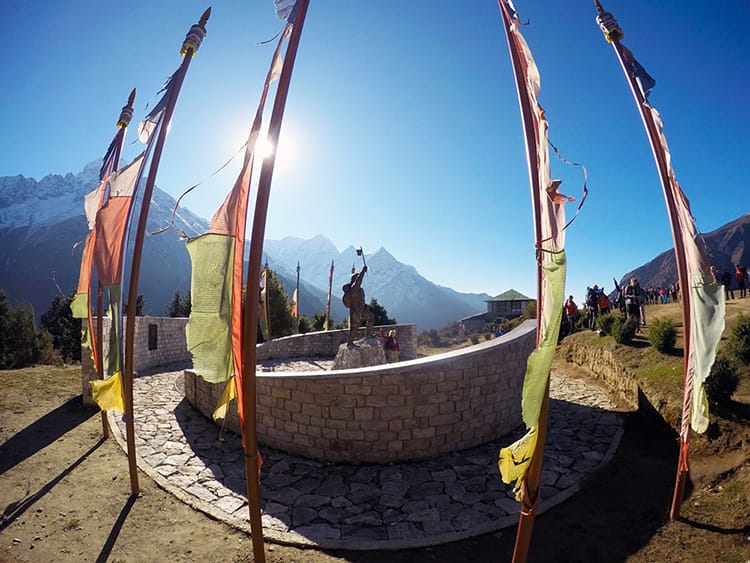 ---
16 Day Itinerary
---
Day 1 – Arrive in Kathmandu (1350 m)

We'll pick you up at the airport and get you settled into your hotel. If you need to do any last-minute shopping, today is the day. We'll have a welcome dinner in the evening to get to know each other and to go over the trip before takeoff the next day.

Meals Included: Dinner

Also Included: Airport Pickup
Day 2 – Fly to Lukla by helicopter and hike to Phakding (2800 m)

We start the day off early with an epic helicopter ride to Lukla Airport. If the skies are clear, you'll be able to see the Himalaya mountains from above. After arrival, we'll meet the rest of the team and begin to trek along the gorgeous Dudh Kosi River. Today, we'll walk about 3-4 hours.

Meals Included: Breakfast, Lunch, Dinner, 2 Cups of Tea/Coffee, 3L of Water

Also Included: Helicopter Fare
Day 3 – Trek to Namche Bazaar (3400 m)

Day 3 is the first full day of trekking. It takes about 8 hours to get to Namche Bazaar. Namche Bazaar is a small city on the side of a hill which is an oasis along the trekking route. Shops, restaurants, and cafes line the small streets making this a favorite among travelers.

Meals Included: Breakfast, Lunch, Dinner, 2 Cups of Tea/Coffee, 3L of Water
Day 4 – Acclimatization Day in Namche Bazaar (3400 m)

To help avoid altitude sickness, we'll spend a full day in Namche Bazaar. Our guides will take you for a short acclimation hike and to see some nearby sites including viewpoints and museums.

Meals Included: Breakfast, Lunch, Dinner, 2 Cups of Tea/Coffee, 3L of Water
Day 5 – Trek to Tengboche (3870 m)

It's a 7-8 hour walk to Tengboche which is home to Tengboche Monastery. This is a Tibetan Buddhist Monastery which was originally built in 1916. Since then, it's suffered from earthquake and fire damage and was rebuilt a few times. This is one of the most important monasteries for Sherpas.

Meals Included: Breakfast, Lunch, Dinner, 2 Cups of Tea/Coffee, 3L of Water
Day 6 – Trek to Dingboche (4360 m)

The trek to Dingboche takes approximately 7-8 hours and you'll start trekking above the treeline. On a clear day, incredible views of Lhotse and Ama Dablam await in Dingboche making the long walk worth it.

Meals Included: Breakfast, Lunch, Dinner, 2 Cups of Tea/Coffee, 3L of Water
Day 7 – Acclimatization Day – Dingboche (4360 m)

We'll spend a day acclimating in Dingboche to help avoid altitude sickness. You'll have the option to do a day hike with our guides or use this as a rest day.

Meals Included: Breakfast, Lunch, Dinner, 2 Cups of Tea/Coffee, 3L of Water
Day 8 – Trek to Lobuche (4930 m)

The trek to Lobuche takes approximately 6-7 hours. The morning hike will be fairly flat, but the altitude will make it feel more difficult than it looks. In the afternoon, we'll climb up to the top of the moraines where you'll see chortens built for those who have lost their lives during Everest expeditions.

Meals Included: Breakfast, Lunch, Dinner, 2 Cups of Tea/Coffee, 3L of Water
Day 9 – Lobuche to Gorakshep (5165 m) and Hike to Kala Patthar (5645 m)

While many groups will use this day to go to Everest Base Camp, we'll try to make it to Kala Patthar (pending weather). Our expert guides know that Kala Patthar is all the more beautiful at sunset than it is at sunrise. As long as the sky is clear, this will be our plan. Kala Patthar is a small peak located just above Gorakshep. From here you can see Pumori, Nuptse, Changtse, Ama Dablam, Taweche, Kantega and Everest! Trekking to Kala Patthar on day 9 will also help you acclimate to the altitude and make it easier to sleep in Gorakshep at night. Today, we'll walk a total of 8 hours.

Alternate Plan: If the sky is cloudy when we reach Gorakshep, we will go to EBC instead and save Kala Patthar for the sunrise.

Meals Included: Breakfast, Lunch, Dinner, 2 Cups of Tea/Coffee, 3L of Water
Day 10 – Trek to Everest Base Camp (5364 m) and back to Lobuche (4930 m)

The trek from Gorakshep to Everest Base Camp takes about 5-6 hours there and back. Many people do not realize that you can't see Mount Everest from Base Camp which is why we try to do Kala Patthar on the first day if weather permits as that is the best time to see Mount Everest. From EBC, you'll see the famous Khumbu Icefall (the most difficult part of reaching the Everest Summit), glaciers, lakes and more. After reaching Everest Base Camp, we'll head down to Lobuche for the night which is an additional 3 hours walk from Gorakshep.

Alternate Plan: If Gorakshep is cloudy when we arrive on Day 9, then we will do EBC on Day 9 and Kala Patthar on Day 10.

Meals Included: Breakfast, Lunch, Dinner, 2 Cups of Tea/Coffee, 3L of Water
Day 11 – Trek to Tengboche (3870 m)

We'll trek about 6 hours down to Tengboche for another night's stay near Tengboche Monastery and the Sherpa Heritage Foundation Museum.

Meals Included: Breakfast, Lunch, Dinner, 2 Cups of Tea/Coffee, 3L of Water
Day 12 – Trek to Namche Bazaar (3400 m)

Today, you'll descend through forests of juniper and fir. You may even see some rhododendrons in bloom which is the national flower of Nepal. The walk to Namche is 6-8 hours, but arriving in the bustling village will be worth the long days of walking.

Meals Included: Breakfast, Lunch, Dinner, 2 Cups of Tea/Coffee, 3L of Water
Day 13 – Trek to Lukla (2860 m)

It's your last day of trekking with an 8 hour walk to Lukla. Here you'll get to say goodbye to the guides and porters with a celebratory dinner. Enjoy the small village of Lukla which offers cafes, restaurants, and wifi.

Meals Included: Breakfast, Lunch, Dinner, 2 Cups of Tea/Coffee, 3L of Water
Day 14 – Fly to Kathmandu by Plane (1350 m)

We'll leave early to catch a flight back to Kathmandu (or Ramechhap Airport with an additional 5 hours drive to Kathmandu depending on the government policy). If the flight is not delayed or pushed back a day, you'll have the afternoon in Kathmandu to explore or relax after completing the trek. Many people opt to go to the spa to get a trekkers massage, while others see what the city has to offer.

Meals Included: Breakfast

Also Included: Airplane Fare
Day 15 – Contingency Day (Tour of Kathmandu)

If our flight leaves Lukla on day 14, then day 15 will include a tour of Kathmandu. We'll see a few of the major sites while taking in the Newari architecture and rich culture of the city. In the evening, we'll see a cultural dance and eat authentic Nepali cuisine during the farewell dinner where you get to say goodbye to your senior guide and host as well as your travel companions!

Meals Included: Breakfast and Dinner

Also Included: Half day tour of Kathmandu with transportation (if time permits), guide and entry fees

*Contingency day- Weather conditions in the Himalayas are unpredictable. It may change suddenly resulting in the cancellation of flights to and from Lukla, delaying the trek. We always have one extra day as a contingency day which will be used in case of any unforeseen situation caused by weather or others. This will not only ease your trek experience but also save your international flight shift or cancellation cost.

Please be informed that Kathmandu-Lukla-Kathmandu flights could get delayed depending upon the weather condition. There are cases where flights are delayed for a few hours or even days. Be prepared for such long waits at either place. We will do our best to avoid such situations. By taking a chopper to Lukla, this should cut down the chances of having the flight canceled on the way there.
Day 16 – Depart Kathmandu

It's time to catch your international flight back home or head off to your next destination.

Meals Included: Breakfast

Also Included: Airport Drop-off
---
What's Included
---
Included
Expert pre-trip advice
Professional local guides (Trekker to guide ratio 4:1)
Porters who will carry most of your belongings along the trekking route. They will carry up to 12.5 kgs per guest. You only need to carry a daypack and water. (Trekker to porter ratio 2:1)
An English speaking host
Airport pickup and drop-off
3 nights single occupancy accommodations in a 3-star hotel in Kathmandu which includes breakfast. Many tour companies put trekkers in shared rooms in Kathmandu, but we want you to be comfortable before and after your trek. If you are a couple or friends who want to share a room, please let us know in advance.
3 breakfasts and 2 dinners in Kathmandu
Helicopter Charter from Kathmandu to Lukla.

Helicopters have a better chance of flying out than planes which are more likely to have flight cancellations or delays due to weather.

In the past, the government has relocated the takeoff point for flights from Kathmandu to Ramechhap Airport which is a 5-hour drive from Kathmandu, however, helicopters can still fly out of Kathmandu. This saves us an early wake up call, a long drive on a bumpy road, and extra unwanted hassles on your first day.

This also gives you the incredible chance to see the Himalayas from above on the first day! Not a bad way to start your much deserved vacation!

Airfare from Lukla to Ramechhap or Kathmandu on a plane. If flights are rerouted to Ramechhap Airport, your transportation to Kathmandu will be arranged in a comfortable vehicle.
Sagarmatha National Park fees and Khumbu Pasang municipality fees
12 nights double occupancy (shared room) accommodations along the trekking route as indicated on the itinerary.

Three meals a day along the trekking route – you can choose what you like from the teahouse menus.

3 liters of boiled water a day (We use boiled or purified water rather than bottled water, as it creates tons of plastic waste in the mountain, and we don't want to pollute the Himalayas)

2 cups of tea or coffee a day

Guide/porter wages (also includes meals, equipment, and insurance for the staff)
Not included
Nepal visa fee
Excess baggage charge
Private transportation (apart from those noted in itinerary)
Extra night accommodation for early or late arrival, departure, or early return from this trek
International Flights
Meals in Kathmandu that are not mentioned above
Travel and rescue insurance (required for this trek)
Any medical expenses including, but not limited to emergency helicopter evacuation, hospital stays, etc.
Personal expenses (phone calls, laundry, bar bills, hot showers, extra water, extra tea or coffee, extra porter charge)
Tips for the staff. If you are happy with the service we recommend 5% which will be divided among the guides and porters.
---
Everest Base Camp Difficulty Level
---
This treks difficulty level is strenuous and reaches a max altitude of 5,644meters (18,517 feet) at Kala Patthar.
This trip includes 12 days of trekking up to 8 hours a day in the mountains at high altitude. You need to be in excellent health to complete this trek. If you have any health concerns, please consult a doctor before signing up.
Altitude sickness is a possibility along this route. The trek route is planned to help prevent this from happening, but it is still possible.
Teahouses are basic accommodations that typically have shared bathrooms. They are a step up from camping, but you should not have high expectations for the lodges.
---
Trek Challenges
---
The Everest Base Camp trek is a high-altitude trek which means that trekkers can experience high altitude sickness/AMS (acute mountain sickness).
Weather in the mountains can change quickly which can cause flight delays to Lukla Airport.
The number of views you will see depends greatly on the weather when we go. October is peak season and has the best chance of good views, but it's not guaranteed.
Peak season sees a high number of trekkers, yaks and mules along the dusty trekking trail.
Long days of walking are required for this trek and being in good physical shape will make the trek more enjoyable.
---
Cancellation Policy
---
Please note: We require all guests to have travel insurance. We recommend purchasing one with trip cancellation coverage. If you need to cancel, you can file a claim with your travel insurance as long as the cancellation reason is covered.
The clients shall notify Beyul Travel and Treks in writing of any cancellation prior to the minimum notice dates (60 days before arrival), otherwise, a late cancellation charge will apply as follows:
40% of the total quoted amount to be charged for cancellations within 60 days prior to the arrival.
60% of the total amount will be charged for cancellation within 30 days prior to the arrival.
100% of the total amount will be charged for cancellation within 7 days prior to the arrival.
If you leave a trip for any reason after it has commenced, we are not obliged to make any refunds for unused services. If you fail to join a trip, join it after departure, or leave it prior to its completion, no refund will be made.
---
Trek Requirements
---
All participants are required to have travel insurance. Your travel insurance must provide cover against personal accident, death, medical expenses and emergency repatriation with a recommended minimum coverage of USD $200,000 for each of the categories of cover. It must cover trekking up to 6,000m and helicopter evacuation. We also strongly recommend it covers cancellation, curtailment, personal liability and loss of luggage and personal effects.
You must provide your travel insurance policy number and the insurance company's 24-hour emergency contact number on the first day of your trip; you will not be able to join the trip without these details. I recommend World Nomads, but you should read the entire policy and make sure it is right for you prior to choosing a company and plan.
---
How to make the most out of your trek
---
You should be fit enough for the trek. Training at home ahead of time will make the trek more enjoyable.
Always start your day early

Reaching destinations by 2:00 pm allows you to rest or go for a walk and explore the surrounding areas.
Increases the chances of wildlife sightings as you will be the first one on the trail before it gets disturbed by other trekkers.

Try not to miss the sunrise and sunset over the majestic mountains.
Try to observe local culture, tradition, lifestyle and religion as much as possible.
Have a good appetite and eat healthy food. Avoid alcohol and smoking.
Keep your guide up to date on your health status (like headaches, upset stomach, etc.), so that they can take necessary actions.
Hiking in the Himalayas shouldn't be a competition. Follow your own individual pace.
Have proper hiking gear including broken-in boots.
Be open to last minute changes. Nepal is unpredictable and changes to our plan sometimes need to be made without notice.
---
Things to Note
---
Please note that the nature of this type of travel requires considerable flexibility and you should allow for alternatives. The itinerary provided for each trip is representative of the types of activities contemplated, but it is understood that the route, schedules, itineraries, amenities and mode of transport may be subject to alteration without prior notice due to local circumstances or events. While we try to operate all trips as described we reserve the right to change the trip itinerary.