Travel insurance for trekking in Nepal is an interesting topic. A lot of people think they won't need travel insurance, and they might be right. Having trekked in Nepal on three occasions, I only needed my insurance once for trekking purposes. But, there were several times on each trek when I was so thankful I had insurance. So, for the people who might be wondering about what could go wrong on a trek, and why insurance is valuable, I figured I'd go ahead and share my personal experiences from different treks. I use World Nomad for every trip, and highly recommend them for travel insurance for trekking in Nepal, so I'll be referring to their policy.
As a little background information, World Nomad offers two different policies. The "Standard" plan currently covers trekking up to 6,000m while the "Explorer" plan covers trekking up to 7,000m. It's very important to know the highest altitude you'll be at prior to purchasing your plan. In the past, I always purchased the "Explorer" plan because it covers almost anything you could imagine including Muay Thai. This year will be my first year getting the "Standard" plan since I don't anticipate going over 6000m.
Why I Use World Nomad
---
I'm going to be honest here. The first time I bought travel insurance was when it was required for my trek to Everest Base Camp. After doing research, I realized that it covered "Trip Cancellation" if someone in your family was extremely ill. My dad was sick at the time, and I knew there was a very real possibility that I might need to end my trip early. World Nomad gave me my money back for a flight I had scheduled from India to Nepal and for the unused Nepal tourist visa I paid for. They also paid for my flight back home. In total, I was given over $900 to ensure I could see my dad before he passed away. They never fought with me or denied my claim. I submitted the paperwork, and a month later a check arrived in the mail.
After having such a good first experience, I went ahead and booked them for my second trip. Since I never made it to Nepal on the first go, I went back and had to get insurance for the same trek to Everest Base Camp. This time, I ended up in the hospital with a $250 bill due to pneumonia. Again, they paid in full with no argument. I swear the receipts the hospital gave me looked like they were for groceries, and they still accepted them.
On my third trip, I had a Muay Thai accident which resulted in a few x-rays and some physical therapy. I also had a severe case of food poisoning that resulted in two trips to the hospital. All of it was covered by my insurance.
---
Why Get Travel Insurance for Trekking in Nepal?
---
When I first started out, I was required by my trekking company to get insurance. Now, even though I trek without a tour company, I still get insurance. Nepal is a developing country and a number of things can go wrong there that you would never consider back home. It's also important to note that most of these trails do not have access to roads, so getting help or medicine can be difficult.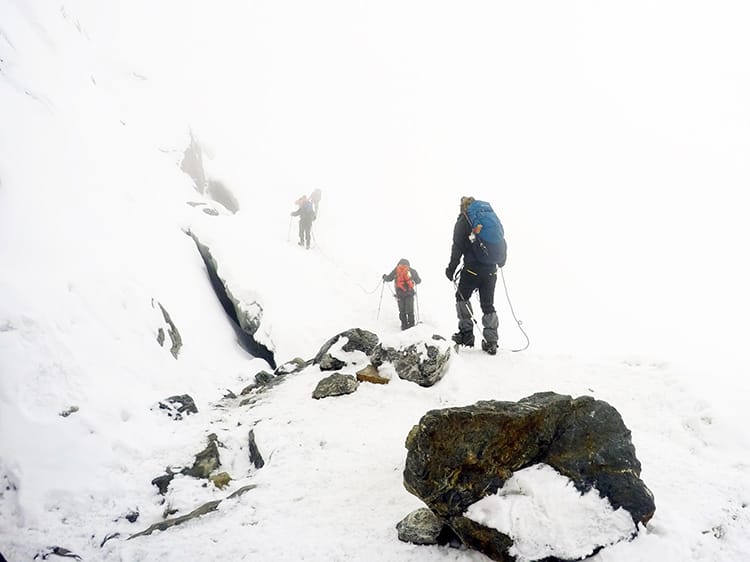 Food Poisoning, Dysentery, or Traveler's Diarrhea
A doctor told me that 80% of people traveling to Nepal will get traveler's diarrhea. This might be an overshare, but I've definitely had this experience several times. Half my trekking group had traveler's diarrhea and two were lucky enough to have food poisoning on the way to Everest Base Camp. While most people can stay put and manage these issues in a comfy hotel, it's a little hard to do that on a trek. The bathrooms are very basic, there's no heat in the rooms, and it's not a super comfortable place to rest and get better. Not to mention, it's easy to get dehydrated at altitude. Having food poisoning, dysentery, or diarrhea will only add to the problem. If you needed to go to a hospital for fluids, you would need to walk back downhill (possibly for days) or be helicopter evacuated to Kathmandu.
Altitude Sickness
I'm rarely ever in a rush, so I'm big on adding several acclimation days to each trek. I find it's a great way to take in the culture instead of just rushing past everything. I do understand that not everyone has all the time in the world, and they might be on a time crunch. Therefore, altitude sickness is fairly common among trekkers in Nepal.
In simplest terms, altitude sickness is caused by the lack of oxygen your body experiences at altitude. If you ascend slowly enough, your body is able to acclimate, however, if you ascend too fast you may get ill. The first signs are a headache and vomiting. From there it worsens and can result in death. The easiest cure is to simply descend. On some treks that's very easy, but on the Everest Base Camp Trek there are days when you walk for hours and end up at the same altitude. If you are unable to descend and your condition worsens, you may need a helicopter evacuation.
On my trek to Mera Peak, I experienced altitude sickness, and it's no joke. I felt like I'd been hit in the head with a baseball bat repeatedly. I could barely walk straight and couldn't think. Luckily, I was able to descend 500m in less than an hour, so a helicopter wasn't necessary. Had I gotten any worse, I would have needed to be evacuated.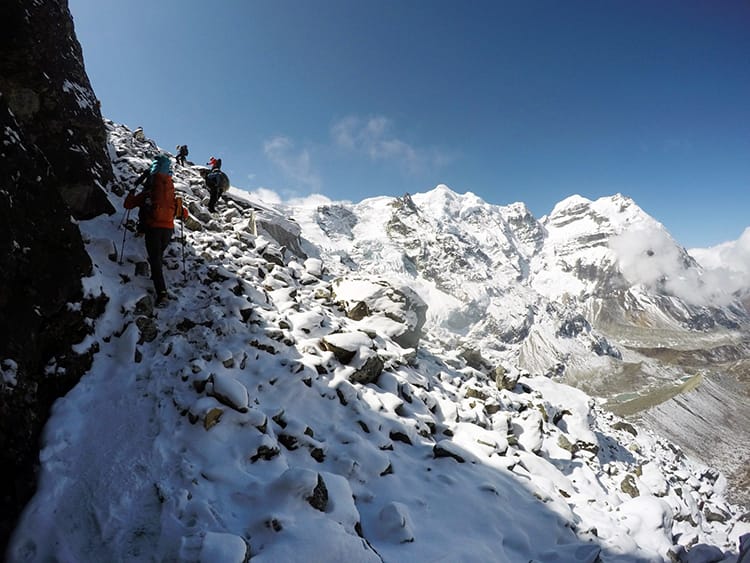 The Common Cold, Pneumonia, Etc.
On my first trek, I actually got pneumonia. I thought I had a cold, but after I returned from my trek, I never got better. The insurance paid my $250 hospital bill which included two nights and three days in a local hospital. While that isn't a lot of money compared to the U.S., I didn't have to worry about the bill when I checked myself in. It was a huge relief because I was worried enough about being in a hospital by myself in a foreign country. Not worrying about how to pay made me feel better at the end of the day.
Twisted or Broken Ankle
As a very very clumsy person, my worst fear is always that I'll either sprain or twist my ankle. Trekking trails are not neatly paved roads. They're covered in rocks, and they get slippery in the rain or snow. I'm amazed I haven't tripped more often. I recommend trekking poles for anyone as accident prone as myself. But, if I did trip, I honestly can't imagine walking hours every day to get to safety. Being able to call a helicopter without the fear of a $5,000 (or more) bill is calming. I hate stressing about things that haven't even happened yet.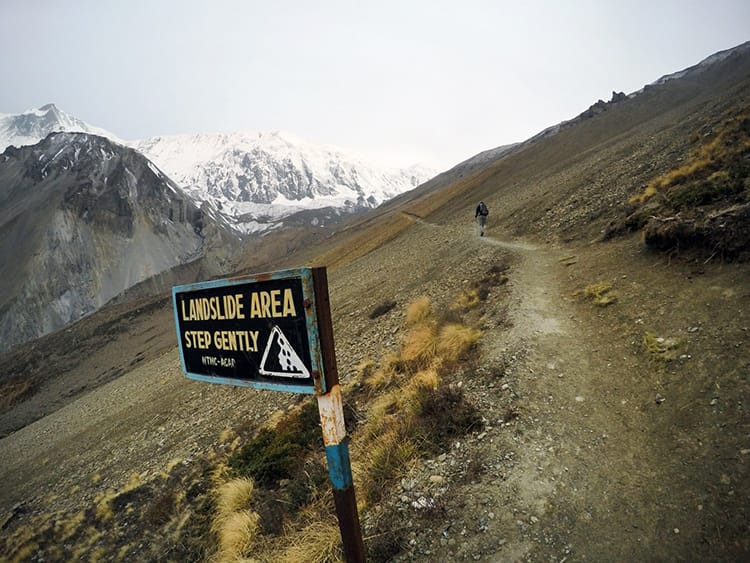 Natural Disasters
If there is a natural disaster while you are in the country, World Nomad might pay for you to go back to the U.S. This is if the local authorities or the U.S. government declares it is unsafe to remain in the country. Nepal is infamous for its recent earthquake. Even though it's rare that an earthquake is that devastating, it's nice to know you would have a safe way to evacuate if needed.
Things We Don't Like to Think About
This is one of the points I hate to even mention, but in the rare case that you pass away while traveling, World Nomad will actually have your remains sent back home. As morbid as this is to talk about, I always send my mom a copy of my policy so that she doesn't have to worry about paying for anything like that. If I were to be very ill in another country's hospital, they would also fly someone out to be with me after a certain amount of time. I believe my policy states that I can have someone visit if I'm in a hospital for 7 consecutive days (and need to remain there longer).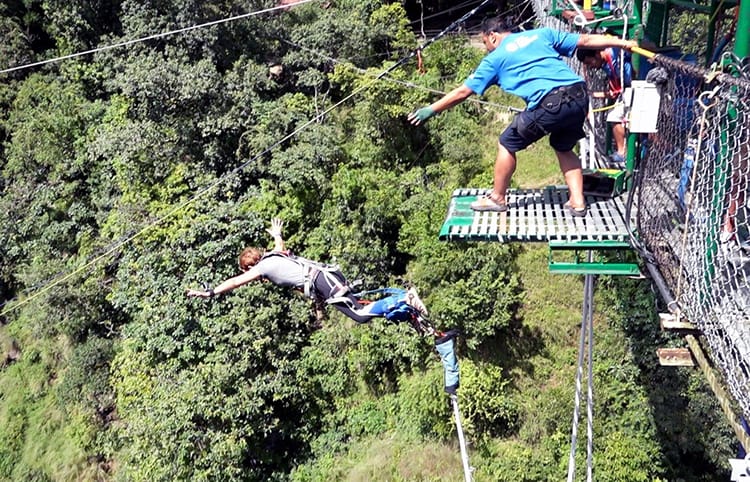 Insurance Outside of Trekking
---
I personally get insurance to cover my whole trip, but I'm aware that I tend to do things not every tourist does. Most people don't go bungee jumping, paragliding, muay thai fighting, riding on motorbikes, and trekking in the same month. I want to try everything once so that I can tell my readers what's worth doing and what's not. Most people could just get insurance for their trek and be fine the rest of the time. I like the feeling of security I get when I'm covered the entire trip.
---
Things to Know Before Buying
---
Regardless of which insurance company you choose, I can't emphasize this one sentence enough. Please read the ENTIRE policy before buying it. If you do have to file a claim, you need a lot of proof to show that you should be reimbursed. Put everything on your credit card. This is the best way to show that you paid. Get receipts for everything. And, always try to call your insurance company prior to doing something. For instance, I called World Nomad prior to flying home to see my dad to make sure I was covered and to ask what items I needed to send them.
My insurance policy is for a U.S. citizen, age 30, headed to Nepal in 2019. It is important for you to read your policy fully prior to purchasing it, as yours may vary from mine. The information provided above is based on MY policy with World Nomad at the time this blog post was written.
---
How much is travel insurance for trekking in Nepal?
---
Insurance quotes depend on a few things like the country you're from, how old you are, and where you're going. As a 30 year old American going to Nepal to trek below 6,000m for 2 weeks, it only cost around $75. When I got sick on my Everest Base Camp Trek, I was given $250 to pay my medical bills, so it was worth it.
I prefer to cover my entire trip because I like to feel safe. I often find myself on the backs of motorbikes, hiking, or doing adventure sports, so paying for the whole trip is worth it for me. For 5 months on the Standard Plan, I usually pay around $500.
You can get a quote within second by filling out the box below!
Thinking about getting travel insurance for trekking in Nepal? Feel free to ask me any questions about my experience in the comments!
---
You might also like…