Two years ago, I saw a fortune teller in Nepal who was oddly accurate when describing me. Not to mention, a lot of what he said about the immediate future has already come to fruition. Knowing about my run in with the fortune teller, my boyfriend (now husband) mailed me the book A Fortune-Teller Told Me by Tiziano Terzani as a birthday gift.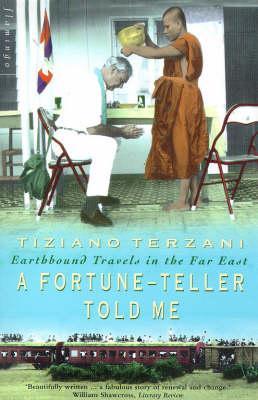 ---
A Fortune-Teller Told Me is the true story of journalist Tiziano Terzani who was told by a Chinese fortune teller in 1976 that in the year of 1993 he must not get on any kind of aircraft. If he did, he would surely die. Not believing much in fortunes, he went on his merry way. As 1993 got closer, he couldn't help but wonder if the fortune teller was right. Most of the world wouldn't have a hard time avoiding flying for a year, but as a foreign correspondent based in Asia, Mr. Terzani's job involved getting to news stories all over the Asian continent in a timely manner. After making the final decision not to fly, and to only travel by land or boat for an entire year, his journey began.
How wonderful it is to mix with a crowd as an ordinary traveler, free from one's own role, from one's self image, which at times can be a cage as tight as that of the body.
Instead of just going about his normal routine of reporting, he decided to have his fortune told by the most famous, outlandish, or interesting fortune tellers in every country he visited. As a true skeptic, he isn't quick to believe that any of the seers have true powers. Only a select few are able to impress him.
It seemed to me that the point of traveling is in the journey itself, not in the arrival; and similarly in the occult what counts is the search, the asking of questions, not the answers found in the cracks of a bone or the lines in your palm.
But the fortunes aren't the only premise of this book. What's truly intriguing is the authors way of noting the history of each country he goes to and how the belief of fortune tellers and astrologers has shaped the country.
In Myanmar, one of the things you notice when traveling is how they drive on the right side of the road, however the steering wheel in the car is also on the right side. Something that baffled me when I was there a few years back. One of the kings, Ne Win, was highly superstitious. An astrologer would warn him of misfortunes, but the Burmese believe that one can trick their fate. This belief is reflected all over Myanmar from how people drive to its abandoned capital city.
…Ne Win was told by one of his trusted astrologers to beware of a grave danger: a sudden right-wing uprising which would lead to his deposition. Ne Win gave orders that everyone in Burma immediately had to drive on the right-hand side of the road rather than on the left, as had been the rule since British times. The whole country was thrown into confusion, but this "right-wing uprising" fulfilled the prophecy after a fashion, and the revolt was averted.
Mr. Terzani then highlights the juxtaposition of the countries in modern times as they take on the ways of the western world and lose their cultural identity in the process. This is something I see regularly in Nepal. The more modern it becomes, the less important its traditions and culture seem to be. As if the customs are slowly being washed away.
Copying what is "new" and "modern" has become an obsession, a fever for which there is no remedy… We should all ask ourselves – always – if what we are doing improves and enriches our lives. Or have we all, through some monstrous deformation, lost the instinct for what life should be: first and foremost, an opportunity to be happy. Are the inhabitants happier today, gathered in families chatting over supper, or will they be happier when they too spend their evenings mute and stupefied in front of a television screen?
During the year of 1993, he travels to Myanmar, Thailand, Cambodia, Vietnam, Malaysia, Singapore, and Mongolia. If you've visited any of these countries, the history he describes is fascinating and not the boring kind you often find in history books. Understanding astrology in these countries opened my eyes and answered a lot of the questions I had when visiting. Strange laws and beliefs suddenly made perfect sense.
I also enjoyed hearing about what the countries looked like in 1993 when Mr. Terzani visited. In his own way, he speaks about what the future of each country holds as it modernizes. Having visited these countries in 2017-2020 I found it even more interesting to see if his predictions came true. I'm guessing he didn't realize that he himself was prophesizing the future when he wrote the book. A fortune teller of his own kind.
---
Don't have time to sit down and read a book? Check out audible! You can sign up for a 30-day free trial and get two books free by clicking the banner below! If it's not for you, you can cancel any time. This is a great option if you're on the road or commuting and want to listen as you go.
---
You might also like…