I'm officially making my mom proud by taking a class where I learn to kick some booty. I think the proper term would be "self defense", but that doesn't sound nearly as fun. Learning Muay Thai is probably one of the best workouts and therapy anyone could ask for. This form of martial arts originated in the 16th century during battles. One particular fighter was so great, that when he was captured they offered to let him fight for his freedom. After winning, he became famous and the style of fighting became popular. Now it's a sport done in front of spectators all over Thailand. Muay Thai is especially known for using many points of contact. You use everything, and I mean everything. Your knees, shins, elbows, hands, feet, and more. It's a full contact sport.
I've been on Koh Samui for a week and to be honest, I haven't done anything. I mean I went to the beach and I tanned by the pool, but I'm not really sure that constitutes having done something. Considering how I'll be spending 10 days in silence at a meditation retreat next week, I thought it would be smart to get some of my energy out. So, I finally decided to get myself together and sign up for something. Thailand is insanely cheap, but if you find yourself on an island full of tourists, you'll notice the prices of everything has been doubled or even tripled. The cheapest thing to do that still sounded fun was a private Muay Thai lesson at Yodyut Muay Thai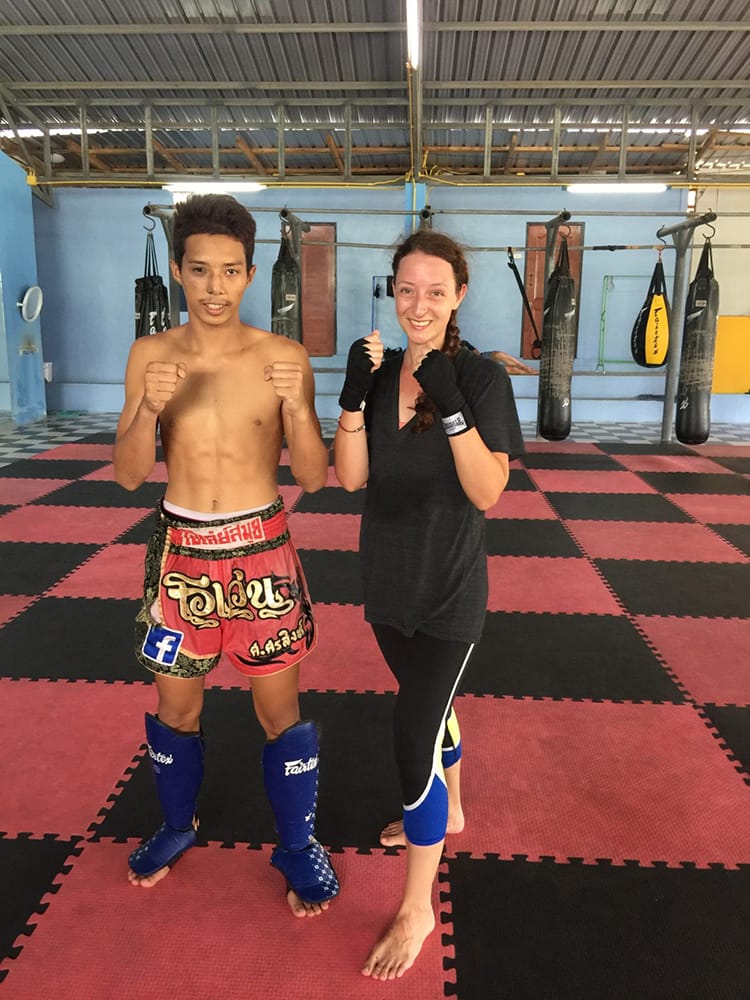 Day 1
---
The class started off with a five minute run followed by some stretches. I watched as the other students sparred with their trainers and wondered how long it would take to get to that point. The answer was just another 15 seconds. My hands were wrapped in bandages and gloves were handed to me. Having never put on any kind of boxing glove before, I struggled to get my second one on feeling a bit like the challenge had already begun. My instructor suited up in padding and told me to punch. I've never punched anything before, so my first one was atrocious. He twisted my hand to face the right way and then stretched my arm forward to show the follow through. I tried again, and a satisfying sound echoed off the padding.
"Ooooohhh" my instructor said as if to say, "I didn't know you had it in you."
Later that "ooooohhhh" was the sound he made every time I got it right. Sometimes he'd even go as far as to pretend to stumble backwards. It was pretty laughable considering how he'd been taking punches for over four years, and I'm sure mine were the equivalent of him waving off a pesky mosquito.
---
---
Next, I learned to use my elbow. This required two moves. One where my elbow went sideways and one where it went upwards. We followed that up with some knee action, blocking, and a hook. The best part was learning to kick, however, it was also the hardest. I twisted and turned and regretted eating right before arriving since I could feel my food churning in my stomach. I finally nailed the kick and another "ooooohhhh" came from my trainer. His face lit up, and I knew I'd nailed it. That was followed by a really awful kick which resulted in my trainer dropping his fight hands and just looking at me like "what was that?" We both burst out laughing, and then I did repeat kicks until I got it right again.
After learning the basics, we tapped gloves and started our first round. Side note: tapping gloves is probably the single coolest thing I've ever done in my life. My trainer yelled out "right punch, double, right knee, right elbow, punch, punch, kick! Okay. Okay" I started to get the hang of it, but it was brutal. One punch after another. Every once in a while he started to throw fake punches back. By fake punches I mean he said "duck" and slowly moved his right arm into my personal space without trying to actually hit me. Even those I found hard to avoid. The fighting was so fast paced that I can't imagine being able to think that quickly in an actual fight.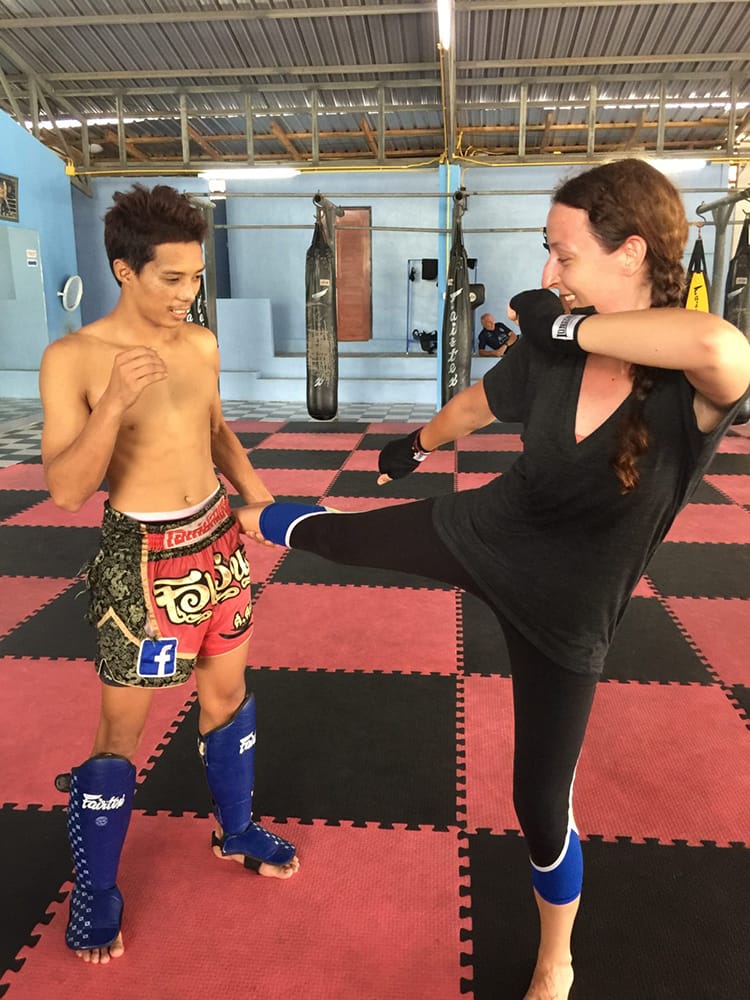 Day 2
---
I ended up enjoying Muay Thai so much that I decided to go back for round two. This time my body was heavily bruised and every muscle was sore. On day two I decided to try a group class to save some money. The class size was small, and we all got our own trainer to work with most of the time, however personal training is only an hour and group classes are two. Not only that, but we began to really spar. My trainer had previously told me where to hit him, but now it was up to me.
Every time I went to make a move he avoided it and came back to fake punch me in the face for dropping my hands. A quick way to teach me to protect my face. After I kept forgetting, I actually got hit very lightly in the cheek with his gloves, further proving that I needed to do better at keeping my hands up. Hitting him when he told me to was hard enough, but trying to come up with my own moves seemed impossible.
---
---
At some point, I was told to practice with the punching bag which I've never used before. Another trainer was nice enough to come by and show me, but it still felt like such a struggle. I looked at the clock and we were only halfway done. I literally had sweat dripping all over me. It even ran into my eyes making them sting.
Oh, and did I mention the pushups? Every five minutes or so, we got what was called a "break" where we had to do pushups and then could drink water for about 15 seconds. It was absolutely brutal. Having avoided all forms of working out for the last 6 months, this was definitely the "ripping off the bandaid" approach. Go big or go home.
After the punching bag, I was paired up with the only other woman in the class. I understand that maybe a guy wouldn't feel comfortable hitting me, but the woman I was paired with had been boxing for four months. I would have preferred a guy on his first day to a woman who, to me, felt lethal. She was extremely nice and encouraged me when we had to do some crazy exercises, but her version of going easy was a lot different than my own.
We began to spar lightly. She said, "just try to hit me" which sounds so much easier than it is. I leaned in to hit her but didn't cover my face, so her glove caught me right in the nose. It probably wouldn't have been so bad except for the fact that I had really bad sunburn. Her glove literally removed a chunk of my skin, leaving a burning sensation on my nose that lasted all day.
---
---
Towards the end, we did an exercise that I like to call "make your partner throw up." I'd like to note that this gym has only three walls and therefore no A/C. You're dripping with sweat and can't drink enough water no matter how hard you try. That said, the water sort of sits in your stomach while you workout. The last exercise was to tighten my stomach while the other girl lightly and repeatedly punched it for 60 seconds. After two hours of running around, punching, kicking, doing pushups, and chugging water, my first response was to puke. After talking to my two friends in the same class, it was theirs too. Luckily, none of us actually gagged, but it was definitely not the highlight of the class for me.
Now, while all of this sounds like I'm complaining, (Did I mention the bruises?) I actually had a really great time (and the blisters?). I've never punched anything before and the look on my trainers face and the "oooohhhhh" he made when I got it right were so satisfying. I would really like to come back and do their month long program where you train for four hours a day. I'd love to see where I start and how good I could actually get.
Have you ever tried martial arts? What was it like, and how long did you train? Spill in the comments!
---
You might also like…