Almost every tourist I talk to seems to hate Kathmandu. "It's dusty, and noisy, and there's nothing to do." It's the complaint I've heard a million times, followed by "One day is enough time there." It seems like everyone goes to the same three or four places in Thamel and considers that the entire city. But Kathmandu has so much more to offer than cheap souvenirs and a few popular temples that are flooded with tourists. The list of places to visit in Kathmandu is endless.
When I first arrived in Nepal, I had to search high and low for places to visit in Kathmandu. Being the capital of Nepal and the largest metropolitan area in the entire country (with a population of 3 million), it seemed there must be so much more to this city than meets the eye. Turns out, I was right.
Now that I live in Kathmandu, I try to update this list as often as possible.
Places To Visit in Kathmandu Map
---
Museums in Kathmandu
---
Narayanhiti Palace Museum
Price: 500 rupees (about $5 USD)
Hours: Open 11am-2pm, Closed on Tuesday & Wednesday
The Narayanhiti Palace Museum was home to the royal family until a revolution took over the monarchy in 2006. I'm not sure what I was expecting to see in the palace, but I found this museum to be extremely interesting. Unlike every other palace I've been to, this one is very modern. It was built in the 1960's and looks a bit like an episode of Mad Men inside. With its wood-paneled walls, marble tile flooring, and the smell of mothballs wafting off of old tiger skins that adorn the floor, it's unlike any place I've ever been. The throne room appears to have been designed by an admirer of Gaudi, the famous Spanish architect. Everything seems a tad out of place for a royal palace, making it all the more fun to walk through.
One of the more interesting and somewhat creepy things about this palace is that it was the site of the royal massacre. If you're not familiar with Nepal's history, it's a fascinating story. Although there are many versions, it seems that the most popular is a very bizarre love story. Prince Dipendra was madly in love with a woman whom his mother didn't approve of. One night during a monthly reunion dinner, he got extremely drunk and high and was asked to leave the party. He later came back with several machine guns and shot the entire royal family, killing ten members and wounding many others. He then turned the gun on himself. It's said that this event led to the downfall of the monarchy.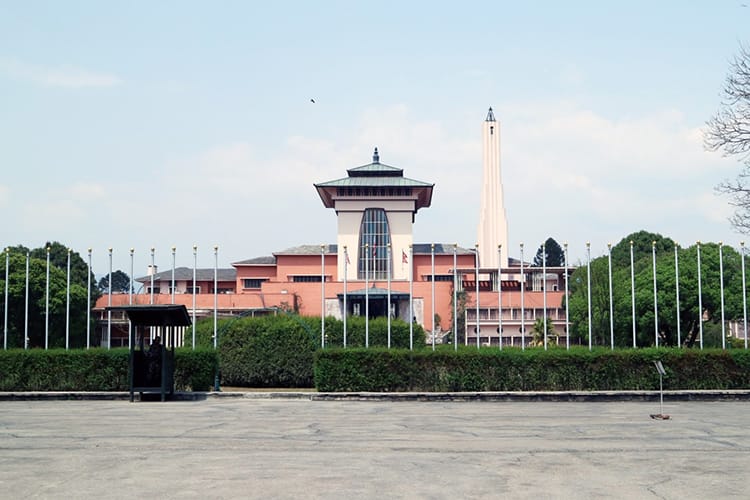 MONA (Museum of Nepali Art)
Price: 500 rupees
Hours: Daily 10:00 am – 5:00 pm
MONA is one of the newest museums in Kathmandu which features Nepali Art. It's located inside the Kathmandu Guest House in Thamel and rotates exhibits throughout the year. This means that you can keep going back to see different exhibits unlike other museums in Nepal which never change. I was pleasantly surprised by the quality of the exhibit and how it was displayed when I went. It reminded me of exhibits I'd seen in Italy and Germany which were very well curated. Although it's a small space, it's definitely worth a visit.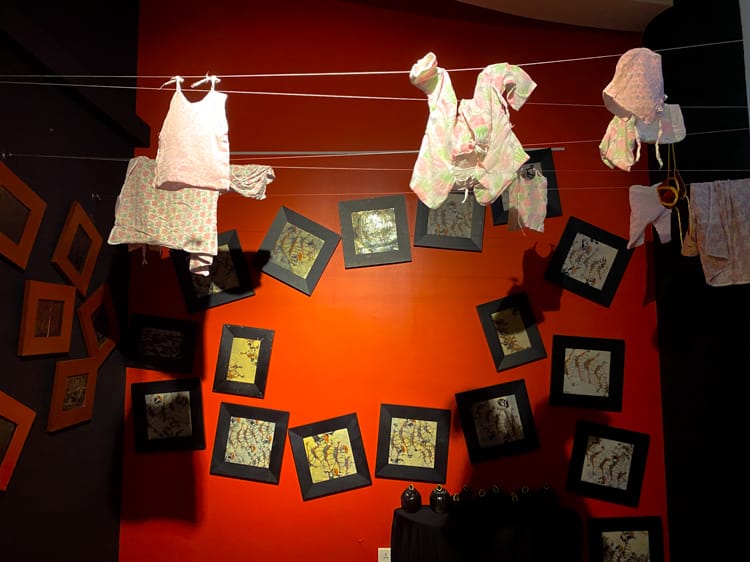 Kathmandu Art House
Price: Free
Hours: Daily 10am-5pm
Kathmandu Art House is located just behind the Kathmandu Guest House, and it has an interesting concept. Artists have rooms where they work on, display, and sell their art. The artists have very different styles ranging from modern abstract to traditional Nepali art. You can enter any room that's unlocked and admire the work. You may even get the chance to meet the artist. For one of a kind pieces, I felt the pricing was very fair and this would be an amazing place to collect art from unknown artists.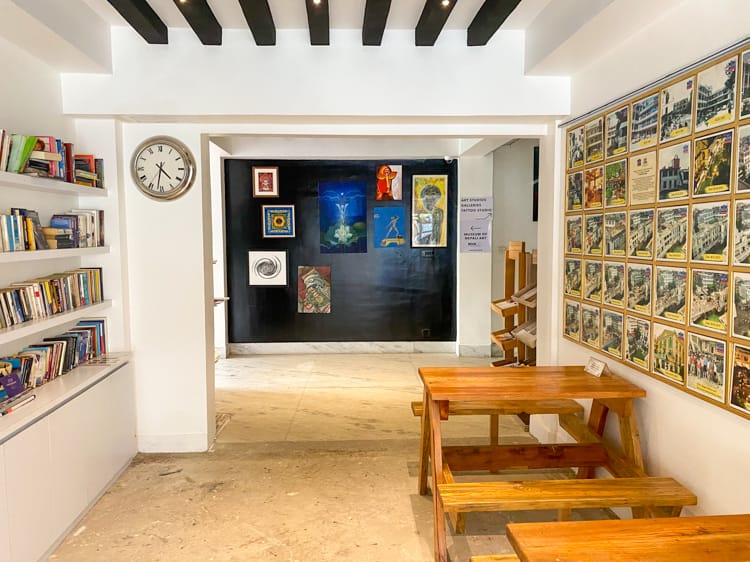 The Taragoan Museum
Price: Free
Hours: 10am-5pm, Closed Saturday
The Taragoan Musuem sits about a 10-minute walk from Boudhanath Temple (mentioned below). It's off the beaten path, and it seems few people even know of its existence which is what makes it one of the more unique places to visit in Kathmandu. While it is on the small side, it's architecture alone is worth checking out. The museum used to be a bungalow style hotel in the 70's, and it is probably the most charming building I've seen in all of Kathmandu. On display are old photos taken from the 80's and 90's plus a lot of architectural drawings of the famous buildings throughout Nepal. Best of all, it's free!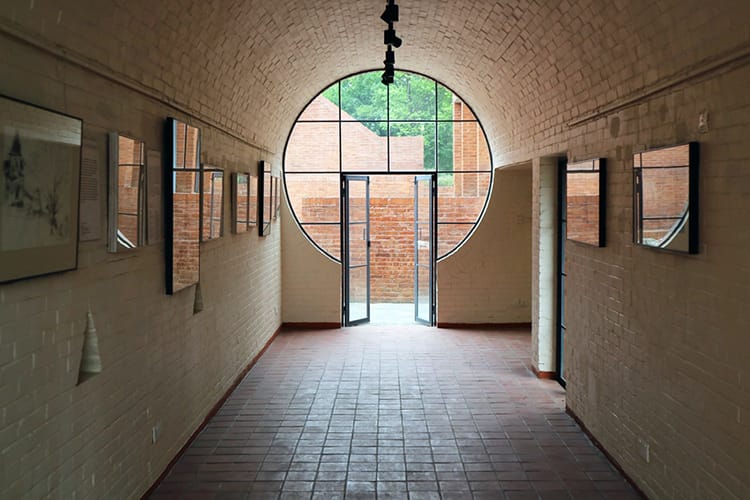 National Museum of Nepal
Price: 150 rupees (about $1.50 USD) plus 100 rupees if you bring a camera
Hours: 10:30am-3:30pm Tuesday-Sunday and 10:30am-2:30pm Mondays
If you happen to be in Kathmandu during off-season, you'll realize that there are a lot of days where rain seems to ruin your plans. Being monsoon season, I wanted to check out a few of the indoor options for places to visit in Kathmandu. The museum is about a 20 minute and a $3-$5 taxi ride from Thamel. I chose to walk which took about 40 minutes from Thamel.
The National Museum has three buildings which each have their own distinct exhibits. The first one has art which is categorized by wood carvings, stone carvings, metal work, and paintings. The second is focused on the rise and spread of Buddhism, and how it is practiced differently throughout the country. I really liked seeing the changes Buddhism took on throughout time. I've always been curious about how Buddha started being worshipped as a god when he himself never believed in gods. The final building was a bit random with some natural history and dolls depicting costumes worn in different parts of the world.
Nepalese Army Museum
Price: 100 rupees (about $1 USD) plus 50 rupees if you bring in a camera
Hours: 10am-4pm Wednesday-Sunday, 10am-2pm Monday, Closed Tuesday
The Nepalese Army Museum is right across from the National Museum of Nepal, making it an easy stop if you're already in the area. This museum is a little dense on information, so be prepared to read a lot. My favorite part was a section with large paintings depicting the history of Nepal. Each one had a few sentences below describing the war or battle and what was gained or lost. There was also a large map showing how Nepal was formed by gaining land throughout the years. I still need to read a lot to understand all the history, but it was a nice overview.
A large portion of the museum is dedicated to the kings and leaders of the military. Each important figure has a large photo with their story next to it. There was also a section about military clothing, weapons, and awards. These sections had less writing, and I would have liked to see more translated to English. Overall, it was a cool way to understand a little bit more about Nepal's past and how it came to be the country it is.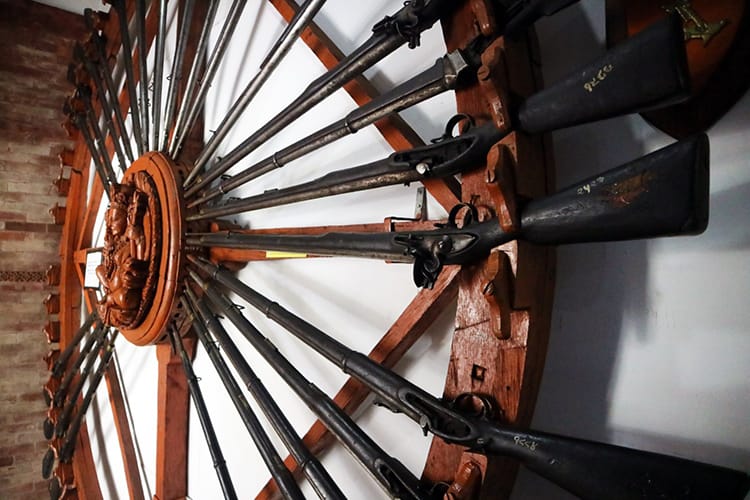 Aviation Museum Nepal
Price: 500 rupees (about $5 USD)
Hours: 10am – 5pm
The Aviation Museum Nepal is a great place to bring kids or for those interested in planes and helicopters. I lived in Nepal for months before noticing this museum. I'd never heard of it before, but it was fun to visit. It costs 500 rupees ($5) to enter and takes about 30 mins to 1 hour to view. It was built in a plane that broke down while landing in the Kathmandu Airport. It sat on the runway for a long time before a pilot decided to move it and turn it into a museum. It took 4 months to cut the plane apart, move it to the new location, and put it back together.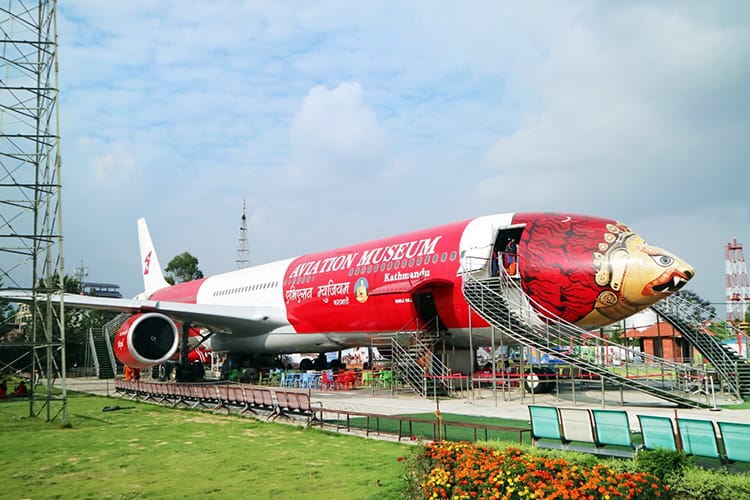 ---
---
Spiritual Places to Visit in Kathmandu (Temples, Stupas & Monasteries)
---
Boudhanath Stupa
Price: 400 rupees (about $4 USD)
Hours: Always Open
This may not be unique or unusual considering it's on everyone's list of places to go in Kathmandu, but Boudhanath Stupa is worth a visit while in the city. This popular stupa is huge, and it's stunning to see in person. It's surrounded by tons of cute shops and restaurants. This is one of the places I really love seeing at night. The Stupa is lit up in the evening and lots of Buddhists come to light candles. It has such a magical feeling. This is also one of the best areas to try Tibetan food in the entire city! Boudhanath Stupa is one of the top visited attractions in Nepal.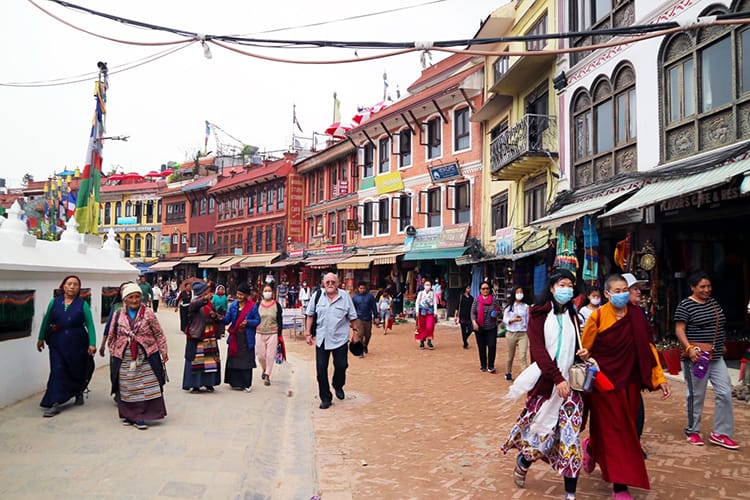 Peace Park
Price: Free to enter
The Peace Park is a small park located just behind Boudhanath Stupa. While it's technically a park, it felt more like a miniature temple to me. I really enjoyed the white stupas in the back which explain the part of Buddha's life that each type of stupa reflects architecturally. What's interesting is that the base of each stupa symbolizes something different. I'd never noticed the different bases before and found it fascinating. It only takes about a half hour to walk around, but it's worth seeing if you're in the area.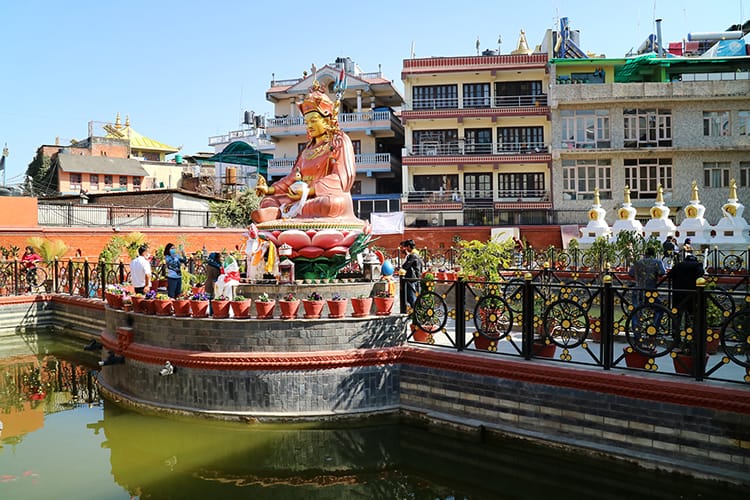 Pashupatinath Temple
Price: 1,000 rupees (about $10 USD)
Hours: 4am – 9pm
While most people might find this a tad morbid, Pashupatinath Temple is a great place to go to contemplate impermanence. This temple is famous for its open air cremations which take place along the river bed. You can watch as loved ones carry out a wrapped body, perform rituals, and ultimately send the soul to heaven by setting the body on fire. The fire burns slowly over 2 hours and you don't see as much as people think. It's actually a very moving and beautiful ceremony. In a few religions, it's important to watch someone's body be cremated in order to understand how short life is and how our body does not belong to us.
If seeing bodies cremated isn't on your to do list, it's also a beautiful place to walk around. There are so many temples to see, plus there's a hill perched above the river offering great views. Walk all the way up the stairs to go through a small park and on the way back head all the way to the right for a view-point. From here you can see the cremations happening without seeing any of the details.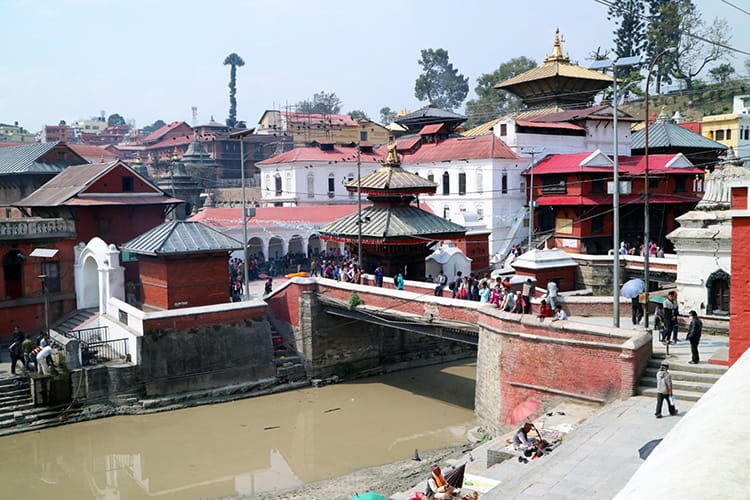 Swayambhunath Stupa (Monkey Temple)
Price: 200 rupees (about $2 USD)
Swayambhunath Stupa is one of the most popular places to visit in Kathmandu. The Monkey Temple is famous for, well its monkeys. Just kidding (sort of). It offers spectacular views of the Kathmandu Valley on a clear day. You have to walk up a lot of steps to reach the top, but it's worth it when you get there.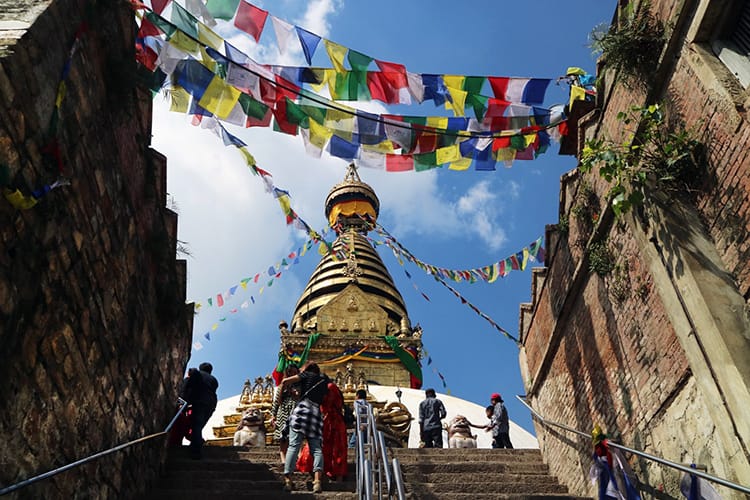 Amideva Buddha Park
Price: Free
Below Swayambhunath Stupa on the opposite side of the steep staircase, you can find the Amideva Buddha Park where three large gold statues tower above you. The park features the largest Buddha statue in Nepal which is 67 feet tall! On either side of the main Buddha are two more statues depicting Buddha that are slightly smaller at 64 feet each. It's believed that Buddha was born in Nepal. Both Hinduism and Buddhism go hand in hand in the country so you'll often see Buddha statues in Hindu temples.
Kathmandu Durbar Square
Price: 1000 rupees (about $10 USD)
Hours: 7am – 7pm
Oddly, I've walked through Kathmandu Durbar Square several times, but I've never actually done sightseeing in it. I spent so much time in Patan Durbar Square and Bhaktapur Durbar Square that I never felt I needed to see a third. If you have time, Bhaktapur is my favorite place to see palaces and architecture. If you don't have time for a day trip outside of the city, then check out Kathmandu Durbar Square for a bit of history.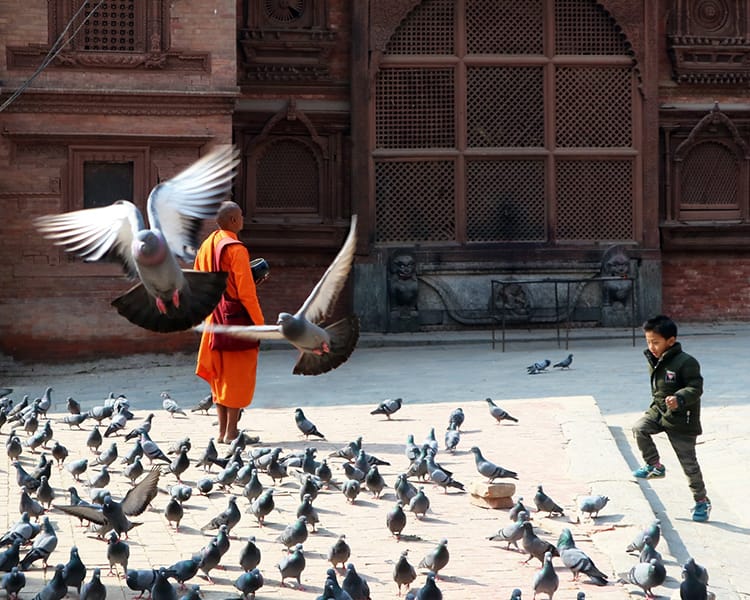 Kopan Monastery
Price: Free
Hours: 9am-5pm
Daily Dharma Talk: 10:30am Monday-Friday
While Kopan Monastery is famous for its meditation retreats, you can also visit the monastery for a few hours. The grounds are really beautiful and the views of Kathmandu are great. There's no entry fee, but a large portion of the monastery is closed to visitors and can only be accessed by students studying or taking courses there. Despite that, it's a nice break from the hustle and bustle of the city. I recommend bringing a book or enjoying a coffee at the cafe.
Narayanthan Temple (Sleeping Vishnu)
Price: Free
Located in Budhanilkantha, the sleeping Vishnu is considered the largest stone carving in Nepal. Lord Vishnu is considered the preserver. His counterparts are Shiva (the destroyer) and Brahma (the creator). The carving is in a small pond just below Shivapuri National Park on the outskirts of Kathmandu. Lord Vishnu is seen sleeping on a giant snake which represents the serpent Shresha. The statue is about 5 meters tall or 16 feet (if you were to stand Vishnu up), and it was made out of a single piece of black basalt.
What I love about this temple is how it's different from the typical temples in Nepal. There are beautiful trees looming overhead and it has such a positive vibe and energy around it. Not to mention, the little food stalls nearby have great local treats.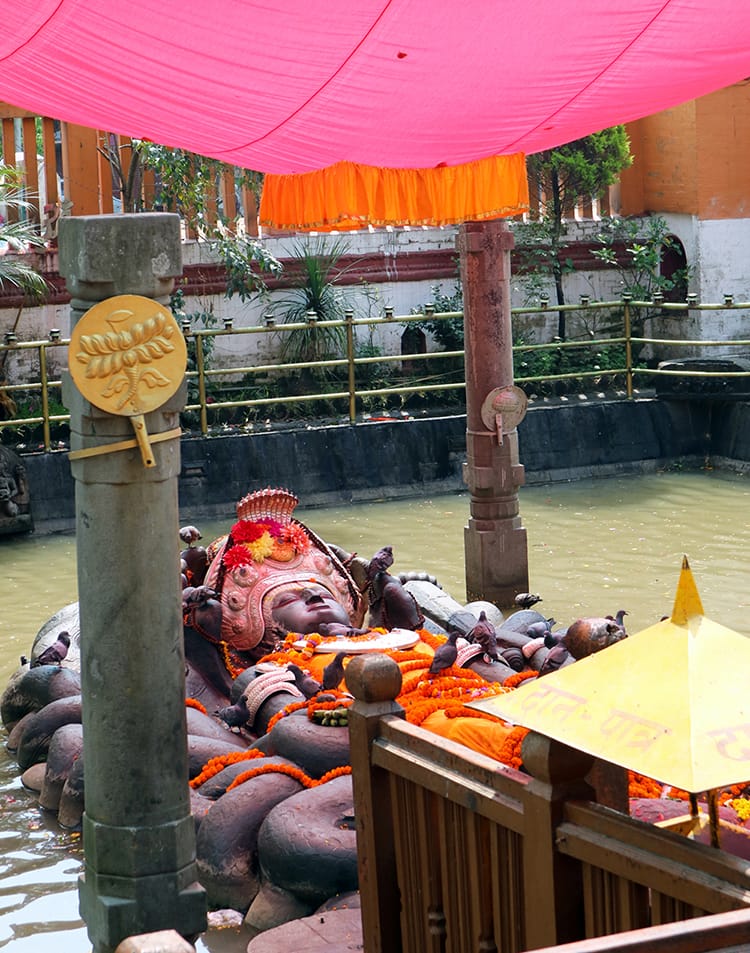 Rani Pokhari
Price: Free
Rani Pokhari literally translates to "Queen's Pond." This large manmade pond in the center of Kathmandu was severely damaged by the 2015 earthquake. I'm adding it to this list now that it's being restored to its original glory. The original pond was built in 1670 AD by King Pratap Malla. Sadly, this pond was built when the King and Queen's son was killed by an elephant. The Queen was in morning and the King built it in remembrance. It's said that the King had water collected from holy rivers in Nepal and India and added it to the pond.
Naag Pokhari (The Snake Pond)
Price: Free
The Snake Pond was built in 1908 nearby the old Palace in Kathmandu. While I couldn't find much history on the pond itself, it is a beautiful place to sit and hang out in the afternoon. The snake is a deity that is half human and half god. Like a snake shedding its skin, it represents rebirth, death and mortality. They are said to live in the underworld and protect treasures.
---
---
Green Spaces in Kathmandu
---
The Garden of Dreams
Price: 200 rupees (about $2 USD) and $30 for an annual membership
Hours: 9am – 10pm
The Garden of Dreams is probably one of the cutest places to visit in Kathmandu. The garden used to be a private garden but was later opened to the public. Although a small space, it's a great place to hang out and read a book, go on a date, or have a tea/coffee. The café is a little expensive, so I wouldn't recommend eating a full meal there unless you really want to splurge. There's even a small photography exhibit inside where you can see before and after photos of the gardens restoration.
My favorite part about this place is that even though it's on a main road with lots of traffic, you immediately feel like you've left the city upon entering. It's really peaceful, and such a short walk from Thamel. I highly recommend a visit no matter how long you are in Kathmandu.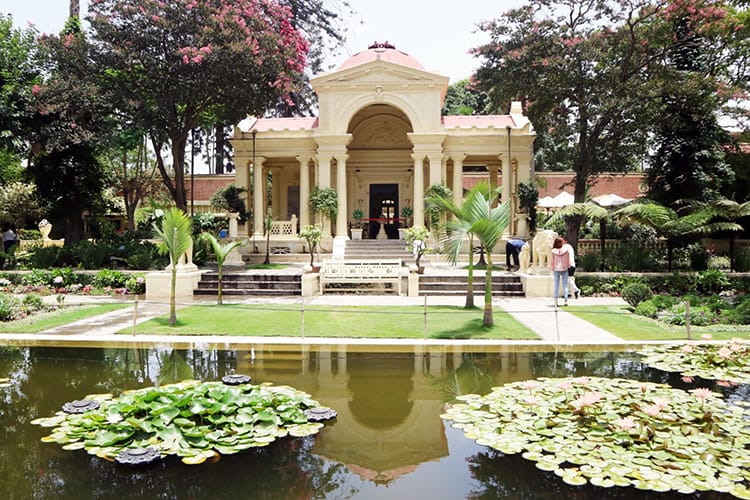 Ranibari Community Forest
Price: 10 rupees (less than $0.10 USD)
Hours: 10am-5pm
Ranibari Community Forest is located near Lazimpat Road in Kathmandu's city center. The forest is one of the last remaining natural forests within the city. There are trails going around the outside and one that cuts through the center and leads to a temple. It's 10 rupees per person to enter (less than $0.10 USD). It's the perfect place to relax and have a picnic or read a book. It's also famous for bird watching and has a plethora of different bird species.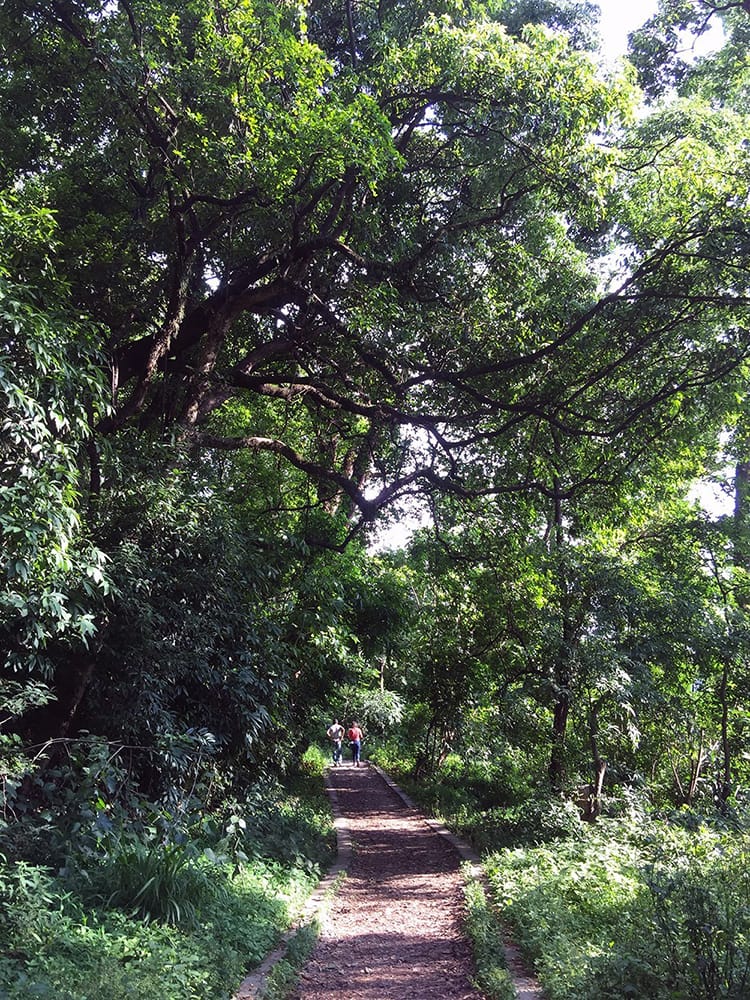 Ratna Park
Price: $0.75
Hours: 5am – 7pm
Ratna Park is a pretty popular place among tourists, but most have rarely set foot inside. The park is known as the pick up location for most tourist buses that shuttle people to Pokhara. If you make it past the bus pick up, you'll actually see an adorable little park which is worth checking out. Ratna Park seems to be a place where locals come to hang out and relax in the shade of a tree. You'll see people having picnics, reading books, and kids running around playing. It's a really nice place to visit in Kathmandu to observe local life.
Shivapuri National Park
Price: About $10 USD per day (plus foreigners must have a local guide with them)
The ultimate green space in Kathmandu is Shivapuri National Park. In the park, you'll find hiking trails, temples, restaurants, and a few hotels if you want to spend the night. The park is higher in altitude than the valley making it the perfect escape on a hot day since it's slightly cooler. If you want views of the city, you can walk along the road which has almost no traffic on it, or if you want more of an adventure you can go hiking into the center of the park to spot wildlife.
---
Kamal Pokhari
Kamal Pokhari is a newly renovated pond in Kathmandu with trees surrounding it. While it isn't a large park, it is a nice place to sit and read a book or go for a few laps around the pond walkway. The area dates back so far that no one knows the origin of the pond, but it is said to be a place where the Malla kings came to think and contemplate. The Malla Kings rules from the 13th to the 18th century.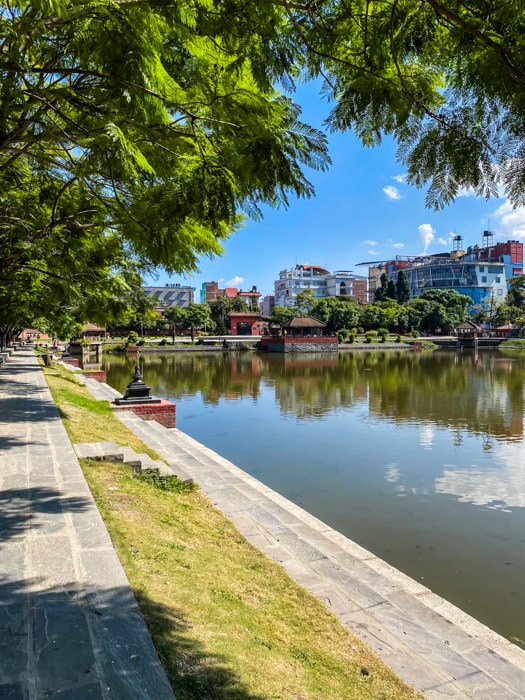 ---
Classes to Take in Kathmandu
---
Cooking Class
Price: $20 – $30 depending on the class
One of my favorite things to do in other countries is to take a cooking class. In Nepal, you can learn to make a lot of different things, but I highly recommend either a momo cooking class or a dal baht cooking class. In Kathmandu, you can do both of these through Backstreet Academy which allows locals to teach classes about their culture. The class takes about 3 hours. The cool thing about cooking classes is that it's something you get to take with you when you leave. You can make these dishes at home for years to come.
Wood Carving Class
Nepal is famous for its wood carvings at its UNESCO World Heritage sites. Luckily, you can also learn the art of wood carving in two different styles. I did a traditional wood carving class which I loved, but you can also learn to carve a wooden mask. Each class takes about 3 hours. This is a cool opportunity for someone who wants to immerse themselves in the culture and also for families who like to get hands on! What better way to learn about the intricate wood carvings around Kathmandu then to make some yourself? And, you get to keep yours as a souvenir.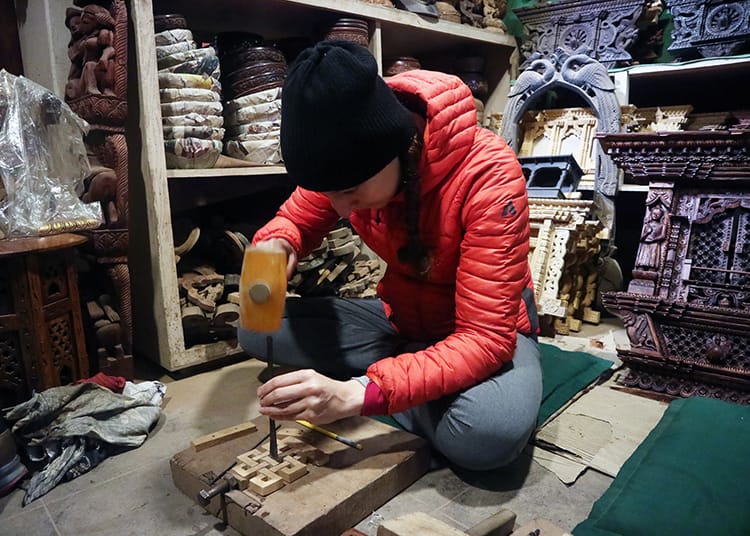 Thangka Painting Class
Thangka paintings are a craft that is passed down from generation to generation. The thangkas have great religious significance and show a variety of Buddhist gods and deities. Today, anyone can learn to paint Thangka's, even you. The beginners class takes about 4 hours and you get to paint your very own Thangka to take home. If you want to learn a more advanced form of painting, you can also take a 5 day master class.
Pottery Workshop
Price: $20-$30 depending on the class
Kathmandu is also known for its pottery! In fact, the small city of Thimi (just 30 mins away) in the Kathmandu Valley makes world renowned pottery. Pottery making is fun for the whole family, especially young kids who will enjoy working with a pottery wheel and clay. But it's not just for kids. I had a blast making pottery in a class with Backstreet Academy. You can read this article about my Pottery Class in Kathmandu.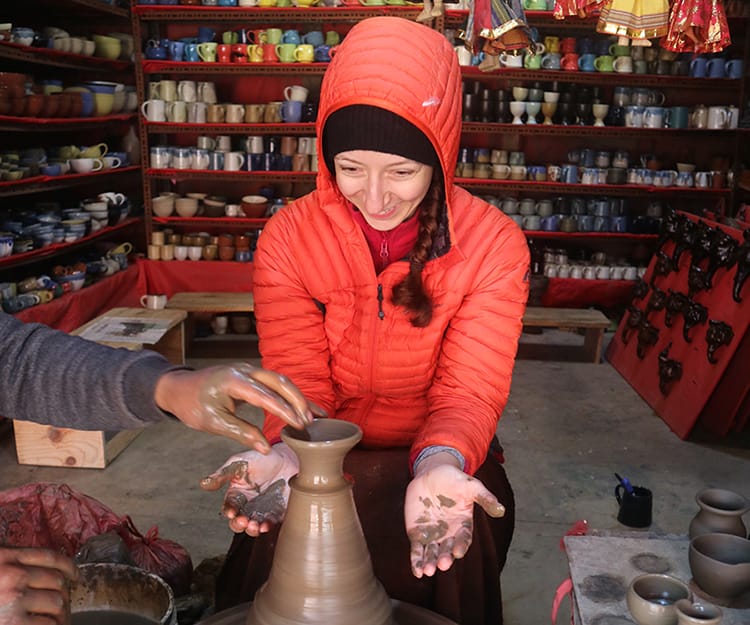 Stone Carving Workshop
I have yet to try the stone carving class, so I'm not sure how difficult it is, but I've been amazed when watching stone carvers work to rebuild the temples destroyed by the earthquake in 2015. It's such an incredible skill which looks like it takes a lot of patience. I'm hoping to take this class soon as I've always been a fan of arts and crafts. This class takes about 4 hours.
Khukuri Making Workshop
Price: $32 and up depending on the knife design
Khukuri are large knives associated with the Nepali Gurkha army. They are a popular souvenir for those visiting Nepal but buying one at a shop is not nearly as fun as making one with a master blacksmith. This class takes about 4 hours and you get to take the knife you make home with you at the end of the day. Just make sure you put it in your checked luggage.
---
Shopping in Kathmandu
---
Ason Spice Market
Ason Market is actually the oldest market in Kathmandu. It's located right next to the very popular Durbar Square, making it an easy place to visit while checking out the major sites. While you can get tons of amazing things in this little market, the major items that tourists come to buy are teas and spices. A fellow traveler and I were on the hunt for the notoriously expensive saffron. It's one of the best souvenirs to bring home for friends or family who cook. You can get a small package for $5 or a giant bag for $20. The same size packages back home would run you between $20 and $50 USD. Ason Market is the one of the best places to visit in Kathmandu if you want to see local life.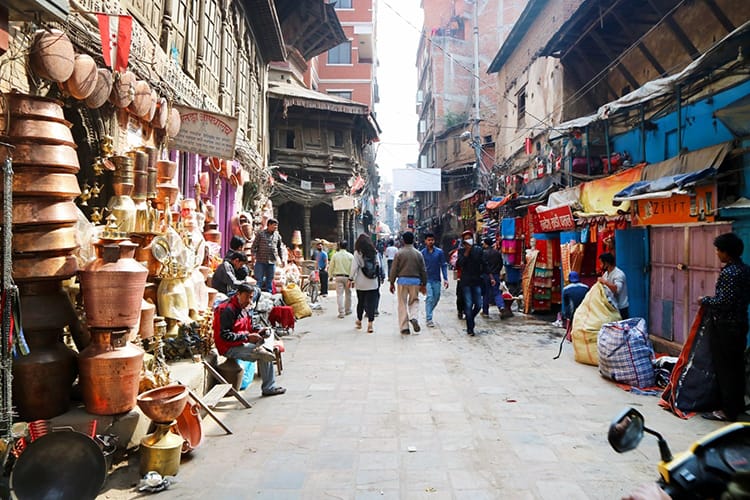 Palace Street
While most people flock to Thamel to buy trekking gear and hippie getup, you can't help but wonder where the locals buy their clothes. A friend of mine mentioned Palace Street. It's the place locals go to buy high-end things, and where they go for a night out or a fancy dinner. Although it's a little more expensive, it's definitely higher quality than the elephant pants you typically find in tourist areas.
The main street is lined with names you'll recognize like Adidas, Nike, H&M, Zara, etc. But, if you venture slightly off the main street or to the upper floors of the buildings you'll find yourself in a mix of beautiful sarees and western clothing. Me and my two girlfriends ended up each buying something we loved. The average price of items seemed to be between $20 and $30.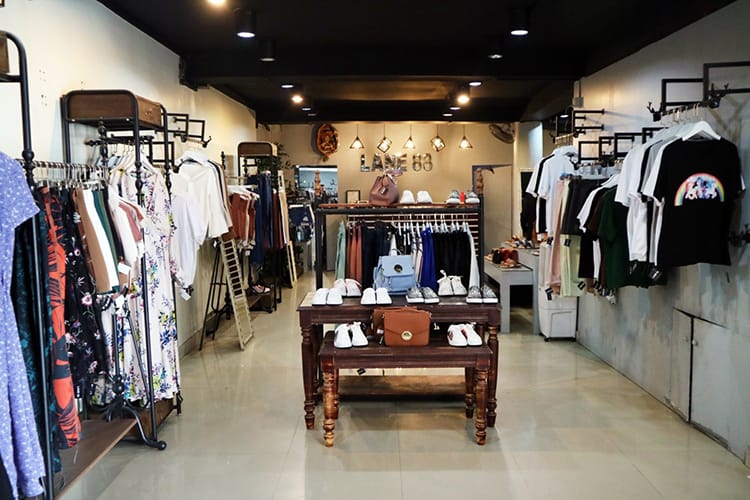 Le Sherpa Farmer's Market
Hours: 8:00am – 12:30pm Saturdays
A friend of mine told me about Le Sherpa Farmer's Market which takes place on Saturdays from 8:00am to 12:30pm. I ended up meeting a girl while trekking who sells vegan mustards and sauces at the market, and after talking to her I was convinced I needed to visit. Le Sherpa has a cafe and a few high-end stores which are open daily, but on Saturdays the area comes alive with local produce, cheeses, breads, foods to eat on the spot, honey, wines, jams, and so much more. I love farmers markets because it's such a great way to shop small and support local vendors.
Freak Street
Freak Street was previously the hot spot for tourists. Now, Thamel seems to have claimed that fame. That being said, it's a really cool street filled with little shops and cozy restaurants. It's located extremely close to the popular Durbar Square, so it's a great place to stop and grab some food in between sightseeing. If you're in the area, you can check out ZY Coffee which is just off of Freak Street and has awesome lattes (to go) for $1. Between the good food and all the souvenir shopping you can do here, it's a cool place to spend a couple of hours chilling.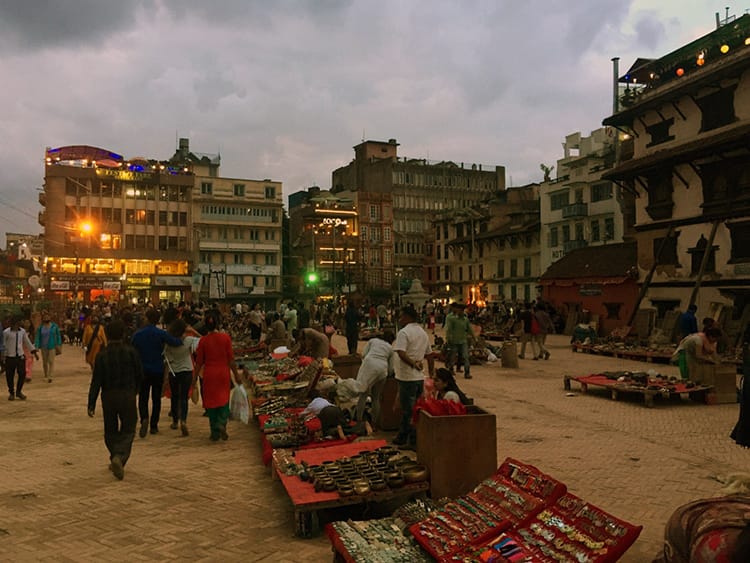 Baber Mahal Revisted
The original Baber Mahal was built by Maharaja Chandra Shumshere in 1910 for one of his sons. He was the Prime Minister of Nepal for 24 years and also built Singa Dubar (the current government offices in Kathmandu). The buildings were attacked in 1973 and Baber Mahal Revisited was built in 1997 as an ode to the previous buildings. Today, it's a beautiful building that houses a boutique hotel, restaurants, and luxury shops. It's a fun place to walk around and grab some high-end souvenirs or sit back and just enjoy the lovely architecture. It's one of my favorite places to visit in Kathmandu when I want to window shop and have a relaxing coffee.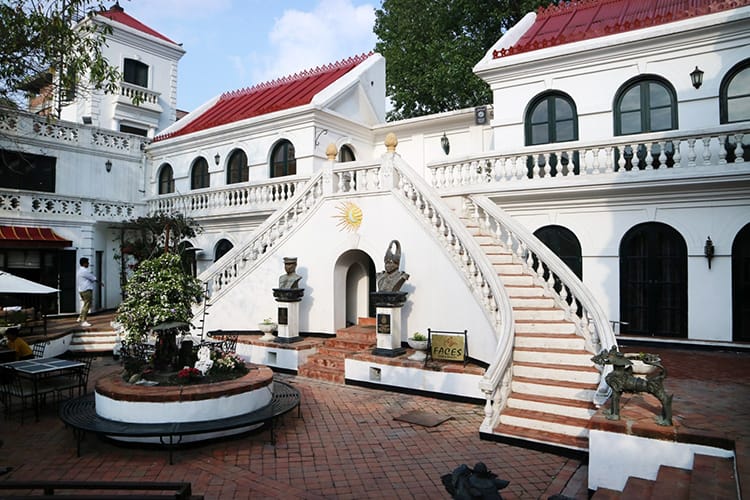 Spa Treatments & Spirituality in Kathmandu
---
Ayurvedic Massage at Tranquility Spa
Price: 60 mins costs around $20 USD if you go in off season. They may be more during peak season.
Hours: 7am-10pm
Tranquility Spa is located in Thamel as well as a few other locations throughout Kathmandu. The spa is clean and the massage therapists are great. Mine did an amazing job of working on my sore muscles after trekking. The whole experience was super relaxing compared to some massages where you cringe in pain the whole time. There are places that offer cheaper massages, but this one really is clean and sanitary compared to the $8 places I've tried.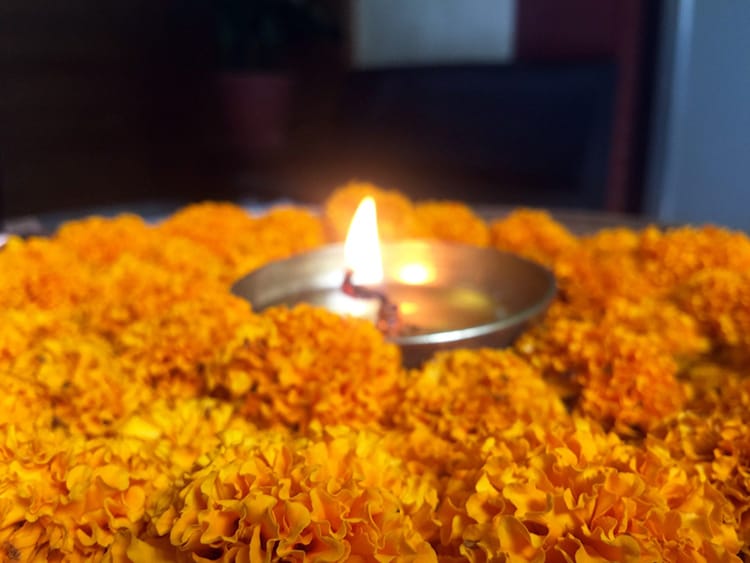 Singing Bowl Therapy
Price: 3000 rupees (about $30 USD) for one hour
Singing bowl therapy is such a unique thing to do in Kathmandu. I'd never heard of it before sharing a cab with a swami. I ended up trying it out, and it was really interesting. You lay down and meditate while someone rings different singing bowls around your body. You can feel the vibrations, and it's such a beautiful melody. Different bowls align with different chakras which is how the sound heals you. You can read my post about what it was like to try Singing Bowl Therapy or check out the Dynamic Singing Bowl Center in Thamel.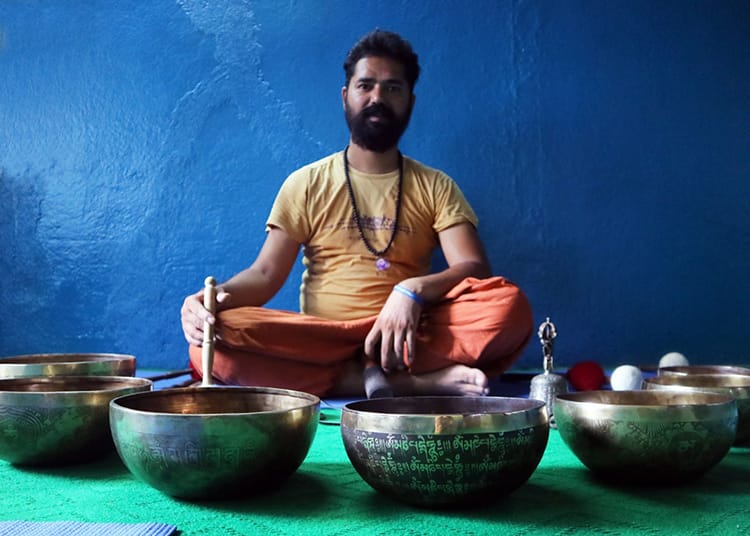 Shirodhara
Price: $15 and up depending on where you go
Shirodhara means "head flow" which is an accurate description for this spa treatment. During the treatment, you lay on your back on a massage bed while a constant stream of warm ayurvedic oil is poured onto your head. This lasts for about a half hour to an hour. During the treatment, you're meant to meditate and relax. Shirodhara is used to treat insomnia, neurological disorders, psoriasis, memory loss, vertigo, and anxiety.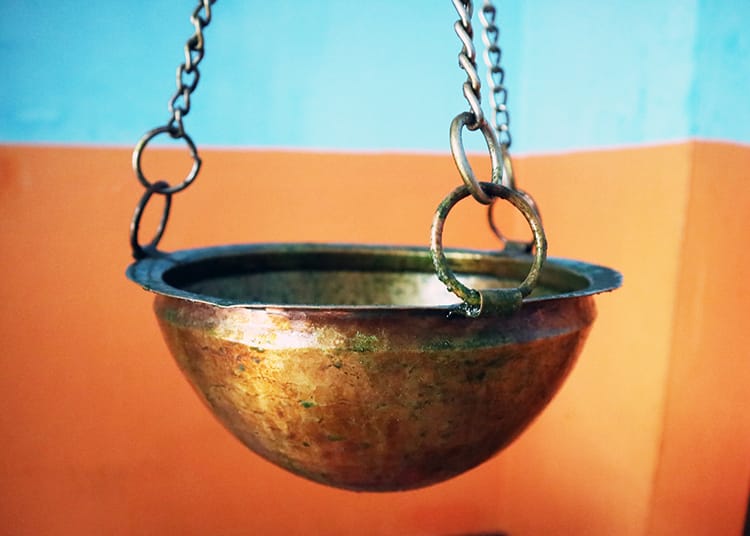 Reiki
Price: $30 and up depending on where you go
Reiki is a form of holistic healing that uses energy to reduce stress and heal one's body. While reiki is practiced in most parts of the world, it was developed in Asia (Japan to be specific). In Nepal, herbal and natural forms of healing are still practiced widely, so it's an interesting place to try something like reiki. I enjoyed my experience which you can read about in my post on Trying Reiki in Nepal.
Have Your Fortune Told
I was extremely skeptical about seeing a fortune teller in Nepal. I always think of a fortune teller as the women in NYC who look at your palm and then go on to tell you insanely vague things that could apply to anyone. Seeing a fortune teller in Nepal is definitely different. The first fortune teller I met actually used an app to tell my fortune. But, don't let that fool you. It was spot on in the weirdest ways. The second fortune teller I met read my face and palm. He also had insane insight into things that would be hard to know even if you were my friend. You can read about my experience meeting a fortune teller. Spoiler, most of his predictions have come true.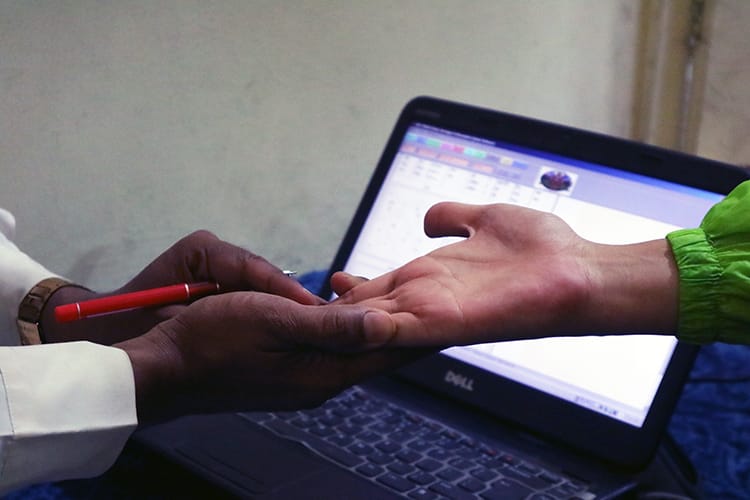 Places to visit in Kathmandu for Sports
---
Gokarna Golf Course
Course Price: Between $60 and $80 depending on the day of the week
Driving Range Price: Between $5 and $7 depending on the day
When most people think of Kathmandu, they don't think of golf. Just a half hour drive outside of the city center lies the Gokarna Golf course which is in the Gokarna Forest Reserve. It's fairly close to Boudhanath Temple if you'll already be headed in that direction. The forest used to be a hunting ground for the king. If you stay in a hotel near the course, you'll see lots of wildlife coming out of the reserve before sunset. We saw herds of deer, mischievous monkeys, and some really beautiful birds. The golf course is a nice break from the hustle and bustle of Kathmandu.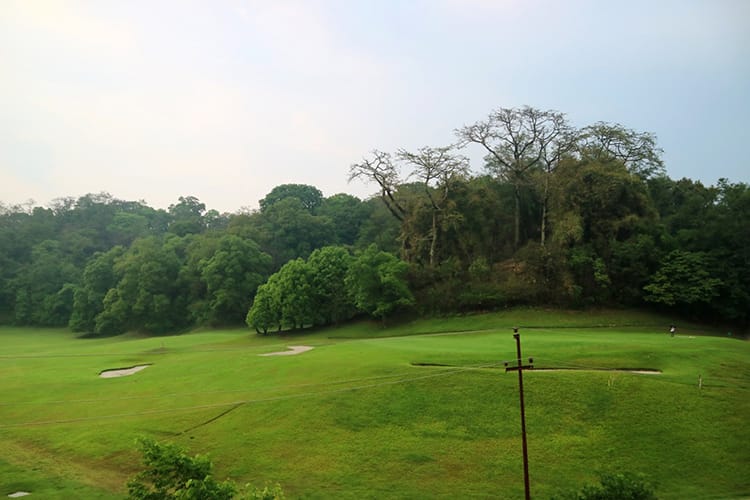 Kathmandu Sport Climbing Center
Price: 1 Day Passes are 700 rupee (about $7.00 USD) including shoes and a harness. A 5 Day Pass (can be used within 15 days) is only 1500 rupees.
Hours: 8am – 9pm
The last time I went rock climbing was over a year ago. It's a sport I've always wanted to get into, but honestly couldn't afford. In Kathmandu, it's actually pretty cheap compared to other places I've checked out. I went with a friend, but if you're flying solo you can pay 100 rupees for 5 belays to climb top rope instead of just bouldering. The facility is clean and well-kept, and there's a cafe for when you need a tea break. The Kathmandu Sport Climbing Center is an awesome way to spend a morning without breaking the bank making it one of the more interesting places to visit in Kathmandu.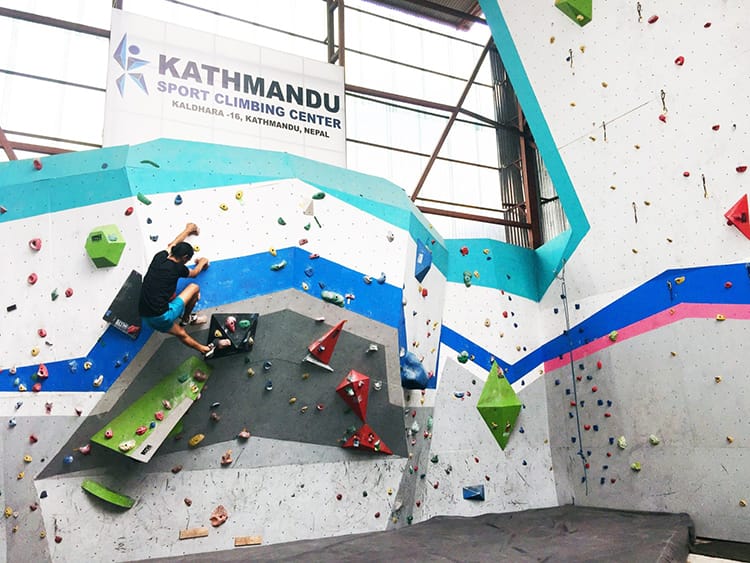 GymKhana Muay Thai
Price: Day Passes Cost 1500 rupees (about $15 USD)
Hours: Sunday-Friday 6am-8:30pm, Saturday 9am-12pm
When I think of Nepal, I don't exactly think of world-class gyms or martial arts. Despite that, one of the best gyms I've ever seen happens to be in Kathmandu. A quick $3 cab ride from Thamel is Gymkhana Muay Thai where you can go to take a myriad of classes including functional fitness, yoga, spin, boxing and yes, Muay Thai.
I took a Muay Thai class in Thailand last year and was pretty excited about the chance to try again. The trainers here are seriously legit. I left both classes I took with a sense of accomplishment and a ton of sore muscles. Plus, I learned a little self-defense, like how to knee a guy in the balls. So it's pretty much a win win all around. I loved it so much that I went back and trained for a few weeks. You can read my post about training in Muay Thai.
Swimming Pools
Price: Depends on the pool, but typically 700 rupees (about $7 USD) per day
When I think of Kathmandu, I don't exactly think of hanging out by the pool with a lassi. Since I was in the city during monsoon season, it was unbearably hot some days and one of my friends recommended we go swimming. I literally jumped at the chance to get into a pool. There are a few public pools located around Kathmandu, however the two I've been too were really clean so I'll recommend those. Club Paradise International has a gym, sauna, and badminton courts, making it a perfect place to hang out and relax. Hattigauda Swimming Pool is really large with tons of space for swimming laps.
Pro tip: These pools are used mostly by locals, so a modest swim suit is best for women.
---
Day Hikes in Kathmandu
---
Tarebhire Hike
Price: Free Entry
The Tarebhir Hike is popular among locals who want to experience nature over the weekends in Kathmandu. This is a short and easy hike that follows a paved and dirt road up to a lookout point with views of the Kathmandu Valley. The hike takes about one hour up and a half hour back down. It begins and ends in Budhanilkantha on the north-eastern side of Kathmandu. There are places to eat at the top, so I'd recommend going around lunch time so you can sit and enjoy the view longer.
For full details check out my post about the Tarebhir Hike.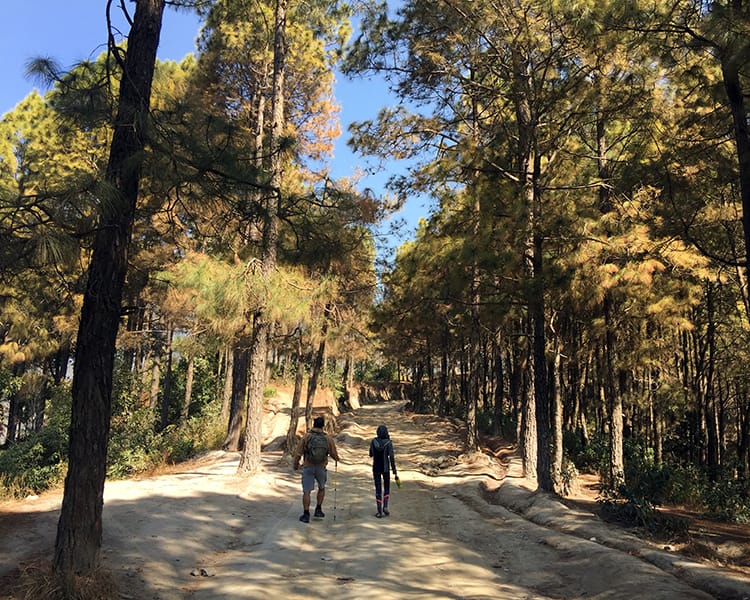 Nagi Gompa Monastery Hike
Price: $10 entry fee plus a guide is required and can be hired at the park for an additional $10 per group.
The Nagi Gompa Monastery hike is and easy hike within the Shivapuri National Park on the northern side of Kathmandu. This hike takes about 1 – 1.5 hours up and about 45 mins back down. The path follows a dirt road, but there are shortcuts that bypass the road and go straight through the woods
For full details check out my post about the Nagi Gompa Monastery Hike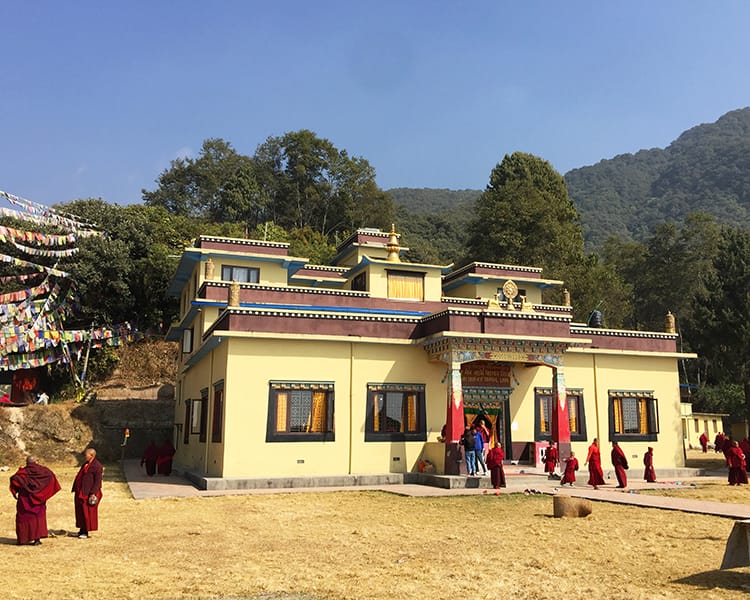 Jamacho Gompa Hike
Price: $10 entry fee plus a guide is required and can be hired at the park for an additional $15 per group.
The Jamacho Gompa Hike is one of the more difficult hiking routes in Kathmandu. It takes between 4 and 6 hours depending on your speed and how long you rest at the viewpoint and stupa on the top. This hike is almost entirely straight uphill and is perfect for those training for a trek or anyone who wants a great workout. This hike is only a 20 minute cab ride from the city center.
For full details check out my post about the Jamacho Gompa Hike.
---
Day Trips from Kathmandu
---
Chandragiri Cable Car
The Chandragiri Cable Car always sounded like a tourist trap to me. I can admit when I'm wrong, and the Chandragiri Cable Car is actually NOT. It's insanely beautiful, and the view from the top is one of the best views you can get of the Himalaya from afar. I was completely blown away. The ride up was a little scary for me because I'm afraid of heights, but it was a surprisingly smooth ride. You can also hike up if you want to skip the cable car and just see the views. At the top there's a beautiful temple, food stalls, and a high-end restaurant. It's one of my favorite places to visit in Kathmandu, and I can't wait to take family and friends with me when they visit.
For more info: Check out my Chandragiri Cable Car post which has prices, hours, transportation info, and more.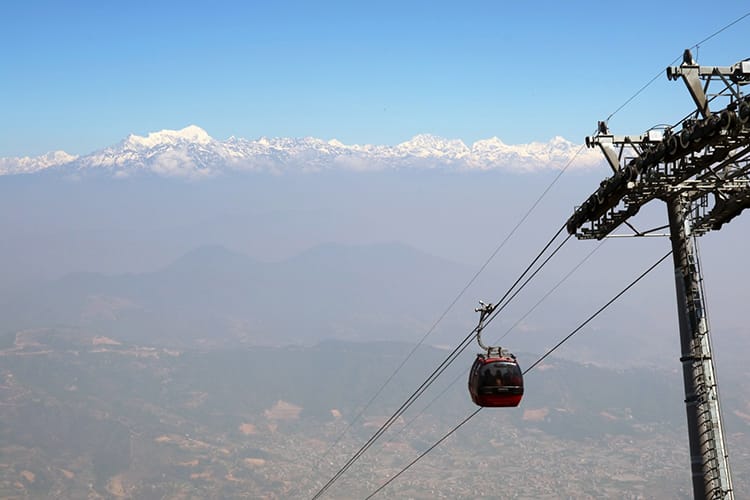 Dhulikhel
Dhulikhel is about a 2-hour drive from Kathmandu depending on traffic. It's a wonderful day trip as the city has incredible views of the Himalaya. Dhulikhel is split into two sections, one which is modern and full of hotels. The other is the old town which is full of tiny winding alleyways and ancient temples. There's also a wonderful lookout point as long as you don't mind climbing the 1,000 steps to get there.
You can read all about Dhulikhel and the things to do there in my Dhulikhel City Guide.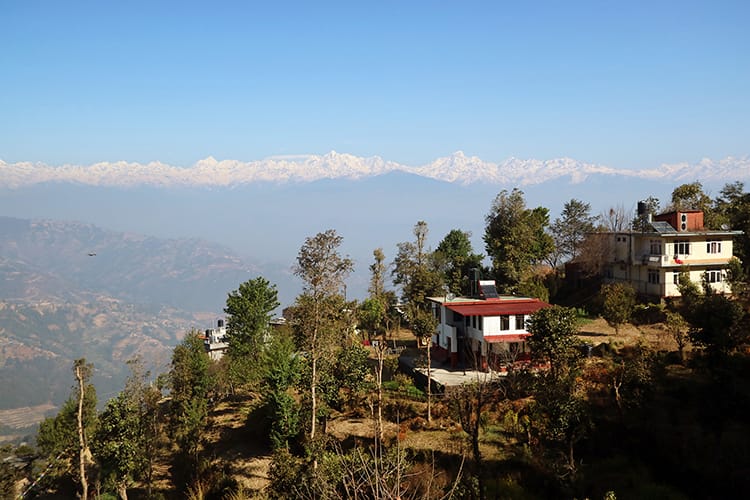 Pharping
Pharping is one of the lesser known places near Kathmandu. It's only an hour drive from the city making it a great day trip. Pharping has a ton of Buddhist monasteries as it's believed to be the location where Guru Rinpoche founded Tibetan Buddhism. You can also visit the famous caves where Guru Rinpoche meditated. On top of that, Pharping is famous for its day hike up to Champa Devi which is about a 4-hour hike if you take your time.
You can read all about Pharping and the things to do there in my Pharping City Guide.
Kirtipur
Kirtipur is an interesting city just a half hour outside of Kathmandu. While many people visit Patan and Bhaktapur, most tourists forget that Kirtipur even exists. Despite that, it's an interesting town with a fascinating history. Kirtipur has a strategic location making it very significant in past wars. Today, it's an adorable city full of charming little alleys set on a steep hill. There are several temples as well as some great local restaurants where you can try traditional Newari food.
You can read all about Kirtipur and the things to do there in my Kirtipur City Guide.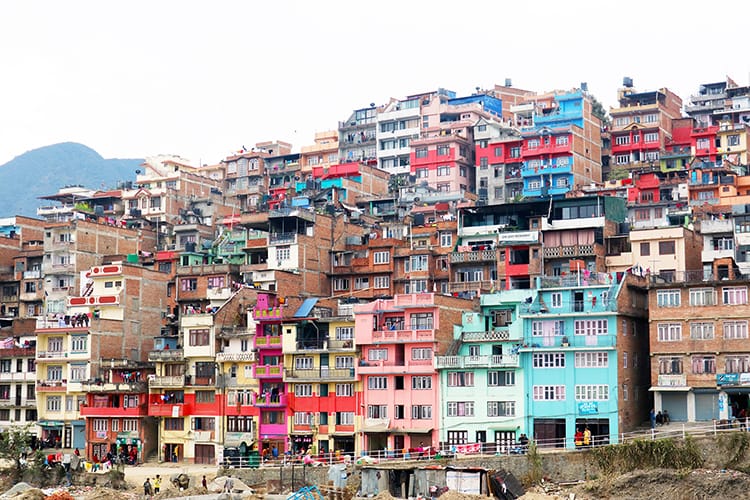 Bhaktapur
Bhaktapur is an up and coming destination in Nepal which has gained a lot of popularity in the last few years. It's often referred to as the "cultural capital of Nepal" as well as a "living museum." Bhaktapur is one of my favorite destinations in the country and it's only 45 minutes from Kathmandu making it perfect for a day trip. While there you can visit the many temples, squares, and museums to learn all about the Malla Dynasty which put a huge emphasis on craftsmanship.
You can read all about Bhaktapur in my post on Things to do in Bhaktapur and Bhaktapur's Best Restaurants.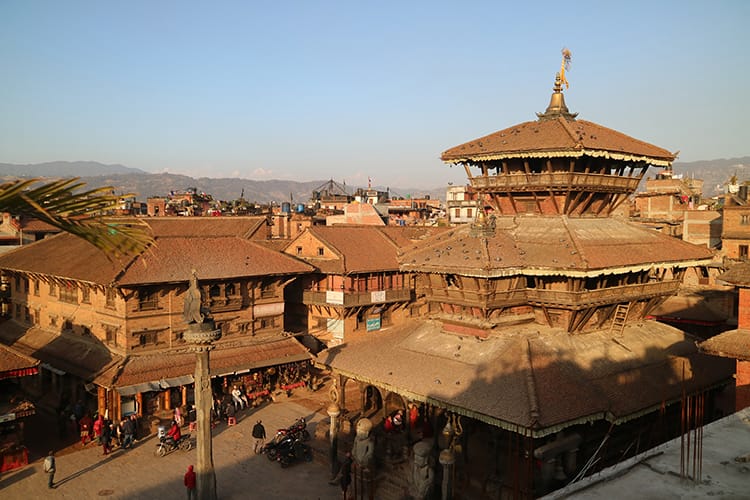 Patan
Along with Bhaktapur and Kathmandu, Patan was one of the three kingdoms that made up the Kathmandu Valley. It has a rich history with both Buddhism and Hinduism. Today, Patan is a bit of an expat hub which makes it a great place to go if you want western comforts. Some of the best coffee shops and restaurants are located in Patan along with museums and ancient temples found within the popular Patan Durbar Square.
You can read all about Bhaktapur in my post on Things to do in Patan and Patan's Best Restaurants.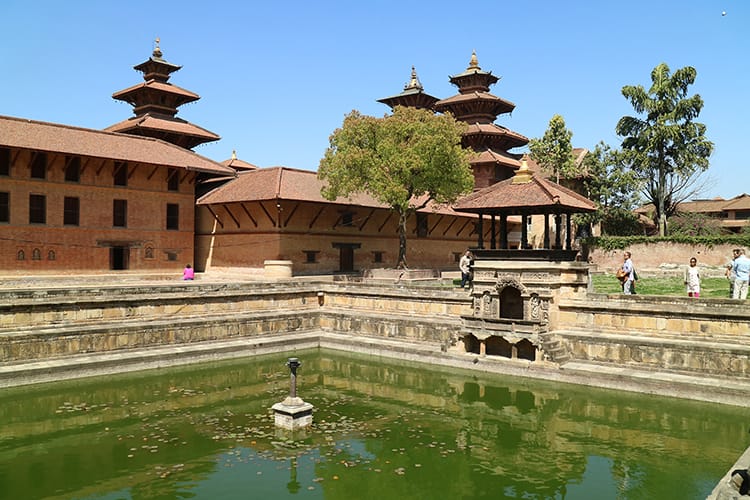 Panauti
Panauti is an ancient city that few tourists visit. It's approximately a 2-3 hour drive from Kathmandu depending on traffic. What I love about Panauti is that in the old town, you can see what cities like Kathmandu were probably like 15-20 years ago. There's such a slow pace of life with animals walking down the streets, few cars, and temples around every corner. Locals play cards in the afternoon while chilis dry in the sun. It's a fantastic place to just witness life happening.
You can read all about Panauti and the things to do there in my Panauti City Guide.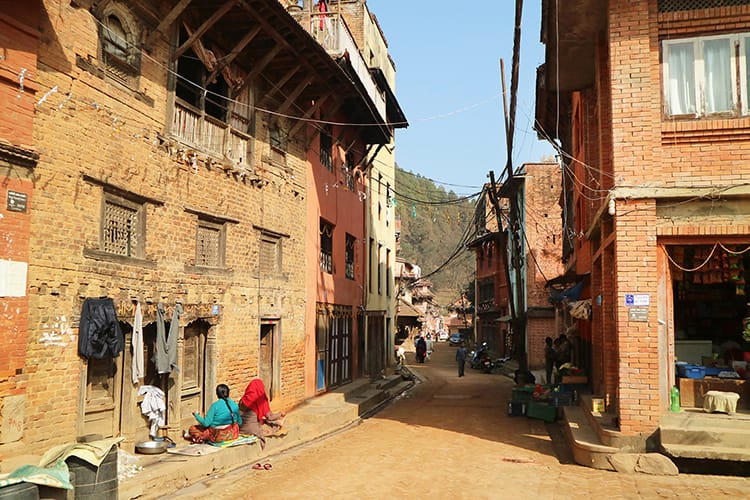 Changu Narayan Temple
Changu Narayan Temple is the oldest known temple in Nepal. No one knows the actual date it was built, but there's an inscription from 464 AD. The temple is surrounded by a small village and it sits on a hill overlooking the valley making it a nice day hike. The village also has some small museums and restaurants which makes it a great way to spend an afternoon outside the city center.
You can read all about Changu Narayan and the things to do there in my Changu Narayan Village Guide.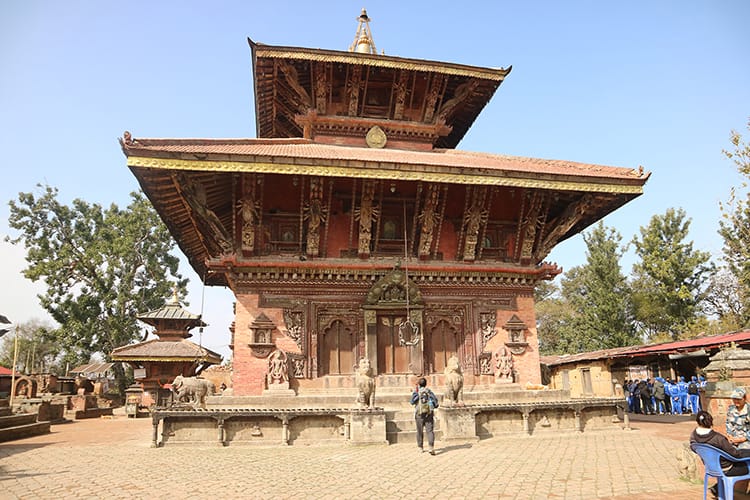 Godawari Botanical Garden
The Godawari Botanical Garden is a short hour and a half drive from Kathmandu. It's best to visit in the spring when all of the flowers are in bloom. It makes a wonderful outing away from the chaos of Kathmandu since it's so quiet and serene. The garden was established in 1962 and has been a local favorite ever since. It's a popular destination on weekends for family picnics as well as romantic dates. It's not something I would recommend to those having a brief visit in Nepal, but it's fantastic for those who will have an extended stay in Kathmandu.
You can read all about Godawari in my Godawari Botanical Gardens Guide!
---
My Top Picks for Hotels in Kathmandu
---
Budget Hotel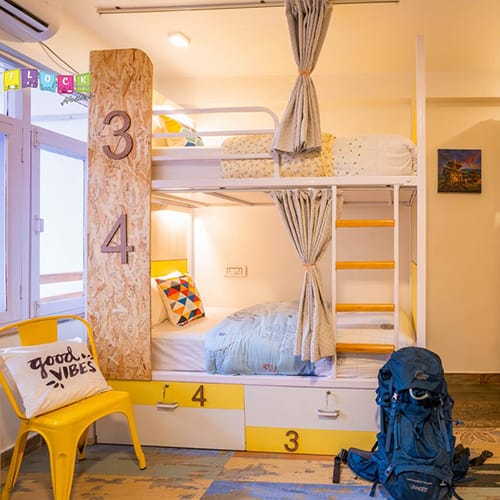 Flock Hostel
$9 a night – Flock Hostel is located in Thamel. Their dorm rooms feature lockers, individual reading lights, conveniently placed outlets, and a privacy curtain. There are plenty of common spaces for hanging out and meeting other travelers.
Comfort Hotel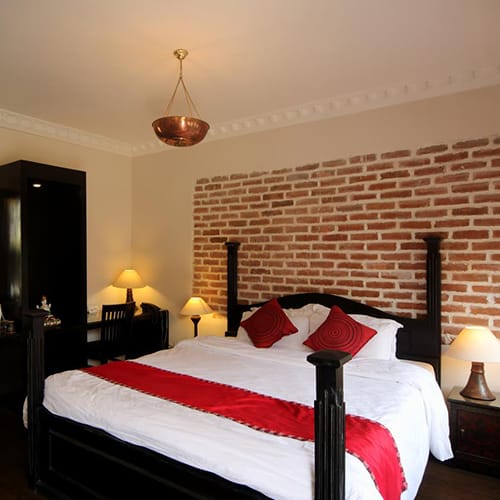 Hotel Thorong Peak
$30 a night – This hotel is located on a quiet side street in Thamel. The rooms are clean, the staff is friendly, the showers are hot, and the breakfast and dal bhat are delicious. They also held my bag for me in between trips, so I never had to lug it around.
Luxury Hotel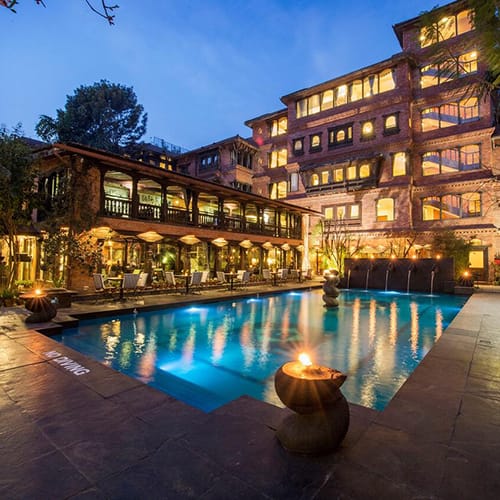 The Dwarika's
$400 a night – Walking into the courtyard feels like you've left Kathmandu and entered a private jungle. The rooms are gorgeous and no detail has gone overlooked. The Dwarika's is by far the most luxurious place to stay in Kathmandu.
Have any questions about the best places to visit in Kathmandu? Ask in the comments!
---
You might also like…