Mera Peak is considered the highest trekking peak in the world. While it's called a "trekking peak," it does require some mountaineering skills and equipment. Luckily, it's the kind of peak where you can learn as you go, making it perfect for beginners looking to try their hand at something a little more difficult than a trek. When I first looked for information on Mera Peak, I quickly realized that there isn't a whole lot of information online. After doing hours of research and searching the depths of the web, I came up with a packing list. I actually felt like I had everything I needed with me and didn't overpack. Here's what I brought…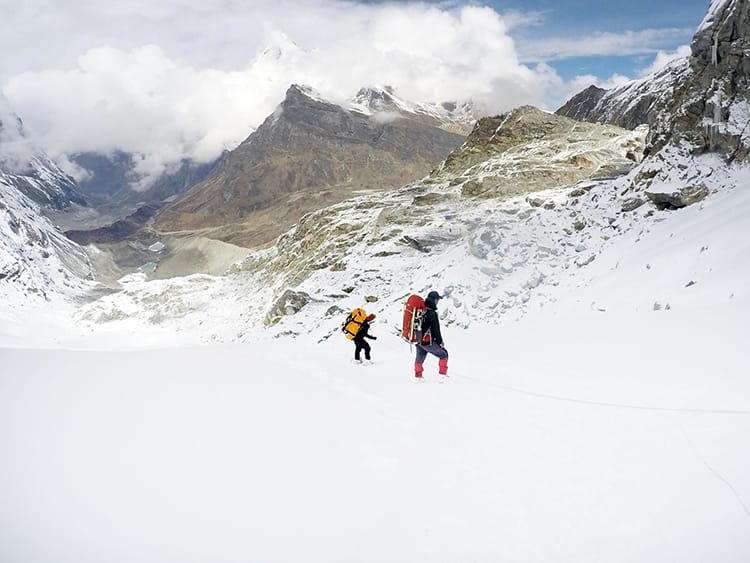 Mera Peak Backpack & Storage
---
Pro Tip: Take everything you want to pack out one week in advance. Lay it all out somewhere easy to see. Each day before the trek, go over what you packed and see if you really need it. If you pack at the last minute, you'll likely add impulse items that are heavy and unnecessary.
---
---
---
---
---
Backpack Rain Cover
This is a must if your backpack isn't waterproof. Many backpacks are water resistant but won't stay dry in a downpour.
---
Plastic Bag for Laundry
I bring a simple grocery store plastic bag for laundry to keep it separate from my other clothes. I only put dirty underwear in it as the larger items like pants and shirts will be worn more than once. A plastic bag adds no weight and doesn't take up any room.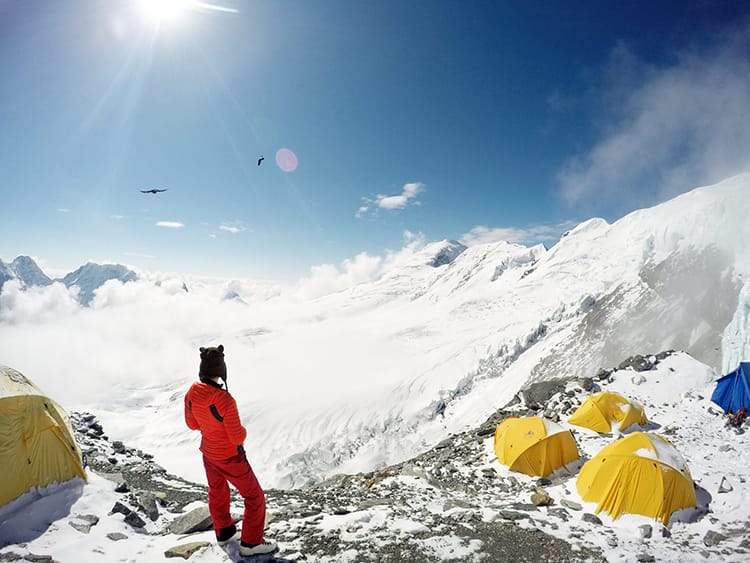 ---
Mera Peak Clothing
---
---
---
---
Expedition Coat
While my Eddie Bauer Down Jacket was amazing, it wasn't expedition weight. I rented an expedition coat from Refuge in Khare. It was included in my trekking package so I'm not sure how much it cost to rent. The only time I needed the expedition coat was above Khare (5000m). I used it for two days and returned it on the way back down.
---
---
---
---
Workout Leggings
Leggings were perfect for the hot weather we had around 3000m. I could layer some lightweight hiking trousers over them in the morning and remove them in the afternoon when the sun was out.
---
Expedition Pants
Expedition weight pants are necessary on the way to High Camp and the summit. I rented these in Khare on the way to High Camp. They cost $15 for two days. I wore them over my thermals to ensure that I was warm. If it was sunny, they might be a little warm but we were hit with clouds and snow which made them perfect.
---
Waterproof/Windproof Pants
Waterproof/windproof pants are essential for this trek. We hit several days of snow and rain above 4000m making it incredibly cold. These pants were also a life saver at night when the teahouses were cold and the sun had set. I could layer them over my thermals while having dinner or reading my book. I bought these in Kathmandu for $10.
---
---
Long Sleeve Sleep T-Shirt & Leggings
I like having a separate clean outfit to sleep in each night. I personally like an oversized long sleeve cotton t-shirt that I bring from home and leggings. At high altitude (over 5000m), I wore my thermals to sleep.
---
---
---
Silk Liner Socks
I bought a pair of liner socks in Kathmandu for $13, but they were really hard to find. I recommend buying them in advance. You only need these for the days you will be wearing your mountaineering boots. I layered them under my socks for extra warmth and my toes never got cold.
---
Underwear (16)
I hate doing laundry when I trek, so I pack a pair for each day. Doing laundry isn't so difficult, but if they don't dry by the time you leave in the morning, you have to hang them on the outside of your bag which isn't ideal. Our itinerary was for 15 days so I packed 16 pairs of underwear just in case we got stuck somewhere an extra night.
---
Sports Bras (3)
I have two bras to wear during the day, and one to change into once we arrive so that I'm not wearing a sweaty one as it gets cold at night.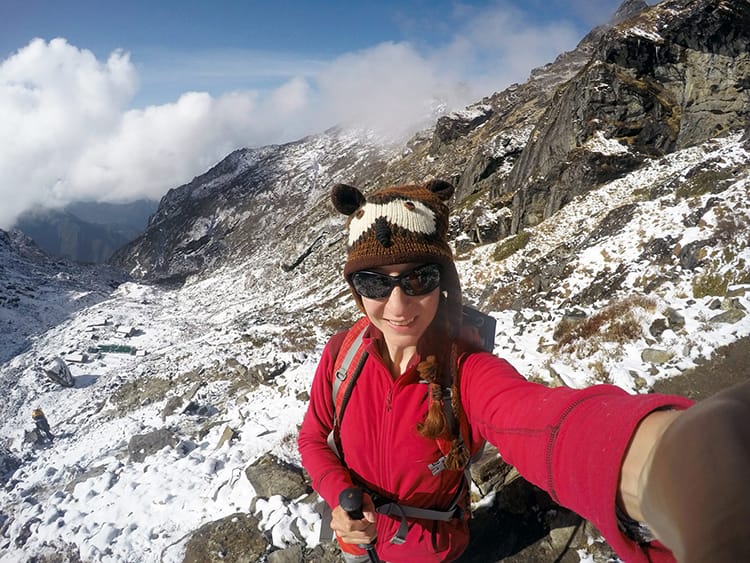 Accessories for Mera Peak
---
---
---
Glove Liners
Glove liners were one of the best things I bought. They were warm enough to wear a lot of days without being bulky or too hot. I got mine in Kathmandu for $5. You can also wear these under your expedition mittens on summit day.
---
Waterproof/Windproof Fleece Lined Gloves
These gloves were good for days when it snowed and going to high camp. Make sure to get waterproof gloves so your hands don't get wet.
---
Expedition Mittens
I rented these in Khare on the way to High Camp. They were included in my trekking package, so I'm not sure how much they cost. I didn't use these because I didn't get the chance to summit due to altitude sickness, but several people on the way down said, "Make sure to get the mittens!"
---
---
---
Garmin Forerunner Watch
Although I don't have a Garmin watch, it's moving up on my list of things to invest in. The cool thing is that this tracks your altitude gains and losses, distance, heart rate, etc. One of the guys doing the same trek had one, and I loved checking in every day to see what our progress was. Each year, I invest in a few items for trekking, so this will be one of my next big purchases.
---
Shoes for Mera Peak
---
---
Mountain Climbing Boots
Mountain climbing boots were part of my trekking package so we rented them in Khare. A lot of people had their own which was definitely helpful. On the way back to Lukla, we crossed over the Zatwra La Pass (4600m) after a snow storm. All the other groups had on their boots and crampons while I had on trekking sneakers. Having the right shoes for this section would have made it a lot less scary.
---
Mountaineering Crampons
Again, I rented these at Khare, however on the way back to Lukla, we hit some major snow and I had no traction on my shoes. The porter who carried my bag was kind enough to give me one of his crampons that slip over your shoes. I'd recommend a pair like these to have handy for areas that get hit with snow if you aren't carrying your own climbing gear. I was terrified of slipping over the edge of a cliff and even having one crampon helped a lot. I actually bought these small crampons for later treks and they are a life saver (literally.)
---
Flip Flops / Lightweight Sandals
These are good for running to the bathroom at night as well as showers if you want to pay for one. In Khote, you can get a hot shower for $3.50. Mostly, it's just nice to kick off your boots when you arrive anywhere.
---
Slippers
You can buy yak wool slippers in Kathmandu for $2. They're great for wearing around the tea houses at night when you don't want your boots on anymore.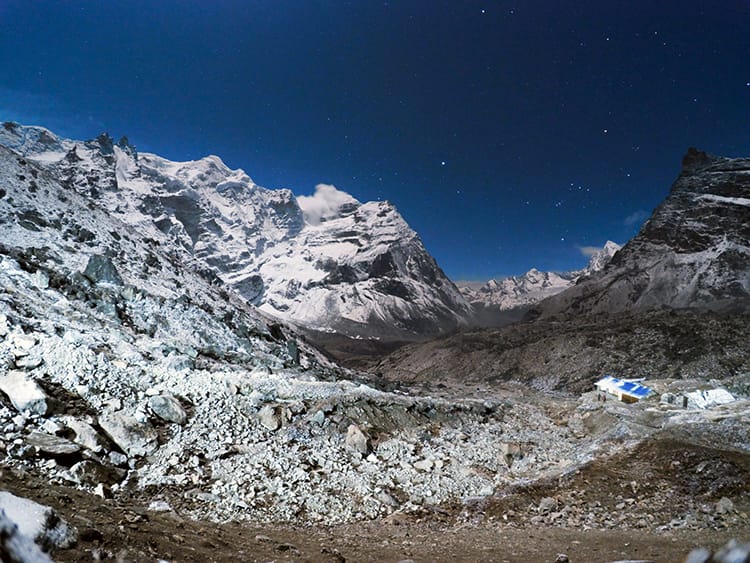 Sleeping Equipment for Mera Peak
---
-20 Sleeping Bag
I rented my -20 sleeping bag in Kathmandu. I paid 60 rupees a day, which ended up costing $12. It would have cost less, but I got stuck at the airport for 3 days without a flight.
---
Eye Mask & Ear Plugs
Tea houses have very thin walls and some don't have curtains for the windows. Chances are, people will be noisy and sunlight will wake you before you're ready to get up.
---
Snacks for Mera Peak
---
Peanut Butter
My trekking package included all meals, so peanut butter wasn't necessary. If your package doesn't include meals, tea houses charge extra for things like honey, peanut butter, and jam. Bringing your own will save money, and it's a good way to get protein.
---
Beef Jerky
Meat is pretty limited along the trail. You'll see it on menus, but I didn't want to risk eating it in case it wasn't fresh. A big bag of beef jerky made my days so much better.
---
Kind Pressed Bars
Vegetables and fruit don't grow above a certain altitude, so the diet in tea houses is very carb heavy. The one thing I missed most on my last trek was vegetables. These bars were great for adding a serving of fruit and veggies to my diet.
Tea Bags
Again, depending on your trekking package, tea may or may not be included. Tea in Kathmandu is around .50 a cup. As you get toward the top of the mountain it can be $3 a cup. In Khare, I was freezing and couldn't drink enough cold water to stay hydrated, so I drank a ton of tea. If you're on a budget, bring tea with you and order hot water which is half the price.
---
First Aid
---
Diamox
Diamox is a prescription medicine that helps prevent altitude sickness. Most people opt not to take it unless they get sick. That being said, it's good to have it on you. 10 tablets in Kathmandu can be bought for $1.50
---
Cold Medicine
It's pretty cold above 4000m, so I'd recommend having cold medicine with you just in case you get sick.
---
Water Purification Tablets
Aquatabs can be bought online or in Kathmandu for about the same price. Put one tab into a liter of water, wait a half hour, and it's drinkable. This helps save plastic and avoid unwanted garbage and also saves you big money. One bottle of water at altitude will cost about $4.
---
Diarrhea Medicine
Nepal is notorious for bacterial infections that cause diarrhea. Trekking routes are even worse. Most people who come to Nepal experience diarrhea at least once.
---
Electrolyte Tablets
Since diarrhea is so common, it's best to have some electrolyte tablets on hand or a powder to put into your water for quick rehydration.
---
Antibiotics
A high grade antibiotic is a must when trekking. You can pick some up at any pharmacy in Nepal without a prescription, but bringing one from home is best as far as quality. Make sure to ask your doctor when and how to use it.
---
Pain Killers
If you're trekking, you're bound to be sore at some point. Most people bring some kind of Advil with them. The only time I used a pain killer was at high camp when I got altitude sickness. My head was pounding so badly that I couldn't move. I took a pain killer and was able to quickly descend in altitude instead of getting evacuated.
---
Neosporin, Bandaids & Medical Tape
You never know when you'll get a cut or a blister. You may also want to grab some mole skin or second skin for comfort. I also carry medical tape or an Ace Bandage just in case I twist an ankle or need extra support.
---
Vitamins
On my last major trek I got sick, so this time around I had a strict vitamin regiment. Every day I took two probiotic gummies, four chewable Airborne vitamins, two olive leaf capsules, and one zinc pill. I also brought along activated charcoal pills in case of food poisoning. Note, the charcoal pills actually negate other medications, so be careful and read the instructions to avoid any problems.
---
Oximeter
Some guides carry an oximeter so that you can monitor your heart rate and oxygen levels. It's not a bad idea to carry one yourself if you're curious to see how your body is handling the altitude.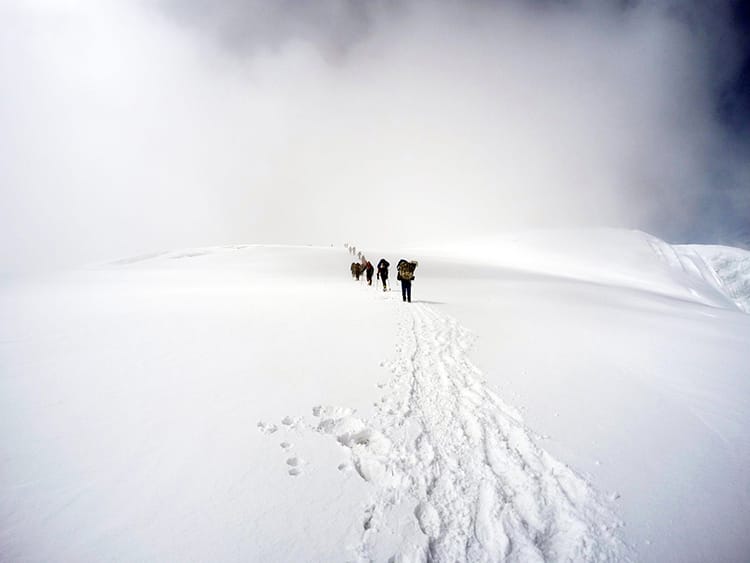 Electronics
---
GoPro, Spare Batteries, Charger
While a lot of people carry large DSLR cameras, I prefer a small GoPro for trekking. I also carry spare batteries and the charger just in case.
---
Cellphone, Namaste SIM Card, and Phone Charger
You can purchase wifi on the trek. It tends to be $5 for 200MB or $10 for 1GB. That being said, it only lasts for 15 hours and only works in certain tea houses. Namaste SIM Cards get service at certain points on route and seems to be the SIM Card that the guides use.
---
Headlamp & Extra Batteries
A lot of the tea houses run on solar power which runs out at night. In addition, the bathrooms tend to be outside, so you'll need a light to find the way. Mostly, you'll need this on summit day since you have to get up at 2:00am.
---
Kindle
I read four books on my Kindle while trekking. You have a lot of down time in the afternoons. Somehow, my battery actually lasted all 15 days without ever recharging it. Impressive.
Don't like carrying a book or Kindle? Check out audible! You can sign up for a 30-day free trial and get two books free by clicking the banner below! If it's not for you, you can cancel any time.
---
Power Bank
I have a Goal Zero Power Bank which I love. It charged my phone a couple of times and my GoPro once. This thing is a life saver. On the way to Mera, charging your cellphone costs $5 while charging a power bank costs $10.
---
Solar Panel
On my last trek, I had to pay to charge electronics, so I invested in this solar panel. It's not as lightweight as I'd like, but it works great. My only complaint is that I can't charge my iPhone directly from the panel, so I have to charge my power bank and then charge my phone.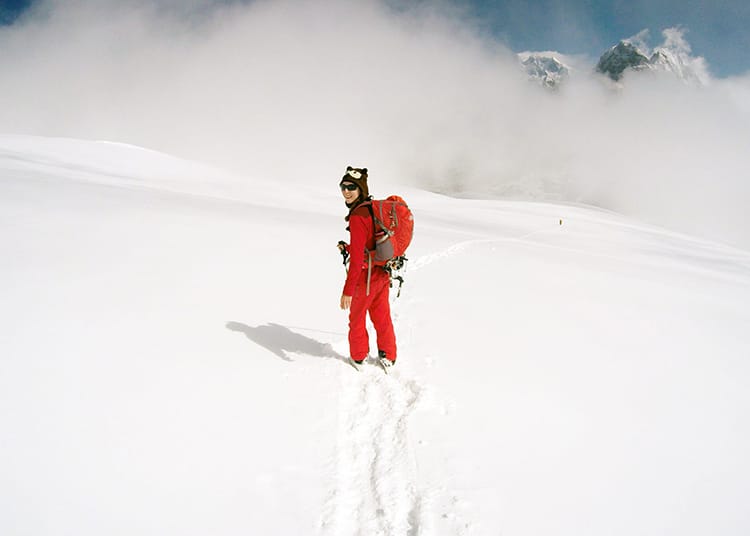 Toiletries
---
Hand Sanitizer
Most of the tea houses don't have running water, so hand sanitizer is your saving grace. Two travel sized bottles should be enough.
---
Toothbrush, Toothpaste & Floss
Because dental hygiene is key. Make sure to sleep with your water bottle at high altitude so it doesn't freeze at night, otherwise you won't have water to brush your teeth in the morning.
---
Hairbrush, Shampoo, Conditioner & Soap
There are a few tea houses along the way where you can buy a hot shower. Make sure to have a travel size shampoo, conditioner, and soap. Trust me, it'll make you feel human again.
---
Biodegradable Wet Wipes
I loved these Dude Wipes in lieu of a shower most nights. They were also great instead of toilet paper at high camp since they are biodegradable.
---
Nail Clipper
Pretty self explanatory, but make sure to get the kind with the little thing that cleans under your nails. Without a place to wash your hands properly, you'll get a lot of dirt under there.
---
Moisturizer & Sunscreen
I'd opt for a sport sunscreen of SPF 50. The sun is extremely strong at altitude, and it's best to have a sweat proof option.
---
Feminine Hygiene
I usually recommend a Blossom Cup, but there's really nowhere to clean it out. Therefore, I'd recommend pads and tampons for this trek. You may also need to bring a few large zip lock bags to carry used items back since you'll probably use the great outdoors as your bathroom. Simply carry them in a sealed bag until you reach the next teahouse with a garbage.
---
Vaseline (Aquaphor)
Your lips and nose will thank you. Trust me, no matter how healthy you are, your nose will be running like crazy, and the wind and cold will dry it out.
---
Toilet Paper & Tissues
Pretty self explanatory, but toilet paper is not provided at tea houses. You will need to bring your own. I had four rolls for 15 days, and I still made it back with half a roll.
---
Quick Dry Micro Fiber Towel
If you opt to take a shower, you'll want a small microfiber towel to dry off. They don't take up much room in your bag and will dry quickly once you are done.
---
Other Items Needed for Mera Peak
---
Ropes, Belay, Harness & Ice Axe
Since it was my first time mountaineering, I chose to include this in my trekking package and rent everything in Khare.
---
Hand and Toe Warmers
I actually never used these because I was too sick to try to summit, but I was told by others that Hot Hands are a necessity on summit day. Frost bite is more common than it should be on Mera Peak, so better safe than sorry.
---
2 One Liter Water Bottles
I chose plastic water bottles because I read that the metal ones freeze easily as do camel backs. I was happy with the plastic and only had to sleep with them three nights of the trek to make sure they didn't freeze. The BPA free bottles cost $5 each in Kathmandu.
---
Playing Cards
Trust me, you'll get super bored in the teahouses in the afternoon. Most of the time you finish trekking between 12:00pm and 2:00pm.
---
Copies of Paperwork
Make sure to have copies of your travel insurance in case you need an emergency evacuation. Also carry copies of your passport, visa, permits, etc.
---
---
My favorite stores in Thamel, KTM are:
---
Kalapatthar Trekking Store – for renting equipment like sleeping bags, down coats, etc.
Everest Outdoor Gear – for purchasing trekking clothing and gear for reasonable prices.
Special thanks to Swotah Travel & Adventure for arranging my expedition.
---
You might also like…