I think the western world has a weird fascination with monks. From afar they seem to be these superior beings full of knowledge and wisdom. You half expect them to sound like Yoda when they talk. So when a monk talks to you about taking a dump in the toilet it takes you a little by surprise.
Recently, I attended a silent retreat in southern Thailand where a monk of 30 years gave us a lecture once a day. I imagined these lectures to be informative and probably a little boring. I didn't expect to be laughing. So here's the advice our lovely dhamma friend gave us…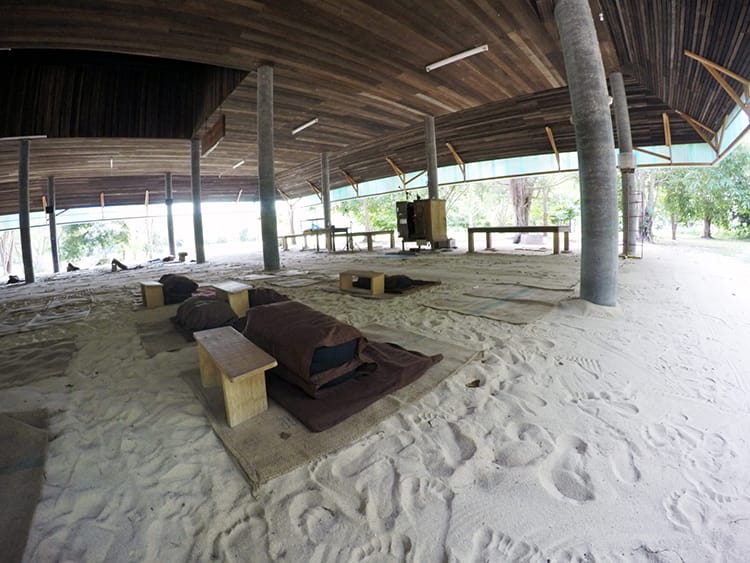 I'd like to note that Buddhism is founded around the belief that we can end suffering by getting rid of attachment. This includes great suffering as well as small suffering like not getting what you wanted for dinner and being disappointed.
---
The Meaning of Dukkha
---
"Dukkha is anything bad. Anything that causes suffering. In Christianity, it'd be like Satan. Very bad. When you first arrive, you are not very attentive, so you throw your shoes everywhere. Dukkha." He shakes his head back and forth in fake disappointment with a smile. "After a few days, better. Not Dukkha. Still need work, but better than yesterday."
---
Overcoming Cravings
---
"I like deliciousness too. It's very hard. As monks, we cannot enjoy food. We mix everything in one bowl. Then stir until color and flavor is blended. If it still taste good, we add water. It's no good. Not deliciousness." He makes a grossed out face. "It turns brown. Looks the way it does once it is digested. Easier not to crave food."
---
Eliminating Feelings
---
"Maybe you see papaya. You like papaya? Ahhhh okay, no papaya. You see pineapple. Yes, we like yellow fruit! So you see it, and you feel happy. Then someone in front of you takes it, and you feel mad. All from seeing it. You need to be mindful to control both feelings. So you see pineapple and you say ahhh pineapple, okay. No happy. No sad. It's just there. Okay?"
---
A Lesson in Impermanence
---
"We eat food and it looks delicious, but when we go to toilet same thing comes out gross. Decomposed. This impermanence. Toilet is good place for vipassana. Good place to contemplate impermanence. Easy to see." We later coined this as a vi-poo-sana.
---
Show Loving Kindness
---
"If bug bites me, it's easy to get mad. Instead of being angry, I say 'come again soon.' When a mosquito buzzes by my ear it's easy to get annoyed. Very distracting in meditation. I tell them to 'sing me a song.'"
---
When All Else Fails, Let Nature Take Its Course
---
"I have a short announcement. There are now two black cats on the property. They are here for our protection. There is rat empire in the ceiling of Hall 5." We happen to be sitting in hall 5 as this talk is taking place and everyone looks up, makes a face, and laughs. "Very distracting during meditation."
---
You might also like…