Dust was blowing in my face as cars raced by while my arm flailed in the air trying to hail a cab. I'd never had trouble finding one before, but today, they all seemed to be occupied. I waved at another, but again saw someone sitting in the front seat. It was occupied. Still, it pulled over and the man in the front asked where I was headed. He was going the same way and told me to hop in. This is how I met Swami Chaitanya Krishna, a specialist in singing bowl therapy in Kathmandu.
I can't say one hundred percent that I believe in fate, but I do believe that we are presented different opportunities daily. When life hands you a cab with a sound healing swami in it, it seems foolish to close the door. After having an interesting talk about what sound therapy actually is, I made an appointment to visit Swami Chaitanya Krishna at the Dynamic Singing Bowls & Healing Center in Thamel.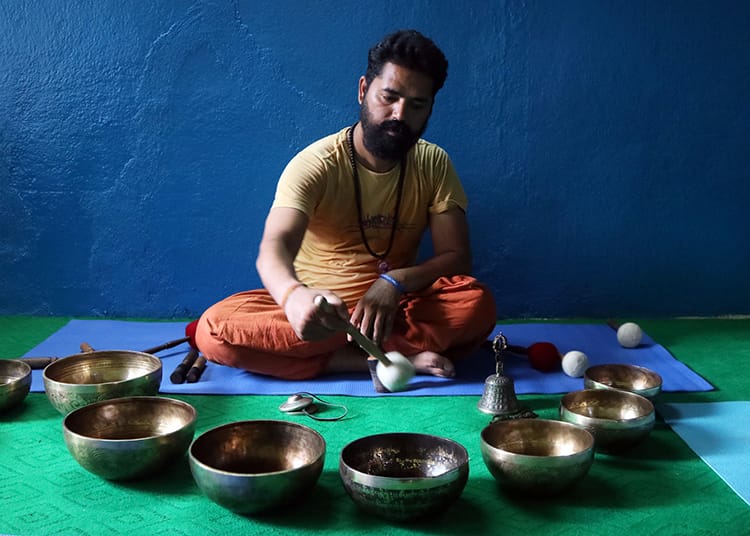 Vibrations trickled through the floor as a loud hum filled the air ascending and descending with ease. I was lying on my back on a yoga mat surrounded by singing bowls, a popular instrument in Tibetan-Buddhism. They each rang in turn as my eyes closed and I tried to focus my mind. It had been a while since I'd meditated. My schedule had been so busy, and my down time was filled with laziness or watching TV. Concentrating after such a long time felt difficult.
As the sounds changed, my mind began to feel at ease. My labored breathing began to slow down to a calm even pace. I've never been able to see a mental image while meditating, but I am usually able to see a blur of colors. The kind that look like a computer screen saver from the 90's. You know, the one that looked like moving tie-dyed images that you could stare at for hours. That's what I see when I clear my mind. A circle constantly getting bigger and smaller as if it has a pulse; it's own version of a breath.
The singing bowls allowed me to reach that state quickly, but then something changed. The colors were more vibrant than I'd ever seen, and somehow the colors changed with the change in tone from each singing bowl being rung. One brought on an emerald green, and when another rang at the same time, it mixed a beautiful deep navy blue in. Colors I'd never seen meditating before. Swami let those bowls fade away and then rung another which brought on the hot pink I was most accustomed to seeing. Finally, a high pitched headache inducing noise showed as yellow in my mind.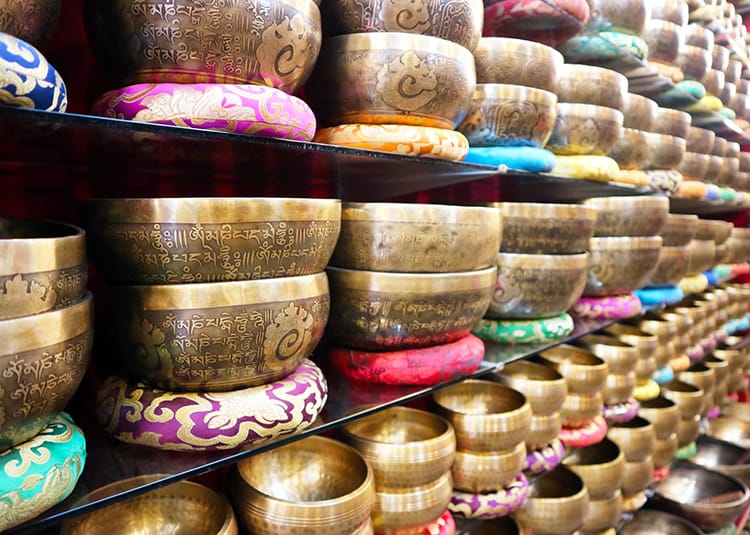 The signing bowls are meant to align your chakra and apparently that chakra was off because every time that specific bowl rang, it pierced my mind with a painful pang. As the sound fizzled out, so did my headache. The deeper the sound, the more relaxed I became. The bowl near my feet and at the top of my head made me feel a state of pure bliss. I could listen to the sounds of them all day.
I did a little research after the sessions to see which bowls had appealed to me and which bothered me the most. It seemed the singing bowls for my heart chakra and root chakra were my favorites. These represent love and trust. The ones that gave me a headache were the third eye chakra and solar plexus chakra which are known for awareness and wisdom. It's actually funny that this makes perfect sense for me because I've always followed my heart and I tend to trust too easily, however I don't always listen to reason.
At times Swami moved the bowls over me, and as they got closer, I could feel the vibrations through my entire body from my fingers through my heart and down to my toes. As if a wave was washing over me, the sound moved over me too. At one point, it seemed the vibrations in my veins became a bit too much. I felt a movement on my forehead, as if a spider was crawling across my skin. I tried to ignore it, but soon needed to swat the pest away, but there was nothing there except the lingering feeling of the vibrations.
When the session was complete, I felt relaxed and at ease. Although my mind jumped all over the place, like it always does when I meditate, it seemed easier to focus in on the sounds than to sit in silence. The beauty of the music was, by itself, a wonderful experience, but the added benefit of meditating to these sounds was what really made the experience therapeutic.
---
You might also like…