I had decided to trek the Annapurna Circuit with less than 24 hours' notice and was scrambling for books to download on my kindle before leaving the comforts of guaranteed WiFi. My friend recommended Annapurna Circuit: A Himalayan Journey by Andrew Stevenson. I wouldn't really recommend this book unless you've done a trek in Nepal or plan to. However, if you have interest in trekking in Nepal, this book is full of amazing little details that made me laugh and smile along the way.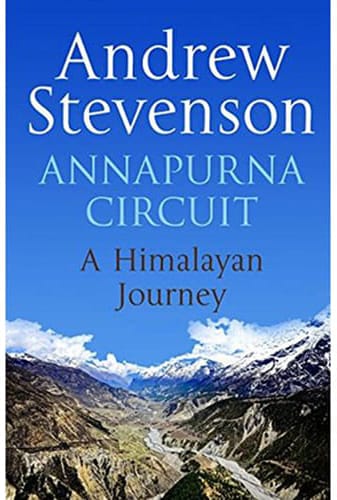 ---
The book is about Andrews trek around the famous Annapurna Circuit. The interesting thing is that he went at a time went it wasn't nearly as popular. Although the book was published in 2014, I believe the journey took place in the mid 90's. The reason I recommend this book for trekkers in Nepal is because I absolutely loved reading the book as I went through the same trek 20 years later. I'm not sure if I'd have found it as amazing if I couldn't relate to his experiences or laugh at the odd idiosyncrasies that I also notice every day in Nepal.
It's funny to me how things can develop so quickly, yet ultimately stay the same in so many little ways. I noticed and questioned the odd western style posters in the tea houses. When I asked the name of a mountain, and it was called "Just a hill," I also laughed. Unlike me, Andrew stayed in extremely basic accommodations (the only thing available at the time) and walked on a trail with very few trekkers.
I decided to read each chapter after I'd left the town he was writing about so that I could form my own thoughts and then see what his journey was like in the 90's. I actually laughed at how similar our journeys were. Even the simple displeasures of carrying my own backpack seemed to be highlighted in the book.
"Nevertheless, in Kathmandu I unloaded two heavy woolen socks, a woolen shirt and a pair of jeans. I regret not taking more out of my moveable wardrobe and mentally cast out several more items."
Something else that struck me was his insight on being a tourist in Nepal. Having spent so much time there, I've begun to see things in a different light. For those who only visit shortly, it's hard to see the struggle that the smiling Nepali people face every day. Andrew's insights on his privilege were really honest. I think a lot of people arrive in Nepal and fall in love without realizing that their life is considerably easier than the average local.
"Refugees of Western affluence, we fall asleep, comforted by the exoticism of a chosen, and fleeting poverty."
His perspective on trekking and Buddhism is also alluring. He explores the religion while providing the history of each area, which was insightful since I was also walking through these villages. He has a very similar outlook on trekking as I do. When people ask why I trek, my answer is usually similar to the quote below, although my answer is not as well worded.
"The immensity of the mountains is humbling. There are no man-made machines or structures to give a sense of self-importance. We are merely ants, crawling on the surface and wrinkles and folds of this earth, itself only a tiny fragment in the universe."
Overall, I would say this book is a must read for anyone planning to do the Annapurna Circuit or anyone who has completed it. I'd also highly recommend it to those trekking or hiking anywhere in Nepal. It really opened my eyes to so many things while I was trekking and showed me how quickly Nepal is evolving to fit tourists needs. Most of all, it was fun to read someone else's struggles and epiphanies while I was having my own.
Do you have a favorite book about Nepal or trekking? I'm always looking for recommendations so please share them in the comments!
---
Don't have time to sit down and read a book? Check out audible! You can sign up for a 30-day free trial and get two books free by clicking the banner below! If it's not for you, you can cancel any time. This is a great option if you're on the road or commuting and want to listen as you go.
---
You might also like…