It was a few years ago that a friend tagged me in a Facebook post asking what I thought about the Living Goddess. The post she tagged me in was a brief clip of the struggles a Living Goddess goes through which highlighted all the negatives. I left my opinion which looked at the Living Goddess from both perspectives and pointed out how the video clip was misleading. But below my comment was a slew of comments exclaiming child abuse and a barbaric society. Comments that were far-fetched in my opinion, and took little time to understand this tradition. So, I was really excited to read a book not just about the Living Goddess, but written by one. Which brings us to From Goddess to Mortal: The True Life Story of a Former Kumari by Rashmila Shakya as told by Scott Berry.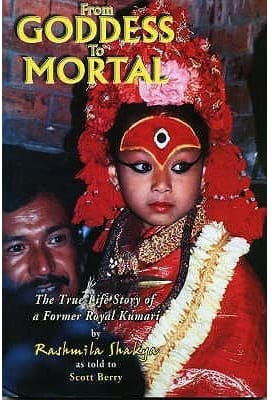 Living in Kumari Che I feel that I was in a far happier position than a child living in a boarding school dormitory. Yet parents continue to send their children to boarding schools, and no one complains about human rights violations.
From Goddess to Mortal is the story of Rashmila Shakya who was Royal Kumari (the Living Goddess of Kathmandu) from 1984 – 1991 starting at the age of 4. She was taken away from her home and family (although they could visit as much as they liked) and moved into a palace in the famous Kathmandu Durbar Square. The Living Goddess is believed to embody the Goddess Teleju who looks over Kathmandu and Nepal. People come to her to pray and to ask for her advice. She's even worshipped by the king who asks for her blessing once a year. It's believed that her blessing will reinforce his position as king and anything else signifies certain doom.
From Goddess to Mortal is written in a simple manner that is easy to read. While it explains everything you need to know, it doesn't go into great details, so it sounds like a friend telling you their personal story. What I love about this book is how it highlights both the positives and negatives of being Kumari. It also clarifies a lot of the rumors around Kumari. For instance, it's often said that in order to become Kumari, the child is shown severed buffalo heads as an attempt to scare them because only the true Kumari wouldn't be afraid. Apparently, this couldn't be further from the truth and she describes the selection process as being simple since so few girls are eligible to be Kumari to begin with.
Little did I suspect, however, how totally my life would change, for the past 8 years had done almost nothing to prepare me for the hurly-burly of life in a big family where everyone pulled their weight and no one was indulged.
Something I found interesting was that while her time as Kumari seemed almost normal to her, it was going home at the age of 12 that was the hardest. Her struggles adapting to a new world were the kind one couldn't even comprehend. While the current Kumari receives a full education, back then, she was only given an hour of tutoring a day which was often interrupted. Kumari is believed to know everything as she is a goddess, therefore teaching her is considered pointless. But when she left the palace, she knew almost nothing and had to start school with little children even though she was already 12 years old. Even learning to walk in shoes presented as a challenge as she had never worn them and wasn't allowed to walk outside the temple except on a few special occasions during her time as Kumari.
I was no longer the girl who was so out of place that she had to sit and look out the windows at the other kids playing at recess time. I had become almost boringly normal, and my life as Kumari was relegated to the past where it belonged.
From Goddess to Mortal was incredibly insightful, and I honestly couldn't put it down. I finished the book in two days and wished I could read the stories of other Kumari to see what their lives were like as well. This book gives a better understanding of this tradition and allows us to open our minds to the beliefs of another culture. One of the beautiful things about Kumari is that she is from a Buddhist family (believed to descend straight from Buddha's family line), but she is inhabited by a Hindu goddess. She is worshipped by both religions and is a symbol of tolerance and unity. If only we could all be more open to understanding other cultures and religions and if we could ask questions rather than jump to conclusions.
---
Don't have time to sit down and read a book? Check out audible! You can sign up for a 30-day free trial and get two books free by clicking the banner below! If it's not for you, you can cancel any time. This is a great option if you're on the road or commuting and want to listen as you go.
---
You might also like…