I have a list of books on my phone that people have recommended to me. Every time I look for a new book, I scroll through the list and try to find one. Sometimes, the same book gets recommended repeatedly and finally catches my eye. Me Talk Pretty One Day by David Sedaris is one of those books. A friend visiting Nepal was talking about how she loved David Sedaris' books with his sarcastic self-deprecating take on travel and family. If there's one thing I love in a travel memoir, it's self-deprecation.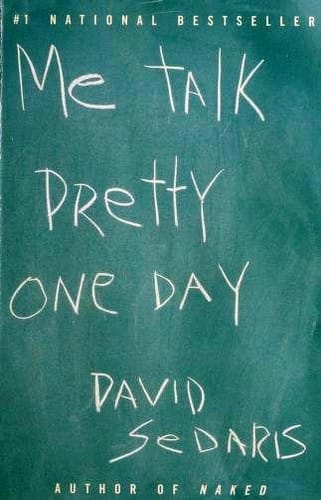 ---
Me Talk Pretty One Day is an ode to all the little moments we usually wouldn't take the time to write about. The insignificant details that support a larger story but often only get a few lines in an entire chapter. Instead of shying away from these moments, David Sedaris goes into great detail to explain them to their fullest, creating an entire novel out of what most peoples would consider nothing. But don't let this description fool you. Me Talk Pretty One Day is brilliant in its simplicity.
Some of my favorite moments are about New York City where I lived for 8 years. He somehow encapsulates New York while telling stories about a disappointed tourist. He spends an entire chapter describing this crazy woman's visit and all the things she expected from a city that often comes off as rude. Her utter disappointment in all things New York shows exactly why many visitors hate it and why people who live there love it.
Visiting Americans will find more warmth in Tehran than they will in New York, a city founded on the principle of Us versus Them. I don't speak Latin but have always assumed that the city motto translates to either Go Home or We Don't Like You, Either.
Beyond disappointed tourists, he offers an amazing insight into the world of New York City apartments. Especially how hard it is to find one and how most New Yorkers would even avoid breaking up with someone just to keep from moving.
In other parts of the country people tried to stay together for the sake of the children. In New York they tried to work things out for the sake of the apartment.
Beyond insight into New York, the first thing that drew me to this book was the difficulty of learning a new language. I've been trying to learn Nepali for a while now, and it doesn't seem to be getting any easier. The authors struggle to learn French was not only hysterical but highly relatable. Like we were sharing an inside joke.
I picked up a few words, but the overall situation seemed hopeless. Neighbors would drop by while Hugh was off at the hardware store, and I'd struggle to entertain them with a pathetic series of simple nouns. "Ashtray!"

"Yes," they'd agree. "That's an ashtray all right."

"Hammer? Screwdriver?"

"No, that's okay, we've got our own at home."
Beyond travel, the book offers insight into how foreigners view Americans, the odd dreams of Mr. Sedaris, funny stories about his family and more. It's oddly refreshing, witty, and just a good fun read. I'd highly recommend this to anyone who enjoys sarcasm or a good laugh. I'd also recommend it to those who have lived in New York City or France or those trying to learn a new language in a foreign country.
---
Don't have time to sit down and read a book? Check out audible! You can sign up for a 30-day free trial and get two books free by clicking the banner below! If it's not for you, you can cancel any time. This is a great option if you're on the road or commuting and want to listen as you go.
---
You might also like…