I downloaded Siddhartha by Herman Hesse after a friend recommended it to me. To be honest, I didn't really know what it was about and had wrongfully assumed it was the story of Buddha. My friend had described it as "simple but profound" and he was right. Siddhartha tells the story of a boy (who exists during the time of Buddha) who sets off on a pilgrimage to reach enlightenment.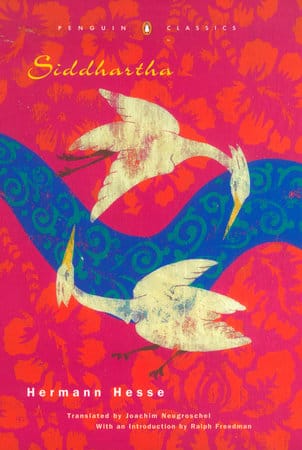 ---
At first, the book was hard for me to get into. It's been translated from German to English, and I think some of the finesse has been lost. Once I got used to the wording of the novel, I really began to love its beautiful insights. Siddhartha starts out a bit arrogant and annoying making him highly unrelatable, but on his journey he discovers his imperfections, and I really grew to like his character.
His journey starts as a Brahmin, but he quickly decides to leave his family to become a Samana which is a traveling ascetic. Here he learns three great skills. To think, wait, and fast. Next, he meets the Buddha where he learns that nothing can be taught without learning it for oneself. It isn't until he meets a beautiful woman named Kamala, that I really became interested in his journey. From her, he learns the art of love. What makes it so interesting though, is that she will only date a rich man, and so he begins to work as a trader.
During this time, Siddhartha falls into the trap of greed and materialism. It's refreshing to see that a man who has spent his whole life trying to find the route to happiness could also get trapped by simple things like money. Having worked in the fashion industry, this chapter really spoke to me the most. Being consumed by things that are meaningless can happen to anyone.
"Property, possessions, and riches had also finally ensnared him; they were no longer trifles of a game to him and had become a shackle and a burden."
While most of the book is about his journey to find peace, it's the last two chapters which are full of wisdom. He has to pick himself up from his lowest moment and start over, except he isn't really starting over because he's learned something from every experience in his life that has brought him to this dark place. It's a beautiful reminder that no time is wasted and that there's no such thing as moving backwards in life.
"Things had been going in a downward spiral for him, and now he faced the world again void, naked, and stupid. But he could not feel sad about this; instead, he even felt a great urge to laugh about himself and about this strange, foolish world."
I recommend this book to anyone who's been on a journey to find themselves. I don't want to give too much away, but the end of the book is filled with so many beautiful quotes and lessons. To read about each stage of his life, what he learned, and how he found inner peace was really profound. It showed me that there are no wrong paths in life, and each road brings you where you are supposed to be.
"My life has been wondrous indeed, he thought; it has taken wonderful detours."
---
Don't have time to sit down and read a book? Check out audible! You can sign up for a 30-day free trial and get two books free by clicking the banner below! If it's not for you, you can cancel any time. This is a great option if you're on the road or commuting and want to listen as you go.
---
You might also like…