One of my favorite discussions to have on the road is what book my fellow travelers are reading. A friend from Nepal recommended The Snow Leopard by Peter Mattheissen to me. I'd just completed the Everest Base Camp Trek and was looking for my next adventure. After reading up on almost every trek available in Nepal, I was told about Upper Dolpo.
Dolpo is a region in western Nepal. The area is primarily Tibetan and is thought to have a population smaller than 20,000. What drew me in was the fact that Dolpo has had many restrictions for visiting, and was only opened to trekking in 1989. Therefore, it's maintained a pure culture, untouched by modern civilization.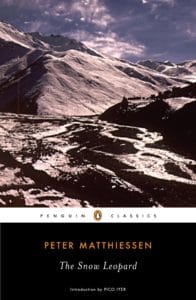 ---
The Snow Leopard is about a 1973 expedition into the mountains of the Dolpo Region to study the Himalayan Blue Sheep. The author, Peter, and field biologist George Schaller trek for months in an area with no roads and little access to the rest of the world. His description of the country, the mountains, wildlife, and its small villages paint a vivid picture.
"I wait, facing north; instinct tells me to stand absolutely still. Cloud mist, snow, and utter silence, utter solitude: extinction. Then, in the great hush, the clouds draw apart, revealing the vast Dhaulagiri snowfields."
While a large part of the book describes the rural villages, religious beliefs, and wildlife, it's Peter's inner dialogue that really had me hooked. In moments when he finds himself searching for the famous ghost cats, he's also diving deeper into himself. He's on a mission to better understand Buddhism and the meaning of life, or better yet, how best to live it. His inner journey to me was far more compelling than his physical journey.
"Overwhelmed, exhausted, all thought and emotion beaten out of me, I lost my sense of self, the heartbeat I heard was the heart of the world, I breathed with the mighty risings and declines of the earth, and this evanescence seemed less frightening than exalting."
If all of that doesn't have you hooked, his struggle with trekking countless hours is oddly relatable to anyone who has done a long hike or gone camping. He finds himself loosing track of time, forgetting material things, and realizing that he doesn't really miss the modern world. In fact, he's found a kind of escape from everyday life. He finds a place where he can always be present and in the moment with little distraction.
"Finally, I remove my watch, as the time it tells is losing all significance."
I will admit that this book is not an easy read. It took me over a month to complete it as I often found myself rereading sentences multiple times until I fully understood them. Even then, there were some that still eluded me. This is definitely one of those books that I could see myself reading in five years, and find a whole new meaning in it. What I love about this book is that each sentence has been formed with thought and precision. Each sentence is full of significance. I could quote this book all day, but I'll leave this post with just one more…
"I feel great gratitude for being here, for being rather"
---
Don't have time to sit down and read a book? Check out audible! You can sign up for a 30-day free trial and get two books free by clicking the banner below! If it's not for you, you can cancel any time. This is a great option if you're on the road or commuting and want to listen as you go.
---
You might also like…