In Nepal, it's common to hear of books or movies about people risking their lives to go mountain climbing. The Himalayas are often seen as the only noteworthy topic in this country which is a shame when there are stories out there as interesting as Dr. Sanduk Ruit. The Barefoot Surgeon by Ali Gripper tells the true story of Dr. Ruit who grew up in the mountains of Nepal with the bare basics of life and how he went on to be the leading cataract eye surgeon in the world.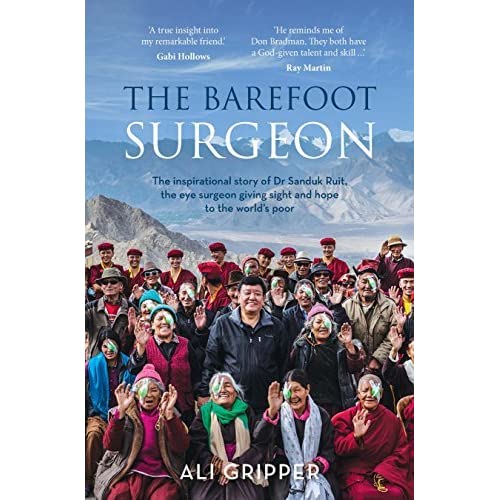 ---
The beginning of this book walks the reader through the childhood of Dr. Ruit who grew up in the tiny village of Walung. He was a mischievous kid with a lot of curiosity. His parents knew from early on that he needed a proper education, one that wasn't readily available where they lived. Therefore, he was sent to the city where the language, culture, and even things as simple as a bunk bed seemed foreign.
The next thing Sanduk knew, his father…was wrangling his son up onto the roof of one of the buses. 'I remember staring at its large rubber wheels in amazement. Was this thing going to fly? Was a horse going to drag it along? Was it going to float on water?"
Dr. Sanduk Ruit had a tough time adjusting to life at boarding school. Several life experiences made him realize he'd have to work extra hard to get what he wanted in life. He came from humble roots with no connections. It was the tragic death of his sister that made him go into medicine. Their family couldn't afford the treatment and it became his life mission to help those in need, not just those who could afford it.
'It was not unusual for 50 percent of your family members to die in Nepal… But suddenly, I simply could not understand, and I could not accept, that half my family had to die simply because we were poor and lived in a remote part of the world.'
The book goes on to tell the trials and tribulations he faces as a medical student, a doctor, a husband, and a father. When he begins to succeed, it's as if the entire world is against him. Dr. Ruit develops a groundbreaking technique to fix cataracts, but doctors around the world question his technique despite incredible results. At every corner, he is forced to prove himself.
Work with passion, with your heart, as if every person you meet is the most important person you meet that day.
Over time, he manages to cure the blind, not only in Nepal, but in several developing countries around the world. He comes up with a system where those who can afford to pay do, and those surgeries pay for those who can't afford it. The number of blind people in Nepal has been cut in half since 1980 due largely to Dr. Ruit and his team's ambitious goal to free Nepal from blindness.
Dr. Ruit's story is truly inspirational. I especially loved hearing about where he grew up, his family, and his days at boarding school. It's amazing to think how someone who grew up without electricity would go on to be one of the leading eye surgeons in the world, and how a single person could make such a huge difference in so many lives. I would recommend this book to anyone who loves a good underdog story!
---
Don't have time to sit down and read a book? Check out audible! You can sign up for a 30-day free trial and get two books free by clicking the banner below! If it's not for you, you can cancel any time. This is a great option if you're on the road or commuting and want to listen as you go.
---
You might also like…