I was watching Tahir Shah speak at a conference (online) and was completely drawn in. When the talk was over, I Googled his book and downloaded it right away. The Caliph's House by Tahir Shah quickly became one of my favorite books.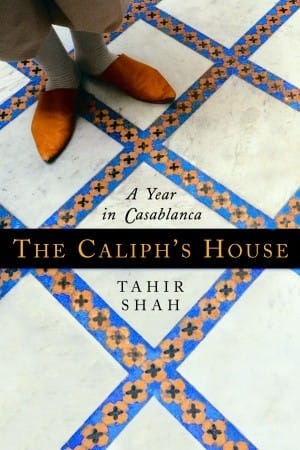 ---
The book is a hilarious mix of home renovations in the style of HGTV's First Time Flippers where everything that can go wrong will. Plus, the cultural dynamics of living in another country where everything is different from what you know. And in true Moroccan style there are evil spirits and of course an exorcism. Tahir Shah has an absolutely brilliant way of describing the obscure making this book hard to put down.
Morocco had brought color to my sanitized English childhood, which was more usually cloaked in itchy gray flannel shirts and corduroy shorts, acted out beneath an overcast sky. The kingdom had always been a place of escape, a place of astonishing intensity, but, beyond all else, a place with soul.
Tahir Shah dreamed of taking his family to live in vibrant Morocco. A place he had visited as a child. He wanted to leave the comfortable life of England and face adversity in a way that could shape his children into well cultured people with a better understanding of the world and others. In doing so, he buys The Caliph's House in Casablanca.
When you buy a home abroad, you have to prepare yourself for the unexpected. I knew there would be language problems and cultural barriers to overcome. But nothing had readied me for an army of invisible spirits.
What follows is a hilarious unraveling of events where he faces cultural differences with his staff and workers. Mr. Shah has his work cut out for him between the evil spirits that live in the toilet at night, guardians who believe in every superstition, an assistant who solves each problem with a trip to the black market, and workers who are great at starting projects but awful at finishing them.
Kamal waved a finger at my face. "You have it quite wrong," he replied. "In Morocco, the more insane the artist, the better he knows his craft. It will take time to find a truly disturbed team to work here at the Caliph's House."
My favorite part of this book is how it's written. Tahir Shah splits the chapters into small bite sized segments, as if you are reading a bunch of short stories that all relate to each other. Each chapter isn't a full picture. Instead, it's much like diary entries that show up in chronological order. Each one a small chunk of information that leaves you wanting to know what happens next.
I honestly can't recommend The Caliph's House enough. Whether you like to travel, learn about culture, do house renovations, or just laugh, it really is an incredible book. Having moved to another country with an entirely different culture, I found this book highly relatable. Although I haven't had to deal with unruly spirits… yet.
---
Don't have time to sit down and read a book? Check out audible! You can sign up for a 30-day free trial and get two books free by clicking the banner below! If it's not for you, you can cancel any time. This is a great option if you're on the road or commuting and want to listen as you go.
---
You might also like…