My husband and I have been reading a lot of books about Nepal recently, and he was interested in reading about Boris. I, like many others, had no idea who Boris was or which book he was talking about. He picked up a copy of Tiger for Breakfast by Michel Peissel and finished the almost three-hundred-page book in days, raving about it in between chapters. My husband is a picky reader, so when he likes a book that much, I'm more than a little intrigued. I have to say, any book that starts with the following sentence is bound to be an interesting read…
"And what is this?" asked the customs officer, prodding a large pint tin in my luggage. "Arsenic," I replied.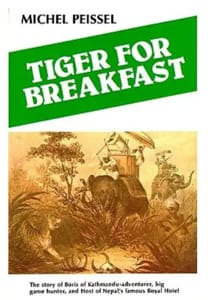 Tiger for Breakfast is the fascinating true story of Boris Lissanevitch who had to flee Russia during the Russian Revolution. To escape his country unharmed, he joined a ballet company that would tour Europe. The funny thing is, he became quite the dancer and was known internationally after appearing in Diaghilev's ballet. Along his tours, he visited Calcutta India where he lived among some of the richest men in the world and opened an exclusive member only club.
While running the famous 300 club, he met the King of Nepal and even helped him to get his throne back from the Rana family who had been holding him prisoner in his palace since he was a boy. Later, Boris went to Nepal and fell in love with the country. At the time, almost no foreigners had visited the land and Boris has since become known as the father of tourism in Nepal.
For though Boris has been facetiously called "the Number Two attraction in Nepal after Everest," it is the world's highest peaks, which form Nepal's northern frontier with Tibet, that have always been the focal point of the country's attractions.
He opened the first hotel, hosted King Mehendra's coronation, organized Queen Elizabeth's first visit to Nepal, and helped almost all of the first expeditions headed to the Himalaya. What I found fascinating was the nonchalant mentions of Edmund Hilary, Tony Hagen, Peter Aufschnaiter and other explorers who you only read about in history books. The book reads like a who's who of the time, as anyone worth knowing was in Boris' inner circle.
It may be mentioned that to get anything done in the valley without asking Father Moran or Boris requires weeks of patience, days of anxiety and hours of frustration, the Nepalese officials on their side demanding lengthy consultations with … divinities and months of meditation before being moved to action.
My favorite parts of this book are Boris's smaller exploits in business. He constantly had new ideas like pig farming in Nepal, creating luxury overland cruises in areas where there were no roads, even ensuring each guest of the Royal Hotel had a hot bath in the morning is fun to read. It's these little details that made me laugh out loud as his businesses were often last minute ideas that weren't always thought through. With that being said, he was responsible for the first hotel in Nepal, a famous club in India, and even helped start Cathay Pacific airlines just to mention a few. He also introduced most foreign food to Nepal including the strawberry which is now a major crop grown on the hills surrounding Kathmandu.
The only thing I disliked about the book was the chapters explaining the tiger hunts and training of elephants in detail. These are are now outdated and frowned upon, but at the time they were seen as being an exclusive hobby for only the richest people of Nepal. At the time of publication this information must have been fascinating, and it does give insight into the time. But reading it today, I felt it took away from the story more than adding to it.
For however amazing and unreal all his experiences may appear, there has remained behind the name Boris only one individual: an artist of the unusual, a man who is at his best in strange circumstances, working against incredible odds.
Overall, I really enjoyed Tiger for Breakfast and all the small details about life in Kathmandu and India in the 50's and 60's. A time when only a select few people got to witness the country as outsiders. Michel Peissel paints wonderful pictures with his words, and he draws you into the story of a man who lived a fascinating life. I'd recommend this book to those traveling to India and Nepal, but also for entrepreneurs since Boris's business ideas are one for the books.
---
Don't have time to sit down and read a book? Check out audible! You can sign up for a 30-day free trial and get two books free by clicking the banner below! If it's not for you, you can cancel any time. This is a great option if you're on the road or commuting and want to listen as you go.
---
You might also like…