One of my colleagues recommended that I read these two books shortly after I told her I was reading The Boy in the Striped Pajamas by John Boyne. I generally choose to read books by people who actually lived through the events and time they are writing about, but felt I'd make a second exception for Shanghai Girls and Dreams of Joy by Lisa See. The friend who recommended them used the books in her classroom to teach kids about communism, so I felt they must be fairly accurate to the times. Let me tell you, these books blew my mind.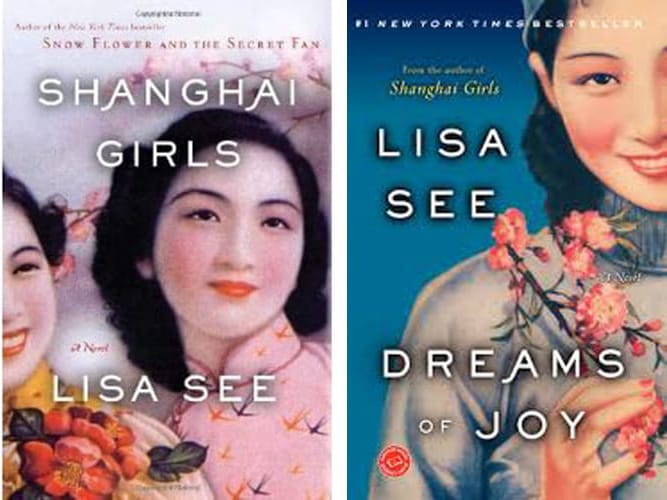 ---
I've been reading a lot of books about Asia since I'll be spending a year there come January. Sadly, I couldn't fit China into my schedule as it's such a large country, but I like learning the heritage of different countries regardless of my itinerary. Let me tell you a little synopsis of what I knew about Chinese history prior to reading these books (I blame the public school system for my lack of knowledge here). Japan bombed Pearl Harbor and the U.S. immediately became suspicious of all Asian people who "looked" Japanese. We then placed Japanese Americans in camps who suffered a great deal. This included some Chinese people who were labeled improperly based on their appearance. Later, China became a communist country. Mao was in charge. Communism was bad because suddenly people who worked hard their entire lives were considered the bottom of society. That about sums up what I remember from school.
Shanghai Girls gives a detailed account of the Second Sino-Japanese War from the standpoint of two wealthy Chinese sisters. While living in Shanghai in the 30's, Japan bombed their city and invaded. The story paints a picture of two rich girls forced to flee their home, suffer unimaginable losses, and find their way to America. Told in explicit detail, you can't help but cringe at the nonchalance of stepping over a dead baby in the street or seeing one of their friends dead bodies after a bomb goes off. Not only are the images from China disturbing, but so are the tales from Angel Island where the girls await to enter the U.S. I visited Ellis Island shortly after completing this book, and really saw it in a different light. I'm sure it was a beacon of hope for many, but it was also the place where you could be turned away from all of your dreams. The story goes on to tell the tale of two women growing up with the scars of their past in a country that never really embraces them.
---
Shanghai Girls is actually a prequel to Dreams of Joy, although I recommend reading Shanghai Girls first for the chronological order. Dreams of Joy is about one of the main characters daughter, who flees back to China to discover her heritage and meet the rest of her family. Lured in by the false hope of the "trendy" communist party, she leaves the U.S. feeling like an unwanted citizen. Although this book starts off slow, the end really shows the vivid imagery of China under the communist rule. As she gets shipped off to a farm in the country and food portions start to diminish, you see the effects of hunger and how some people will do anything to survive including the unimaginable. When a single grain of rice is the only thing keeping you alive, desperation takes over. Hauntingly beautiful, this story tells of a family torn apart by war and famine and put back together through the most horrifying times.
The author, Lisa See, interlaces true stories into the book from people she interviewed who lived through the war, entered the U.S. through Angel Island, or grew up under communist rule making it all the more real. There are moments that make you cringe in disgust, and moments that make you cry, but learning the history of China from such an unfiltered view is truly eye opening.
---
Don't have time to sit down and read a book? Check out audible! You can sign up for a 30-day free trial and get two books free by clicking the banner below! If it's not for you, you can cancel any time. This is a great option if you're on the road or commuting and want to listen as you go.
---
You might also like…