Nepal is a mecca for adventure tourism. I knew I wanted to go bungy jumping, but to be honest, I didn't know if I'd have the guts to jump. I didn't want to take a 4 hour bus ride to The Last Resort with nothing to show for it. After looking at their website, I fell in love with the idea of canyoning in Nepal (better known as waterfall abseiling). I decided to sign up for both activities and an overnight stay at the resort.
Canyoning in Nepal
---
Initially, I thought it would be scary and thrilling, but after jumping off a 525-foot bridge with nothing to hold onto, climbing a waterfall with a rope seemed like a breeze. In the morning, our group of ten was given instructions on how to descend each waterfall safely. It's a lot like coming down from an indoor rock climbing wall. Your feet are spread apart, and your legs are straight. You lean back into a sitting position and walk or bounce your way down. The only difference is the wall is uneven and slippery. Oh yeah, and you're getting pounded by water sometimes.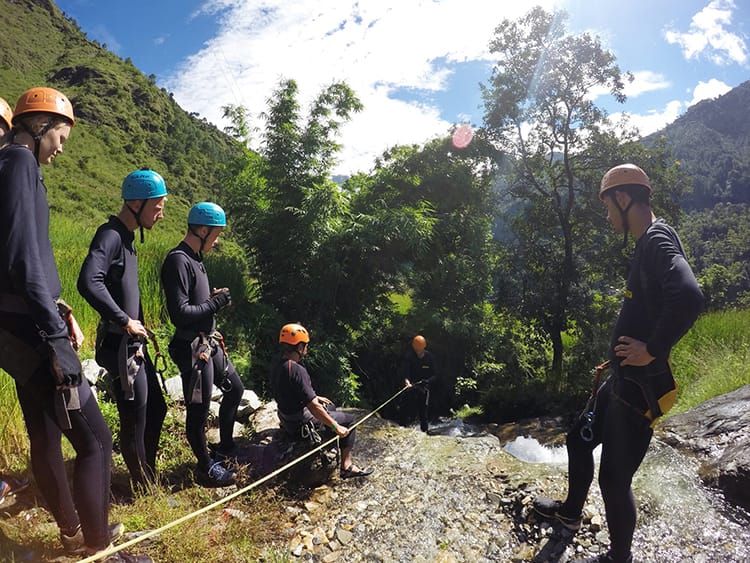 It was definitely challenging enough to keep me focused, but mostly it was just plain fun. I loved being under the waterfalls and trying to get my footing. I lost my grip a few times and hit the wall, but it was never scary or painful. I'd just readjust and try again. Watching other people come down the falls after me was really cool too. Some people flew down while others were more cautious and screamed as the cold water hit them.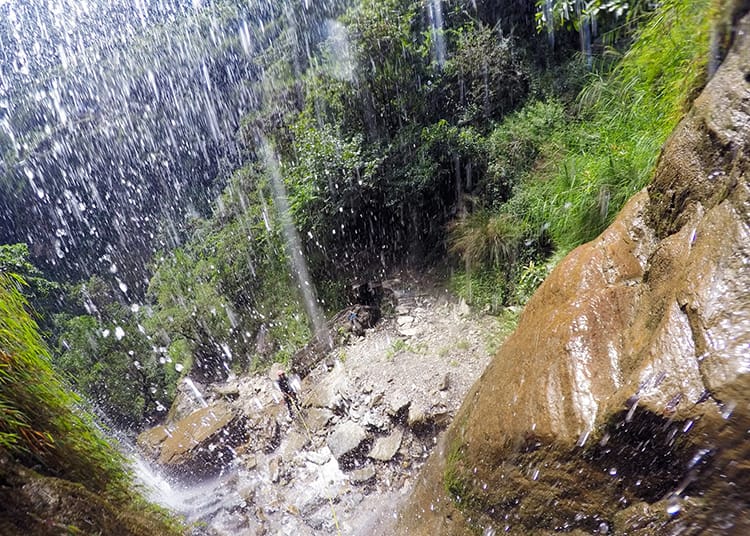 The first few waterfalls were small, but the last two were 100 ft and 135 ft tall. Maybe if I'd done this prior to the bungee jump, the heights would have bothered me, but walking back and forth over the 525 foot high bridge desensitized my fear of heights. Suddenly, 135 feet of waterfall felt like nothing. I honestly could have abseiled waterfalls for an entire day, and I was sad when it was over.
If canyoning is not on your bucket list, add it now. Abseiling a waterfall is probably one of the most fun and most enjoyable things I've done on my entire trip. The Last Resort will also be opening up their two and three day canyoning trips, which is what I originally wanted to sign up for. When I visited, they were still under maintenance from the earthquake. I've been told by the staff that they may be opening in the next 6 months, which means I'll have a reason to go back!
Have you ever done an adventure sport and found it oddly calming? Spill in the comments.
---
You might also like…