The Gaurishankar Conservation Area is located in the northeastern corner of Central Nepal between Langtang National Park and Sagarmatha National Park. The area is home to endangered species and offers spectacular views of Gaurishankar Himal (7,134m). Tourists tend to visit the two neighboring national parks without setting foot in the beautiful Gaurishankar Conservation Area making it the perfect off-the-beaten-path destination. Within the area you can find trekking trails, peak climbing, adventure sports, bird watching, glaciers, holy lakes, and a vast array of ethnicities. Here's everything you need to know…
Note: Much of this information was provided by GCAP. I found different numbers in the pamphlets they provide compared to the information they have online, so I apologize if the numbers are off a bit.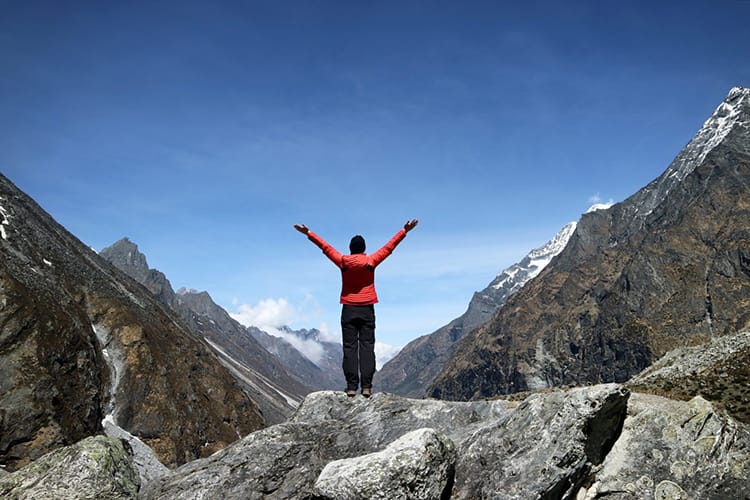 Gaurishankar Conservation Area Permit Fees
---
The Gaurishankar Conservation Area charges a 3,000 rupee fee (about $30 USD) to foreigners visiting the area. The permit is good for a single entry, however, you can stay as long as you like once you enter.
---
Getting There
---
Gaurishankar Conservation Area covers a massive 2,179 square kilometers. Major areas within the park have road access. If you are heading to Rowaling Valley, you can take a bus from Kathmandu to Singati Bazaar or Chhetchhet and walk from there. If you are looking to do adventure sports, The Last Resort includes transportation to Bhotekoshi in their tour packages. If you plan to walk to Everest Base Camp, you can take a bus to Jiri and start your trek in the conservation area. You can also hire a private vehicle like a jeep if you don't want to take the bus since it's a bumpy ride.
---
---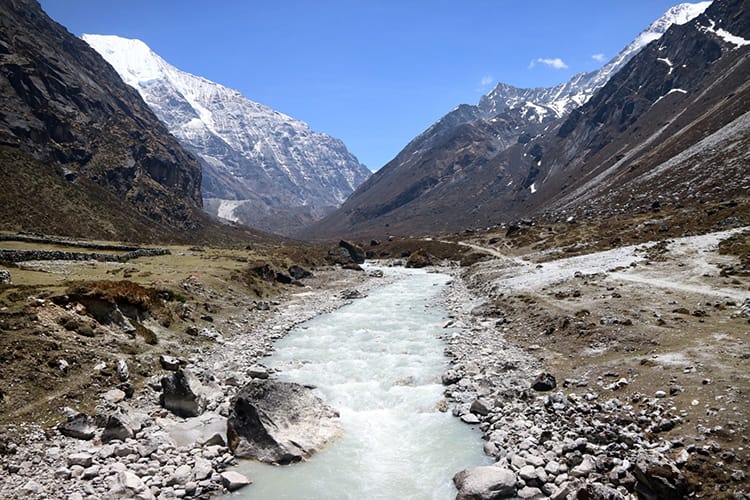 Gaurishankar Conservation Area Facts
---
Location: Gaurishankar Conservation Area is located between Langtang National Park and Sagarmatha National Park in the northeastern part of Central Nepal. It lies on the border of China and from certain areas you can see the mountains in China/Tibet.
Physiographic Zones: Ranges from hills to mountains
Elevation: 968 m (3,175 ft) to 7,181 m (23,560 ft)
Climate Zones: Subtropical, Temperate, Sub-alpine, Alpine, and Nival
Total Area: 2,179 Square Kilometers (1,353 square miles)
Major Land Cover Type: Forest and bushes 44.5%, cultivation land 8.8%, grassland 8.6%, glaciers 2.77%, barren land and others cover the rest.
Rivers: Tamakoshi, Sunkoshi, Bhotekhosi, and Khimti Khola are rivers which are also sources for the hydropower plants in the area.
Major Ethnic Groups: Tamang, Sherpa, Chhetri, Newar, Thami, Dalit, Magar, Gurung, Brahman, Sunuwar, and Surel
Economic Activities: Farming, Pastoralism, Quarrying, Tourism
---
---
Tourist Activities & Attractions
---
Treks & Hikes
There are multiple treks located in Gaurishankar Conservation Area. They are considered off-the-beaten-path and generally see less than 250 foreign trekkers per season. Because these trails are less traveled, it's best to travel with a guide. Some of these treks require camping.
Tsho Rolpa Lake Trek: Chhetchhet – Simigaun – Dongang – Beding – Na – Tsho Rolpa – Beding – Kyalche – Singati. Check out my post on the Tsho Rolpa Trek Itinerary
Eco Lodge Trek: Barabise – Karthali – Dolangsa – Bigu – Loting – Laduk – Orang – Gongar – Simigaun – Singati
Cheese Circuit: Shivalaya -Khahare – Panipakha – Manedanda – Panche Pokhari – Tare – Ngeju – Lhachhewar – Kyama – Gumdel
Jiri to Lukla Trek: There are numerous routes to go from Jiri to Lukla. This is an alternative route for those who don't wish to fly into Lukla Airport on the way to the Everest Region.
Rowling Valley Circuit: Requires a guide and camping. This route is not completely open, but I hear GCAP is working to make it a regular route in the future
Tashi Labsta Pass Trek: This route follows the Tsho Rolpa Lake trek, then it requires camping to get over the Tashi Labsta Pass. It takes you through Namche Bazaar in Sagarmatha National Park and then back down to Lukla where you fly back to Kathmandu. This is for experienced trekkers and requires camping and a guide.
Peak & Mountain Climbing
Some of the most popular peaks to climb in the area can be found below.
Ramdung Peak Climb: Reaches 5,925m and takes around 16-22 days
Pharchamo Peak Climb: Reaches 6,273m and takes around 18-22 days
Chekigo Peak Climb: Reaches 6,257m and takes around 24 days
Yalung Ri Peak Climb: Reaches 5,630m and takes around 14-18 days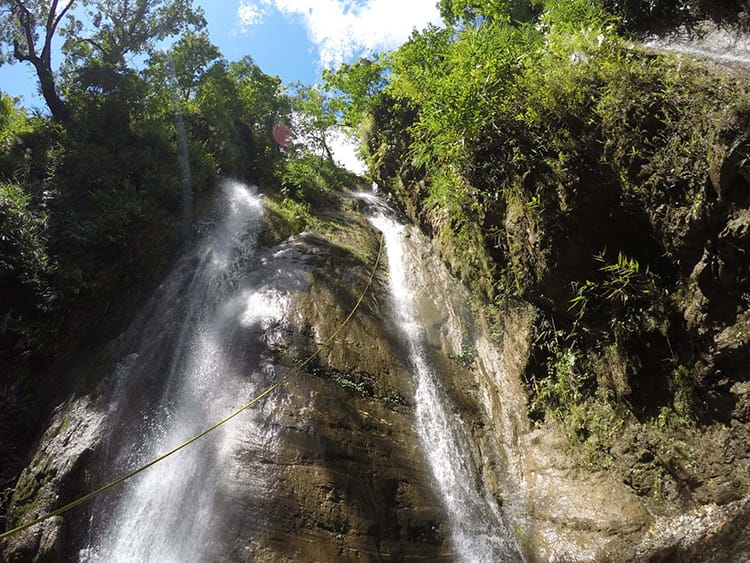 Adventure Sports
The Last Resort which is located along the Bhotekoshi River is famous for being an adventure sport haven.
Bungy Jumping: The bungy jump is located over the Bhotekoshi River. You jump off a suspension bridge located 160m (525 ft) above the river. It's the highest bungy jump in Asia and the 9th highest bungy jump in the world. Read more about my Bungy Jump experience.
Canyon Swing: The canyon swing takes place on the same bridge as the bungy jump, however, instead of going down headfirst, you jump feet first and swing into the canyon below.
White Water Rafting: You can spend the day white water rafting down the Bhotekoshi River. I haven't tried this yet, but some of my friends went and had a blast.
Canyoning: Spend the day repelling down waterfalls in the jungle. Some of the falls are over 100m high making this a fun and exciting activity. It's one of my favorite things I've done in Nepal. Read more about my Canyoning experience.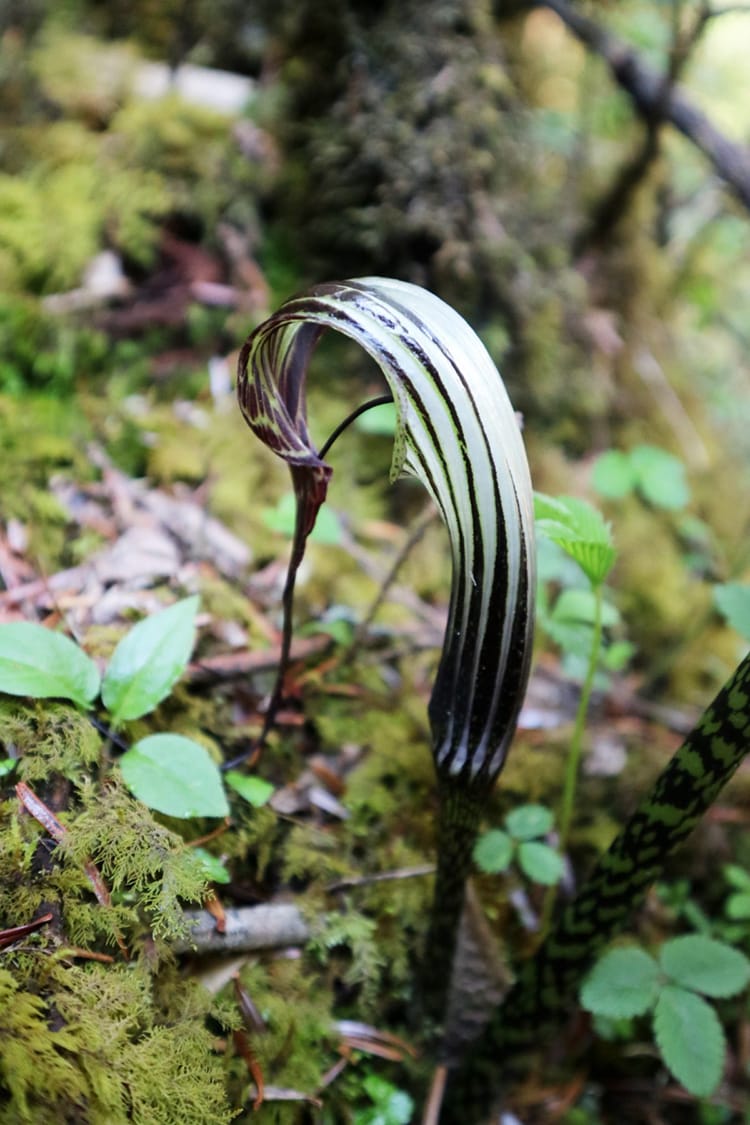 Nature & Wildlife
---
Forest Types: There are 18 forest types including rhododendron forest, lower temperate oak forest, lower temperate mixed broad-leaved forest, upper temperate mixed forest, temperate mountain oak forest, East Himalayan oak forest, Juniperus forest, shrub land, and moist alpine shrubs.
Fish: There are 24 species of fish
Flora: There are 695 species of flora including some threatened flora
Amphibians: There are 12 species of amphibians
Reptiles: There are 27 species of reptiles including the Burmese rock python
Birds: There are 252 species of birds including impeyan pheasant, shy drongo, red-billed blue magpie, as well as some endangered owls
Mammals: There are 71 species of mammals including the snow leopard, red panda, grey wolf, musk deer, Himalayan black bear, Himalayan tahr, arctic fox, and yak.
Yeti: There's rumor of yeti in this region. If you ask the locals in the mountain villages, they may have a story or two.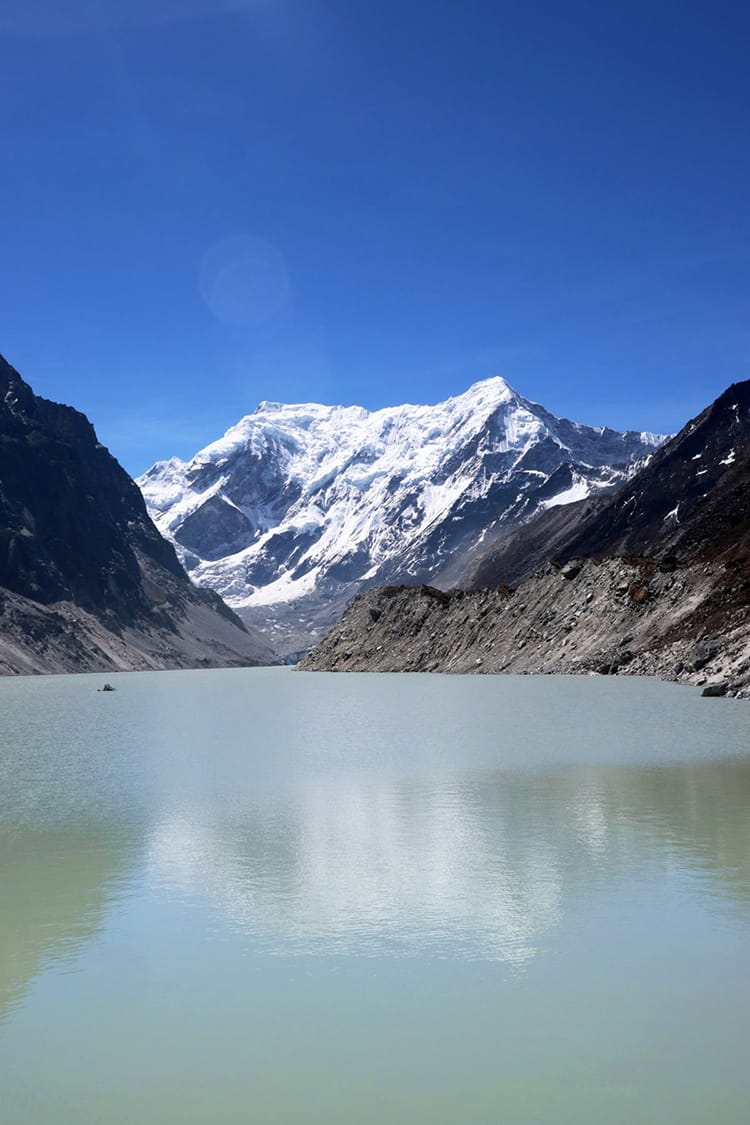 Religious Significance
---
Gaurishankar Himal: It's written in ancient scripts that Gaurishankar is as holy of an area as Varanasi in India. The mountain stands at 7,134m and has two main peaks. It's been summited by less than 10 teams in history. The first team to summit made it to the top in 1979, and the last time it was summited was in 2013.
The name Gaurishankar comes from the god "Shankar" which is another name for Lord Shiva, and his consort "Gauri." It's said that the two of them danced on top of the mountain. The mountain has two peaks. The higher of the two is called Shankar peak while the second (7,010m) is called Gauri peak.
A cool fact about Gaurishankar Himal is that the time zone in Nepal is based on the location of the highest peak of Gaurishankar. That's why Nepal has a different time zone than India and is oddly 45 minutes off from most time zones. This time zone was adopted in 1986.
Tsho Rolpa Lake: Tsho Rolpa Lake is one of the largest glacial lakes in Nepal and is the largest dammed glacial lake in Nepal. Since the water forming this lake runs down from the mountains, it is considered holy. Locals believe that washing their hands or taking a dip in the water can help them repent against past mistakes. It can also bring good luck and happiness to those who touch the water. If one does this during a full moon, the effects are even greater. This area is heavily Buddhist and it has been declared a no kill zone for animals. You can read more in my post about Rowaling Valley and the Yak Sanctuary there.
Dudh Kunda (Milk Lake): Dudh Kunda is another three hours hike from Na (in a slightly different direction than Tsho Rolpa). The path there isn't as well worn, so we opted not to go while in the region. We did meet a few trekkers headed that way. This lake also has a religious significance like most lakes in Nepal that form in the mountains.
Monasteries: While I wouldn't advise people to go out-of-the-way to see the monasteries in the Gaurishankar Conservation Area (unless you're on a religious pilgrimage), you will probably pass one on your travels. In less than two weeks, we saw three amazing monasteries set into the sides of mountains. One of them was built by my fiance's great-grandfather! How cool! Some popular ones are Bigu Gompa in Bigu, the Swallow Cave in Chilingkha, one above the village of Beding, and one just before reaching Na.
---
You might also like…