I'd heard time and time again that it's more expensive to travel in Myanmar than most countries in South East Asia. I was prepared to go way over my Myanmar backpacking budget. Truth is, it is and it isn't more expensive. Cities like Bagan, that thrive off of tourism, are expensive. My hostel there cost $26.00, almost twice the price of any other hostel I've stayed in thus far. But things balance out. In Yangon, I'd eat a feast for under $2.00. In the end, I almost stuck to my Myanmar backpacking budget. I spent an average of $32.36 a day which came in slightly over my $30.00 a day budget.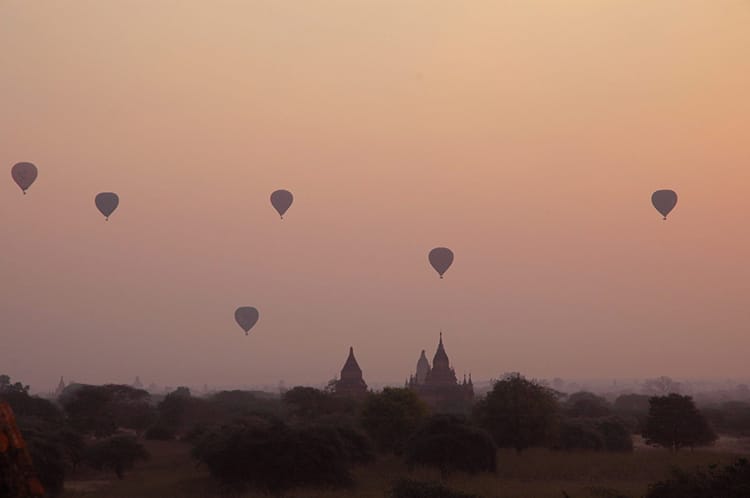 My Itinerary
---
6 nights Yangon – My 6 nights in Yangon helped keep my budget on track, but there wasn't much to see there. I always give myself a couple extra days in my first city to adjust and get my bearings before heading out into the unknown.
6 nights Bagan – Originally, I had planned to spend less time in Bagan and more time in Inle Lake. I decided to stay in Bagan longer to match my schedule up with a friends so we could travel together. I wouldn't actually recommend spending 6 nights in Bagan due to the high prices.
1 night Kalaw – I decided to trek from Kalaw to Inle Lake. I opted to travel the day before and spend a night in a hotel rather than take the night bus. I'm glad I did because the road was pretty scary. I don't think I could have slept on the bus.
2 nights Kalaw to Inle Lake Trek – This was a great way to save money. The trek cost $30 and included 7 meals, 2 nights of accommodations, and a 3 day trek. It was also one of the highlights of my trip.
3 nights Inle Lake – Inle Lake was surprisingly cheap and incredibly beautiful. I wish I'd spent more time there.
3 nights Mandalay – Full disclosure, I had a cold in Mandalay so I barely left the hotel. I honestly can't tell you how much it cost here.
---
Itemized Average Prices Per Day
---
Breakfast $0.52 – Most of the time my breakfast was included with my hostel. It was also included with my Inle Lake trek.
Lunch $2.98 – Lunch was actually cheaper than this. I spent extra money on mango lassi's. Can you blame me? They were only $1.00
Dinner $3.45 – Again, dinner was normally cheaper than this, but there were a few days I craved Western food and ended up spending more on a burger and fries.
Shelter $14.53 – Due to the $26 a night I spent in Bagan, this seems pretty high. Most of the time, my hostels cost between $9.00 and $11.00 and they were really nice.
Transportation $3.00 – This includes buses, taxis, trains, renting e-bikes, etc. This does not include airfare. I got my flights for free using points.
Tourism $5.30 – This includes the entrance fee for the city of Bagan ($20) and the entrance fee for Inle Lake ($10). It also includes my Kalaw to Inle Lake trek ($30), cooking class ($14), tours, temple entrance fees, donations, etc.
Other $2.58 – This was money spent on items not listed above. Mostly it was laundry, souvenirs, and my SIM card
Extras (Hot Air Balloon) $330.00 – I created an extra budget for special experiences on my trip. One of those experiences was taking a hot air balloon over the temples in Bagan. I did not include the $330 in my breakdowns for this post because it skews the data a lot.
---
Itemized Total Spent Over 3 Weeks
---
*None of this includes the hot air balloon
Breakfast – $11.08
Lunch – $62.59
Dinner – $72.39
Shelter – $305.22
Transportation – $62.90
Tourism – $111.22 ($441.22 including the hot air balloon)
Other – $54.20
Total – $679.60 ($1,009.60 including hot air balloon)
---
Average per day in Myanmar – $32.36
---
I've read about people who travel for $10 a day or even $20 a day, but I feel like it would be impossible to enjoy yourself on that kind of budget. I had a $30 a day budget plus I put aside $350 for the hot air balloon before leaving home. Even on $30 a day, I felt like I struggled a little. A lot of times I would choose soup or noodles over dishes with protein like fish curry. That being said, there wasn't anything I really wanted to do and felt that I couldn't. Everything was within reach. Some days I went over budget and spent $40 but other days I barely spent $15. Even if I did go over my Myanmar backpacking budget by $2.36 a day, it was totally worth it!
---
You might also like…