I'd done a ton of research on Myanmar before arriving. Below is everything I learned before I went and all the things I experienced first hand while I was there. Myanmar is a beautiful country, but there are some things to know. These Myanmar travel tips will help you have a smooth trip without any surprises.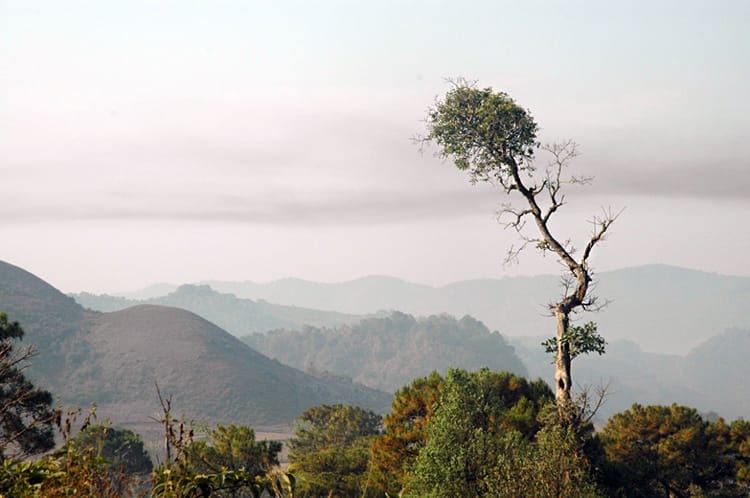 Myanmar Travel Tips Before You Go…
---
Travel Document Requirements
Passport – required
Visa for Business – required
Visa for Tourism – required
Visa for Transit – not required as long as you remain in the airport and do not pass through immigration
Suggested Vaccinations
Hep A
Hep B
Tetanus
Influenza
Pneumococcal
Tuberculosis
Chicken Pox
Rabies
Measles, Mumps, Rubella
Polio
Japanese Encephalitis
Typhoid
Malaria – (prescription pills)
Check out this post for more information about vaccines.
---
Myanmar Weather
---
Cyclones and tropical storms can occur between June and October. Earthquakes also occur throughout the country.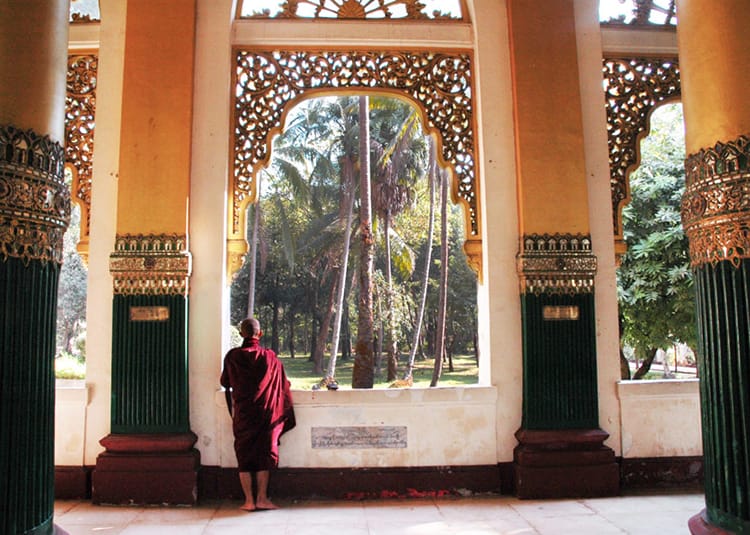 Customs and Culture
---
Religion
Buddhism
Christianity
Islam
Hindu
Language
Burmese is the official language
Currency
Burmese kyat (pronounced "chat")
Condition of Money – I'd read on several blogs that money in Myanmar needs to be in perfect condition. This only applies for U.S. dollars being changed into kyat. Kyat can be in almost any condition (short of falling apart).
ATMs – I'd been told that there aren't many ATMs in the country. In major cities, they are everywhere. Inle Lake was the only place that I really had to search for one. Even then, I found one within walking distance.
Tipping
Tipping seems to be at people's discretion. I've found that a keep the change policy in restaurants works fine. Tipping guides 10% appears to be pretty standard throughout South East Asia although I met many people who tipped more and many who didn't tip at all. Here's a guide to tipping in Myanmar.
Dress Code
Women – People in Myanmar are modest. In the cities or tourist areas you can get away with shorts (no short shorts) and a tank top (no cleavage or bra hanging out). In small towns and temples you should be fully covered. A t-shirt and long pants or skirt will suffice.
Men – T-shirts and longer shorts are generally fine. If you are entering a temple, wear pants.
Shoes – Shoes and socks should be removed before entering temples. I'd recommend bringing a bag with you to carry them in. There are a lot of stray dogs around and they like to steal shoes.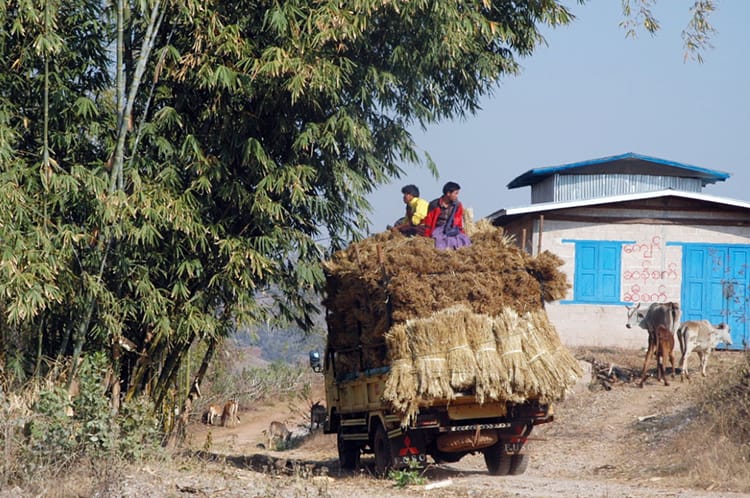 Safety Tips for Myanmar
---
Health
Healthcare – inadequate and does not meet Western standards. In an emergency, you would likely need to be evacuated to another country.
Prescriptions – Pharmaceuticals purchased within the country are considered unsafe to use. It is best to bring your own prescription medication with you. Keep it in it's original bottle and a copy of the prescription to avoid problems at customs.
Air pollution – People tend to burn their garbage here so air pollution is pretty bad. I found the air hard to breathe in cities. In my case, this resulted in a nasty cough.
Food – There's a common joke with backpackers that you'll get food poisoning at some point in Myanmar. Use common sense and you should be fine. Don't eat something that has been sitting out. Go to busy street vendors. Don't order foods that have a high risk of bacteria (i.e. sushi or uncooked foods).
Water – Tap water is not safe to drink. Make sure to always buy bottled water. Also avoid fruits and veggies that have not been cooked as they may have been washed in the water. I used the water to brush my teeth and did not get sick. I also had iced drinks at nicer restaurants (hoping they used purified water) and was fine.
Transportation
Vehicles – Cars drive on the right side of the road, however the steering wheel is also on the right. Cars often lack seat belts and child car seats. There are very few traffic lights and people tend to drive in the middle of the road. Honking is often someones way of saying they are coming (not aggressive).
Walking – Look both directions before crossing the street even if you have the right of way. You will rarely find a cross walk and most intersections don't even have lights. Follow a local across the first few times and eventually you get the hang of it. At one point, I followed a stray dog across the street because it was better at crossing than I was!
Buses – Buses are the best way to get from city to city. The buses vary between real buses and vans. They often lack seat belts, and the roads can be pretty dangerous.
Railroad – Taking a train is also an option however it can take twice as long as a bus.
Boat – Safety standards of boats don't meet Western standards, however they can be much more enjoyable than traveling by bus (i.e. from Bagan to Mandalay)
Motorbike – Foreigners are not allowed to drive motorbikes even if they have a motorcycle license back home. There is an exception in Bagan where they allow the rental of e-bikes. They're pretty easy to use but be careful when you reach sandy areas.
Ambulances are unavailable in this country.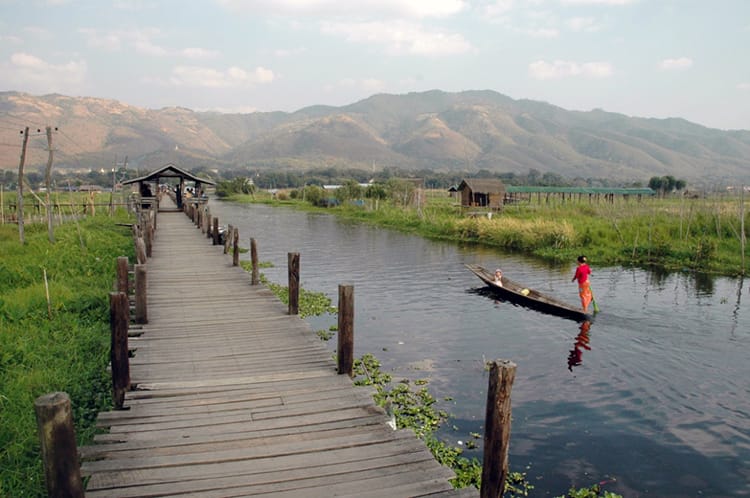 Common Scams in Myanmar
Crime rates in Myanmar are lower than many other countries in the region. Home burglaries and petty crime are increasing. Travelers should be careful when taking cabs at night. I personally felt safer in Myanmar than in the U.S.
Credit card theft – check your bank statements regularly to make sure your card number has not been stolen
Snatch and grab – keep an eye on your bag and don't leave it lying around. I've heard of more people losing items to stray dogs dragging them off than to actual burglaries.
Taxis – I think taxis will try to rip you off in any country. Learn how much a taxi should cost and if one won't negotiate, start to walk away. If you call their bluff they'll give in.
Negotiating – I wouldn't really call this a rip off, but I did notice the vendors in Inle Lake jack up the prices for tourism. Feel free to negotiate down to less than half, as that is usually the actual price of the item. I bought a mask listed at $48 and paid $18.
VPN – I recommend getting a VPN while traveling. This helps protect your personal information if you are using your phone or computer in coffee shops, hotels, and other public networks. After having my credit card number stolen two times on the road (likely from booking hotels, flights, etc online), I ended up getting ExpressVPN which came highly recommended. It's affordable ($8-$12 a month depending on the plan) and it's easy to use.
Areas to Avoid
Travelers may want to avoid Kachin, northern Shan and parts of Rakhine and Chin States. These areas contain fighting and land mines. You may also want to avoid borders with other countries as they can contain conflict.
---
Other Myanmar Travel Tips
---
LGBTI Travelers – Same-sex sexual activity is illegal in Myanmar and is punishable up to life in prison.
Cell Phone Service – I bought a SIM card with ooredoo. 2GB of data cost about $6.
Wifi – wifi service is not great in Myanmar. Even with a data plan you may not get a signal in some areas.
Books to Read – Burmese Days by George Orwell & The Glass Palace by Amitav Ghosh
Toilets – Generally you will encounter western style toilets, however squat toilets are common in public places (i.e. bus stops). It's pretty easy to use one, but I recommend rolling your pant legs up before squatting as the ground is usually pretty dirty. Sometimes you will need to pay to use public restrooms so always have your wallet on you. Toilet paper and soap are not usually provided, so it's best to bring tissues and hand sanitizer with you.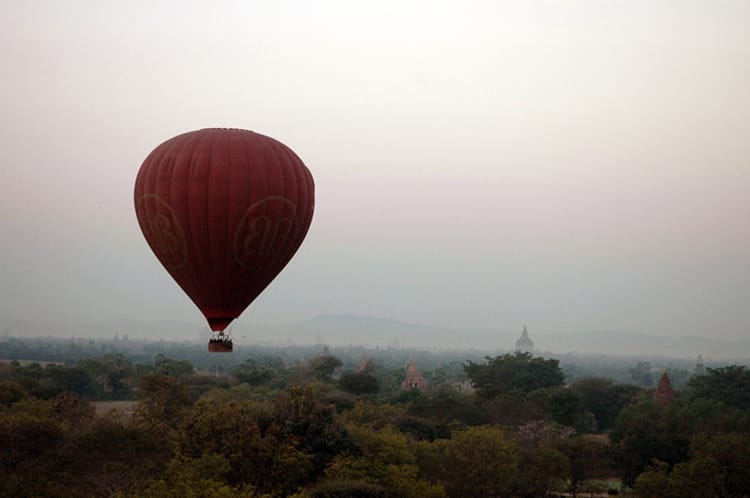 Embassies and Consulates
---
U.S. Embassy Rangoon
110 University Ave, Kamayut Township, Rangoon, Burma
Tele: +(95) (1) 536-509, ext 4240
Email: [email protected]
---
Planning a trip to Myanmar? Have any more questions that I missed in my Myanmar travel tips? Ask me in the comments!
---
You might also like…