One of my favorite things about living in Nepal is that I get to experience the culture in a way that I never did as a tourist. I feel like every day I get a deeper understanding and more insight into life here. This year, my boyfriend's niece was set to be married. The thing is, she's only seven. Now, before everyone jumps to conclusions, she wasn't marrying a man. She would be marrying Lord Vishnu in the form of a fruit. A bel fruit to be exact. This age-old tradition is called "Ehee" and is only for the Newari caste.
When I explained this to my family and friends, it was met with an expected response. "That's weird." The best way that I can describe it to American's is that it's similar to making communion. Think about it. We eat a cracker and drink wine, and it represents eating the flesh of Jesus and drinking his blood. Kind of weird out of context, right? One thing I've learned in my travels is to keep an open mind and to see things from other people's point of view. If bread can represent Jesus' body, why can't a fruit represent Vishnu?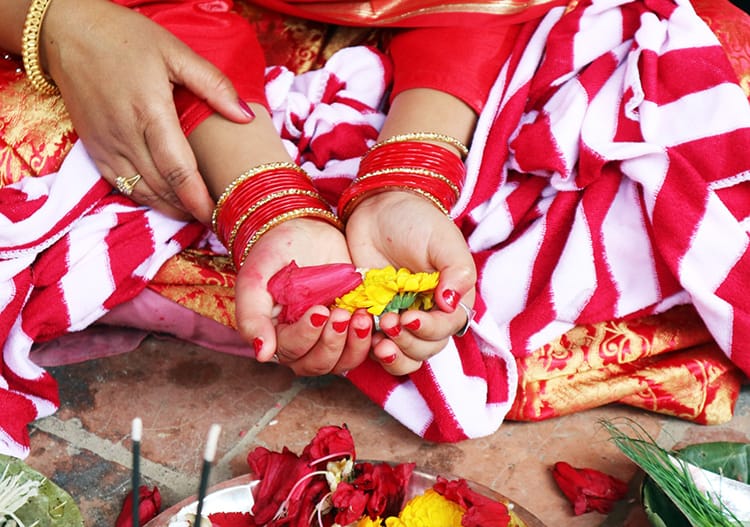 Why do Newari girls marry a bel fruit?
---
As I was attending this beautiful and elaborate two-day ceremony in Durbar Square, many tourists passed by and asked their guides what was going on. The guides replied that "…in Newari culture, the girls marry a fruit." End of story. My first question was, why?
A bel fruit (wood apple) is known for its long lifespan. In fact, it's rumored to never go bad or spoil. This coincides with the ceremony which represents fertility. By being married to the fruit, it should ensure that the girl remains fertile for a long time. During the ceremony, she's actually married to a gold statue of Lord Vishnu and the fruit is technically the witness. The wedding has a really beautiful meaning behind it. If the girl's future husband were to pass away, she wouldn't be considered a widow, because she is still married to god.
---
Day 1 – Dusala Kriya
---
The ceremony lasts two days, making it a very long and tiring process for the girls and their parents. During the ceremony, those participating cannot eat certain foods or drinks, especially those with salt. This is a form of fasting to show dedication. Luckily, by performing these rituals as a child, it is not necessary to repeat them at their wedding when they are older. The ceremony is performed as a group, so you can see between 15 and 50 girls in each ceremony. Girls are eligible for the ritual when they are either 5, 7, or 9.
The first day of the ceremony, called Dusala Kriya, is a puja (worship/offering) from the mother and daughter. Girls are dressed in full bridalwear which includes traditional sarees in the auspicious color of red. While there are many intricate parts to the ritual, one of the highlights involves yellow thread. The thread is looped over a bar which is held over the girl's forehead and down to the ground. The thread represents the father giving away his daughter to god. The girls wear the thread as a necklace on the second day of the ceremony.
---
Day 2 – Kanyadaan
---
On day two, called Kanyadaan, the father gives away his daughter. Girls are dressed in the same traditional wedding sarees, however, this day they will be wearing a lot more ornamentation including large necklaces, hairpieces and jewelry. They'll also have their foreheads painted orange. In Nepal, tika are worn by women and they represent different things. For instance, if a woman has red tika going into her hair (called sindoor), it means she is married. For this ceremony, a stripe on the forehead is traditional.
Day two is more important since the actual wedding ceremony takes place. I found this to be really sweet and touching. Traditionally, in the U.S. our dad walks us down the aisle and hands us off to our husband. In Newari culture, the young girl sits in her dads lap while they perform puja together. He holds onto her thumb while water is poured over their hands. He then presses her thumb to the Vishnu statue. It's so adorable and sweet to see all of the fathers giving their blessing to their daughters.
After the puja, the girls walk around a temple (clockwise) three times with their mothers. On the third time, the girls perform another ritual where herbs are ground up and applied to the girl's feet. After all of the girls are finished, they gather under one of the statues. Several of the fathers get the honor of pouring buckets of water over the statue and onto the participating females waiting underneath. Last, family members walk down the line of girls offering small gifts or money in congratulations.
---
After the ritual is complete
---
This sacred ceremony is a big deal in Newari culture, and the girls are showered with wedding gifts. Back in the privacy of their homes, the families will arrange a feast. Each guest will sit across from the bride and put tikka on her forehead for good luck. Then, they fill a canister with rice and pour it into her hands in three parts. After that, the gift is given, and the guest touches the bride's feet to their forehead as a sign of respect.
Ehee is just the first of three marriages for Newari girls. Before their first menstruation, they marry the sun is a ritual called Bahra Tayegu. The third marriage is to their "real" husband.
---
Where did the tradition come from?
---
It seems there is no definitive answer on how the tradition started. One belief is that the ritual began centuries ago. Some believe that a warlord in the 14th century pillaged villages and defiled unmarried women and girls. Parents thought that if they married their daughters young, they could protect them from harm.
---
Ehee Photography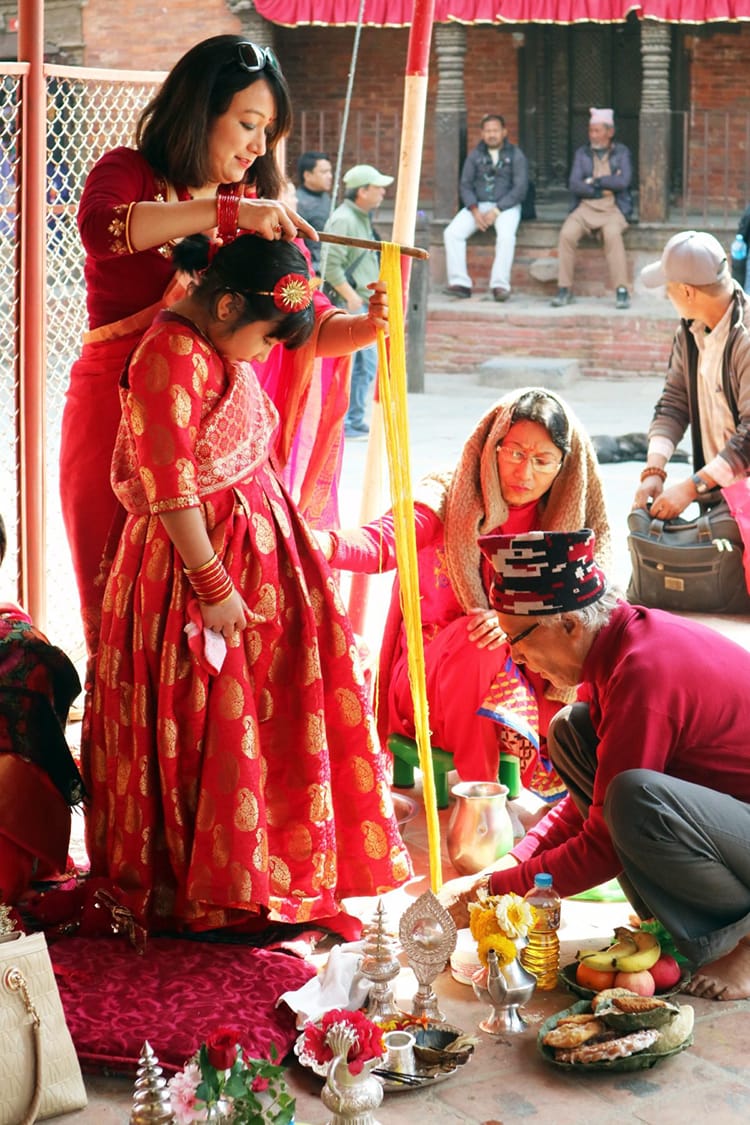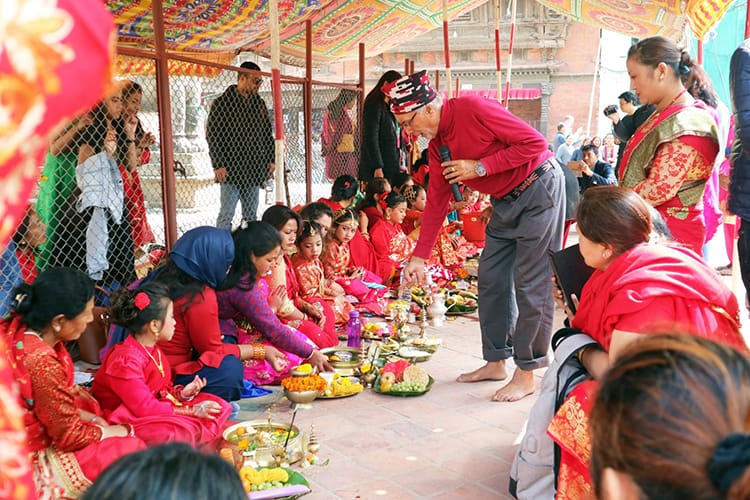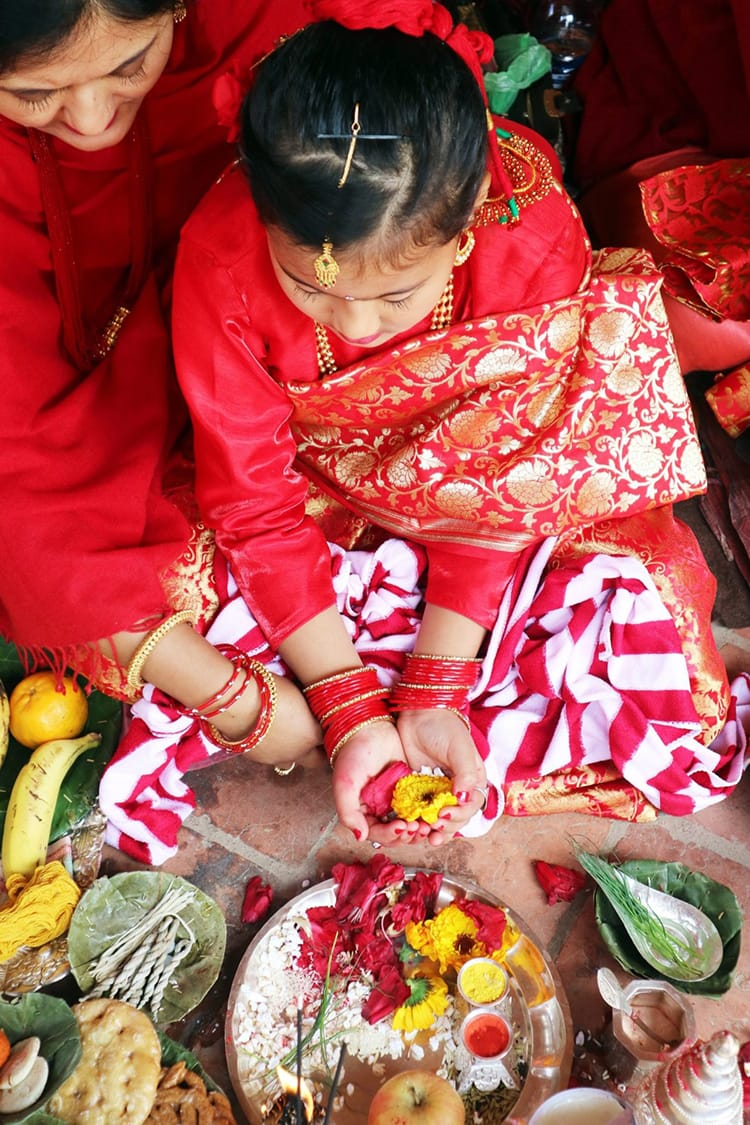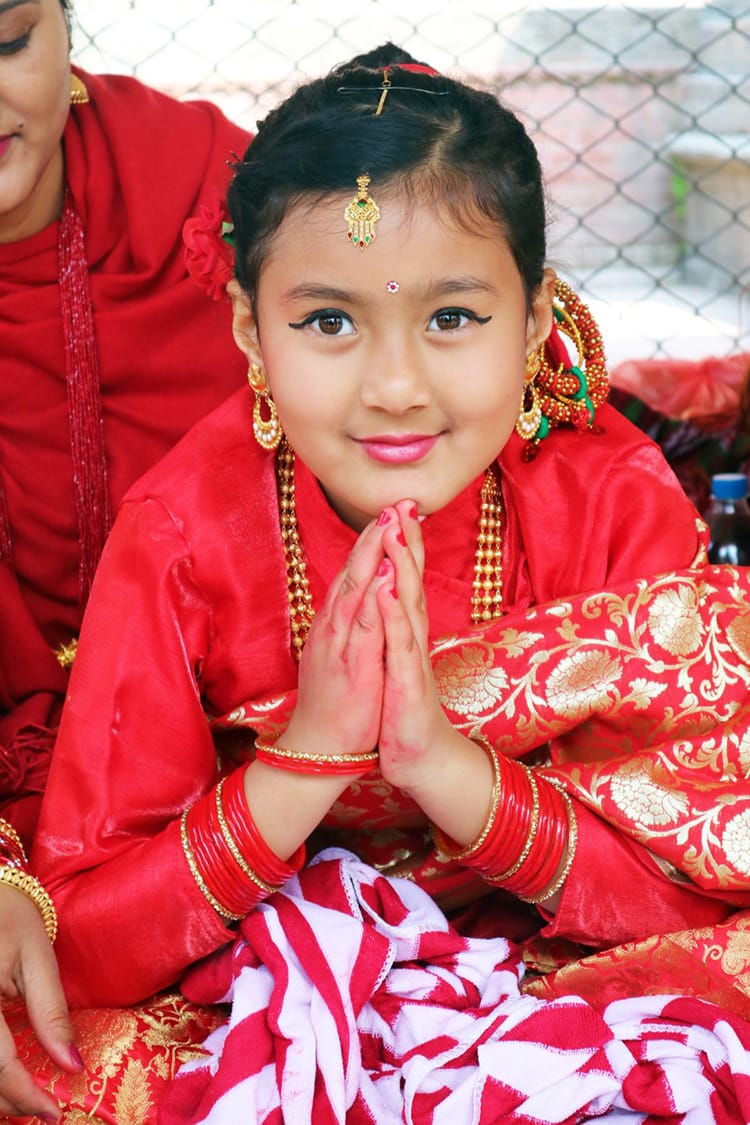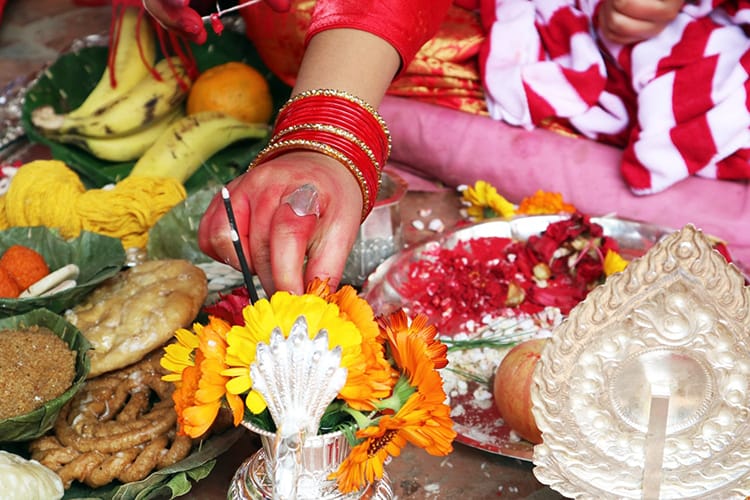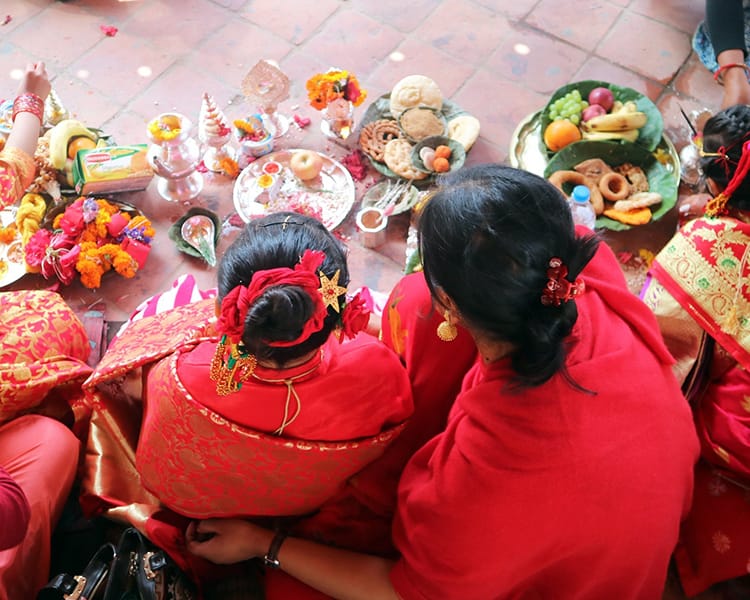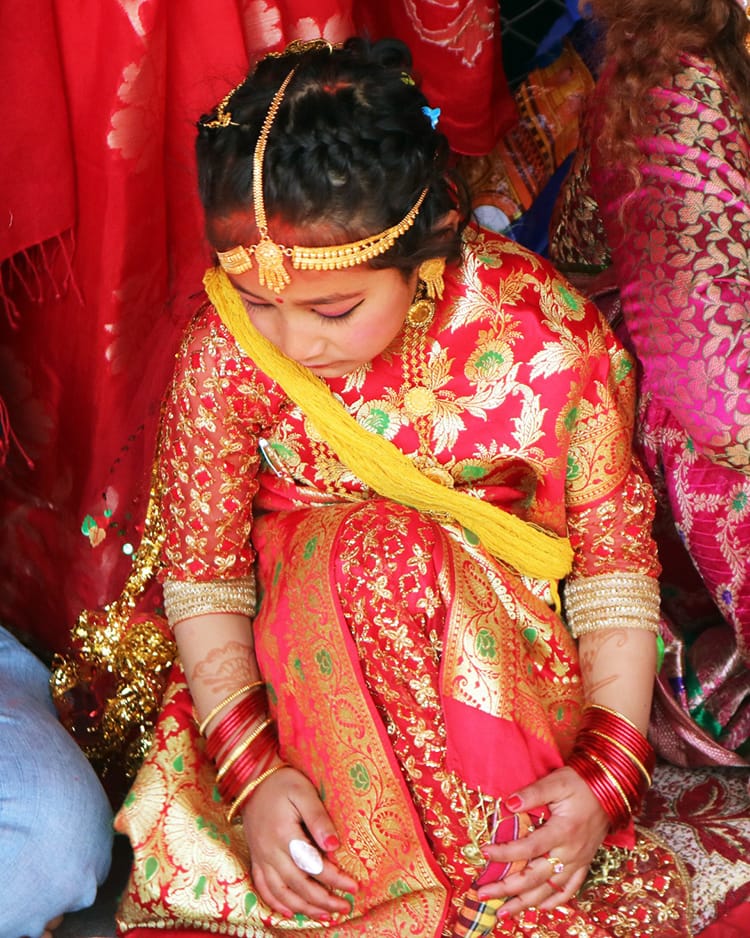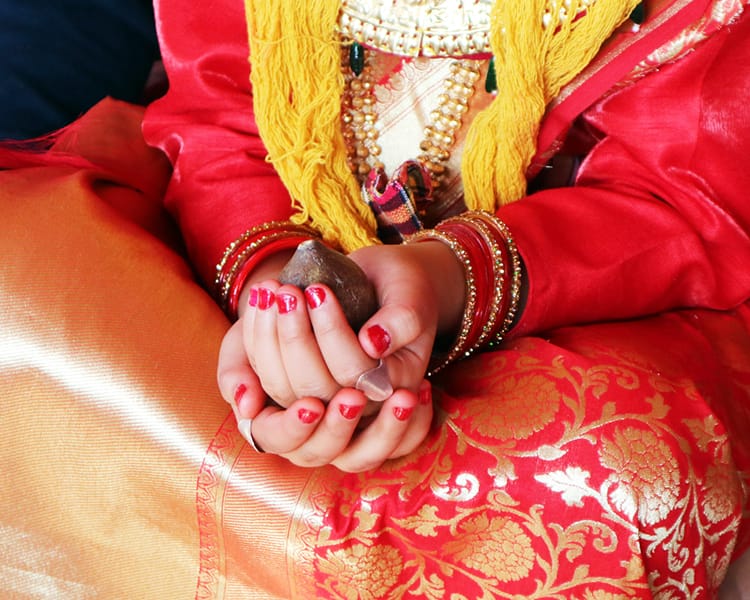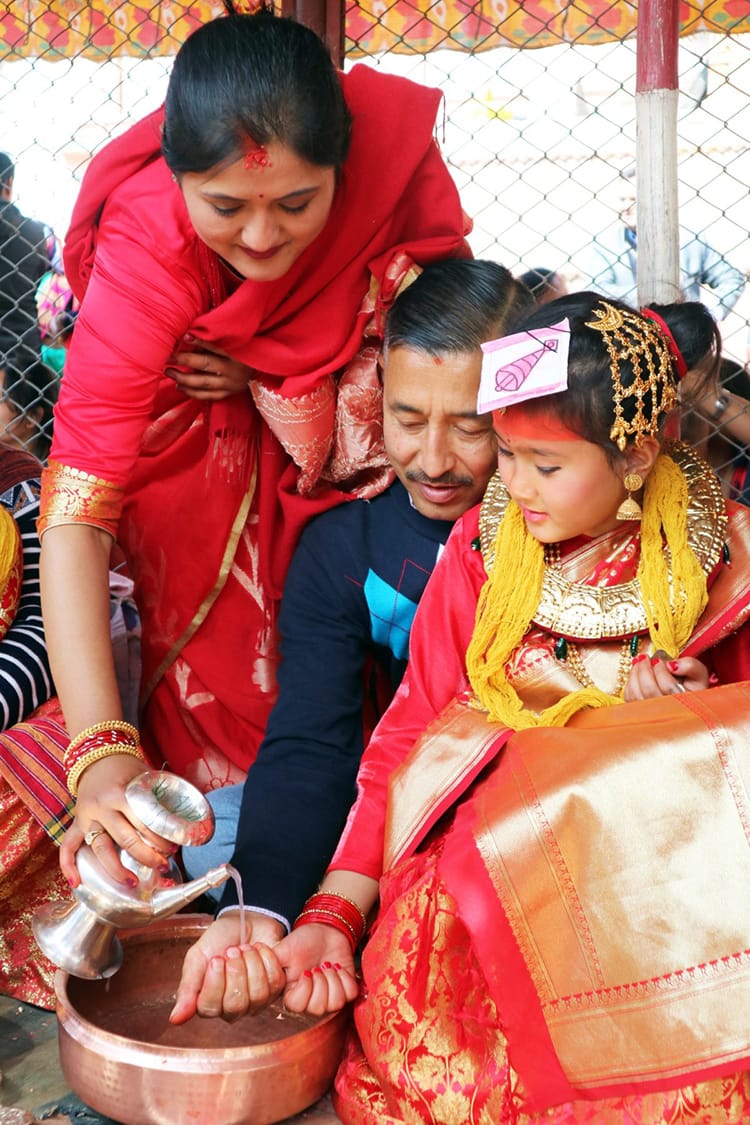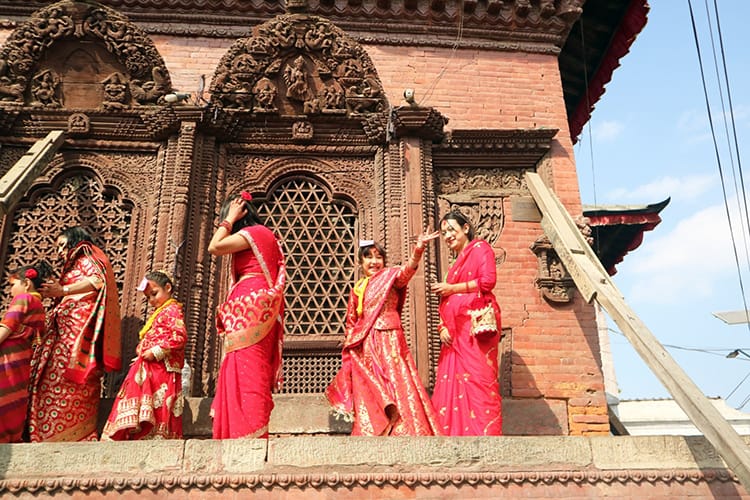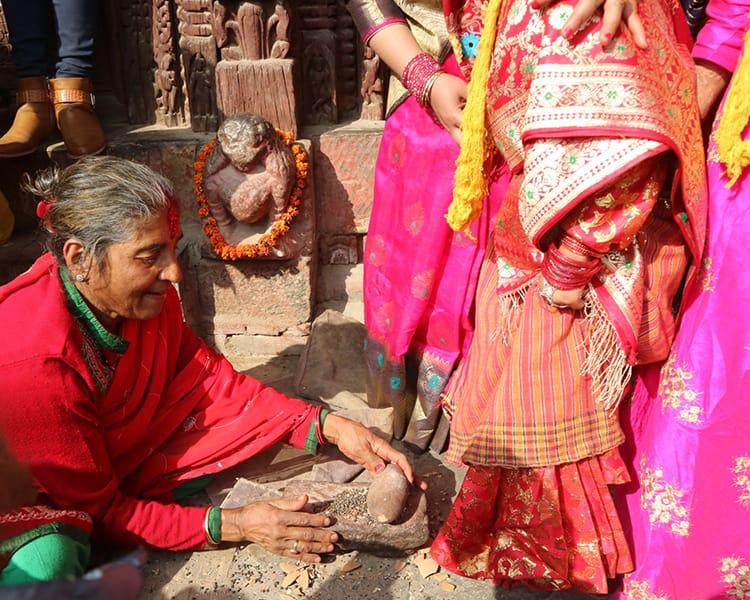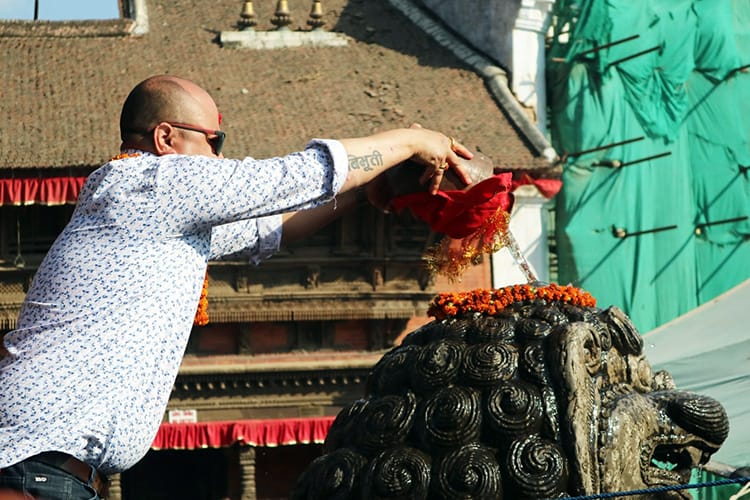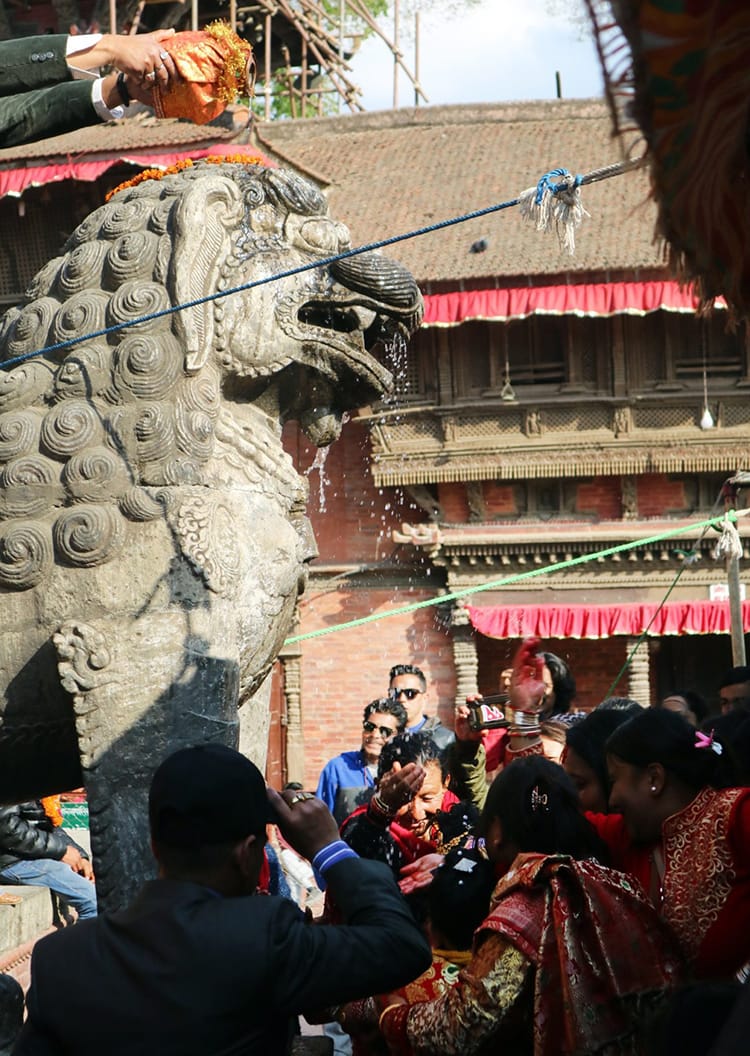 ---
You might also like…