After traveling for months on end and meeting countless people, it's rare that someone is able to surprise me. Rare, but not impossible. I met my friend Kichaa Chitrakar while trekking the Annapurna Circuit in Nepal. After knowing him for months, the topic of painting came up. "You can paint?" I asked casually. As soon as the words escaped my mouth, our mutual friend Biraj just laughed. After seeing a few pictures of Kichaa's art, it was easy to see why this was an appropriate response. I might as well have asked Mozart if he could play the piano. He couldn't just "paint." He was insanely talented. And he wasn't just talented in an abstract kind of way, he could paint the extremely tedious Tibetan-Buddhist art referred to as thangka painting in Nepal.
I'd actually purchased a thangka painting in Nepal, but knew very little about what I'd bought. The man in the store did his best to explain, but honestly, I felt like he gave me a speech he'd rehearsed a hundred times. When I asked specific questions, the answers were vague. I was told the name of a god being shown, but little else about the story behind the painting or the meaning of the art. As soon as I found out that Kichaa was an artist, I jumped at the chance to interview him and ask as many questions as I could.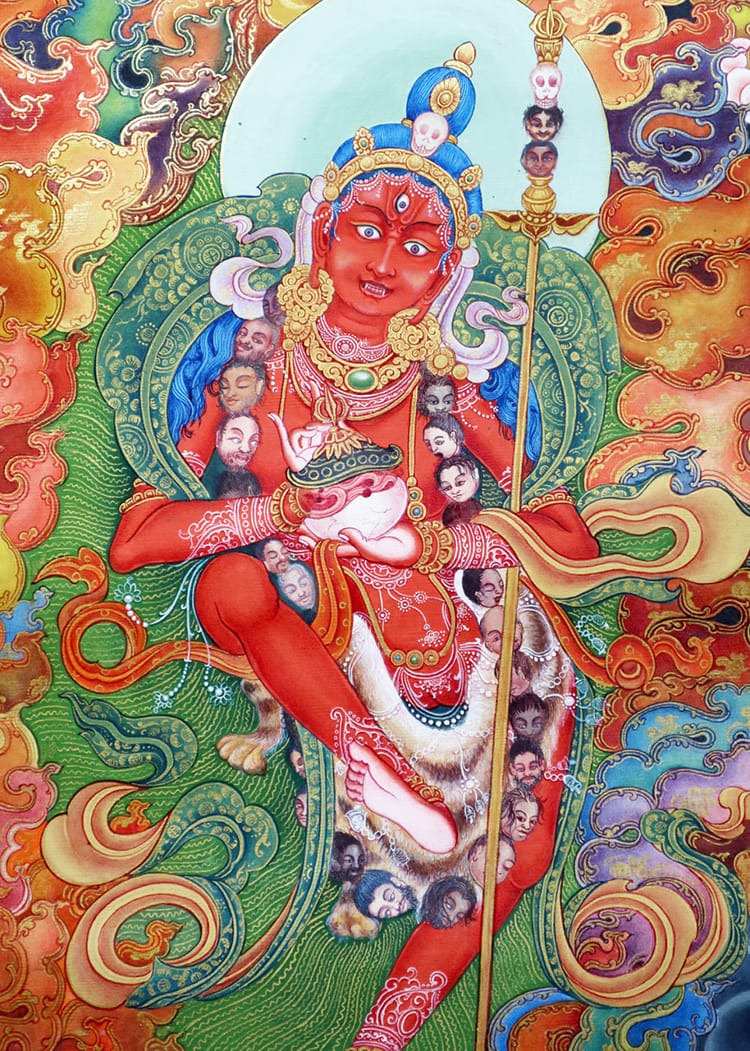 What is a thangka painting?
---
A thangka, also known as a paubhas (meaning "message from the temple"), is an intricate and very detailed painting depicting different gods and deities. There are countless gods and deities in Tibetan-Buddhism, and therefore, the thangka paintings can illustrate a myriad of different stories. Each one holds its own message and offers its own spiritual benefits for the household in which the painting resides.
The painting Kichaa is currently working on shows the god Mahakala who is known for overcoming time and space. People pray to him when they need to complete some kind of duty. For instance, if you need to finish a project at work and have been procrastinating you would worship him by praying and leaving offerings. On the other hand, if you're under a great deal of stress, you might want a thangka of White Tara who is known for her compassion. For every problem, there is a god or deity who holds the answers.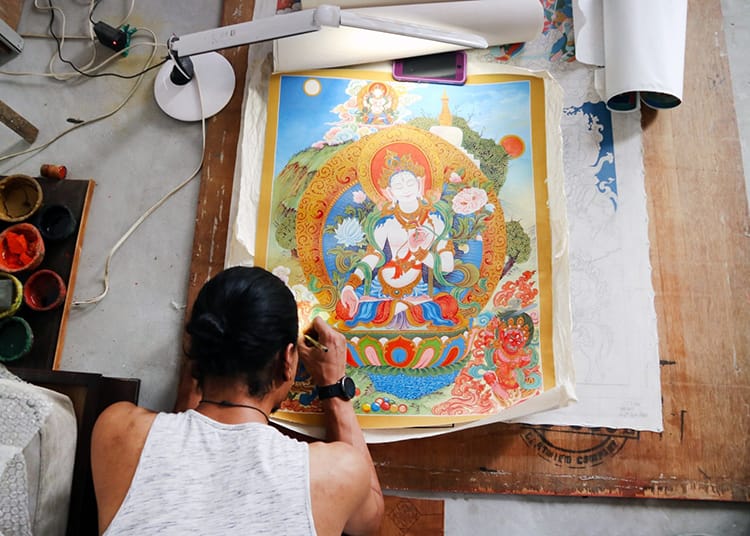 Who paints thangka in Nepal?
---
Thangka were first created around the 15th century by the Chitrakar caste in Nepal, which is a small subgroup of the Newar caste found predominately in the Kathmandu Valley. "Chitrakar" literally translates to "image maker." Since castes were divided by their profession, Chitrakar's were responsible for creating paintings and masks. It's a profession that was passed down from father to son, generation after generation. In modern day Nepal, anyone can learn the art of thangka regardless of their background by attending schools which teach this sacred artform.
For Kichaa, learning to paint was as normal as it was for any kid. He started at a young age, creating art in school and for fun. But, unlike other kids, he was surrounded by thangka and would watch his dad paint regularly. He soon picked up on the same style, and today can paint intricate pieces of fine art.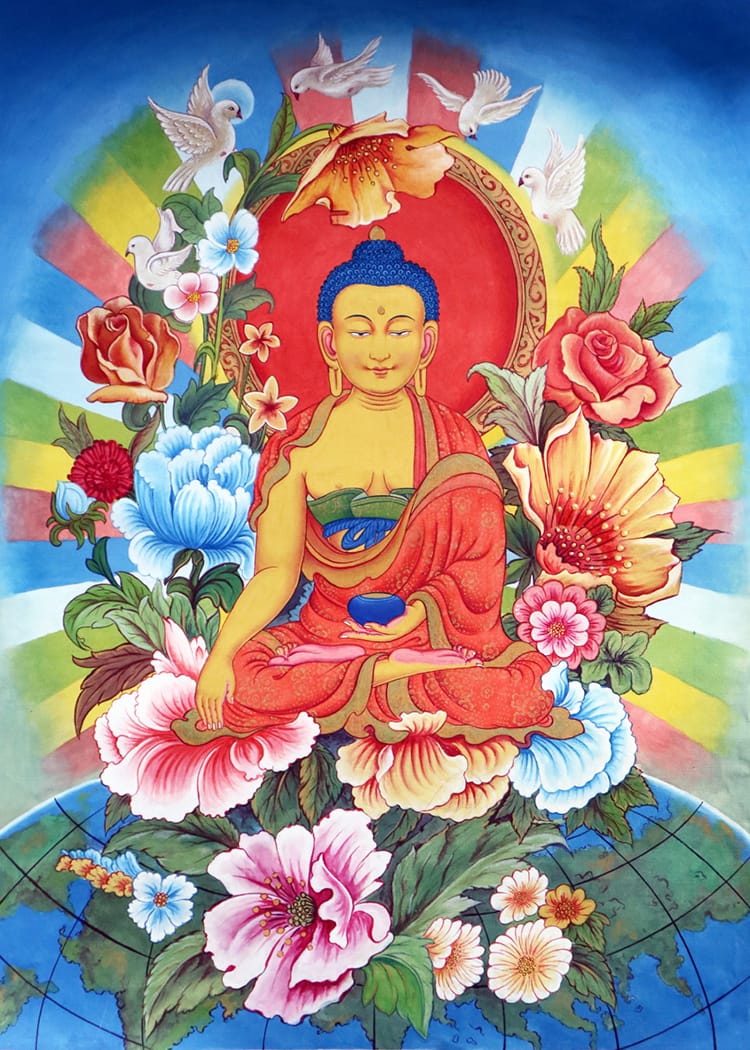 How has thangka evolved over the years?
---
When the images were first created, the coloring was flat and simple. Over time, different artists began to add shading and depth to the colors followed by patterns that made the images pop. Even with these additions, most of the paintings were extremely symmetrical and the gods were always shown in the same seated posture in the center of the painting.
Kichaa's father, Prem Man Chitrakar (a famous thangka artist), acted rebelliously by allowing the gods to move within the art. He showed them in different postures to make them more lifelike and to portray the stories better. He also made the paintings off balanced by removing the dominant god from the center of the painting and allowing other parts of the story to come into play alongside him. After asking Kichaa if he thought the paintings would continue to evolve, he made me laugh by saying that he wouldn't be surprised if there were holographic thangka one day.
---
What makes a thangka painting special?
---
An original thangka is painted using the coloring of gemstones and is finished with gold. It's believed that the minerals used to create the painting also give them life. Each painting takes months to complete and the eyes are painted on last since they are believed to be the way into the soul. Once the gods receive their eyes, the painting goes from being an object to being alive and therefore is treated with the utmost respect.
After the completion of the painting, a ritual takes place where the temple priests perform a day long ceremony while chanting different mantras relating to the god being depicted. The painting offers the most benefits if a few rules are followed once the painting is placed within the house. The more someone is able to please the god, the more powerful the thangka.
---
The rules of a thangka painting in Nepal
---
With each god comes a different set of rules. For instance, a god who is vegetarian shouldn't be given an offering of meat. In addition, the artist who paints that god may not consume meat until the artwork is completed. Other gods might have rules where the artist can't smoke, lay with their wife, or even wear clothing while painting their image. These are very traditional rules which are only followed by those who want the painting for extremely religious purposes and want to upkeep the traditions at their purest form.
Some of the more common rules include not hanging a thangka in a place where you frequently point your feet as it's considered highly disrespectful. So, you'll never see a thangka hanging at the foot of someone's bed. And, each God may prefer to be hanging facing a certain direction. A large majority prefer to face East. Even the room that a painting is displayed in depends heavily on the god being portrayed. Mahakala is often hung in an office or workspace since he is considered very task oriented and helps you complete your goals.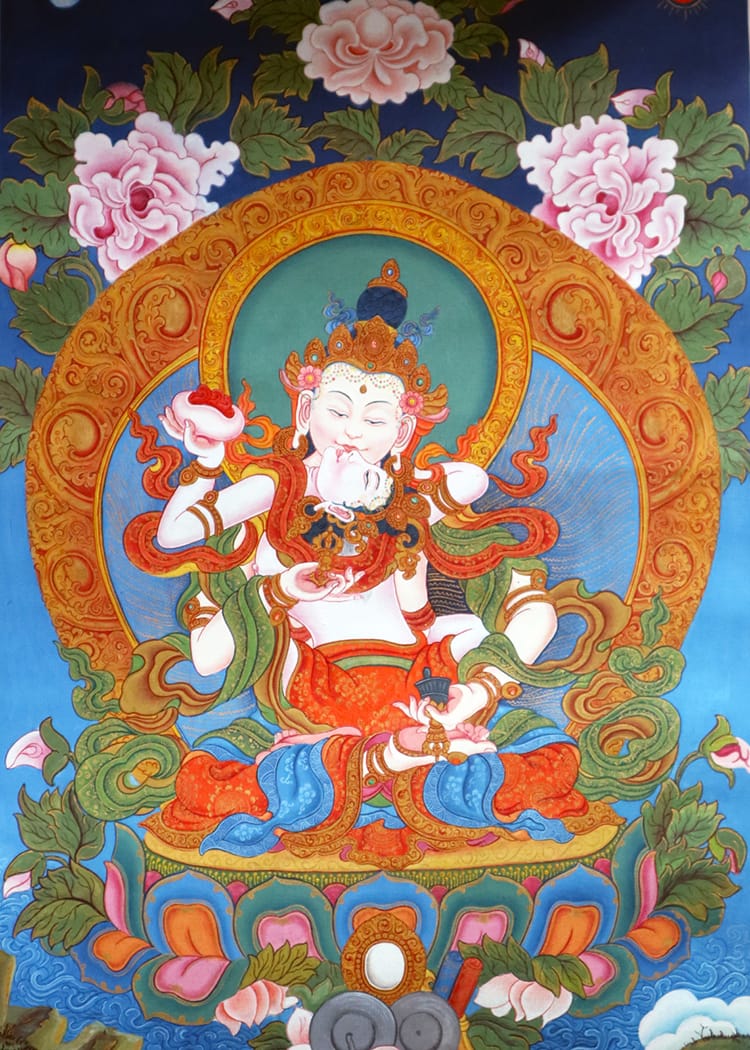 Choosing a thangka painting in Nepal
---
There are a lot of different ways to choose a thangka painting, but if you want it to have a more spiritual meaning, or you'd like something a bit more personal than just thinking it looks pretty, you should do some research prior to shopping. Looking up Buddhist gods and deities is a great place to start. Some popular ones include Yama (death), Kubera (wealth), Begtse (war), White Tara (compassion), Manjushri (wisdom), and Vajrapani (power). Choosing a god or deity that speaks to you or represents something in your life is important.
In addition to the god being shown, it's also interesting to consider the colors. For instance, red represents fire, but the meaning can change based on the imagery. Kichaa explained it to me beautifully, "It could be the fire that burns you. It could be the fire that gives you warmth. It could be the fire that will burn off your ignorance." Blue represents sky and space, white is air, yellow is the element of earth, and green is water.
Knowing what I know now, I would choose a painting of Yama. It's an unusual choice because he's the god of death. In the western world, we'd never hang a painting of the devil or the grim reaper on our wall unless it was a Halloween decoration. What I love about eastern religion and philosophy is that death isn't something to fear, and Yama really represents impermanence. For me, he's a reminder to live in the present moment because nothing lasts forever.
---
How much does a thangka painting cost in Nepal?
---
This is an interesting question. If you were to purchase a one of a kind painting from a Chitrakar like Kichaa, it would cost between $1,000 and $15,000 (U.S. dollars) depending not only on the size, but mostly on the amount of detail that goes into it. These paintings are done solely by one artist who works for about 7 hours a day over a five-month period. Having seen these paintings up close, you can easily tell the quality.
For those who can't afford an original, many people are learning the art of thangka and are selling their art on the streets of Thamel. I have begun to refer to these paintings as "knock-offs" for a lack of better words. They are generally copies of other paintings and have been completed by several artists. For instance, one does the background, another the shading, and another the detail work. They also recreate the same image hundreds and thousands of times. This allows the paintings to be mass produced. They tend to cost between $30 and $200 (U.S. dollars) which is great if you're looking for a souvenir.
Maybe one day I'll be able to afford the real deal, but in the meantime, I really do love my "knock-off" thangka. It's one of my favorite things I've bought in Nepal, and I can't wait to hang it in my room (facing east), especially now that I understand so much more about the history and significance behind it. One of Kichaa's fears is that the meaning of thangka painting in Nepal will be diluted as they get mass produced, so knowing the background and meaning before purchasing one helps preserve the history. These paintings are more than just souvenirs or art. They're alive.
---
You might also like…