It seems like New York City is filled with tourist attractions. Each one vying to be different. Trying desperately to stand out in a crowd. Most of the time it's a wasted effort. I've seen hundreds of signs that read "Best pizza in NYC!" or "Best way to see the sights!" I've almost become numb to the idea that anything could be the best here, especially since they all seem the same. Which is why I was a little hesitant when I saw a sign that read "The RIDE: The New Generation of Sightseeing!"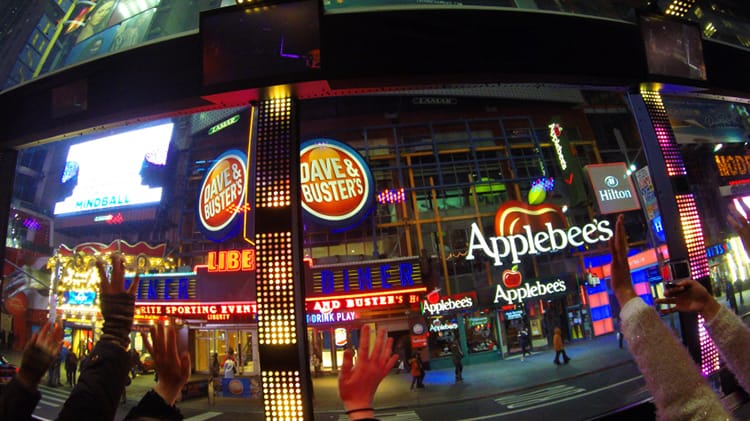 Nonetheless, the advertisement drew me in with it's fancy graphics which looked new and somehow fun. I clicked on the link and the website looked more like it belonged to a club, further enticing me. I had expected the typical primary colors of all the bus tours here in NYC, but this site featured black and neon to match the appearance of it's rather expensive looking bus. We all know how much New Yorkers love the color black. It's so chic.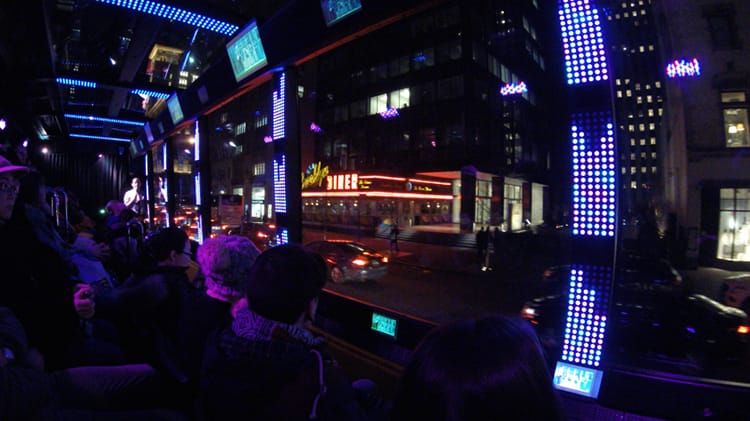 My friend and I approached the tour with a completely open mind. We tried not to read reviews or too much on the website to keep our opinions from being skewed. We arrived in Times Square and lined up outside surrounded by tourists. When we entered the bus, I was pleasantly surprised. The seats were comfy and spacious, and each one had an excellent view. It felt more like a party bus with a giant window than any kind of tour bus.
On the bus were two lively comedians with microphones. I thought about the last time I went to a comedy club, and I think I spent over $50 on the obligatory two drinks and disappointing snacks. Considering how The RIDE is a little over an hour, it seemed like a decent deal to pay $74 just based on the fact that it includes a comedy show. The bus started moving and the show began. Neon lights lite up the inside of the bus, and I realized that the glass window extended into the ceiling so that you could also look straight up. Club music started playing and the party got started. Oh, and did I mention that the bus could talk.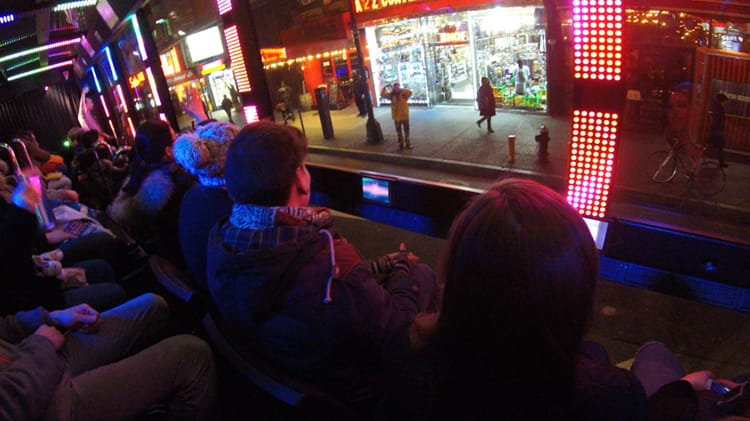 We stopped in front of several sights including Times Square, Grand Central Terminal, Bryant Park, and the Empire State Building. We even stopped to view the rarely seen Duane Reade, which was the running joke of the tour. If you're from out of town, it's funny because they are about as rare as a Starbucks. We were given fun facts like how many trees are in Central Park and how much the ceiling restoration cost in Grand Central, but all with an air of humor. Nothing was to be taken too seriously, and the tour never got boring. I've done Hop-On Hop-Off buses in the past where you are subjected to a monotone voice over a set of headphones that put you to sleep. This was definitely not the case here. Each fact was linked to a joke which got a roar of laughter from the entire bus.
We stopped to view street performances while remaining on the warm cozy bus. I won't say too much about them because it's more fun if you experience them yourself, but they were all clever and interactive. Hell, we even did karaoke. I have to tell you that it sounds cheesy, but there's something incredibly liberating about singing (in my case screaming) Frank Sinatra's New York, New York with 20 strangers at the top of your lungs.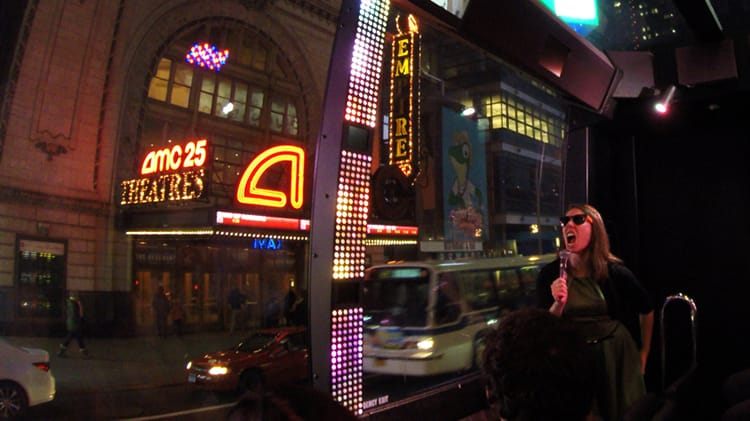 The comedians, who had great chemistry, played off of each other in a goofy, family friendly way. The entire bus was laughing for most of the journey. Even as a New Yorker, I learned fun facts and had a great time. Jayson and I both agreed that the comedians are what really makes The RIDE worth it. They kept the energy up, and their jokes were on point. We had people from several different countries on our bus, and everyone was laughing. Considering how you get a comedy show, tour, and party bus, it's definitely worth the $74. It was an unforgettable experience that I would highly recommend to friends and family visiting the area.
USE CODE: BDG FOR $15 OFF THE RIDE
What's your favorite tour in New York City? Let us know in the comments!
Please note, my tickets were provided to me by The RIDE. All opinions expressed are solely my own, based on my personal experiences, and have not been influenced in any way.
---
You might also like…