Midtown is arguably one of the best places to go sightseeing in New York City. It's also one of the easiest places to visit on a budget since so many things are free. Therefore, making a list of things to do in Midtown, NYC wasn't all that difficult. Although this area of the city is beautiful in the summer, there is something magical about visiting it in the winter. Midtown becomes so festive with the holidays. From ice skating rinks and holiday shops to twinkle lights and Christmas trees, it is truly beautiful. So, this post features a few winter activities.
---
11:00am Columbus Circle
---
The day started in Columbus Circle where we admired the famous globe statue. Randomly, I ran into one of my friends from college. As big as New York City is, sometimes it can feel like such a small world. After a quick hello, we trotted into the traffic circle where the statue of Christopher Columbus stands surrounded by water fountains. Then, we made our way to the Shops at Columbus Circle which is a high end mall. If you take the elevators upstairs, there is a spectacular view of Columbus Circle and Central Park. Even if you can't afford to shop in this high end mall, it's a great place to wander around and admire all of the beautiful things it has to offer. There are a few stores which are affordable though including an H&M.
P.S. It also has one of the cleanest public restrooms I've ever used (I digress).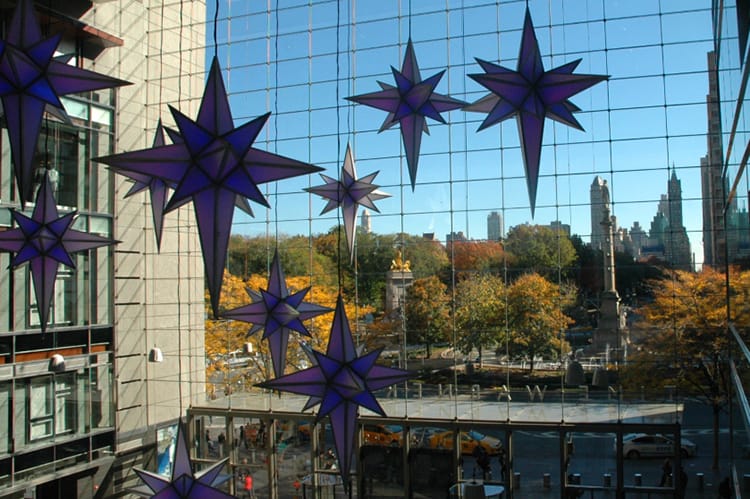 12:00pm Brunch at Viva la Crepe
---
Next, it was time to eat. We decided on brunch at Viva la Crepe. I ordered an egg, ham and gruyere omelet crepe which was surprisingly filling. Lisi decided on a sweet crepe of chocolate and banana, and Pat got a savory crepe with chicken, gruyere, spinach, and pesto. Viva la Crepe is a small establishment with French music playing in the background to add to the ambiance. Before we chowed down I couldn't help but say "Bon Appetite…you know 'cause it's French." We each spent around $10.00.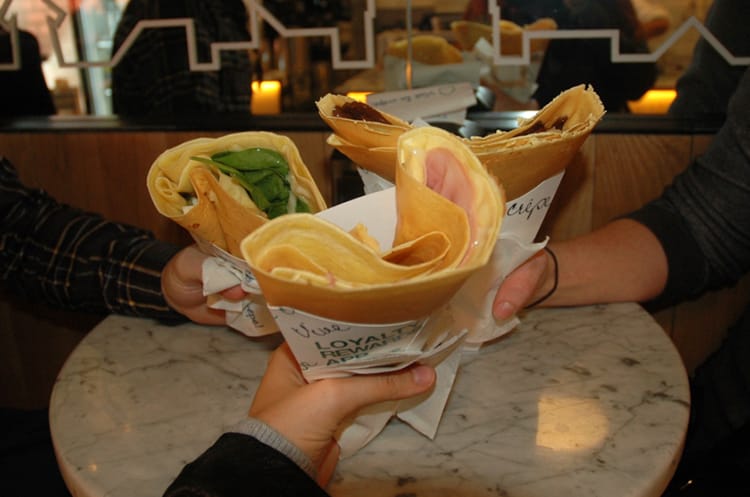 1:00pm Times Square
---
We moseyed on down to Times Square. Of course we climbed the red staircase to nowhere and took photos from above. The best part of Times Square is that you are surrounded by street performers. We ended up watching a woman play violin to Ariana Grande, Nicki Minaj, and Jessie J's "Bang Bang." I can be a little cynical when it comes to street performers because to be honest I've seen most of them and the majority are less than impressive, but this girl blew me away.
If you have time and like a little adrenaline rush, sneak into the Marriott Hotel and ride the elevator to the 45th floor. The elevator is all glass and it is stationed in the middle of the hotel atrium (meaning there's nothing surrounding you). It's what I imagine riding a rocket feels like, or one of those futuristic tubes that transport people in Sci-Fi movies.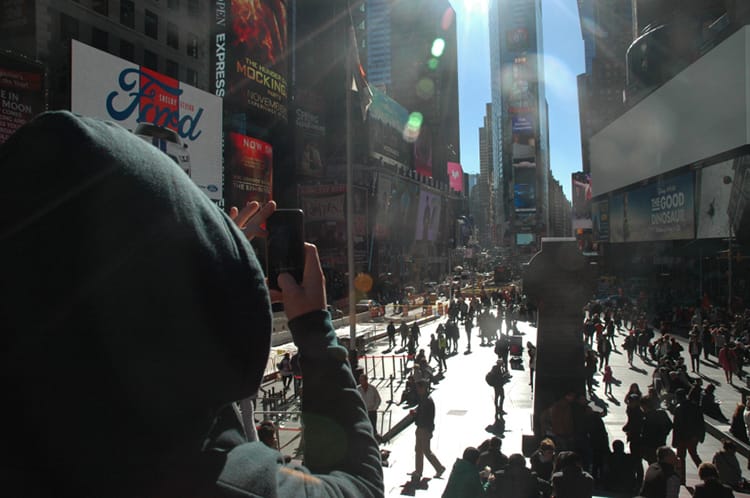 2:00pm Ice Skating at Bryant Park
---
When most people think about ice skating in New York City, they automatically think of Rockefeller Center. A lesser known, but just as beautiful, rink is located right in Bryant Park. We skated around the rink for about an hour. There was no line to get in since the rink just opened a week ago, and it wasn't too crowded on the ice. Most importantly, none of us fell. And no, we didn't hold onto the side (the entire time).
Ice skating is completely free of charge however ice skate rentals are $15. If you bring your own lock, you can also use a locker for free. If you need to rent a lock or check a bag it costs between $8 and $9. We brought our own lock but needed to rent skates for $15 each. Ice skating is one of my favorite things to do in Midtown NYC.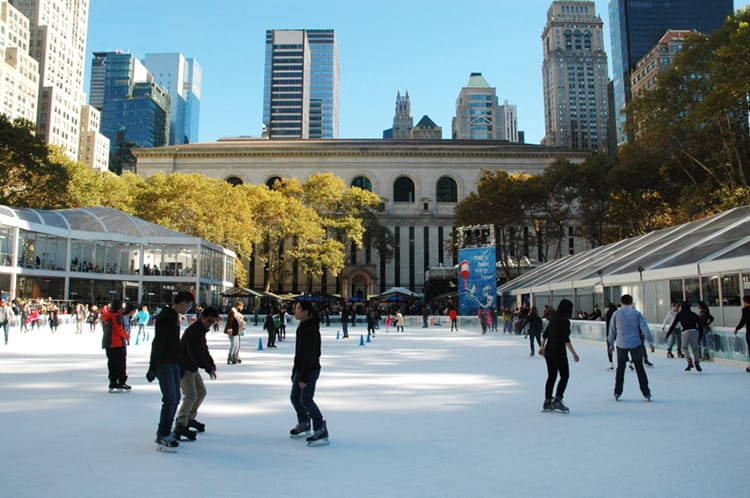 3:00pm Winter Village at Bryant Park
---
Around the ice rink is an assortment of adorable shops known as the Winter Village. Most are run by local craftsman who have one of a kind or handmade products. If you're looking to bring home a gift for a friend, this is a great place to look. Some of the prices can be a little high, but I've gotten a few cute Christmas ornaments in the past for a reasonable price.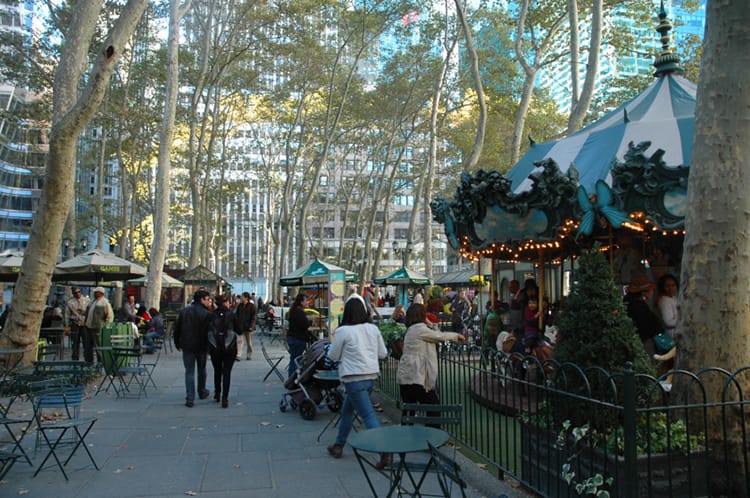 3:30pm The New York Public Library
---
We arrived at the New York Public Library after taking a quick stroll around the corner. The library is open to the public and will leave you in awe when you enter. The entry features two incredible staircases and a balcony with brilliant detail carved into them. (I once attended a gala at this library and I'm not going to lie… I felt like a princess.) If you head up the stairs to the third floor you'll enter a beautiful wood carved room with murals on the ceiling that remind me of Paris. If you walk around a little you may even stumble upon art exhibits hanging on the walls of the second floor.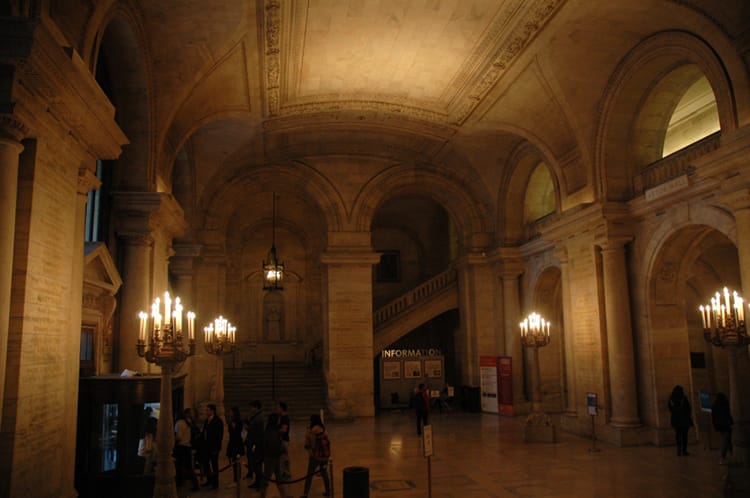 4:00pm Grand Central Terminal
---
No visit to midtown is complete unless you walk around Grand Central Terminal. Even on the days when I only have two minutes to catch my train, I still take a second to admire the beauty of this station. Sometimes, I get there ridiculously early just so I can hang out and stare at the ceiling (yes, I'm aware that's a little nerdy).
Some fun facts about the terminal… There is one small square on the ceiling that is almost black. This was left behind on purpose when they restored the ceiling to show how dirty it was prior to the restoration. Although, most people know about the food court downstairs, very few people seem to know about the market place where you can buy fresh meat, cheese, and teas among other things. Take the time to get lost here. After five years of passing through these tunnels, I still discover new things in Grand Central.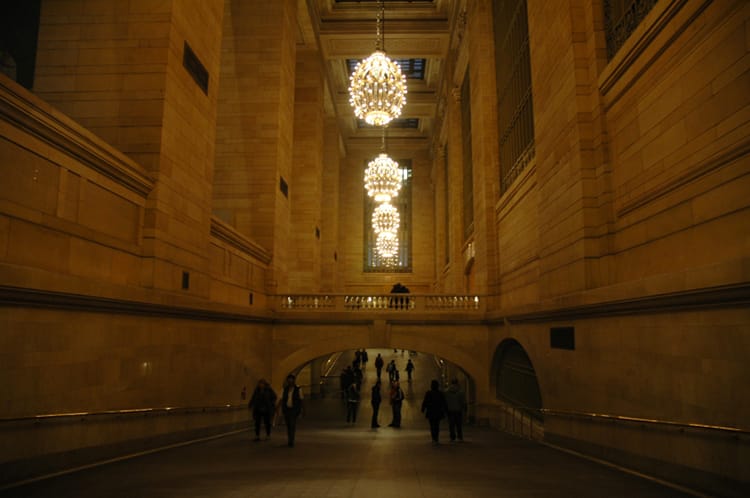 4:30pm The Whispering Gallery
---
One of the new things I discovered this year in Grand Central is the "Whispering Gallery." The small area with a domed ceiling near the Oyster Bar is known as a safe place to share your secrets. Walk to the corner and whisper a message and sure enough someone on the other side will hear you loud and clear. Well, not exactly. We found that whispering to the corner was not completely effective, however if you talk into the corner the effect is pretty amazing. I guess calling it a "talking gallery" wasn't as appealing.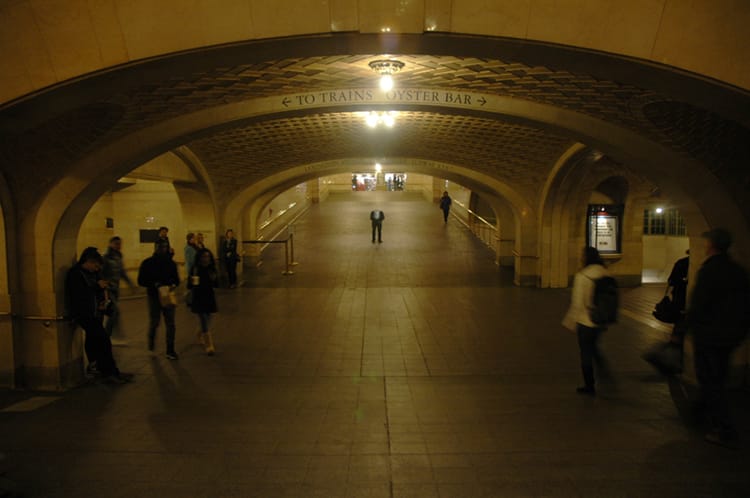 5:00pm Rockefeller Center & the Christmas Tree
---
I'm super excited to share this section because the Christmas tree this year is from my home town! This might not sound that cool except that no one has ever heard of my town. I often tell people I'm from New Paltz (15 minutes away), and when I randomly meet people from New Paltz even they don't know where Gardiner, N.Y. is. So now we have a claim to fame (at least for the next two months). The tree arrived last Friday so I was pretty pumped to go see it. Unfortunately, it was still surrounded by scaffolding which they use to put the lights on. Nevertheless, I was still really proud of the Gardiner Christmas tree.
Besides visiting the tree, you can also go inside the buildings of Rockefeller Center. Most of the entry ways have beautiful murals which you can admire. Check out Free Tours by Foot's map which shows you all the major sculptures, murals, and mosaics along with a description of each.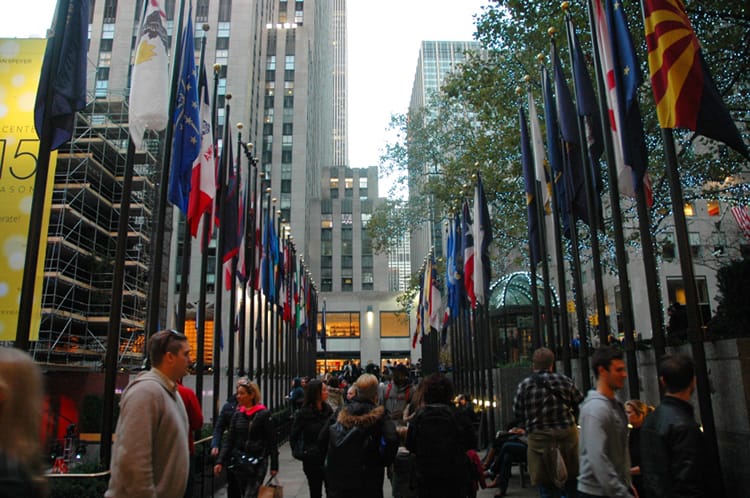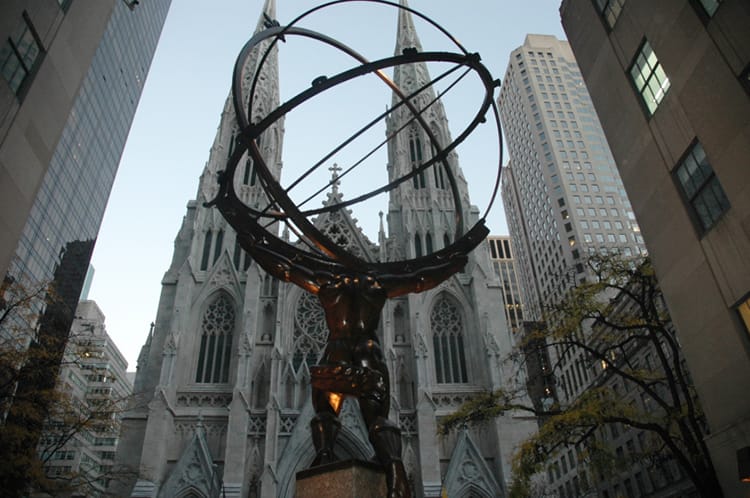 6:00pm Saks Fifth Avenue
---
Right across from the tree is the famous Saks Fifth Avenue. If you're looking to spend some serious cash (not sure why you'd be reading this article) then this is the place to do it. Need $200 cashmere socks, they've got 'em. Need a $3,000 sting ray purse, they've got that too. But seriously, at least check out the window displays and light show out front. I'd also recommend walking around the main floor to truly experience this iconic store.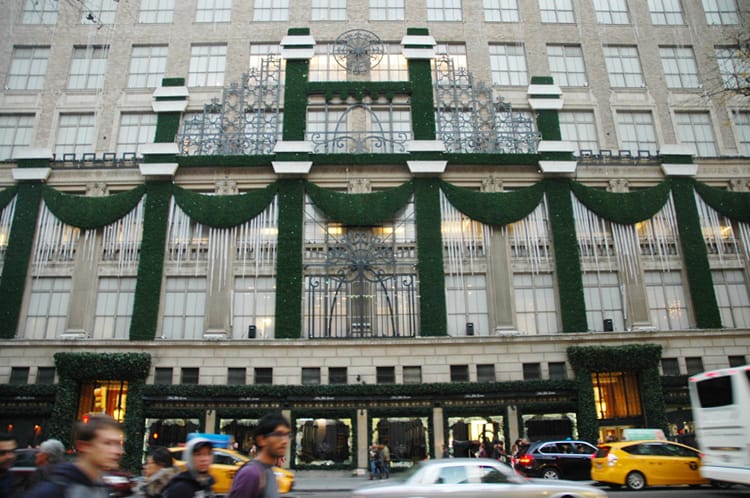 7:00pm St. Patrick's Cathedral
---
When I think of things to do in Midtown NYC, I don't necessarily think of cathedrals, but this one is worth stopping at! St. Patrick's Cathedral is not only gorgeous on the outside, but the interior is also incredible. Check the times of mass beforehand so that you don't interfere with the service. We ended up arriving right before they started and didn't get to walk around as much as we wanted to. The last mass usually starts at 5:30pm.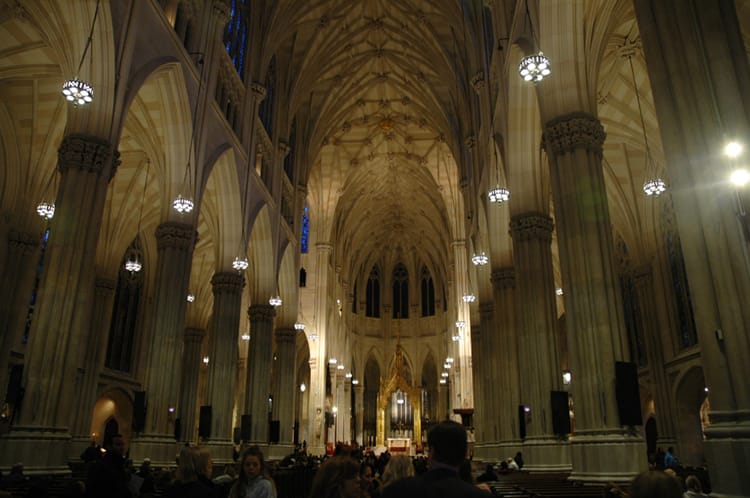 7:30pm Street Meat from the Halal Guys
---
If you're not from New York you may not know what "Street Meat" is. I can assure you it is not nearly as disgusting as it sounds. In fact it's the complete opposite. "Street Meat" is a term used to describe the small food truck vendors who often serve gyro, chicken, and falafel. The best "Street Meat" can be found on 53rd and 6th Avenue. Not only is it insanely delicious. It's also insanely cheap. For $5 you can get a chicken gyro or falafel sandwich that is basically a pound of perfectly greasy meat. Oh, and make sure to add extra white sauce!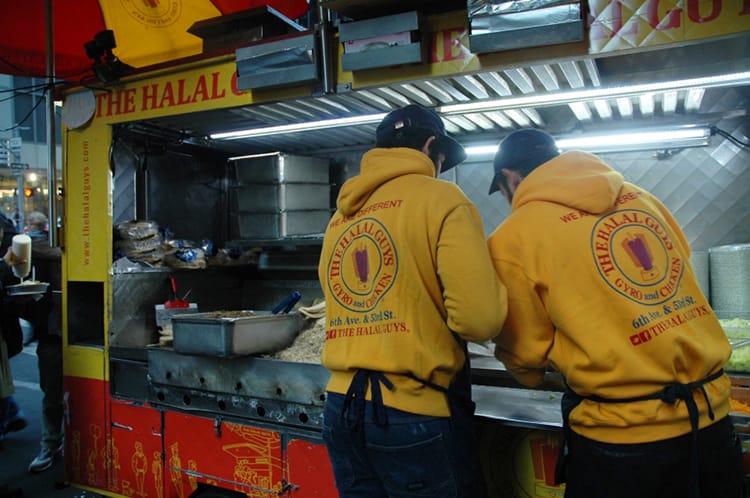 8:00pm The LOVE sign
---
Our last stop may not be the most historical thing we did all day, but hey who doesn't love the LOVE sign? It's been seen in movies, commercials, and pretty much everywhere. Plus, who doesn't love to climb on giant letter. We know we do! This sign is located on the corner of 55th and 6th Avenue.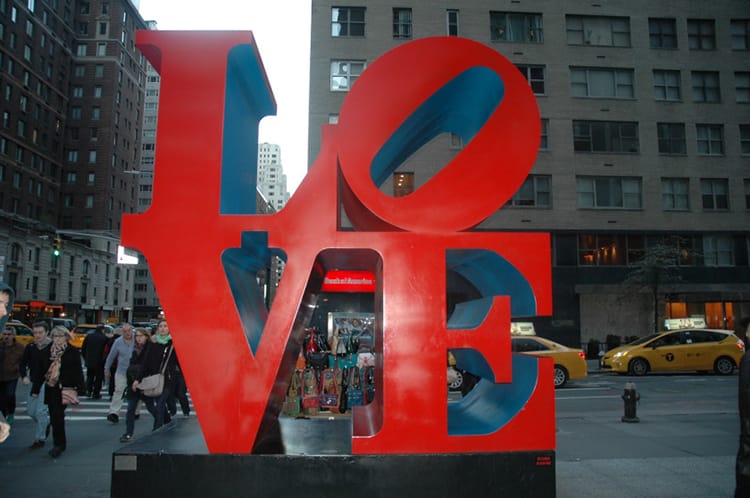 Alternative things to do in Midtown, NYC
---
SONY Wonder Technology Lab– If you're traveling with kids, make sure to reserve tickets for the SONY Wonderlab. It's completely free of charge but is geared more towards children. Although all three of us are pretty immature, we opted not to go. I did go once when I was in grade school and had an amazing time.
MOMA– If you are touring around midtown on a Friday, take advantage of UNIQLO Free Friday Nights which are on Friday evening from 4:00pm to 8:00 pm at the Museum of Modern Art
Breakfast instead of ice skating- If you are going in the summer or if you don't want to ice skate, consider having breakfast out as well. Éclair Bakery has a great selection of coffees and pastries for a reasonable price.
---
Total Spent in Midtown, NYC – $30
---
All in all we had a very successful day, seeing numerous sites, for the low price of $30! The highlight for me was ice skating around Bryant Park. It reminded me of being little and skating around the lake at my great uncles house. I love finding things that feel like an escape from the city because ice skating in the middle of skyscrapers is somehow the perfect juxtaposition.
Want to try all the things to do in Midtown, NYC? Ask any questions in the comments!
---
Looking for a Hotel in NYC?
---
You might also like…