A friend invited me to attend a ceremony honoring three Sherpa women who had just summited Everest, and luckily, I didn't hesitate to say yes. It was at this presentation that I sat next to Lakhphuti Sherpa. Little did I know, I was sitting next to one of the trail blazers of the female guide industry, one of the first Nepali women to try to summit Everest, the first female Sherpa to write a book, a government official, and the founder of the first accredited college offering a degree in mountaineering.
After having an amazing chat about the struggles of being a female guide, I knew I needed to interview her. I'm more than honored that Lakhphuti was willing to take the time to talk to me about female guides, Nepal, and her life story. As someone who has fought every step of the way for the right to be equal to a man (and succeeded), she knows the struggles women face first-hand.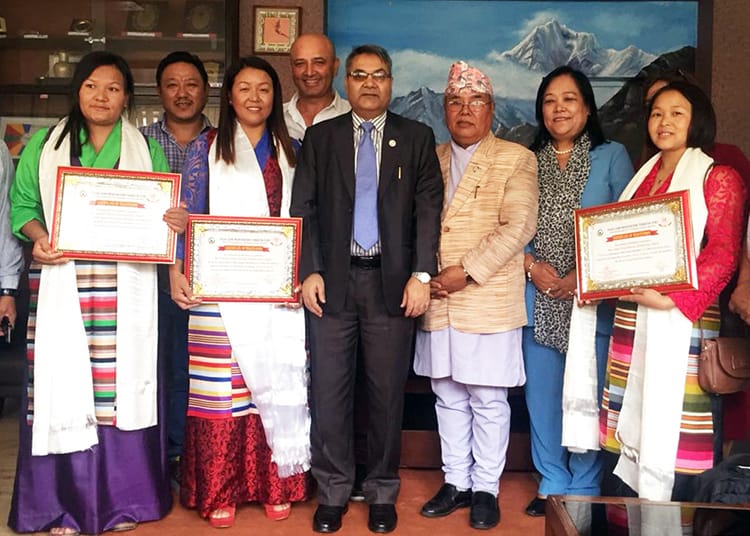 The Fight for an Education
---
Lakhphuti was born in a small village in the Khumbu region of Nepal, which is famous for being the home of the iconic Mt. Everest. Her village offered schooling up to grade six, but only boys were encouraged to go. Education for women was viewed as a waste of time since they would eventually get married, have kids, and look after the house. The only skills they needed were knowing how to cook and work in agriculture. Even so, little Lakhphuti would pretend to go to work in the jungle, and then, she would sneak off to classes instead which she described with a laugh as being "a little bit naughty."
Since her family assumed she was working in the jungle, she had no packed lunch or money for food when she went to school. She quickly realized she could play cards with the older boys and place bets on food to be able to eat. She'd beat the boys and win corn or potatoes which allowed her to continue her education without her parents knowing.
---
Starting from the Bottom
---
After seeing trekking groups pass through her village, she was in awe of how "clean and beautiful" they were in contrast to the villagers who were all "so dirty." She wanted a life beyond agriculture and didn't want to work on a farm for the rest of her life. Unfortunately, she had no skills and didn't know other languages. Despite that, she took her chances and told her father she wanted to go to the mountains as a porter.
She began working in the Khumbu region in the areas around Mt. Everest, including Gokyo (5,483m) and the Cho La Pass (5,420m). She was expected to carry the same amount as a man which was usually around 35-40kg (75-90lbs). At the time, there were no women's rights and she often faced dangers in the mountains that men didn't have to worry about. "During the day we suffered from carrying the load, and during the night we suffered also…Everywhere there are people like God and people who are not good."
She escaped her village and walked eight days to reach Kathmandu, but her aunt made her return while her family proposed her to get married. She escaped a second time to return to the city where she continued her work as a porter in the Annapurna and Langtang Regions to the west of her home. She worked her way up through the ranks as a kitchen girl and a helper, and eventually established herself as a guide. Later on, she opened her own trekking agency, and then went to work for the government.
---
Fighting for the Right to Stay
---
When I asked Lakhphuti what the most difficult part of being a female guide is, we began to talk about something that sounded all too familiar. Mountain tourism is a huge opportunity for women, but it's also a really big challenge, especially when you're in a country where family means everything. In Nepal, elders are to be given the utmost respect and most children won't disobey their parents. Convincing one's parents to be a female guide isn't exactly an easy feat since it's outside the social norm.
For those who manage to convince their families to allow them to get certified, the struggle never seems to end. When it's time to get married, a woman will then need to convince her husband for the right to stay a female guide. Meanwhile a man never has to persuade anyone that he should keep his job. Further, the choice to have kids is a huge one. In Nepal, women are expected to breast feed for three years. That means, that if a couple decides to have a child, the mother is giving up three years of her career.
---
Today's Female Guides
---
In a country where there are thousands of trekking and mountaineering guides, there are only around 40- 50 professional female guides. Generally, women are responsible for running hotels and tea houses in trekking regions while the men are out being porters, cooks, or guides. Due to the lack of female guides, the supply and demand actually allows them to charge more money than male guides. You've got to love that!
With their success comes the inspiration of a new generation who see other women becoming guides on social media. This has fueled not only a need for female guides, but also a sense of understanding for those who want to get certified. Being a female guide still isn't widely accepted by families, but it's slowly becoming more acceptable.
Lakhphuti has already seen a positive change. She's the executive director of the Nepal Mountain Academy which is the first of its kind and offers a degree in mountaineering. The school encourages women to get certified as guides and gives them the opportunity to move beyond guiding to work in areas related to mountaineering like research, geology, anthropology, etc.
---
Why You Should Request a Female Guide
---
In case this story hasn't sold you on booking a female guide, I thought I'd mention a few reasons you should request one. The first is a point that Lakhphuti brought up. Safety. As a solo female traveler, I knew exactly what she was talking about. I consider Nepal to be an extremely safe place, but I also tend to travel solo a lot and being in the mountains with just a male guide can be a little intimidating. Not to mention, on my last trek I got my period and couldn't explain to my male guide why I was feeling so sick and moving so slow while we ascended 1,700m in just a few hours.
But, besides having someone relatable who you can trust, it's also a great way to boost the demand of female guides. The more people who request one, the more they will need. The more female guides that trekking companies need, the more that women will be encouraged to become guides. And as young girls see more and more female guides walking through their villages, more will be inspired to follow in their footsteps. Living in the mountains of Nepal and working in agriculture is a tough life. For young girls to get a chance to learn another language, go to school, and have their own career is the adventure of a lifetime.
"Today, I feel I have faced all these things. I have a daily exam. In school you have an exam how many times a year, I don't know. But, in life you have daily exams and you pass or you fail. That is in your hands and in your capacity." – Lakhphuti
---
You might also like…