I'm back in the good ole USA trying something you'd expect to find in the Himalayas. Halotherapy also known as salt room therapy. It's a word I'd never heard of until this week. Halotherapy is a treatment that involves sitting in a room full of Himalayan salt. If you follow my blog, you probably know that I love trying new things, and lately, all natural and holistic healing have been of interest. You can read about the first times I tried reiki and sound healing in Nepal.
The Salt Escape said the room had multiple benefits including respiratory, skin and relaxation. It supposedly helps with everything from acne to asthma and allergies. Not to mention stress. It's basically 45 minutes of meditating in a room that helps you breathe easier. My mom and I decided to kidnap my sister and take her as an early birthday present because no one has more stress than a mom with a full time job, a company, and a side hustle. Did I mention she has allergies too? If the room could work for her, it could pretty much work for anyone.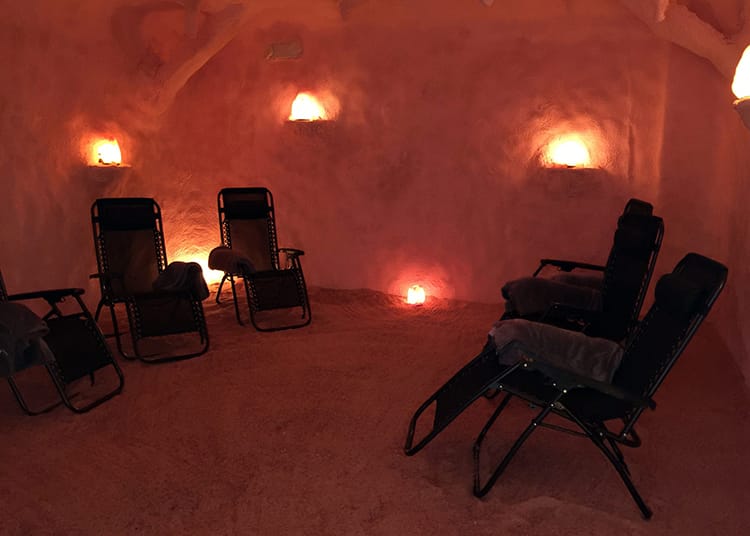 What Salt Room Therapy is like
---
We arrived at The Salt Escape in Myrtle Beach, SC ready for a brief tour and 45 minutes of detoxing in a glowing pink room. We got the run down from the lovely owners who showed us everything from a kiddie room that looked like a scene from a beach (toys included) to an oxygen bar with multiple flavor choices. Then it was time to walk into the salt room for our halotherapy treatment. We each had a zero gravity recliner, a blanket, and a warm salt pillow for our necks. The room was cool at 70 degrees. The lights were dimmed, the sound of waves emanated from the speakers, and the door was closed. For the next 45 minutes we sat.
I tried to meditate to no avail. A common thing for me. I let my mind wander since I rarely have time to sit still and just think these days. Around 35 or 40 minutes in, I began to feel a bit restless. So did everyone else, since you could hear others rustling around in their chairs. I was reclined all the way back and saw that my sister had sat up to have her feet in the sand. Direct contact with the salt is meant to make the effects stronger. I followed suit and sat for the remaining time.
The thing is, I could breathe. I mean really breathe. We've been moving into a new house and unpacking has caused a dust storm inside the walls every day. I rarely have allergies, but this week has been brutal. My runny nose was gone, my sinuses felt clearer than ever. I also felt insanely calm. Like really really calm and mellow.
At the end we all began to giggle as the lights went on and off signaling the end of our session. We all looked at each other and said, "When are we coming back." While my mom didn't notice a huge effect, my sister did. She generally has a box of tissues with her at all times. Her allergies are so bad that she basically has a perpetual cold. But she came out and took a deep breath through her nose. "I could feel the difference after being in there for only fifteen minutes." Needless to say, we all signed up for a one-month unlimited pass.
---
How does halotherapy work?
---
First of all, the floor and walls of the "cave" or room are covered in Himalayan salt. In addition, a machine grinds pharmaceutical grade salt into microscopic pieces and filters it through the air. That makes it easier for you to inhale it. This is said to help with breathing as well as mucus since it reduces inflammation in your airways. It has a similar effect on skin since it is believed to absorb bacteria. This helps with things like eczema and acne. Being in the room for 45 minutes is equivalent to being at sea for 3 days.
As far as alleviating depression or anxiety, salt is known to produce negative ions. This forces your body to create serotonin which makes you happy. While I'm not entirely sure I buy into this, I do believe that sitting in a quiet room for 45 minutes with no disturbances is beneficial to anyone's well-being. We all need some "me time," and meditating or even taking a nap in a relaxing environment without being interrupted is bound to make you feel better.
Overall, I loved visiting the salt cave. I've been meaning to get back into meditation after a fortune teller (yes, I'm aware that sounds crazy) told me it was important. I tend to go through phases of being adamant about meditation or not taking any time for myself. But, when I take the time to meditate, I feel happier. So the fortune teller emphasizing it felt like a kick in the butt to do it again. And meditating in a salt room where I can breathe and mellow out totally fits the bill.
Have you tried halotherapy? Did you notice a difference? If you haven't tried it yet, is it something you'd be open to? Share with me in the comments.
---
You might also like…