The Kathmandu Valley Trek is a low altitude trek which follows trails along the southeast portion of the Kathmandu Valley Rim. It offers beautiful views of the Himalaya, great food, and a wonderful cultural experience. We did the trek in seven days and were able to stay well below our budget of $60 a day (for two people). In fact, we spent less than $40 a day! This is not a teahouse trek, so the hotels are a bit more expensive, but it's perfect for beginners or for people who like to travel with a certain level of comfort.
The breakdown for costs in this post will be for two people sharing a room. A lot of hotels in this area charge by the person and not by the room, so if you are going solo the prices should be around half the price. I think it's important to note that this trek can be done on a major budget or on a luxury budget. My personal travel budget is usually $30 a day so for two people we tried to spend less than $60 a day. This allowed us to stay in mid-range comfort hotels along the trek.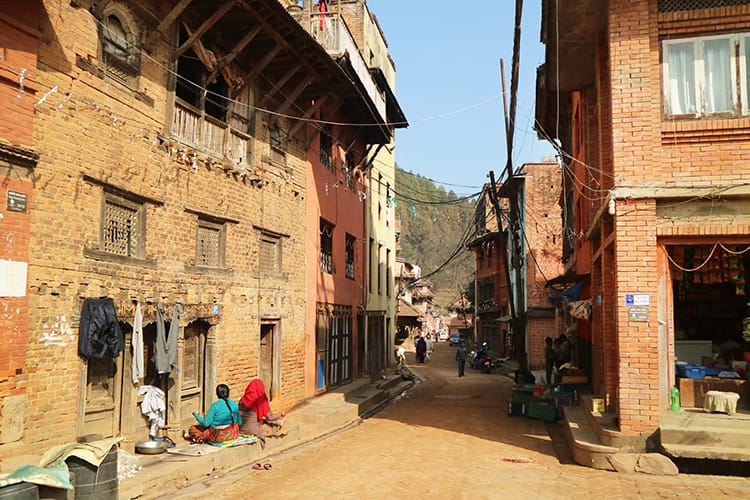 Kathmandu Valley Trek Itinerary
---
In this post, you can read a more detailed version of the Kathmandu Valley Trekking Itinerary.
Day 1 – Kathmandu to Bhaktapur by Bus
Day 2 – Bhaktapur to Nagarkot
Day 3 – Nagarkot to Dhulikhel
Day 4 – Dhulikhel to Namo Buddha
Day 5 – Namo Buddha to Balthali
Day 6 – Balthali to Panauti
Day 7 – Panauti to Kathmandu by Bus
Itemized Prices Per Day (per couple)
---
Breakfast $1.41 USD – Breakfast was included with the hotel every day of our trek except the last day when we stayed in a budget hotel.
Lunch $6.96 USD – Most days we tried to keep lunch pretty simple. Two days of the trek, we stopped at places without proper restaurants, and the only food they had was ramen noodle soup which was very cheap.
Dinner $8.90 USD – Most nights we both got dal baht. One night (in Balthali), dinner was actually included in the price of the room. Dal baht usually cost between $3 and $6 along this route. If you want western style food, it will generally be more expensive than local cuisine.
Shelter $30.05 USD – Tea houses and hotels along trekking routes in Nepal are known for being extremely cheap, and that's one of the few downfalls on this route. I was shocked when I first saw that hotels cost $25 and up. The hotels charge per person, not per room. This means that two people in one shared room pay $50 and a single person pays $25. That being said, these aren't tea houses. They're proper hotels with nice beds, hot showers, and private bathrooms. Most include breakfast and a few also include dinner. Rooms along this route vary from $10 to $500, so there's plenty of choices to fit your budget.
Transportation $0.26 USD – We took a local bus from Kathmandu to Bhaktapur for $0.30 each and a local bus from Panauti to Kathmandu for $1.00 each.
Tourism $5.54 USD – Although you don't need trekking permits in this area, you will need to pay for a few permits along the way. If you want to explore Bhaktapur Durbar Square (which I highly recommend) it's $15 per person. Entering Nagarkot is another $3.40 per person, and entry to Namo Buddha costs $1.00 per person.
Other $0.62 USD – This includes anything not mentioned above. For us, this was just doing our laundry twice which cost a total of $4.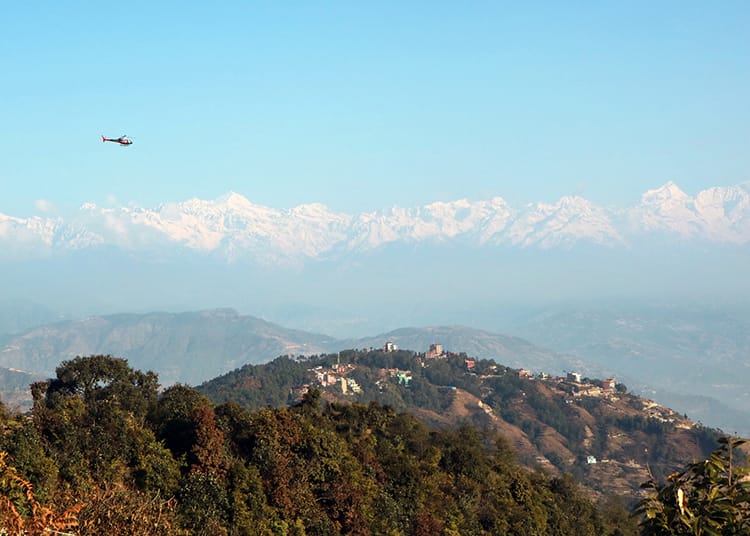 Total Spent Over 7 Days
---
Breakfast – $9.85
Lunch – $48.70
Dinner – $62.30
Shelter – $210.35
Transportation – $1.80
Tourism – $38.80
Other – $4.35
Totals spent
Per couple – $268.75 USD
Per person – $134.38 USD
Average Prices Per Day
---
Per Couple – $38.39 USD
Per Person – $19.20 USD
We actually came in way under budget. Initially, we set out to spend less than $60 a day between us ($30 each), and we ended up below that. We stayed at what I consider really nice hotels. Although we didn't take the "luxury" choices, I never felt like we had to sacrifice anything we wanted. We stayed in nice places, ate really well, and enjoyed the trek a lot. I should mention that we went without a guide and figured out the way on our own. It was confusing at times, but I have a group of posts to help with navigating this trek.  If you choose to hire a guide, it would cost around $40 a day (plus tips).
Looking to book the Kathmandu Valley Trek with a guide? I work alongside Blue Tara Tours & Travel to create unique tours in Nepal. They offer a 7 day and 5 day Ktm Valley Trek!
---
You might also like…