The Kathmandu Valley Trek is a one-week low altitude trek that's perfect for beginners or for people who want to trek without leaving the comforts of civilization behind. It's offers beautiful views of the Himalayas without going more than a few hours from Kathmandu, making it perfect for those who are only in the country for a week. It's even a great trek to do in the winter. I did it in January when most of the trekking routes are closed, and although cold, you won't have to worry about snow blocking the way.
What I love most, is that you can customize this trek to be as short as a one-day hike or a three-day trek, etc. You can actually take a bus from any point in the trip back to Kathmandu (except Balthali). After packing for so many long-term treks, it seemed kind of weird to pack for a short low altitude trek. I actually loved how little I needed to carry. We did the trek in 11 days because we spent two extra days in Bhaktapur, one extra night in Nagarkot, and one extra night in Dhulikhel. Below, I've included the items we needed for winter, but you'll need even less if you go during warmer months.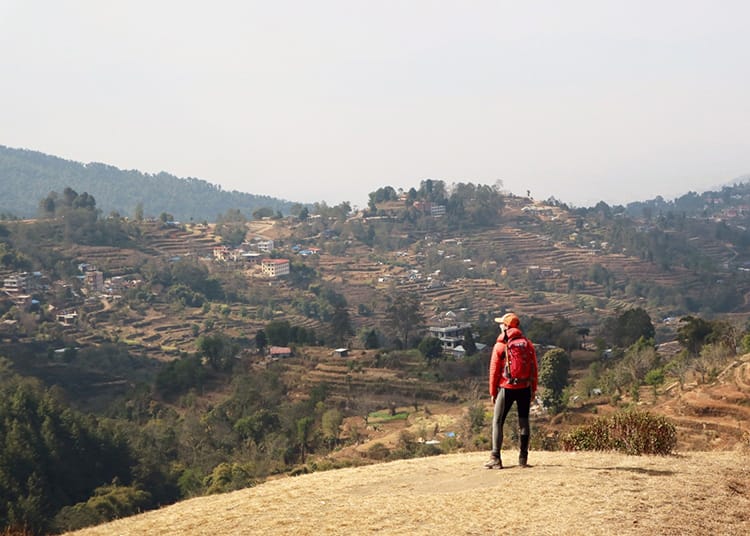 Brief Itinerary
---
Day 1 Kathmandu to Bhaktapur by bus
Day 2 Bhaktapur to Nagarkot
Day 3 Nagarkot to Dhulikhel
Day 4 Dhulikhel to Namo Buddha
Day 5 Namo Buddha to Balthali
Day 6 Balthali to Panauti
Day 7 Panauti to Kathmandu by bus
Read this post for a more in-depth Kathmandu Trek Itinerary
---
Kathmandu Valley Trek Online Shopping List
---
Finding everything you need for a packing list can be annoying, so I've linked to everything I buy online in this kit. These are the items I brought with me that I felt were worth carrying. I went in the winter (January), so this list has some heavier items that you won't need in warmer months. If you're unsure of what you might need, feel free to comment with questions.
Bags & Storage
---
30L Backpack – I would recommend looking for a backpack with air ventilation where the pack hits your back, comfy straps, a waist and chest strap, a water bottle pocket, and some straps to attach a trekking pole or to hang drying laundry. Also, check to see if it has a rain cover built in. If not, purchase one that fits it. This Eddie Bauer backpack checks all the boxes. Full disclosure, I don't have this bag. I purchased a knock off bag from Kathmandu, and it really hurt my back because the metal framing poked my sides all day.
Waterproof Bags – I love having waterproof bags with me because you never know when it's going to rain. Also, it keeps my bag organized. I keep my wallet in one, and all of my electronics in the other. If it starts to rain, I don't have to freak out about anything because everything is already stored in waterproof bags.
Ziplock Bags – I carry a few of each size just to keep my bag organized. Toiletries go in one, snacks in another, etc.
Plastic Bag for Laundry – Bring a plastic bag (like the kind you get your groceries in) for your laundry. That way your smelly socks don't stink up the clean clothes. I also recommend putting a few fabric softener sheets in your luggage to keep it fresh.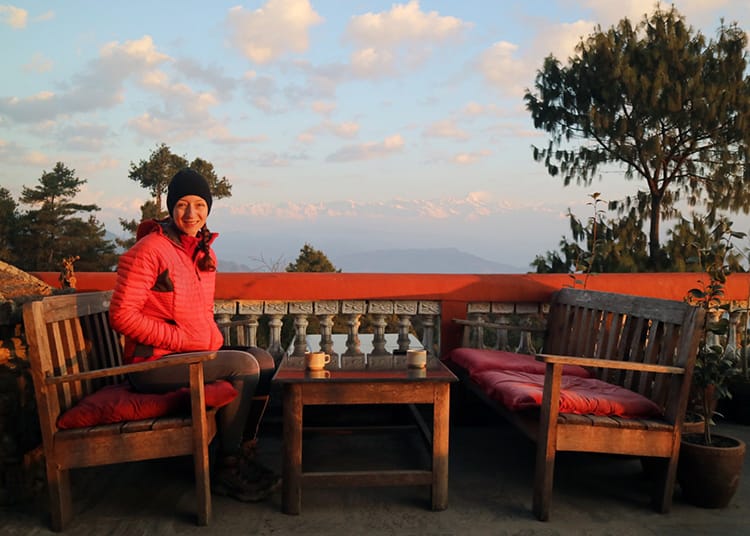 Clothing & Accessories
---
This list might seem like a lot. We went in the winter, so we wore most of the clothing even when we were walking during the day. Most of the budget friendly hotels did not have heat (the luxury ones did), so having warm clothes to wear after the sun went down was important. I'm a huge fan of Eddie Bauer, so most of the items I recommend below are from them. They have great sales throughout the year, so I usually buy everything 50% off, and I've found the quality to be better than companies like North Face or Colombia which charge more.
Pajamas – I brought one long sleeve sleep shirt, one pair of thermal pants and socks for sleeping. It was usually around 45 degrees Fahrenheit at night and 50 during the day, but without any heat in the room, the warm clothes felt necessary. Even in the spring and summer, most of these towns are located above 1,600 m (5,250 ft), so it will be a little cool when the sun sets.
Socks – In addition to my socks meant just for sleeping, I also had one short hiking sock and one long hiking sock. In the summer, two short hiking socks would be fine as you will probably be too warm with the longer ones.
Underwear – I brought five pairs of underwear. We did laundry in Bhaktapur and Dhulikhel and paid 200 rupees ($2.00 USD) each time.
Bras – I brought two sports bras. Again, we did laundry so I was able to wash each one once.
T-Shirts – I took one long sleeve shirt and one short sleeve t-shirt. If it's summer, then you should take two short sleeve t-shirts instead since it will be hotter during the day.
Pants – Two pairs of pants are ideal that way you can wash one while you wear the other. I have these lightweight trekking trousers which are perfect for walking and are also stylish compared to most trekking pants. I also have a pair of long workout leggings.
Coat – At night and in the mornings, I needed a down coat. Mine is super compact and folds into a pocket so it didn't take up much room and was a life saver. It's probably one of the best investments I've made besides my trekking boots.
Fleece Jacket – No matter what time of year you trek, bring a fleece zip up. It gets chilly at night, and most places don't have heat. I slept in my fleece on colder nights and wore it during the day when it was windy.
Hats – I brought one winter hat and one baseball hat. I slept in the winter one and wore it at dinner and early in the morning. The baseball cap was great during the day in the sun.
Trekking Boots – Having good hiking or trekking boots is the most important. Sometimes you'll be walking on a paved road, and sometimes you'll be on a rocky trail, so you need good support for your feet. I have these trekking boots because I trek a lot and know they will get really good use. If you're not ready to commit to $200 shoes (I certainly wasn't on my first trek), just make sure the quality is good and it's a "mid" height. This means it goes up to your ankle and helps prevent you from twisting your ankle. Companies like Keen and Merrell have some good options in a lower price range.
Face Mask or Buff – Some roads or trails are dusty, so it's best to have a small face mask or a buff.
Thin Gloves – Although most of the hotels along this route are pretty classy, they all take a while for water to get hot. Therefore, you'll often find yourself washing your hands in icy water. In the winter, definitely bring a pair of thin gloves. That way you can warm up after washing your hands.
Rain Coat – You never know when it's going to rain, so always have a raincoat or poncho with you. If it's summer, you can get away with a poncho, but in the winter you'll want a proper raincoat. I bought a knockoff raincoat in Kathmandu and the lining is super itchy and it always gets scrunched up funny. Anyway, I'll be buying this raincoat when I get back home.
Sunglasses – Even if it looks like it will be cloudy, sunglasses help protect against the dust you'll experience on a few parts of the trail. I used to buy super cheap glasses, but splurging for good polarized ones will help you, especially if you plan to trek at a higher altitude where there might be snow.
---
Toiletries
---
I tend to buy most of my toiletries in Kathmandu when I arrive since I don't like carrying them on the plane. If you won't have time to shop or want to have everything when you arrive, you can find everything on Amazon. I've included links within the article to make it easy to find everything you need.
Hand Sanitizer – You may find yourself using bathrooms along the hike. Often, they won't have soap, so always have some hand sanitizer with you.
Tissues – Hotels will provide toilet paper, but lunch stops and tea stops along the way probably won't. Have one or two packs of tissues on you in case of an emergency.
Feminine Hygiene – Bring a blossom cup, pads, or tampons if needed. It's hard to find them on route unless you are in one of the bigger cities.
Teeth – I like to bring a toothbrush, travel size tooth paste, steipod (to keep the toothbrush clean), and toothpick flossers.
Hair – I carry a hairbrush and hair ties. I purchase small individual shampoo packets in town to avoid carrying a shampoo bottle. When hiking, I go without conditioner, but bring some if you need it as that's a lot harder to find on route. I recommend a solid conditioner and solid shampoo for traveling.
Sun Protection – Bring sunscreen and lip balm with you. I recommend a lip balm with SPF protection.
Deodorant
Q-Tips – It gets super dusty in parts of the valley, so I always bring some q-tips to get the crazy amount of dust out of my ears
Shaving Razor
Hand Cream
Bar of Soap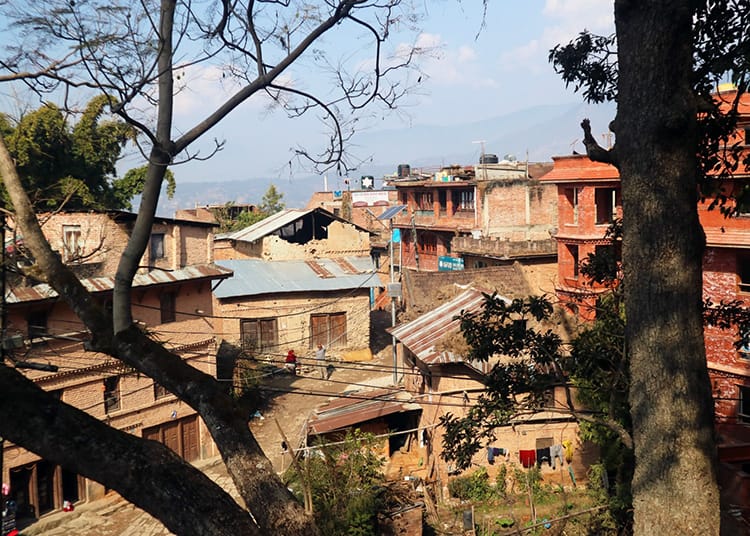 Medication & First Aid
---
Antibiotic – Always have an antibiotic with you in case you get food poisoning or dysentery. Ask your doctor when you should use it. These trails go through small villages and finding antibiotics on the trail may be difficult along some stretches.
Diarrhea Medicine – I've been told that 80% of tourists visiting Nepal get travelers diarrhea, so I always carry some medication with me in case I need it in a pinch.
Prescriptions – Have any prescriptions you need with you since doctors aren't easy to come by.
Other – I always carry a handful of cough drops and Band Aids with me just in case.
---
Electronics & Entertainment
---
Camera and Charger
Phone and Charger
SIM Card – I recommend getting an NCell SIM card since WiFi isn't always the best outside of major cities.
Universal Power Adapter – Most hotels have international outlets, but some don't, so I carry a power adapter just in case.
Ear Buds – If you like listening to music while you walk, please don't bring a speaker as it's disturbing to other hikers. Ear buds are a better choice.
Kindle, Book, or audible – Most of the time, you'll arrive around 3:00 or 4:00pm which leaves you with a lot of free time before bed. I highly recommend having some reading material with you. I have a Kindle Paperwhite which I love!
Don't like carrying a book or Kindle? Check out audible! You can sign up for a 30-day free trial and get two books free by clicking the banner below! If it's not for you, you can cancel any time.
Movie Downloads – If books aren't your thing, download a few movies to your phone prior to leaving. I found the WiFi connection along the trail to be average at best. Sometimes I couldn't even load a Google search using data. So don't count on browsing the web as your entertainment.
Head Lamp – It's good to have a headlamp in case the power goes out or for going to the bathroom at night. One room we stayed in had a light in the bathroom that was connected to a light in the main room, so every time you turned the light on at night the whole room lit up.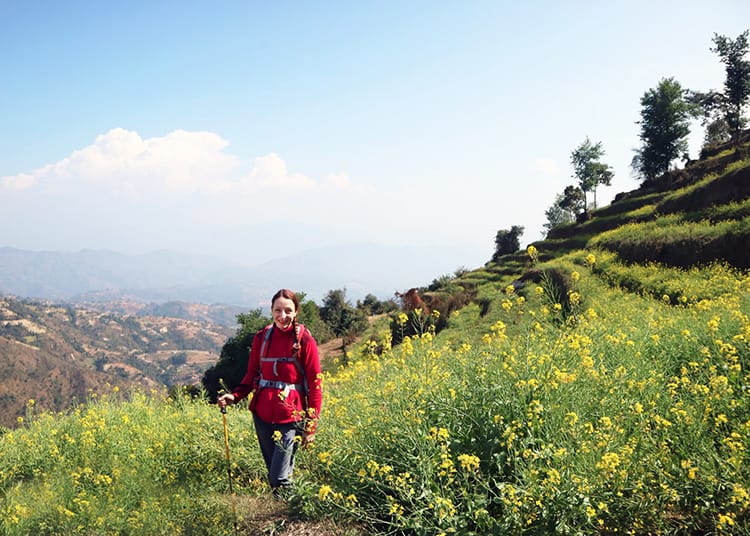 Navigation
---
Download maps.me – I highly recommend an offline map. There are areas where there is no WiFi, no cell coverage, and the trail doesn't show up on Google maps. We asked locals as we went but there were times when it was super confusing and no locals were around. Maps.me seems to be the best offline map for this route that I know of.
Around Kathmandu Valley Map – We found this useful while planning our route. When we got lost, we were able to ask where the next town was. For instance, if we didn't want to follow the road, we would ask how to get to the next small town located on the map on the trekking trail to ensure we got directions along the route we wanted.
---
Miscellaneous
---
Water Bottle – Waste removal in Nepal is very difficult for locals. Consider bringing a reusable water bottle to cut down on pollution. Even if you throw a plastic bottle in the garbage, it may not actually end up in the right place. It could end up in a river or thrown down a cliff out of sight.
Money – It's best to bring enough money for the entire trek. You can read my post on what to budget for the Kathmandu Valley Trek. There are a few ATMs along the route but we found that they weren't very reliable.
Trekking Poles – I don't generally use trekking poles except on difficult treks. I decided just to bring one of my pair. I did use it going down some steep stairs and on one of the more difficult days. If you have a bad back or knees or are out of shape, I'd highly recommend these to make the trek a little easier. You can rent trekking poles in Kathmandu if you don't want to purchase them.
Copy of passport/visa and extra passport photos – You may be asked to see your passport by hotels, so it's good to have at least one copy with you. I live in Kathmandu, so I don't carry the actual passport. If you go to Bhaktapur, you'll need to present the copy to get access to Durbar Square (which is a large part of Bhaktapur). If you have a copy of your visa and a passport photo, you can get a reusable pass that's good for months (for the same price). Otherwise, the pass is only good for a week.
Travel Insurance – I always have travel insurance, so I keep a copy of my paperwork with me at all time. That way, I know the numbers to call if I have an emergency and need assistance. It's not really necessary on this trek because of the low altitude, but it doesn't hurt to have it.
Looking to book the Kathmandu Valley Trek with a guide? I work alongside Blue Tara Tours & Travel to create unique tours in Nepal. They offer a 7 day and 5 day Ktm Valley Trek!
---
You might also like…