Kathmandu, Nepal, is a city full of contradictions. It's both chaotic and peaceful, relaxing and stressful, energetic and calm. It's the sort of place you either love or hate. Lucky for me, I love Kathmandu, but it's not always easy to live here. There are definite benefits to living in Kathmandu, like how affordable and safe it is; however, it's also lacking in infrastructure, which can create constant aggravation.
Some of the best places for expats to live include Singapore, Bali, Budapest, and Goa. But Nepal didn't make the list. So, what are the pros and cons of living in Kathmandu as an expat? Here are my thoughts after living here for three years.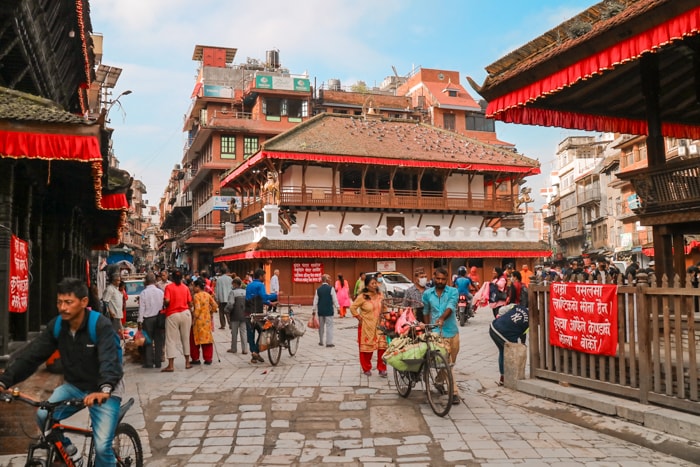 ---
Pros of Living in Kathmandu
---
Cost of Living
One of the main draws for living in Kathmandu is how affordable it is. Coming from New York City where my rent was $2,800 for a tiny two-bedroom apartment which I shared with a roommate, it seems crazy to be able to live comfortably for $500 – $1000 a month including rent, food, transportation, gym memberships, healthcare, and more.
Our large two-bedroom apartment is less than $250 a month including electricity and water. A weekly trip to the grocery store might run $40 for two people. Even going to a nice restaurant can be done for less than $8 per person. Prices have increased in recent years, but it's still an incredibly affordable place to live. If you want all the comforts of home, it will cost more. I have friends who pay $1,000 a month in rent to have more updated apartments with modern kitchens and bathrooms.
Language Barriers
I've been to a handful of countries in Europe and Asia, and Nepal took me by surprise. A large majority of the younger population speaks English. Most people under 50 were required to learn it in school. Both of my nieces are fluent in English and are under 17 years old. Nepal has put a big emphasis on learning English and many schools teach all the subjects in English except for Nepali class. That means, the language barrier in Kathmandu is minimal.
If you know a few words in Nepali, it'll take you a long way. Very few foreigners speak Nepali, so those who try are greatly appreciated. Often, locals will smile and giggle happily as you try to speak to them. That said, even if you know zero Nepali, you can survive here.
Safety
Nepal is also one of the countries I've felt the safest in (except for Singapore which was oddly safe). In New York, I would constantly be aware of all of my surroundings. I'd be on high alert walking down the street at night or riding the subway. In Kathmandu, I almost never feel in danger. Although there are bad people everywhere, it is rare to hear about major crimes in Kathmandu, unlike New York City where a few people are shot, mugged, or attacked every day or even hour.
One time, I was trying to get a taxi at night in Kathmandu and the driver was trying to charge triple the price. I was arguing with the driver when a guy on a scooter pulled over and asked if I was okay. He talked to the taxi driver who refused to lower the rate, so the guy on the scooter drove me to my hotel to make sure I got home safely instead of letting me walk. I've had several experiences like this during my time here. People tend to look out for one another, and that's a really beautiful thing.
Culture
Kathmandu is such an incredible place full of cultural experiences. Parts of the city look like a living museum with intricate hand carved wood temples. The food is a delectable blend of curries and spices that come in a set meal called dal bhat. For those who don't like the local cuisines, you can easily find limitless restaurants offering western fare.
There's also a handful of festivals happening every month which allows expats to see Nepal in a unique way. Whether it's a day of worshipping dogs, or the women's festival where all the ladies in Kathmandu wear red and dance in the streets, Kathmandu is a treat for the senses.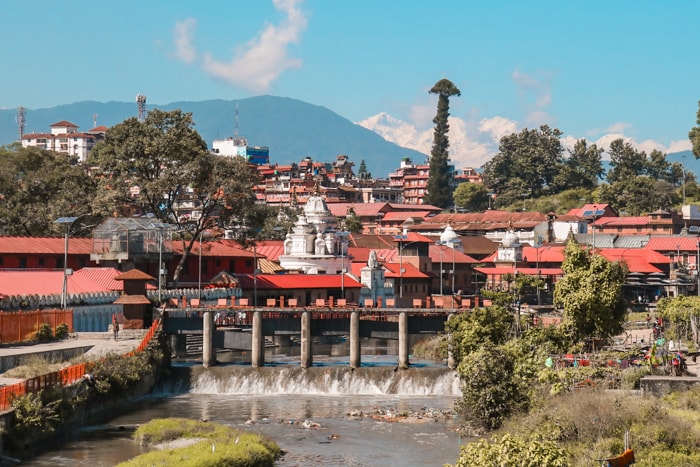 ---
Cons of Living in Kathmandu
---
Infrastructure
One of the greatest cons for living in Kathmandu as an expat is the infrastructure. Those who like order or things a certain way will probably not enjoy living here. The roads are often torn up or under construction which creates dust flying through the air. Kathmandu has even appeared in the list of the top three most polluted cities over the last few years.
Besides the roads, there is a problem with waste management and locals often burn the garbage to dispose of it even though it is illegal. Water is not always guaranteed which can be frustrating when you run out of water in the middle of a shower. Also, water is not potable which means you can't drink from the tap and will need to install a filtration system in your home.
For those who are digital nomads, power outages are common, and the internet is not always reliable. As someone who often works from home on my computer, there are ways around it, but having zoom meetings is difficult.
Visa Restrictions
Visa restrictions are another issue for those who want to relocate to Kathmandu. Getting a work visa is extremely difficult unless you work for an Embassy or NGO. Volunteer visas are also hard to come by. It's illegal to work on a tourist visa, and the tourist visa is only good for five months in a calendar year.
My husband is Nepali, so I am here on a marriage visa, however, most of my friends who live here have work visas through an Embassy or NGO and will only live here for the time of their contract which is typically two to three years.
Job Opportunities
As mentioned above, it's extremely hard to get a work visa unless you work for an Embassy or NGO. Finding a job outside of those areas that will offer a work visa is rare. If you do find a job which is willing to give a work visa, you may need to consider a pay cut from your previous job. However, with the lower cost of living, it may balance out.
Cultural Differences
If you plan to work in Kathmandu, you will need to adjust to a completely different work style. I came from New York City where we "live to work." We spend 80-hour work weeks trying to get ahead and get promoted to make more money. We are used to two weeks of vacation a year and very few holidays.
In Nepal, people "work to live." It's amazing actually and if you can embrace it, it's fantastic. However, money is not the biggest driving factor here, which means there is no rush to get things done, and sometimes people will refuse work if they think it's too difficult. Even if you offer to pay more. This can be frustrating to foreigners from countries like the U.S. where money is everything.
But here, family and health/wellbeing are more important, and sometimes money is not worth the stress. It's a good life lesson for all of us but be prepared for some cultural clashes when you need something done on time.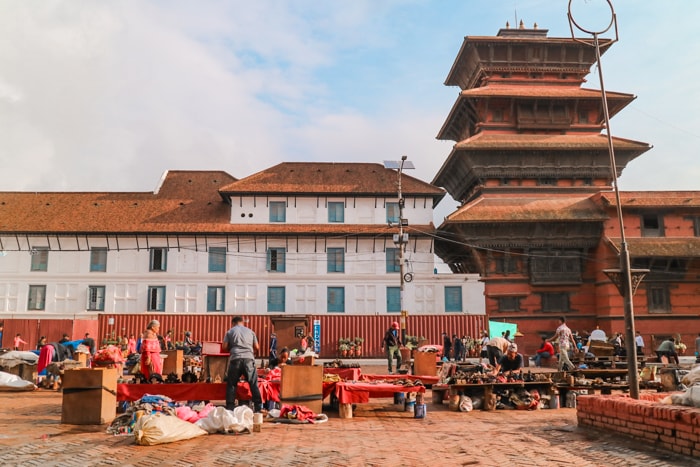 ---
Conclusion: Who Should Consider Living in Kathmandu
---
Overall, I love living in Kathmandu as an expat. It's not always easy, and I've definitely had some meltdowns over cultural differences. But, living here is an adventure. So, who should consider living in Kathmandu?
Young Professionals
Kathmandu is best suited to people in their 20's – 40's who are digital nomads or interested in developmental work as that's where most of the available job posts are.
Families
Kathmandu is a good place for young families who want an adventure. There are several good schools in Kathmandu, and Nepal offers incredible experiences in nature and culture for young kids to experience.
Retirees
Kathmandu would be a difficult place to retire to as it is not an easy place to get around and the healthcare may not meet western standards. It's also difficult to acquire a retirement visa.