Whenever I talk about the best restaurants in Kathmandu, my friends back home are shocked at the variety of cuisines. Kathmandu has quickly become my second home, and while many people speed through the city, I actually love coming back between treks and adventures to relax and take in the food scene. That's right, I said FOOD SCENE. Most people who haven't visited Nepal (my past self included) have no idea how amazing the food is in Nepal. Out of all the Asian countries I've visited, Nepal has some of the best restaurants and some of the most diversified types of cuisine. Had it not been for my local friends taking me to all their favorite spots, I never would have found any of these places to eat.
This post contains restaurants located outside of Thamel. You can check out this blog if you want to read about my favorite restaurants in Thamel.
---
Best Restaurants in Kathmandu Map
---
Dal Baht Nepali Kitchen
---
Best Nepali Food
Dal Baht Nepali Kitchen is one of my favorite places to get the famous Nepali dish, dal baht. Located in Lazimpat, a short cab ride or walk from Thamel, they offer one of the best dal bahts you can get at a restaurant. You can find a similar version in Thamel, but it's super expensive. Vegetarian dal baht costs $1.80 and chicken dal baht costs $2.50. Specialty flavors like fish or boar are around $3.50. In Thamel, the same dish (at this quality) will run $4-$8. It's free refills on everything (except the protein), so you can eat as much as you want, making it a steal if you're really hungry.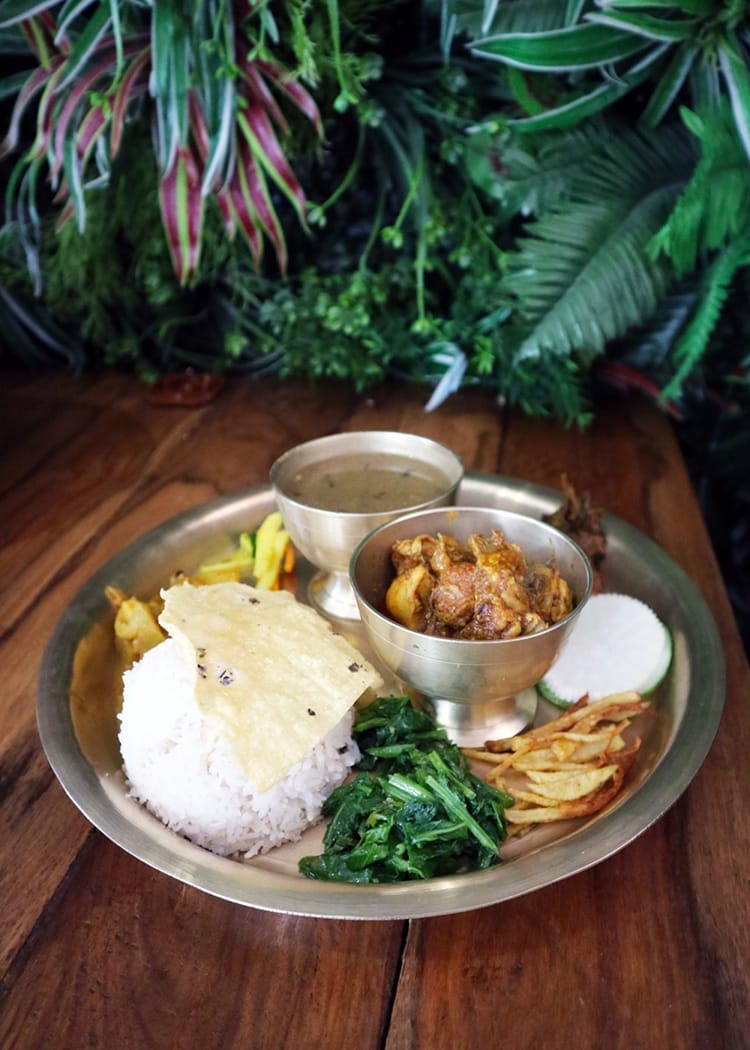 Bhumi Restaurant and Bar
---
Best Newari Food
Bhumi is located about a 20-minute walk or short cab ride outside of Thamel. It's popular among locals who want to grab a delicious Newari meal. I'd recommend the Bara (savory doughy bread) and Kwati (mixed bean curry/soup). The atmosphere is very relaxing with places to sit outside. Bhumi is a great place to take in the culture and get off the beaten path. I've been told that tourists rarely go here unless a local takes them since it's not near any major attractions. If you want to learn more about Newari culture you can check out my post about Newari Food, Customs, and Culture.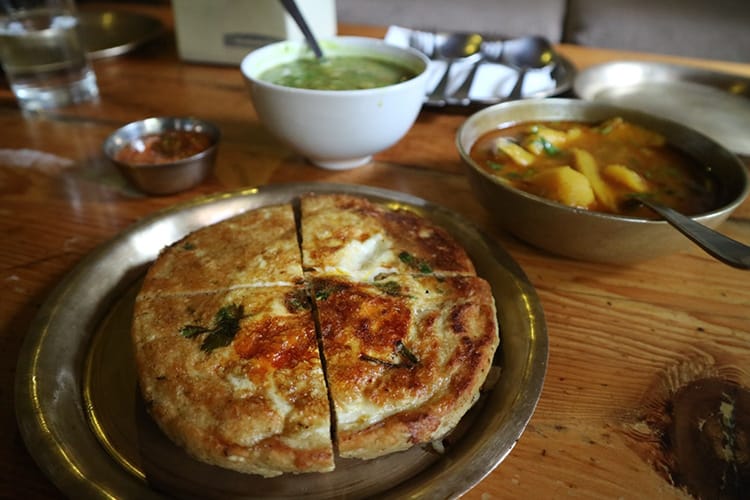 White Dzambhala
---
Best Chinese Food
My husband and I were walking around Boudhanath Stupa and wanted some good food that wasn't overpriced. He mentioned a Tibetan restaurant he'd been to in the past that he loved. They offer a lot of Chinese dishes, and I haven't had good Chinese food in Kathmandu before, so I was excited to try it. White Dzambhala is tucked down an alley right off the main road. While it's not super fancy, the food is delicious and fresh. Items here are extremely spicy, so we asked for everything without chili which was perfect for me. I highly recommend the fruit tea, chicken with peanuts, stir fried bok choy, long slices of cucumber, and eggplant in garlic sauce!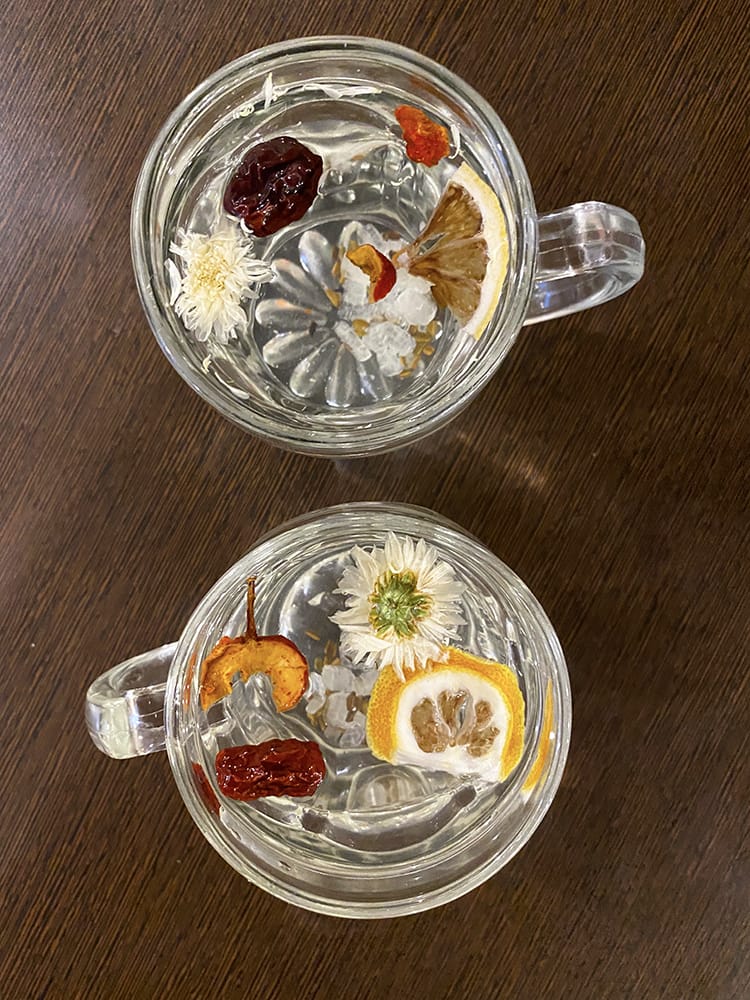 Deli Akuj
---
Best Bakery & Brunch
Deli Akuj raises the bar for cakes, pastries, and breads in Kathmandu. This little bistro style restaurant is the perfect spot for brunch with friends. Everything tastes amazing. They are most famous for having the best New York style cheese cake in Nepal, but their salads, sandwiches and other desserts also make the best of lists. What I love about this place is their attention to detail. Nothing goes overlooked and you can tell as soon as you take a bite that they've perfected every dish.
Vino Bistro
---
Best French Food
I was talking to one of my Nepali friends, who lived in the U.S. for half his life, about burgers and was on the verge of drooling when he said he knew a place with the best sliders. Before the conversation was even over, I forced him to take me to see if it was true. We ended up at Vino Bistro, a cute little French restaurant located right next to the French Embassy in Lazimpat (a 15 minute walk from Thamel). They're known for their wines, cheese, and french food, but we came for one reason. The sliders were in fact delicious, and the fries that accompanied them were amazing. The french style sauce is what really made the food extra special.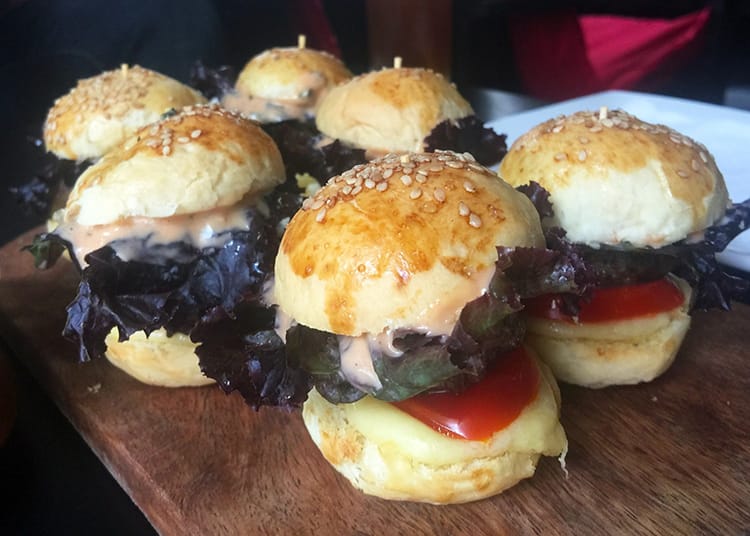 Thai Wok
---
Best Thai Food
Thai Wok is a hidden gem in the Kathmandu food scene. Located down a back street, through an alleyway, and on the ground floor of someone's house, this restaurant feels more like you are eating at a Thai grandma's house in Thailand rather than a restaurant in Kathmandu. We ordered the green curry, pad Thai, and chicken poppers. The food was amazing and reminded my of my time in Thailand. This place is as authentic as it gets. If you're craving Thai food, Thai Wok is the place to go.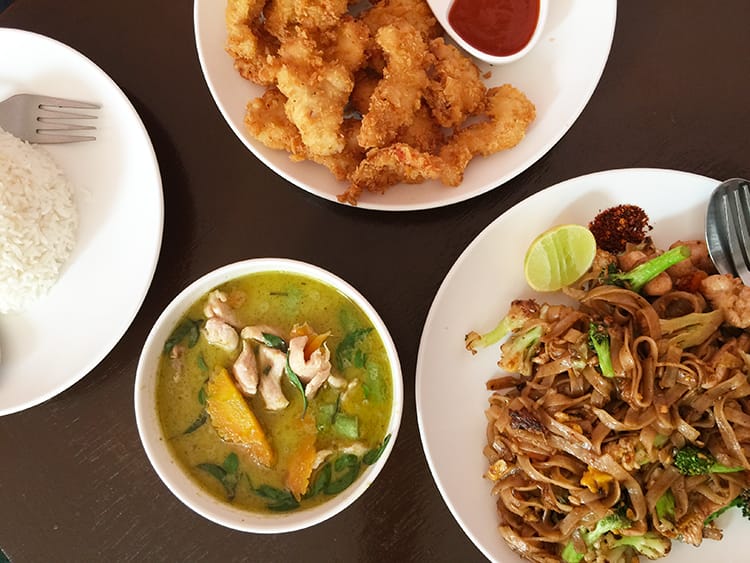 Tama
---
Best Indian Food
Tama is one of those places I have trouble finding even though I know where it is. If my friend didn't take me there, I never would have discovered it. It's a quick 10 minute walk from Thamel or a $1.50 cab ride. If you go, check out the section in the back with a garden which is situated away from the main road. The Indian food here is amazing, with great vegetarian options, and it's super affordable. Two curries, three naan, and two drinks will cost around $8. The place gets packed around lunch time since it's a local favorite, so make sure you go a little early or late to guarantee a table. I highly recommend the paneer butter masala and peshwari naan.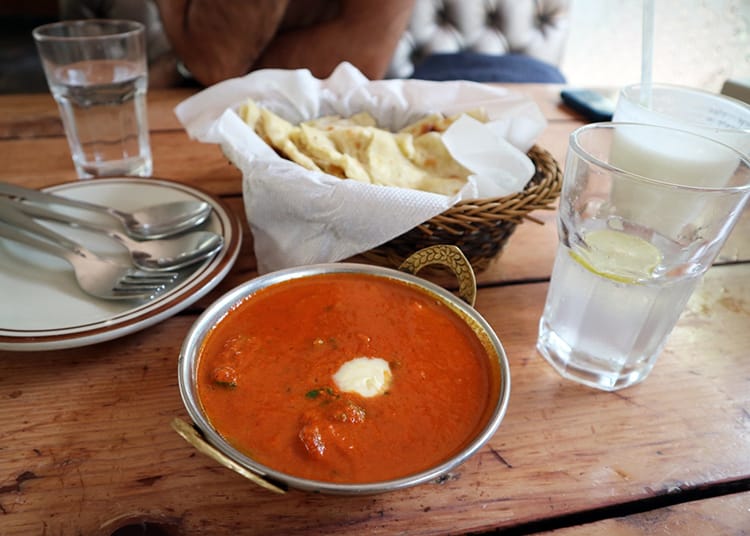 Mezze by Roadhouse
---
Best Pizza
Mezze is a quick 10-minute walk outside of Thamel. It's located right across the street from the old Royal Palace and boasts views of it from the rooftop. It's a popular spot for tourists and locals since it was frequented by Prince Harry when he visited. The menu is pretty westernized, but they have the best pizza I've had in Nepal to date as well as some amazing nachos and salads. It's a little more expensive than most places, but it's still not super pricey.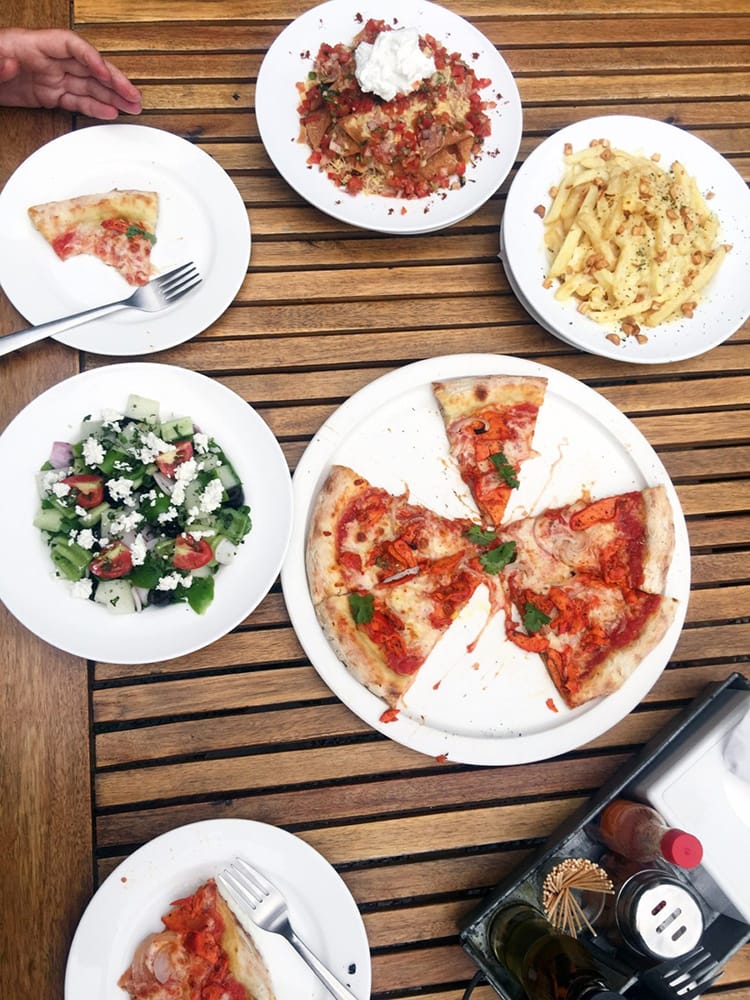 Rumi's Bistro
---
Best Family Restaurant
Rumi's Bistro is the perfect place for families to dine out. They have on site parking if you plan to drive there. There's a children's play area located close to the outdoor seating so that you can keep an eye on your kiddos while eating. They also host events like Trivia and Movie night that are fun for the whole family. Best of all, the food is great with choices that will please adults and kids ranging from pizza and burgers to chicken involtini.
Check out my choices for the 3 Best Family Restaurants in Kathmandu!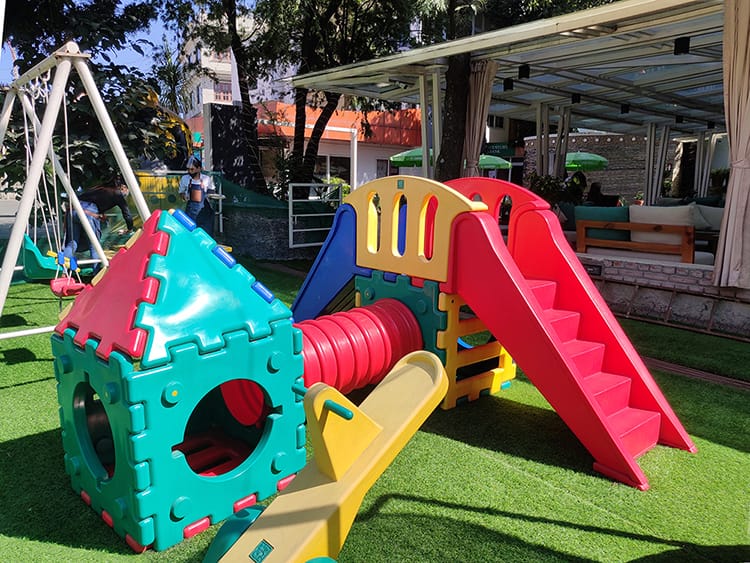 Nina's
---
Best Burgers & Steaks
Sometimes I go to places in Nepal, and I feel like I've somehow transported myself back home. Nina's takes me straight back to Myrtle Beach, South Carolina. I swear, if there were an ocean instead of a parking lot, it'd be the perfect place. Nina's is a 10 minute and $3 taxi drive outside of Thamel, but it's worth the trip. The cute little restaurant looks as though it was inspired by the south. The menu features a plethora of appetizing burgers, steaks, and sandwiches. I opted for the Philly Cheese Steak which was delicious. I even met the owner, Nina, who is super sweet. We spent some time talking about her days living in New York. It's one of those restaurants that I can't wait to go back to.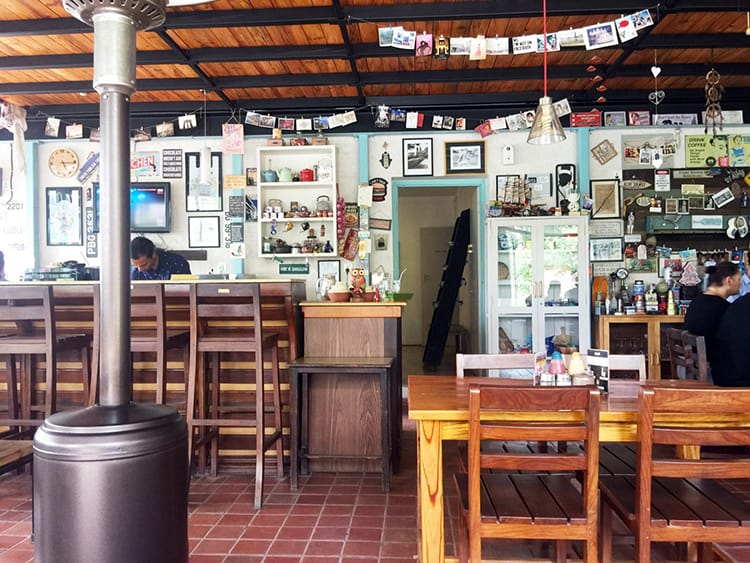 Saigon Pho
---
Best Vietnamese Cuisine
Saigon Pho is located about 10 minutes from Thamel by car. You can also walk about 20 minutes to get there if you don't want to pay for a taxi. They have a large menu of Vietnamese food which tastes pretty close to what I ate when I was actually in Vietnam several months ago. I would highly recommend the pho, fried wantons, and spring rolls. The serving sizes here are so big that it's best to go with a group of friends and order a few dishes to share.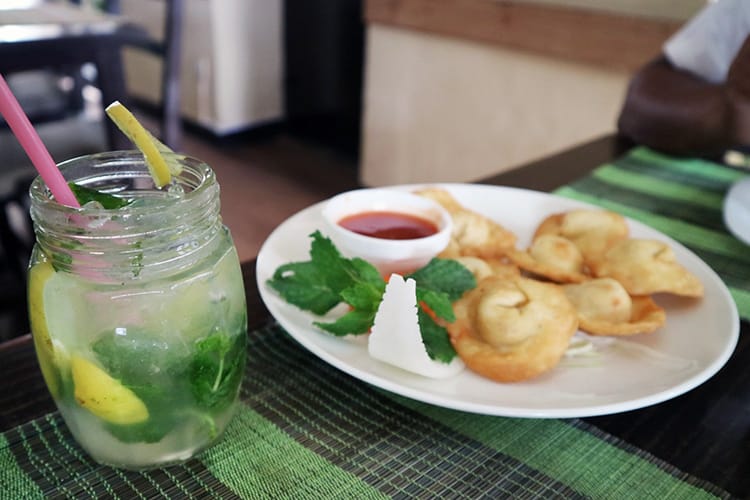 IceKraft
---
Best Ice Cream
This actually cracks me up because most foreigners have a fear of eating ice cream in Asia. The idea is that ice cream is made out of ice, and if you buy it in the wrong place they may use untreated water. The tap water in Nepal is not potable, but locals don't generally drink it either, so it's very rare that you'll ever be served tap water or ice cream made from tap water. IceKraft offers activated charcoal ice cream which is actually really delicious despite its weird appearance. Activated charcoal is a go to natural treatment for food poisoning because it basically detoxes you. So, if I ever get food poisoning, I'm going to use it as an excuse to eat allllll the ice cream I want. Ironic, I know.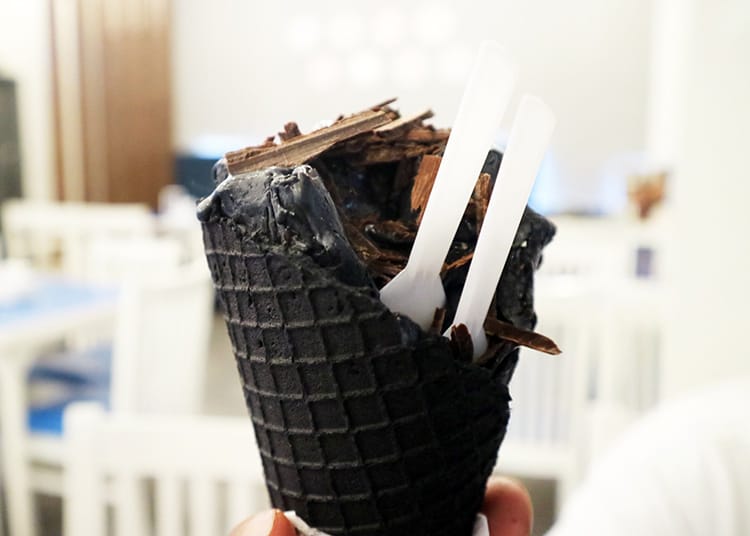 Food Truck Park
---
Best Tapas
"I didn't know they had food trucks in Nepal!"
"Well, they don't actually move."
My friend took me to the Food Truck Park, and it was cooler than any food truck gathering I'd ever seen. No, the trucks don't actually move, but who cares? There's a bunch of different options including Nepali classics, tacos, Korean food, and burgers. There's also a place to order drinks. The tacos were amazing, and I would definitely go back for more. The best part of this place is how cute and cozy it is. I honestly can't wait to go back. It's such a cool hidden gem in such a big crazy city.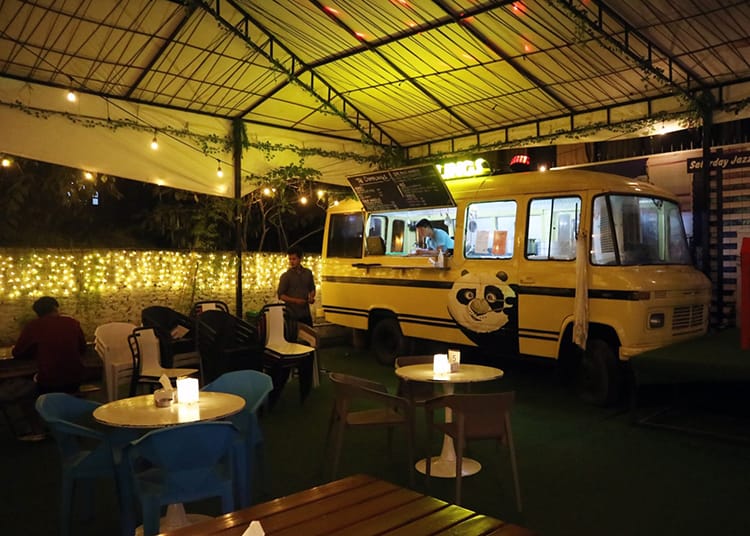 Himalayan Java
---
Best for Coffee
While you can find milk coffee or black coffee anywhere, it's hard to find a fancy cup of coffee. A lot of places offer lattes in Kathmandu, but Himalayan Java is my favorite. My go to is the honey latte which is sweetened with honey instead of sugar. It's one of my favorite drinks, and I still can't comprehend why no one makes these in the U.S. (except a small place I went to in Wisconsin).
Looking for more coffee shops? Check out my picks for the 3 Best Coffee Shops in Kathmandu!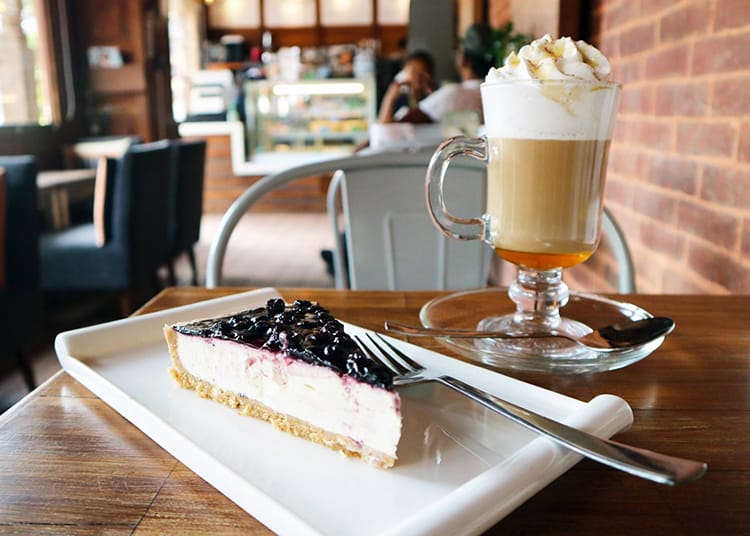 Kotetsu
---
Best Japanese Food
Kotetsu is located in the Hotel Ambassador in Lazimpat. It's a 20 minute walk or 10 minute taxi ride from Thamel. This is probably the only place in Nepal that I'm willing to eat sushi. I went with a friend and we ordered a bento box, salmon sushi, and a grilled fish. Everything was really delicious and fresh. The bento box and sushi were served almost immediately. I honestly felt like we'd just placed the order when it arrived. Usually food in Nepal takes hours to prepare, so this is a great option if you're in a rush. Everything was fresh, and I didn't get sick from the sushi, so I'd definitely go back.
---
Janakpur Dahi Lassi Bhandar
---
Best Lassi
This place is such a local favorite that there's always a line spanning into the street and blocking traffic. The only item on the menu is lassis in size small (40 rupees) or large (70 rupees). I highly recommend getting the large because these are the BEST lassis I've ever had in my life. No exaggeration. I don't know what they put in it, but they are really amazing. The sign on the storefront is in Nepali, but you can Google the location or just look for the mass of people all drinking around a single stall. This one is worth going out of the way for.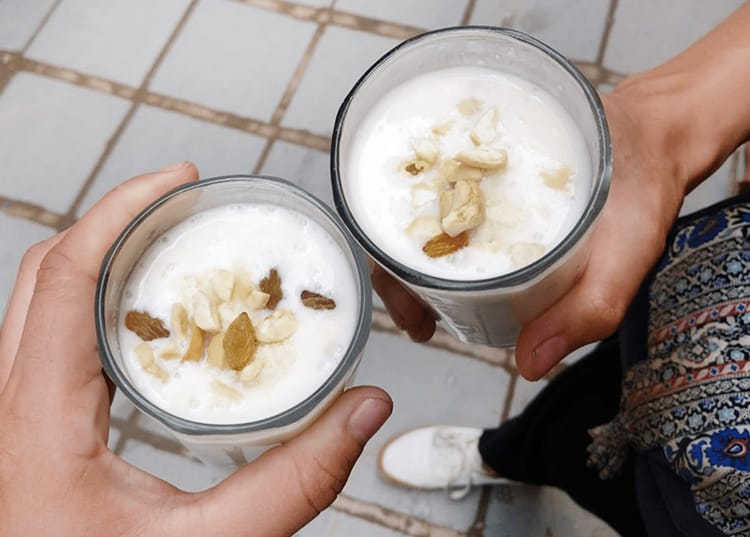 Social Cafe
---
Best Outdoor Restaurant
Social Cafe is one of those places that kept showing up on my Instagram newsfeed. A lot of my Nepali friends hang out there, and it happens to be next to one of my friend's offices. We went there for lunch and drinks one day and it's pretty easy to see why people love it. To start, there is a bar made from a recycled tuk-tuk. If that doesn't win you over, the ambience of the outdoor seating area will. Not to mention, the food is good. We had a quesadilla, vegetable momos, and french fries. All of them were really fresh and delicious and the owner even came to tell us a little bit about the cafe. It's a great place to chill with friends and be social.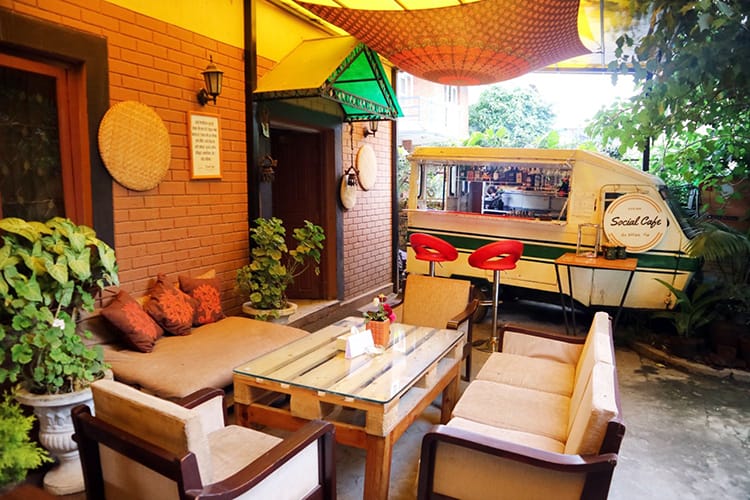 Salon de Kathmandu
---
Best Garden Cafe
My favorite cafe in Kathmandu is Salon de Kathmandu which is located in Lazimpat. They are situated on a small side street that is quiet and away from the chaos of the city center. This cafe has a small menu featuring salads, sandwiches, snacks, and more. What I really love is the outdoor seating area which is perfect in the summer. My friends and I meet here regularly to catch up on weekends and it's the perfect spot for brunch with the girls.
Check out my post on the 3 Best Cafes in Kathmandu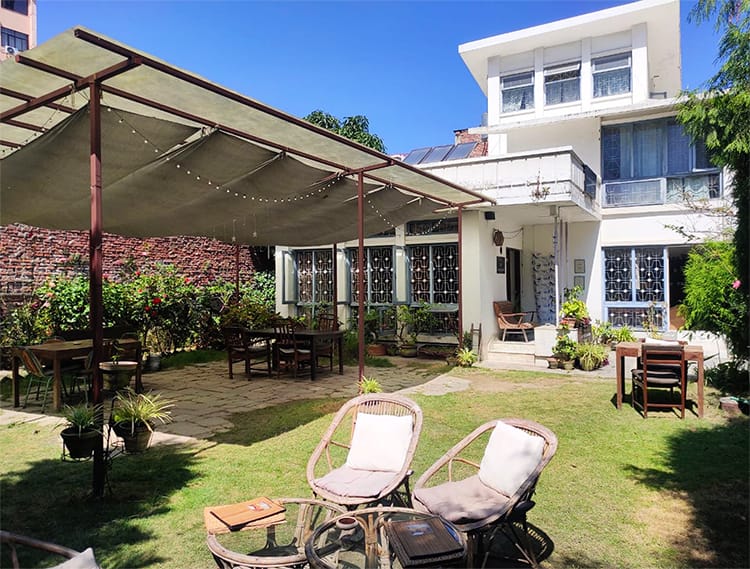 ---
You might also like…