Every year I write a year in review. A little synopsis of the previous year. The things I accomplished, the adventures I went on, the mishaps and what I hope to accomplish in the year to come. I sometimes look back on them like journal entries reminiscing on where I started and how far I've come. This year I chose not to write a post, but Suraj was reading my old posts and asked where this year's was. He made me realize that even though this year was tough and not very exciting to write about, this post is something I'll look back on one day and remember. So, what happened in 2021 in my life…
---
I stood still
---
For my entire life, I've always been moving forward, progressing, working my way towards my goals. This year was not like that. It seemed no matter how hard I worked, I just stood still. Like being on the treadmill of life. I watched as my friends went back to their jobs. I watched people post pictures traveling in the states and nearby islands. I watched as the whole world seemed to go back to normal. Meanwhile, every time we planned something it was canceled. My blog completely tanked and no matter how much I worked on it, no one was searching for travel advice in Nepal.
To give a little insight, I've been working on my blog for 5 years. About 3 years in, I thought "this is the year I'll make it." I finally started calling myself a travel writer when people asked what I did for a living. I was making enough money to pay my bills which was a huge accomplishment for me. And just when I thought I'd finally hit that mark where I considered myself the real deal, my traffic tanked. It was worse than the first year I had my blog when I had no content and no idea what I was doing. With my traffic gone, my income disappeared. In a few months, I went from accomplishing my dream that I worked three years for to starting over.
In 2020 that seemed to be the case for everyone, but as 2021 rolled around and most people went back to their normal jobs, got promotions, bought houses, had babies, and seemed to move forward… I stood still. I debated giving up on my blog. I had the unpleasant realization that maybe I wasn't special. Maybe I wasn't good enough. Maybe this was the time when I needed to move on, get real, and have a "normal" job. Somewhere in the back of my mind, I still held onto the hope that one day, travel would resume, tourists would visit Nepal again, and my blog would pick up where it left off in 2019.
---
I lost clients
---
On top of all the bad news surrounding my blog, I was also losing clients left and right for my Pinterest business. For those of you who don't know, my freelance gig was as a Pinterest Strategist. I knew how to work around the Pinterest platform to get the most clicks which helped bloggers gain traffic and resulted in higher incomes for them. And I was damn good at it.
Then, Pinterest went public and changed their algorithm so that people would have to pay Pinterest to boost their posts instead of paying strategists. Within months, my clients dropped like flies. Not because I was bad at my job or did something wrong, but because Pinterest made my job completely obsolete. It was another blow to my confidence that had nothing to do with my abilities, but still made me feel inadequate. With several other projects stuck in limbo, it felt like I was taking one hit after another.
---
I rediscovered my love of meditation
---
Don't worry guys, it's not all bad news! During this time, I rediscovered my love of meditating. My sister started a tiktok account for reiki @nicolereikihealing and told me I should start one too. I attempted a travel account, but I'm not a videographer and other people were doing it way better than me. I decided to get back into meditating around that time and started a tiktok @mindful.michelle to hold myself accountable.
Meditating each day felt great and because my sister mentioned me on her tiktok, I suddenly had 1,000 followers. The thing is, I've never taught meditation. I've only practiced it. I had a momentary freak out because I had no idea what I was doing. So, for my birthday, my mom got me a meditation teacher training course and now I'm learning how to teach others to meditate.
It's been a fun new experience that brings me joy. At the same time, it's been an amazing reminder to appreciate the little moments as they happen and not to worry about the future or the past. Did I think my travel blog would be a huge success by now… yes. Did it happen… no. Does it matter? Not really. I needed a good reminder of what's important and meditation has helped me to be centered again.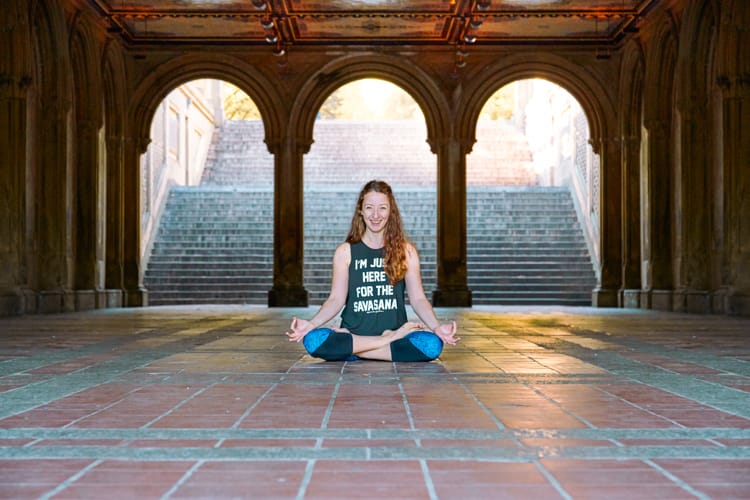 ---
I did three treks
---
After a year of never leaving the house, I was getting depressed. Anyone who knows me knows I don't do well sitting still for too long. I need to learn and explore and experience new things. It's what makes me happy. This year, I got to do not one, not two, but three treks!
The first was to Mardi Himal with family and friends. The second was just me and Suraj going to Poon Hill and Khopra Danda. That trek was the hardest I've ever done. We went in monsoon and were greeted by hundreds of leeches. Seriously, we were running through the woods as fast as we could and only stopped to peel leeches off our faces, stomachs, or hands. Our clothes were covered in the little blood suckers, and we had to douse ourselves in salt when arriving at teahouses. I even woke up to one on my cheek in the middle of the night!
The last trek of the year was to the gorgeous Langtang Valley which was a nice reminder of why I love my job. Meeting so many incredible people, hearing their stories, and seeing places few get to witness was incredible. It was also extremely inspiring. The area was hit hard by the 2015 earthquake. An entire village was buried in a landslide, and everyone left in the area had lost at least half of their family that day.
They rebuilt from the ground up over the next few years and just when they were starting to make money again Covid hit, and tourism stopped. And yet, these people were smiling. After seven years of hardship, they were grateful for the things they had rather than focusing on everything they lost. Talk about getting some serious perspective. This is one of the reasons I love Nepal so much.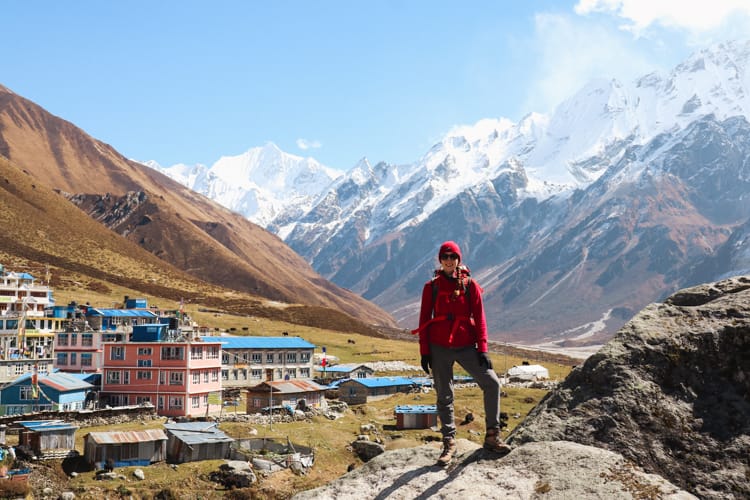 ---
I spent another year in Nepal
---
Suraj and I got married two weeks before Nepal closed its borders in March of 2020. Our first year of marriage was in lockdown, and our second year of marriage was mostly us trying to explore any area of Nepal that wasn't our house. After spending every minute of our time together for two years, you'd think we would have driven each other nuts, but we somehow managed not to get on each other's nerves. He's been the one there to remind me that I'm great when I don't believe it anymore, and the person who cheers me on the loudest. I honestly feel so lucky to have found my other half. When I think about all the things I didn't accomplish this year, I remember how lucky I am to have such a wonderful person by my side.
---
We helped a dog or two
---
Suraj and I try to foster a dog each monsoon season. This year we fostered Pepita (aka Coalu) who is now called Tika. Tika was an interesting challenge for us because she had been abused by her previous owner and had some aggressive tendencies. We didn't know how to deal with it and almost gave up, but after some coaching we worked through it and now she is in a happy home in Canada that loves her.
We had tried to rescue another dog earlier in the year who we named Devi. Devi was in really bad shape and only lived a week after we rescued her. I felt that she came into our lives for a reason and when she died, I was devastated. I cried for a week straight thinking I had failed her.
But, through Devi, I met the wonderful owners (Kate and Doug) of Community Dog Welfare Kopan which is a dog sanctuary in Nepal. They brought a doggie blood donor to the vet to help Devi who needed a blood transfusion. They stayed with me for hours at the vet as she laid there sleeping, and they helped me bury her when she passed away. Since then, I've been helping them with their social media and trying to help them get more sponsors for their dogs.
I honestly believe that Devi brought us together for a reason, and I'm so grateful that I get to work with them. People like Kate and Doug inspire me and remind me of the good in this world. Please check them out on Instagram @communitydogwelfarekopan.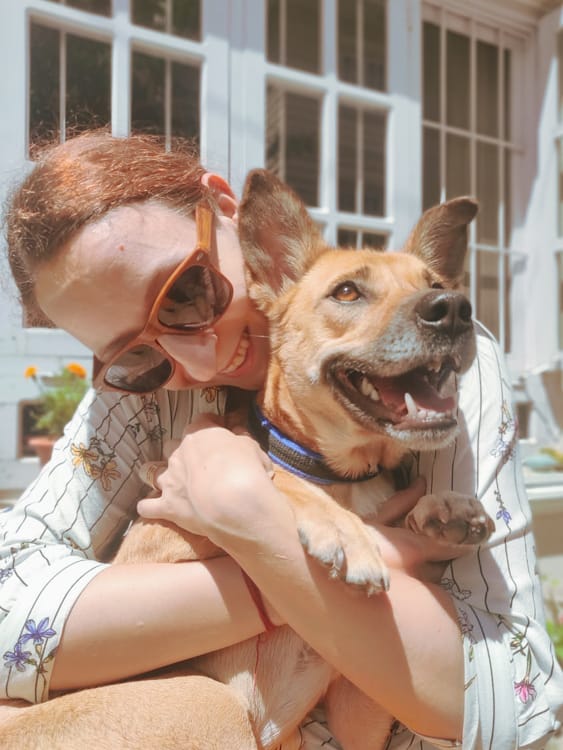 ---
A cat adopted us
---
In 2020, we had a foster dog who now lives in Canada and goes by the name of Jethro. When we had him, an adorable cat started showing up in our yard. We named him Daniel. I have no idea why, but for some reason we chose that name. Daniel would sit by the window and meow, and we'd bring him little dried fish to eat. Jethro hated Daniel and would bark and chase him out of the yard. When Jethro left in October, we noticed the cat was being bullied by a bigger cat, so we started letting him inside to eat. After eating, he'd quickly leave. It was around this time that we noticed Daniel was a girl and so she became known as Dani.
Dani started showing up each day. Eventually her short visits turned into 2-3 hour naps. Then she started showing up at night. Next thing we knew, she was sleeping in the bed on the pillow between our faces every night. And so, Dani adopted us as her family. She comes and goes as she pleases and meows incessantly at us. When we travel, we have someone come and look after her. When she is upset with us she shows her disdain by climbing onto a nearby roof and making us rescue her. She brought us dead mice as gifts, and when she realized we didn't want them, she brought us a piece of fried dough from the garbage instead.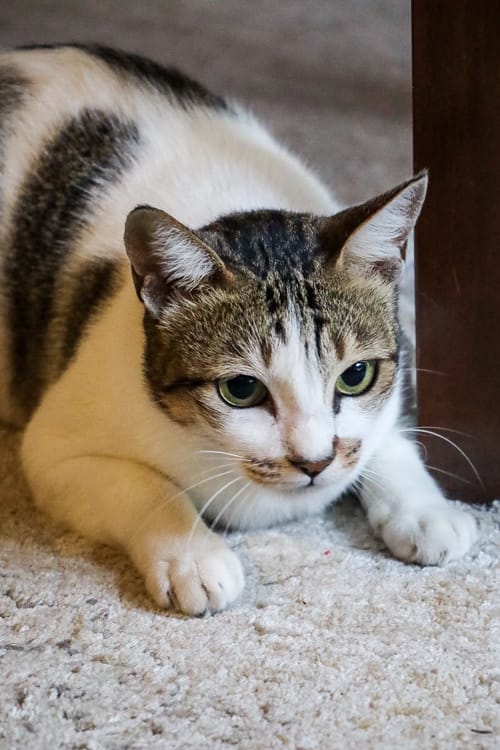 ---
I made it home
---
After two long years, I finally made it back to the states. Being away for so long really sucked. My mom and my sister are my best friends and not seeing them for two years was difficult. Being back and spending time with my family is exactly what I needed to finish out this year. Laughing and hanging out with my mom while watching cheesy Christmas movies, letting my niece give me makeovers, being able to pop into my sister's house in a second's notice to chat, and playing with my dog Zoey has been the greatest gift.
One thing that I feel so lucky about, is that my friends and family have remained healthy through all of this. We had some covid scares, some pneumonia scares, and hospitalizations, but in the end my family and friends are healthy, and that is the most important thing.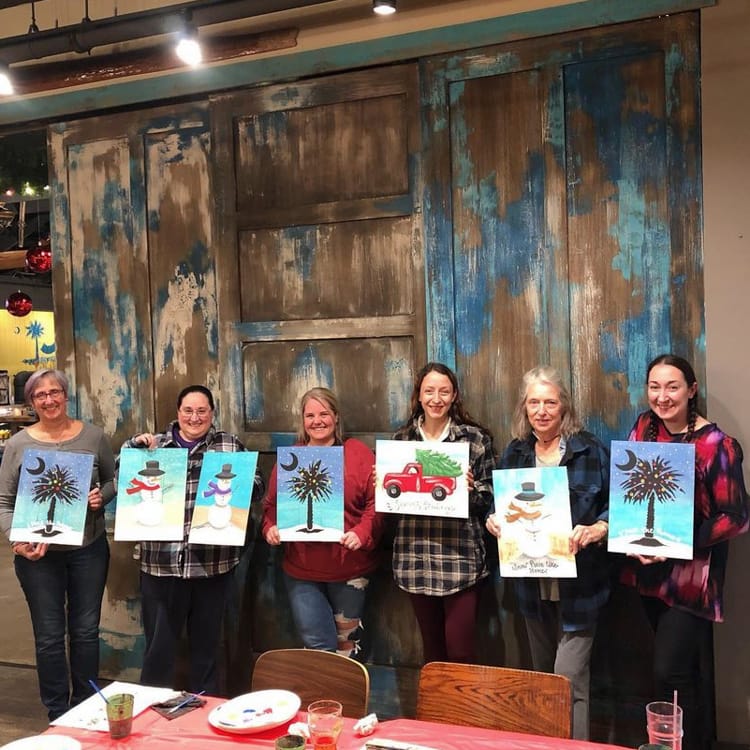 ---
Things are looking up
---
The month of January 2022 is the first month that my blog has more views (year on year) as pre-covid! That's means it's the first time in over two years that my blog has moved up instead of down!! I couldn't be more thrilled. My husband and I are planning a trip to Dubai followed by a trek or two. I started the year hanging out with my family in South Carolina. In a few months, I'll be a certified meditation teacher. I have two projects in the works that I'm excited to jump back into after a much-needed break. And did I mention 22 is my lucky number… so here's to a new year full of new possibilities.
---
You might also like…