There are places you go to see things, and there are places you go to be a part of them. For me, Bardaghat and Lumbini were the latter. I'd heard that Lumbini was a crowded town with an Indian vibe. It was described to me by people who knew my experience with India was unpleasant. The lines were long, the personal space was small, and the place where Buddha was born was a mere rock among debris. It didn't exactly elicit the type of wanderlust one looks for in a destination. Lumbini was never one of the place I felt I needed to see.
It wasn't until my friend Suraj invited me to see his small rice mill in the town of Bardaghat that I really considered seeing Lumbini which was just 45 minutes away. To be honest, seeing his farm and Nepali life in a new area appealed to me more than the tourist attractions nearby. He'd convinced me to go by showing me pictures of chickens, cows, and ducks roaming around a beautiful property. So, when I found out he was headed there on business, I invited myself along.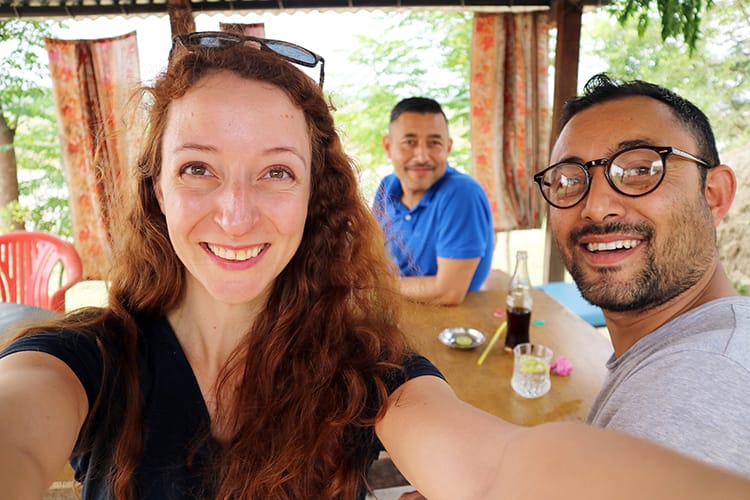 Getting There
---
Getting to Bardaghat is a bit of an adventure in and of itself. We departed at 5:00am sharp to beat the typical Kathmandu traffic. As I left my hotel, I was surprised to see a night club still open and a line of Nepali people outside a nearby burger joint. Once we were on the road, it appeared that Nepal literally had no hour of the day without traffic. People were already out for their morning walks, and cars (although few) still soared through the streets at lightning speed with horns blaring.
Once we'd cleared Kathmandu Valley, we stopped for a delicious Nepali chiya (tea) at a small stall located under a picturesque tree; it's branches reaching for the sky in every direction, and casting a shadow under the rising sun. We continued on in a bit of a hurry. It seemed there would be construction ahead, and we wouldn't be able to pass over a bridge after 10:00am. If you do get stuck, you simply have to wait until 3:00pm or 4:00pm when the road reopens.
Roads in Nepal are, well, interesting. Prior to the 1970s there were almost no roads in the entire country. Given that small fact, what is available is more than impressive. I found the road to Lumbini to be one of the best I've seen in all of Nepal. That being said, sitting in a car takes a bit of practice. Drivers speed past each other around blind turns while honking their horns wildly to let anyone coming the other way know that they are making a move.
If you're on a bus, you'll find that the driver speeds like a daredevil while a teenager leans out the propped open door to see if the coast is clear. If it is, he slaps the side of the bus three times to let the driver know that it's full speed ahead. The road cuts around small mountains with a wall on one side and a cliff on the other. The entire experience is a bit daring to say the least.
---
Lunch in Rajahar
---
Instead of eating highway food, we decided to take a detour for lunch. We'd cleared the construction section and were suddenly in no rush. We got off the highway and turned into a beautiful little city full of bright colors and charm. It was the kind of place I made note of to return for a longer visit. On a dirt road, through some fields we stumbled upon the Koujauli View Park Restaurant. Overlooking a river that runs through Chitwan, little huts line the hill, each with its own table. We had the ever popular dal baht which would become a staple over the next few days.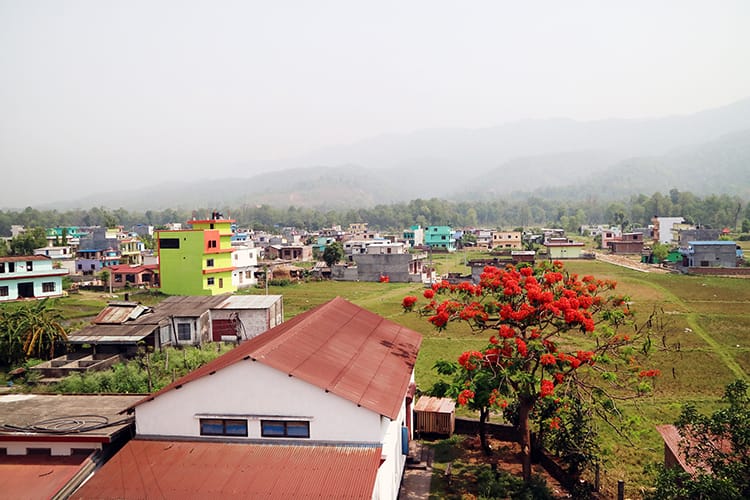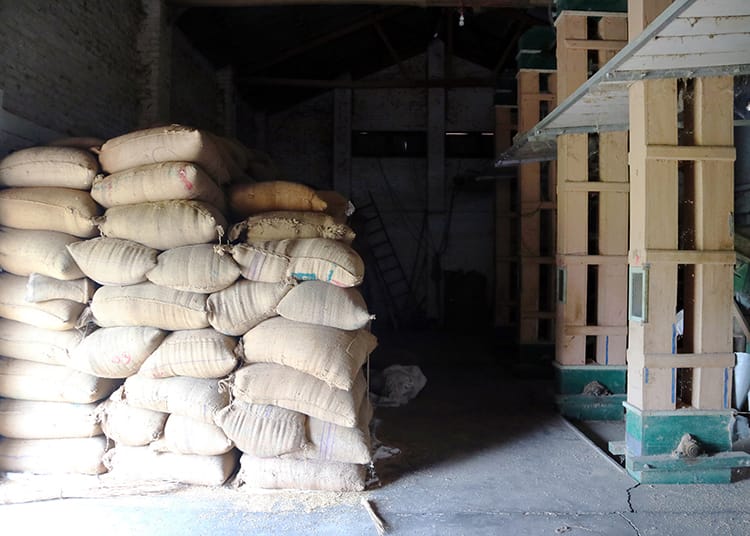 Staying in Bardaghat Village
---
We arrived at Bardaghat shortly after lunch, and I was pleasantly surprised. Although the town seems uneventful, Suraj's 'small' rice mill looked more like a compound to me. Several pristine white buildings with red roofing littered the farm. A cow and its baby grazed on hay in the corner. A rooster greeted us while a chicken picked at the grass nearby, and a duck with three ducklings waddled off into the distance. As soon as we settled into our rooms, Nepali tea was served. It was the kind of place where you immediately feel at home.
Suraj has been considering turning the place into a homestay, and to me, it seemed perfect. In the morning, I walked outside to find a badminton game in full swing. Several men from town had invited themselves over to have a tournament at 6:00am. It was a very Nepali thing to happen. I went to the kitchen where I was served an organic boiled egg from the farm, fresh roti, and homemade yogurt. A pot of milk tea boiled on the stove, filling the air with the faint smell of spices.
Outside I got a tour of the mill where rice is produced. It wasn't running when I visited, but I could still see the machinery and learn about the functions. We would be eating freshly milled rice every day during my stay. I continued to walk around and saw the animals which included boars, cows, chickens, dogs, ducks, and pigeons which are often set free at temples.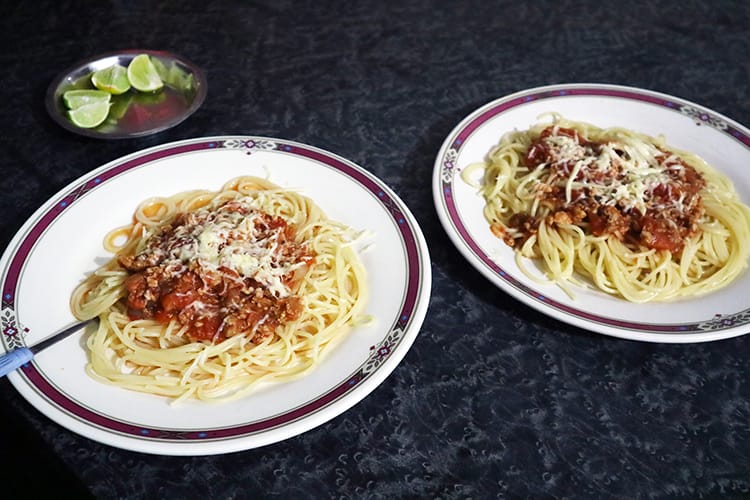 Sharing My Culture
---
To thank Suraj and his brother for their amazing hospitality, I offered to cook them an Italian dinner. After having his friends cook for me the night prior, they were invited to join as well. Soon, word got out that an authentic Italian meal was being served, and I was suddenly cooking for ten. Everyone who knows me knows I'm not a great cook, so this modest meal developing into a feast gave me a touch of anxiety. Not to mention, the dinner we had the night before was the best Nepali food I'd ever had, and the same woman would be trying my dish. The pressure was on.
To prepare we went to the very popular Bhatbhateni, a shopping center, which can be found in major cities throughout Nepal. We began our search for ingredients in the cheese section. In lieu of parmesan, I grabbed a package labeled "pizza cheese." We went to the produce section where the only type of onion was red. I picked up the tomatoes, and the power went out. As I stood there in the dark, I quickly thought that this would be an utter disaster. Luckily, a generator kicked in, and I could assess the tomatoes properly. We grabbed some dried herbs since fresh ones weren't available. I settled for oregano and basil. The only other choice being "pizza seasoning." Amazingly, they had the canned tomatoes and tomato paste I needed. Half the right ingredients would have to do.
We got back home late, and I began the mad dash of chopping everything. The woman who had cooked the night before helped me with the preparations, and I couldn't be more thankful. I'd had a special request to add meat. Since Hindu's don't eat beef, minced chicken was added to my sauce creating a weird kind of Italian chilly. As it cooked, the smell began to fill the air, and a taste test confirmed that it wasn't only edible, it actually came out good. My "Nepali-Italian spaghetti" was ready to serve. I held my breath as people took their first bite and was relieved when they asked for seconds. Being able to share a little bit of my culture with those who constantly shared with me was amazing.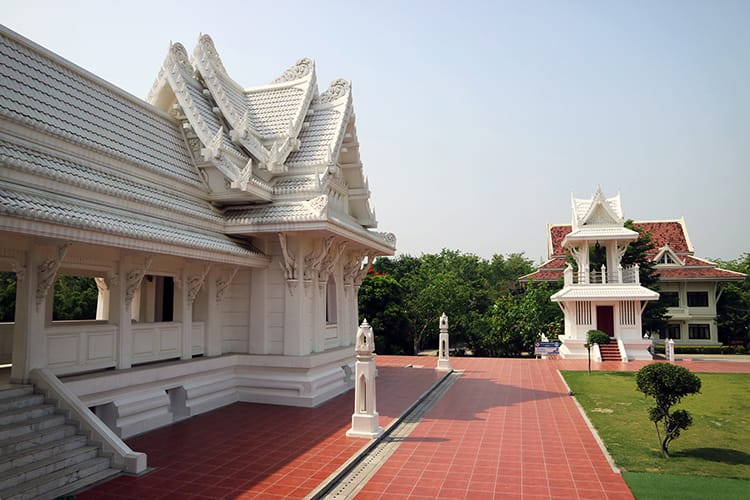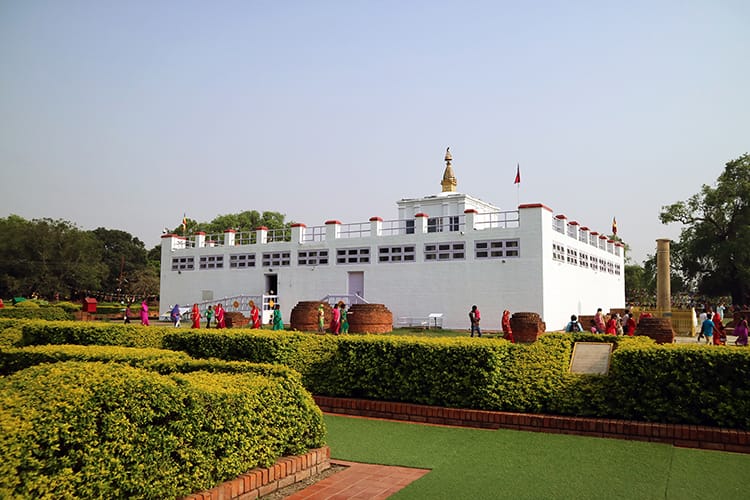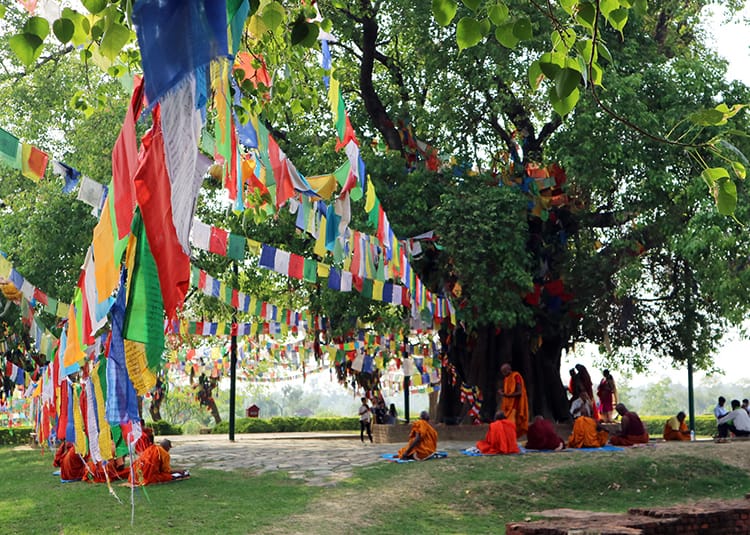 Visiting Temples in Lumbini
---
Since we were so close, Suraj and I went to Lumbini on a day trip. Having grown up nearby, he had seen the temples before and was kind enough to act as my guide for the day. We made the mistake of going in the middle of the afternoon. It was about 100F which was a drastic change from the -15F I'd experience on a trek in the Himalaya a week prior. On the positive side, the place was completely empty. No one else was crazy enough to visit in that kind of heat.
Lumbini is said to be the birth place of Buddha, making it a pilgrimage site for many Buddhists around the world. It's also a UNESCO World Heritage Site. What I didn't realize before getting there is that there is a 3×1 mile radius which has been fenced off. Within this premise, there are Buddhist temples built by other countries from all over the world. We opted to get a tuk-tuk for $10 to drive us around. The temples are very spread out, and it was way too hot to walk. Visiting them all would take a full day or more, so we chose to see a few including the Thai Temple, German Temple, Nepali Temple, Peace Pagoda and Maya Devi Temple which had a $2 entry fee.
The German Temple is one of the most popular and for good reason. The ceilings are painted so intricately and it's extremely well maintained. My favorite was the Maya Devi Temple where Buddha was born. The inside is ruins of the old city, but the outside is really beautiful. There was a lush green lawn with monks in bright orange robes chanting. Trees were decorated with brightly colored prayer flags. We happened to be there right after Buddha's birthday, so it might have been extra bright and colorful in celebration.
---
Running Errands in Town
---
Since my friend was visiting home for business, we had to run a few errands in town which included going to a few government offices. While one office made me laugh because it was just a bunch of straw huts on the highway (their real offices were under construction), the other ones we visited were pretty similar to home.
Since Bardaghat is not often visited by tourists, I was a bit of an eye sore. Add in that I was in a government office, and I stood out like a sore thumb. I sat down while Suraj and his brother went up to the counter, and I was quickly greeted by several women who asked me a few basic questions. Soon I was being brought to a room with a head official and being served water. A crowd formed in the room as everyone watched me with anticipation. After several minutes of speaking to everyone, Suraj noticed I was missing and came to find me. Apparently, they thought I needed help, and he had to explain that I was just waiting for them.
I continued to sit in the main office when a little old woman dressed in a beautiful red sari tried to speak to me in Nepali. Suraj was listening in as she told the guy to her right that, "White women come to Nepal to dance." Suraj chimed in to ask why she thought that and her response was, "Three white women visited my village last year, and they danced." I pictured all the tourist companies that advertise authentic experiences in small villages. Often the ads include a photo of some tourists dressed up in traditional clothing and participating in a local dance or festival. It cracked me up that this sweet little old lady thought we came to Nepal just for the dancing. I made a mental note to add "dance" to my Nepal bucket list.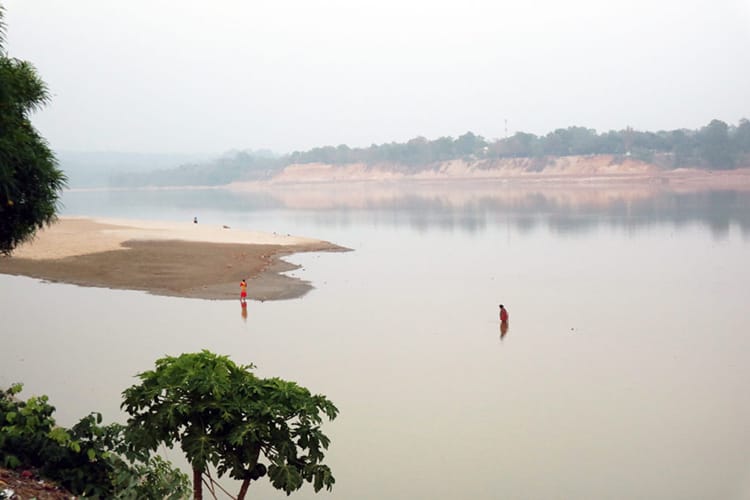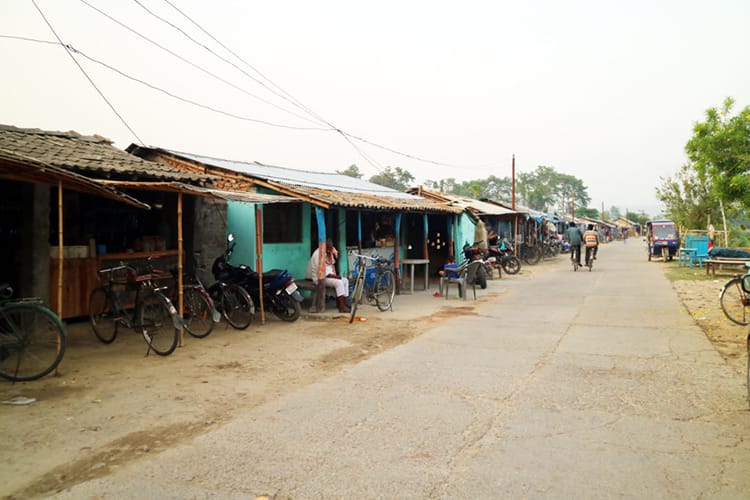 Dinner in Tribeni
---
One evening, we decided to take a trip to the Indian border for dinner with friends. On route, there was a bunch of chatter in the car. Everyone was speaking Nepali, but I was pretty sure the topic at hand was about almost being out of petrol. After a few minutes the car was silent, and we continued to drive on. Clearly my translation had been off. We drove past beautiful fields while the sun setting reflected off the river. Herders wearing bright red stood out against the lush green grass as they tended to their ox and goats who grazed passively in the distance.
Soon everyone was talking again, and I realized I had been right. We were running out of petrol. It was what I'd like to coin as a "Nepali moment." Tribeni was a 45-minute ride from Bardaghat, and there had been a gas shortage that morning. We'd tried to stop to get gas along the way, but that station had been out as well. Instead of turning around, we continued in the direction of dinner. Calls were made to friends asking them to get petrol and bring it to the dinner location. Hopefully, we wouldn't run out before then. What made it a "Nepali moment" though was how calm and unworried everyone was. As if nothing were wrong.
We arrived at dinner without having to get out and push the vehicle, and friends arrived with enough petrol to get us home. It always amazes me how far out of the way a friend will go to help another friend in Nepal, and they never seem bothered or annoyed to help out. With that out of the way, everyone sat down for fresh curried fish and a chickpea, onion, and sprout snack. I ate a ton and was surprised to find out that wasn't dinner. Soon after, we all had dal baht (rice and lentil soup).
While we ate, everyone spoke quickly in Nepali. I'd been surrounded by the sounds of a foreign language for days since a few of the people we were hanging out with didn't speak English. Although I couldn't understand the sentences, I could understand some of the topics being discussed. Soon I turned my attention to two adorable kids we were with who were 7 and 10. They asked me questions in English, and I answered in Nepali so we could both practice our language skills.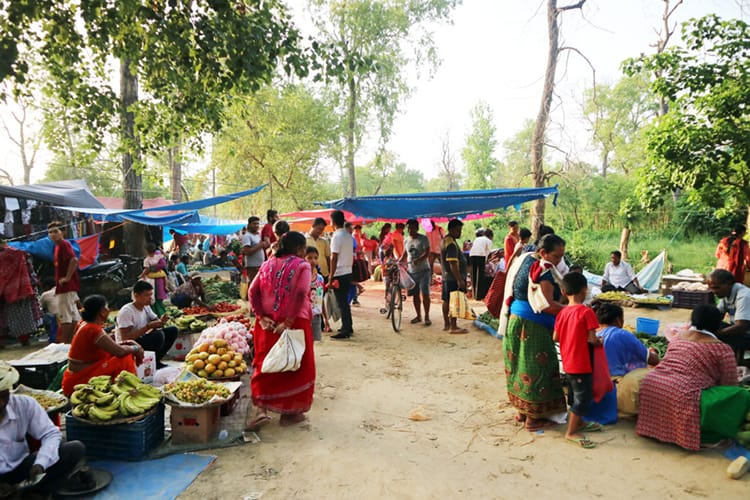 Hatiya Market
---
On our final night, we got to visit the Hatiya Market which is in town on Wednesday and Friday evenings. The market is full of people buying and selling all sorts of things from fresh produce to jewelry. We walked up and down the aisles sampling local treats including some kind of Nepali chips. Bright primary colored tents hung over the aisles, and vibrant outfits filled the otherwise glum and lifeless field. We did some food shopping for dinner, and I bought a beautiful hair piece which I'll need a special occasion to wear.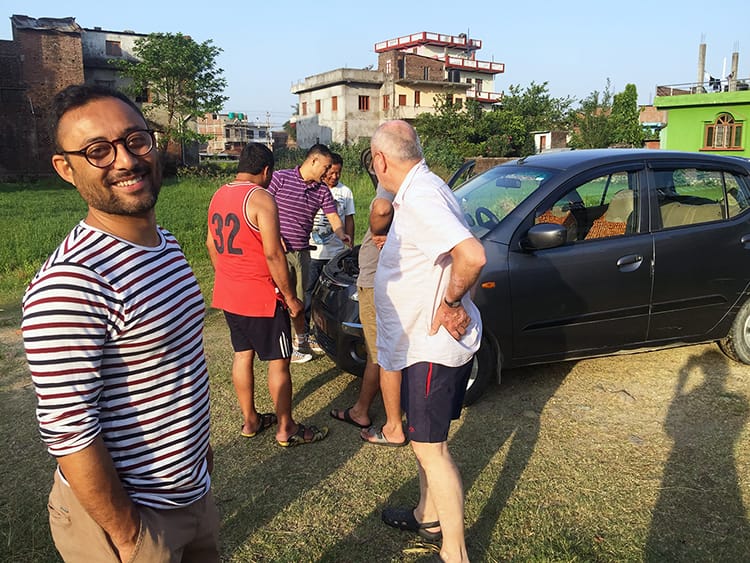 Getting Back
---
We decided to get up at 4:00am to head back to Kathmandu. Again, we wanted to beat traffic and ensure that we arrived at the bridge before 10:00am. As we were getting ready to leave, Suraj accidentally locked the keys in the car. The alarm started going off, and there didn't appear to be any way to turn it off. We all searched the car for open windows, checked the trunk, etc. but there didn't appear to be an easy way back in. We began looking up videos on YouTube for how to break into the car, but none were helpful.
Without much to do, I opted to go back to sleep. A half hour later, I reappeared and half the village was in the yard trying to break into the car. Everyone was taking a turn with little success, so again I went back to bed. The next time I woke up, the mechanic was on his way. Now there were almost 20 people in the yard. Fresh tea was served along with homemade yogurt as everyone sat around chatting and laughing at this odd turn of events.
Finally, the mechanic was able to remove the entire door and the crowd of friends cheered like they were watching a football tournament. Another "Nepali moment." No one was mad because of the delay. The locals didn't seem upset at having to get up at 4:00am. Instead, everyone looked almost happy at the excuse to hang out and drink tea with friends. These small moments were the reason I loved Nepal so much.
By 8:00am we were on the road to Kathmandu, and while we did hit a ton of traffic, we somehow managed to make it to the bridge just before 10:00am. My trip to Lumbini and Bardaghat was the perfect way to experience my friends culture. Tasting homemade Newari food and being in a village that's rarely visited by tourist gave me such great insight into what it's like to be Nepali.
---
You might also like…