I could probably write a list called five million reasons I love Venice, but that would be a tad excessive. Plus, I doubt anyone would take the time to read the whole thing, so I've decided to sum it up into nine reasons. Venice has quickly become one of my favorite cities I've seen so far. Sadly, I only got to spend a week there, so there may be things I missed. Regardless, here's what I loved the most…
---
The Preserved History
---
I've been to a few cities in Italy and I'm always blown away by the history and how well it's been preserved. One of the things I always found funny though was being able to see something like the Coliseum in Rome and then walking three blocks and stumbling upon an H&M. The juxtaposition seems completely normal in a large metropolis, but in Venice it almost feels like you've stepped back in time. It's absolutely incredible. The city has managed to maintain its look and feel completely. I have no idea how they've been able to do it so well, but it seems like they cater to local shops and restaurants by not allowing chains to take over. I've never been anywhere else like this.
The Art
---
I was fortunate enough to visit Venice during the Biennale, so my view on this may be a little skewed. The Biennale is an art exhibit that shows incredible works from all over the world. The exhibits are spread throughout the city in different venues where you can hop from room to room viewing works from different countries. The theme in 2015 was "All the World's Futures." What I found most interesting was that most of the art was Modern, even outside of the Biennale exhibits. It was an interesting contrast to all of the traditional architecture.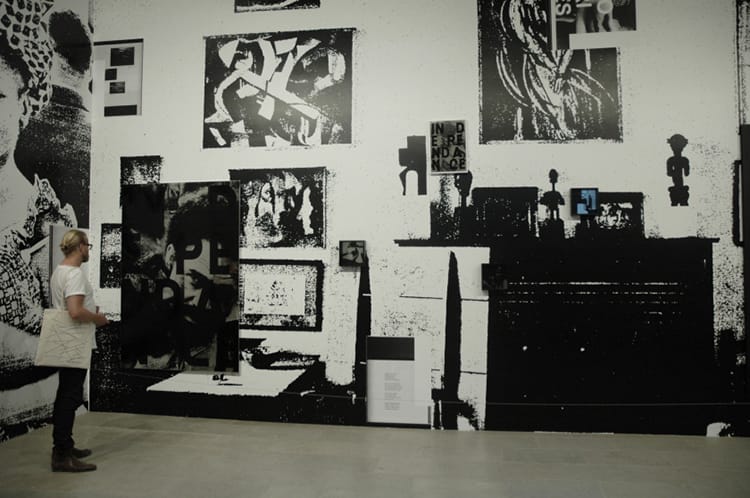 The Architecture
---
Speaking of architecture, every building here looks like a piece of art. From the outside the streets look like a postcard, and on the inside you feel like you're in a castle. No detail goes overlooked. We stayed in a room where the beams on the ceiling each featured hand painted vines. I had to keep reminding myself to put down my camera and enjoy the view because every second was picture worthy.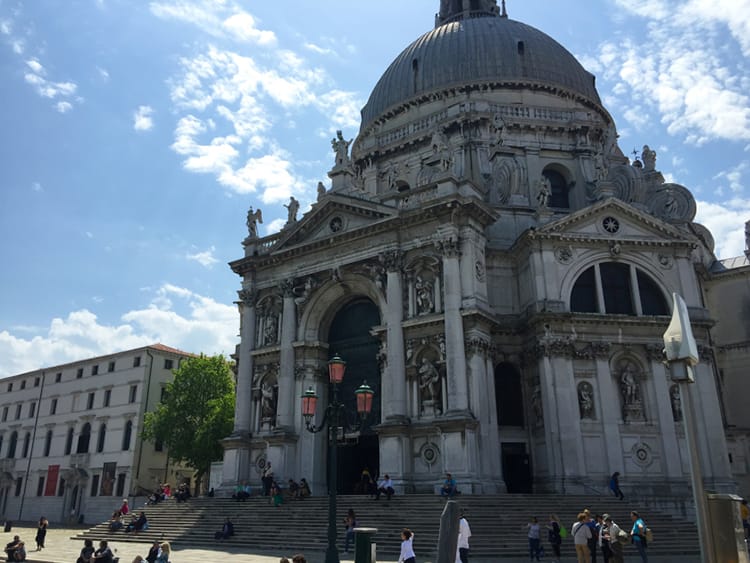 The Seafood
---
I know everyone goes to Italy with the idea of eating tons of pasta. The pasta is amazing, but my favorite is definitely the fish. Specifically, the branzino. Most places cook the fish whole and they fillet it in front of you. It was a cool experience in general, but it was even more amazing once I tasted it. The buttery flavor of the fish literally melts in your mouth. It was delectable, and it became my go to dish during our visit.
The Public Transportation
---
I'm used to the New York City subway where people are in a bad mood, shoved into a dingy train, and then subjected to delays. Not the best way to commute. I'm sure the vaporetto (public transportation boats) aren't perfect, but I'd much rather be stuck on a boat with fresh air and a beautiful view of Venice than on the New York City subway. Plus, people have manners there. Most of the locals didn't even sit down, and I noticed pretty quickly that it was because they were leaving those seats for the elderly. I found the experience of riding the vaporetto much more civilized than any other public transport I've ever taken.
---
The Gelato
---
I don't think I even need to explain this one. If you're anywhere in Italy get gelato, and get it often. My favorite combos were a scoop of coffee and a scoop of latte (milk). It was like a frozen coffee. Plus, I loved caramel and chocolate together. Yum!
Getting Lost
---
Getting lost in Venice is like a rite of passage. In most cities, being lost leads to aggravation, but somehow in Venice it's just fun (as long as you're not in a rush). Walking through back alleys can lead you to incredible places. I think half the time we found something beautiful; it was because we got lost looking for something else.
The Ceilings
---
I've never been to a city that made my neck hurt so much. All I wanted to do was look up. Even the inside of homes had beautiful ceilings. Scuola Grande di San Rocco actually gave you mirrors to walk around with so that you could avoid starring straight up at the ceiling for long periods of time.
---
The Souvenirs
---
Forgive me for sounding like a really bad tourist with this point. I do usually avoid souvenirs. I think they're over priced and cheesy to say the least. However, the carnival masks are so gorgeous that you can't help but indulge. On top of that, you're near the Murano Glass Factory. You can get beautiful vases, candlestick holders, and my personal favorite Christmas ornaments to take home with you.
Venice is truly a beautiful city full of incredible things to see. I spent a week in Venice and still didn't get to do everything I wanted. I guess I'll just have to go back!
Have you been to Venice? If so, what did you love most? If not, what are you looking forward to?!
---
Looking for a Hotel in Venice?
---
You might also like…