When I first started traveling, I picked all the wrong hostels. To be honest, I had no idea what I was looking for. I'd see something that looked great in photos, and then find out it wasn't near any restaurants. Another would be close to everything, but was so loud that you couldn't sleep. I decided to write down what I've learned about how to choose a hostel after booking at least 100 dorm rooms over the course of 8 months in 9 countries. Trust me, I learned a lot. Since I always book through Booking.com, I'll reference search features on their site.
---
Location, Location, Location
---
The very first thing I look for is the location. I always do some research on where the hot spot is in an area, and then, I'll locate it on Google Maps. On a second page, I'll open up a search in booking.com I'll type in my dates and where I'm headed and then click on the first listing. From there, I click on the link to "show map." This map shows you every hotel listed on Booking.com in that city. I simply zoom into the area I've already found on Google Maps and keep the pages open side by side. On Google, I can see restaurants, tourist attractions, beaches, etc. I can even do the street view to make sure it looks safe. On Booking.com, I can see each hotel.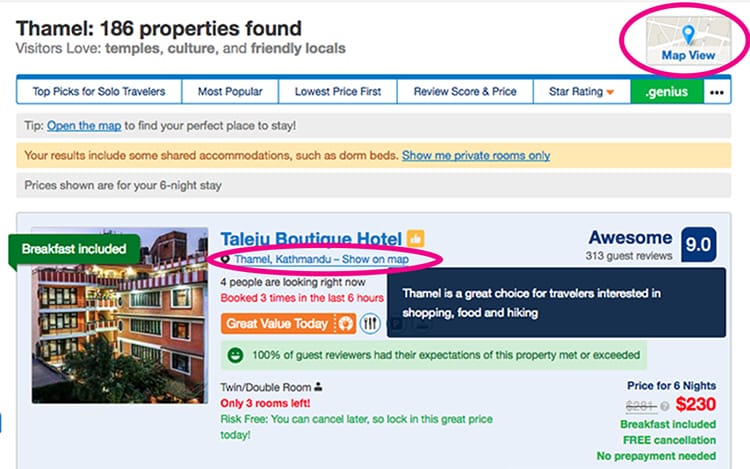 Transportation Nearby
---
Depending on my purpose of travel and how long I'll be there, I want to make sure the hostel is easy to get to. In Singapore, I chose a place by the subway. Since the subway is the cheapest and most effective way to get around, it was super important to me. If I have a layover, choosing a place with free airport pick up and drop off is a big deal. Consider your plans when visiting and make sure transportation is easy to access. If you plan to walk the whole time, don't choose a budget hotel on the outskirts of town.
---
Price
---
Once I've narrowed down the area based on restaurants, sightseeing, and transportation, I start looking at prices. As a budget traveler, this is the second most important thing, and therefore, one of the top items in my search. On the map feature, you can hover over the pins to see the price. The price shown is for your entire stay (not one night). My budget is $10 a night, so if I'm staying three nights, I know to look at anything under $30. I'll open each link in a separate tab as long as it's under $30 and in the area I like. I do consider one other factor before opening links…
---
Review Score
---
Never underestimate a review score. I won't even entertain the idea of staying in a place that has under an 8. That might sound crazy, but I've stayed in a lot of 7's and was disappointed every time. I'd go back and look at the reviews later and wonder why I was being optimistic when I booked it. On the map, below the price, you'll see a score. If there's no score, the hotel is probably new and doesn't have enough reviews yet. Sometimes I'll take a chance on those. The higher the score, the more likely I am to stay. I've never stayed in a 9 and been disappointed.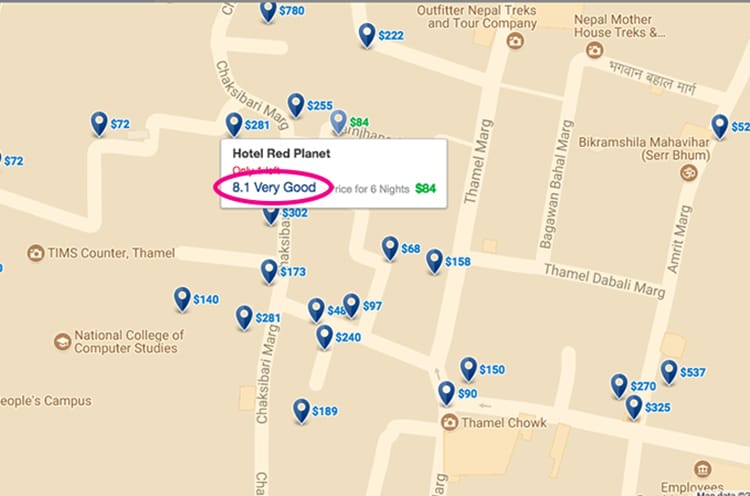 Photos
---
I know you're not supposed to judge a book by it's cover, but once I have a tab open for each hotel under $10 with a score over 8, I quickly browse the photos. Knowing what to look for took a bit of practice and now my eye is trained, so I'll do my best to share what I try to spot.
Electricity – Outlets and lights next to each bunk bed is a huge thing for me. I've stayed in places with one outlet for the entire room and trying to charge your precious phone or computer is a nightmare. If there's no individual light next to the bed, then the large light in the room may be on all hours of the night.
Safety – Lockers are key for backpackers. I don't want to worry about my stuff every time I leave the room. If I don't see lockers in the pictures, I may not book a place. Large lockers also win over small ones. If my whole bag can fit, it's a lot easier than picking out my most expensive things.
Comfort – Another thing to look out for are the beds. Do the mattresses look reasonably comfortable? Do the blankets and sheets look clean and cozy? Is the bunk bed made of wood or metal? Flimsy metal ones tend to shake when people roll over. I actually slept through an earthquake in Nepal because I got so used to a rocking bed.
Socializing – I always look to see if there is a common area and how big it is. Does it look like the kind of place you could hang out and meet fellow travelers? Some days I have to work on my computer, and I don't want to sit in my room all day. A common area is very important to me.
Hygiene – Use your best discretion when it comes to bathroom photos. If it looks like a place you wouldn't want to shower, you probably shouldn't stay there. I also try to see how many showers and toilets are available. If there's one shower per ten people, chances are you'll be waiting in a line each morning or night.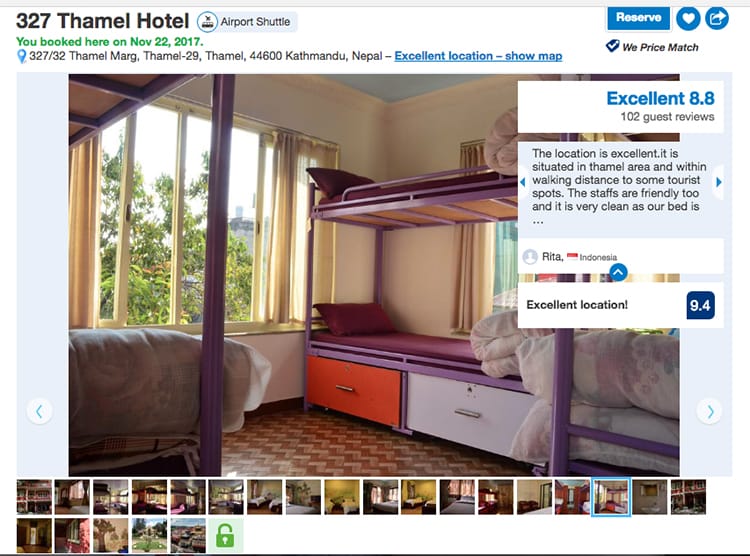 The Essentials
---
Now that I've narrowed down the photos, I look for a few key things. If I'm traveling to a tropical country, I'll always check for A/C. No matter where I am, I always look for WiFi. I need it for work, so not having it isn't an option. If I know the area I'm going to is remote, I'll look for cafes nearby to make sure there is some kind of internet connection somewhere. Figure out what's important to you and check before booking.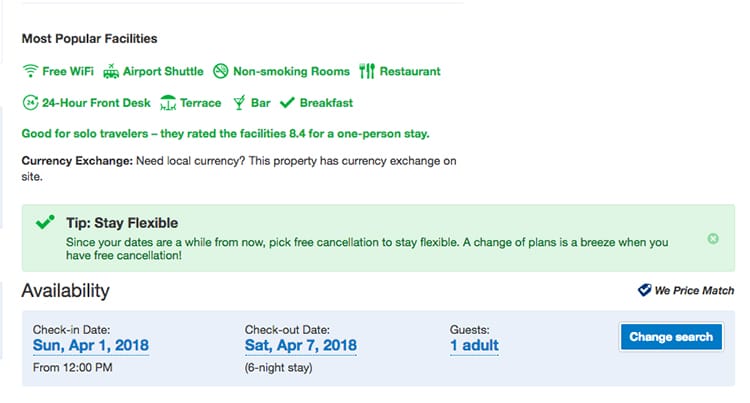 Reading the Reviews
---
At this point, I'll usually have it narrowed down to five or less hostels. My next big thing is reading the reviews. Things I look out for are pretty specific. For instance, has anyone complained about cold showers or no hot water? Are there complaints about it being noisy? Does the WiFi work? Do people talk about the staff like they are family? What is the overall vibe of people who have stayed there? Has anyone complained about there being no heat or A/C?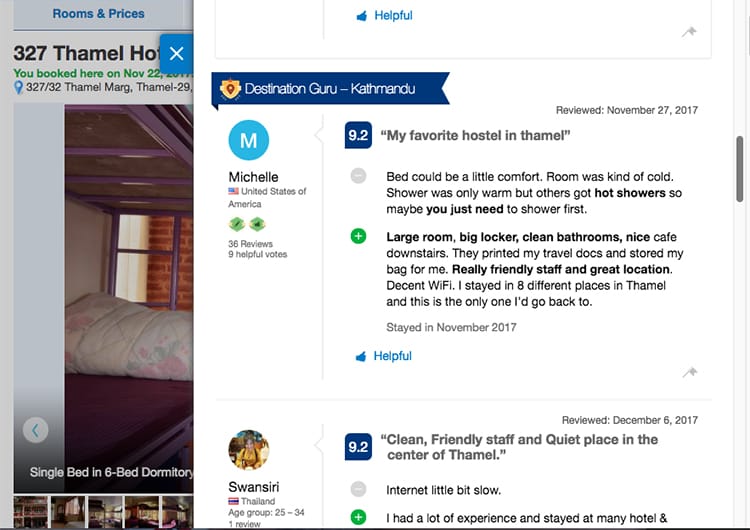 Room Selection
---
The reviews usually knock a few hostels off my list. With the remainder, I check out the room selection. I tend to choose rooms with less than 6 people in all female dorms. Of course, that's not always the case, but it is my preference if I'm torn between two places. I've seen beautiful hostels with 20 people per room, and it just doesn't appeal to me. For one, it's a lot noisier. People seem to be less worried about being quiet in a crowd. In small rooms, people are more respectful. I also find it a lot easier to make connections in a small room where you can talk to people one on one. I choose female rooms for a very simple reason. Every time I choose a mixed room, there is a guy who snores.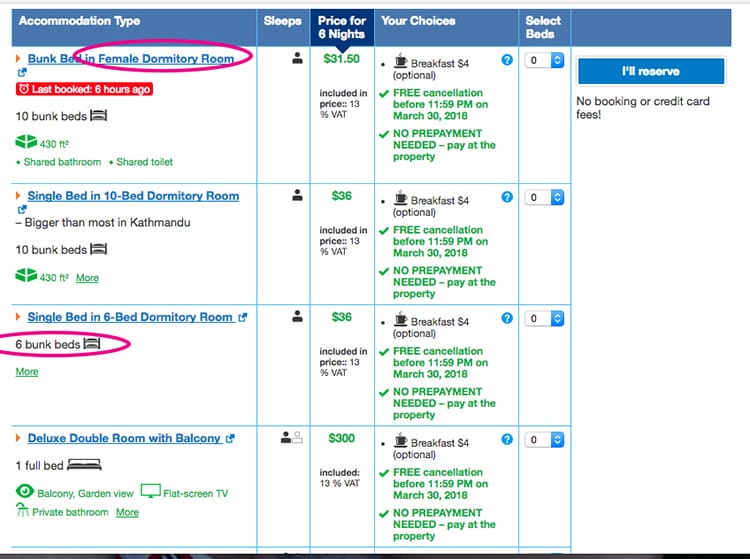 Breakfast Included
---
I'm a broke backpacker, what can I say? I'm a sucker for a free breakfast, even if it's just toast. This tends to be a tiebreaker when I'm down to a few places. If there's a free breakfast, it moves up on my list.
---
Bonuses
---
If I'm still torn, which is rare, I'll take a look at any bonuses. Free cancelation, free bicycle rentals, 24-hour front desk, etc. Truth is, if I'm torn between a few places, I usually go back to the review score or location. Those always win out in the end.
Have any questions about picking a hostel? Leave it in the comments!
---
You might also like…