Seeing as we only went to Dubai for one week, I won't pretend to know all the best places or all the best things to do. But I did want to share some of our favorite experiences we had while there. A lot of our friends go to Dubai in the winter because it's a short flight from Kathmandu, and it's not too difficult to get a visa with a Nepali passport. Since a few friends have asked us for tips, I figured I'd share what we did in our week there. Here's what we loved in Dubai!
---
Overnight Desert Safari
---
The overnight desert safari was honestly my favorite thing we did in Dubai. I had never been to a desert before, so this was something new for me. The desert safari included dune bashing in a jeep. This meant, letting air out of the tires, and flying around a giant desert as fast as we could. The drivers know exactly how fast to take each turn and hill so that you get a little adrenaline rush as you go. The trip also included camel rides, sleeping in tents in the desert, dinner with three dance performances including a Turkish Sufi dancer (the guys who spin in circles over and over for 15 minutes straight without getting dizzy), and a fire dancer. It was so fun to watch! We also upgraded and did an ATV ride through the desert.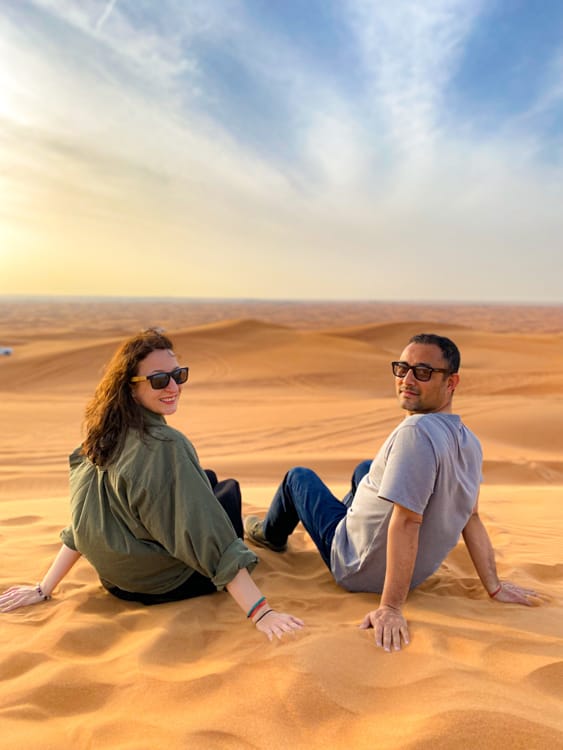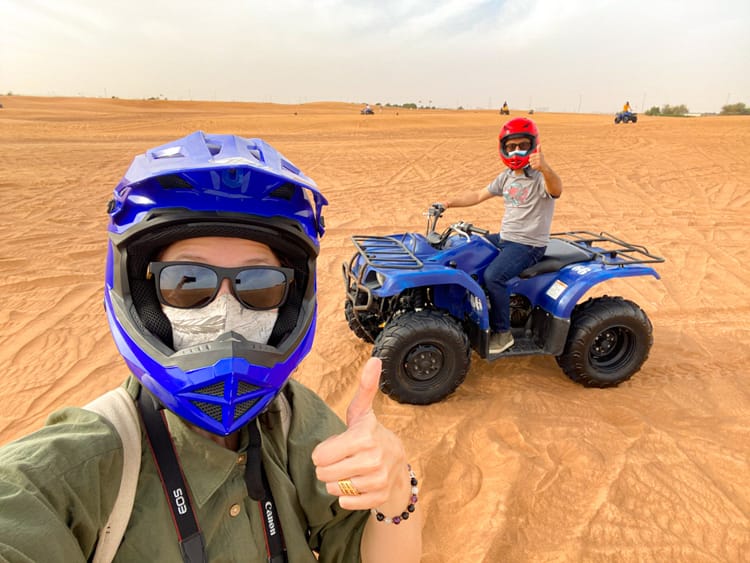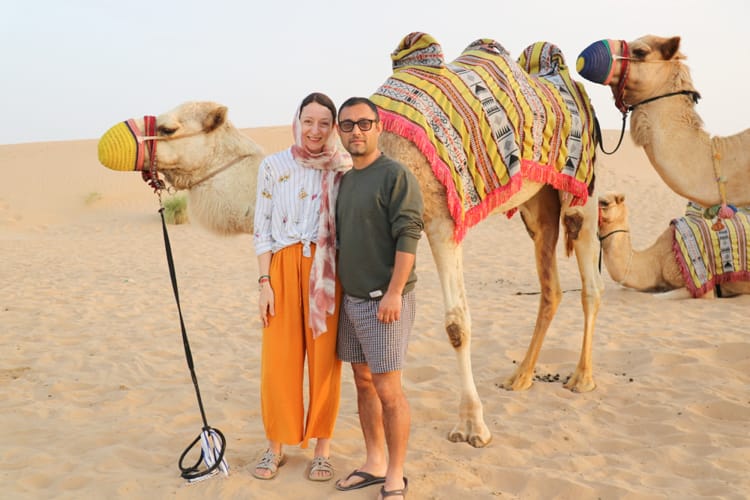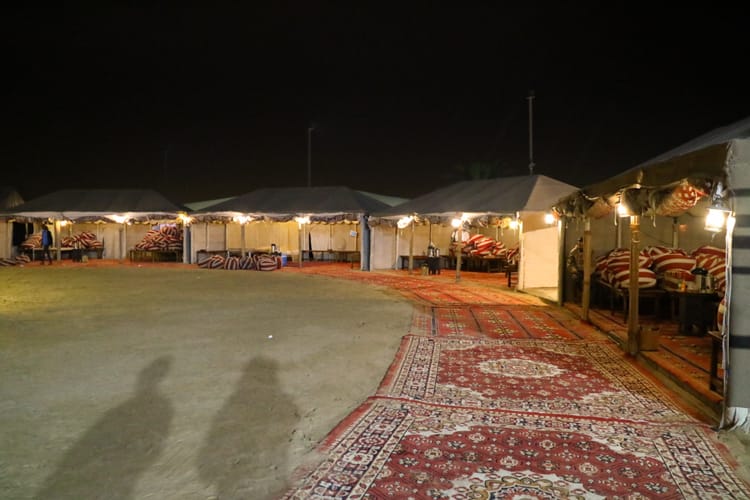 We booked through Get Your Guide (below) and chose the trip called "From Dubai: Red Dunes and Camel Safari with Overnight Camp"
---
Hatta Tour
---
Hatta was one of the things I was most looking forward to because it doesn't look like it could be in Dubai. There are small mountains out there… and a lake collected from rainwater. Yes, mountains and a lake just past the desert. I thought Hatta was beautiful but our tour was rushed which I hated. It felt like we only had 15 minutes in each location. It would be much better to rent a car for the day and just take your time doing what you want. We were on a budget and a half day tour was cheaper.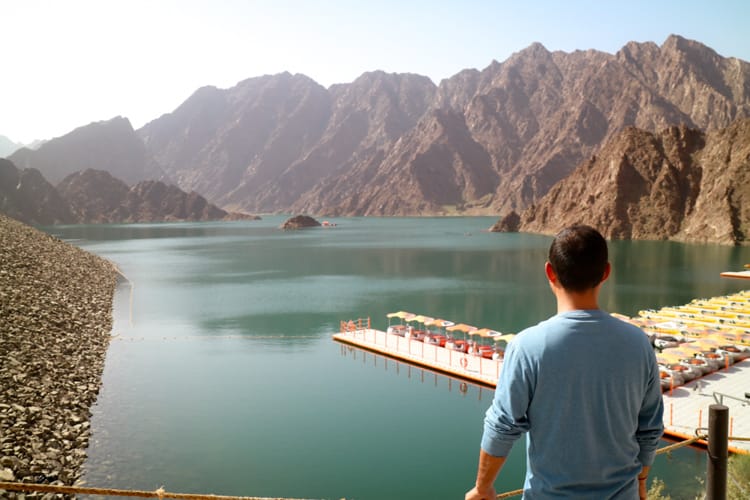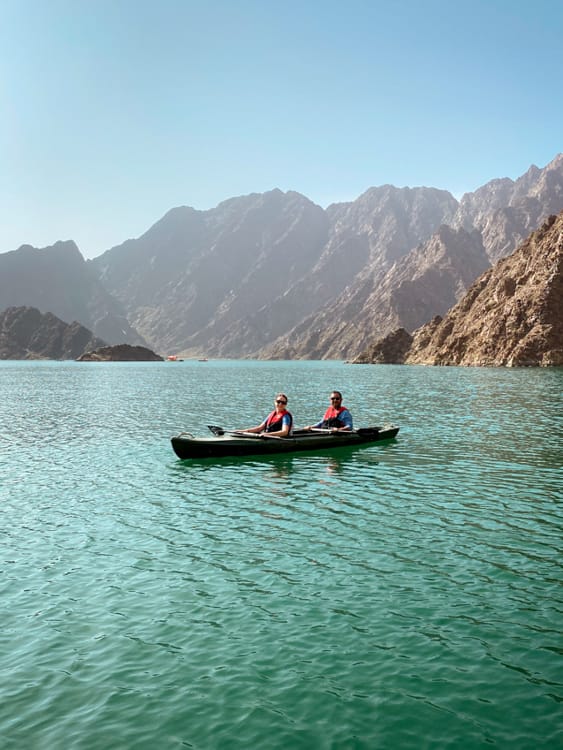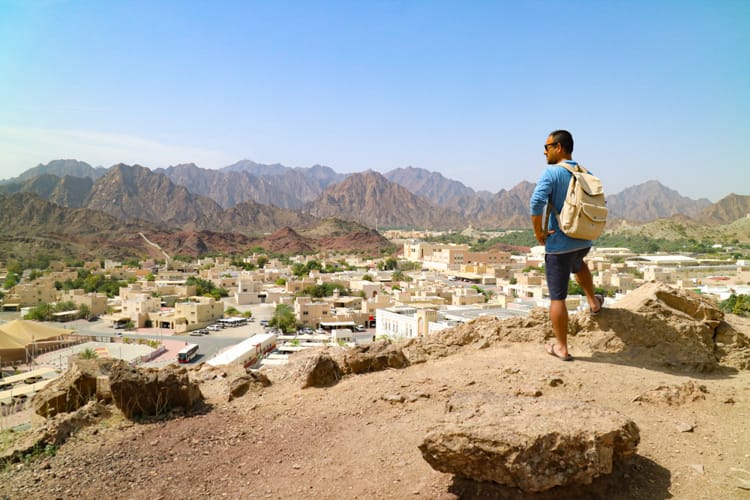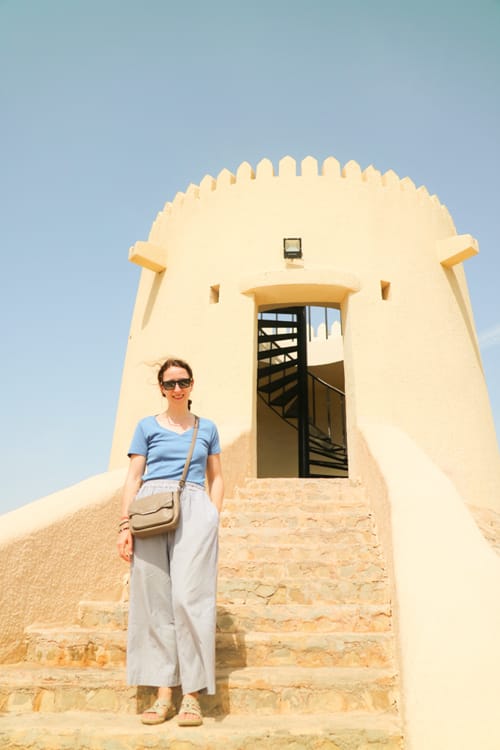 ---
Burj Khalifa & the Dubai Fountain
---
I love cities. I know that isn't a popular opinion, but I lived in NYC for 10 years and part of me just loves city life. Is the Burj Khalifa a major tourist destination? Absolutely! Is it packed all day? Yup. Is it still amazing to see? Without a doubt.
I seriously couldn't even fit the whole building in my camera without getting on the ground. It is so cool to see up close, and we went in the evening to enjoy the free light and water fountain show. It was fun to watch albeit extremely touristy.
---
The Frame
---
I had seen photos of "The Frame" and didn't understand the appeal. Yes, it's big and shiny, but it didn't seem worth going out of the way for. It turns out, the fun part is going inside. On the top there is a glass floor which is enough to make you pee your pants. I seriously could not step on it. I was terrified. But I refused to leave without walking across it once. So, Suraj held my hand like a little toddler and walked me across. If you want to test your fear of heights, this is the place. If you don't want to, have no fear because there is also a solid floor you can walk across without looking down.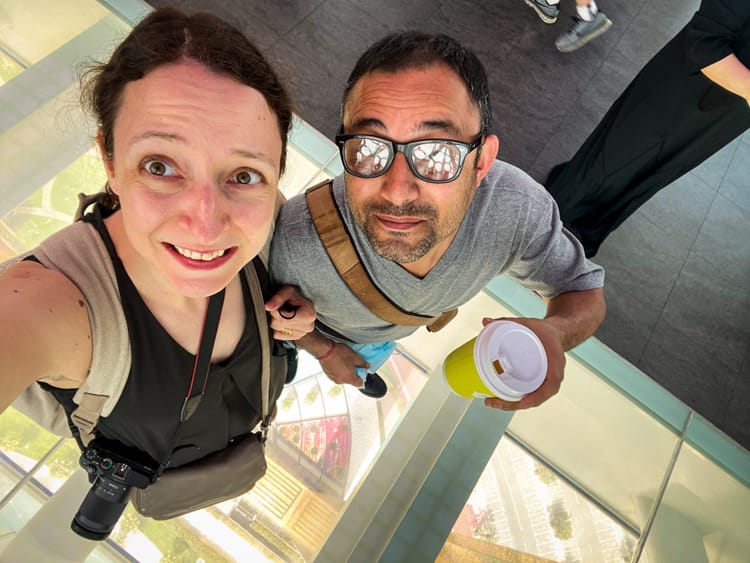 ---
The Beach
---
It's so strange to me that you could be in a desert and at the beach within a half hour. Dubai has tons of beaches to choose from and although it's a Muslim country, don't expect the beaches to be modest. Dubai is so modern, that the beaches are full of women in thongs (something that surprised me). Public beaches are free to visit but tend to be very crowded. There are also restaurants on the water where you can eat and enjoy a less crowded beach which is what we did. You do have to order food or drinks, but it's definitely worth the comfort in my opinion.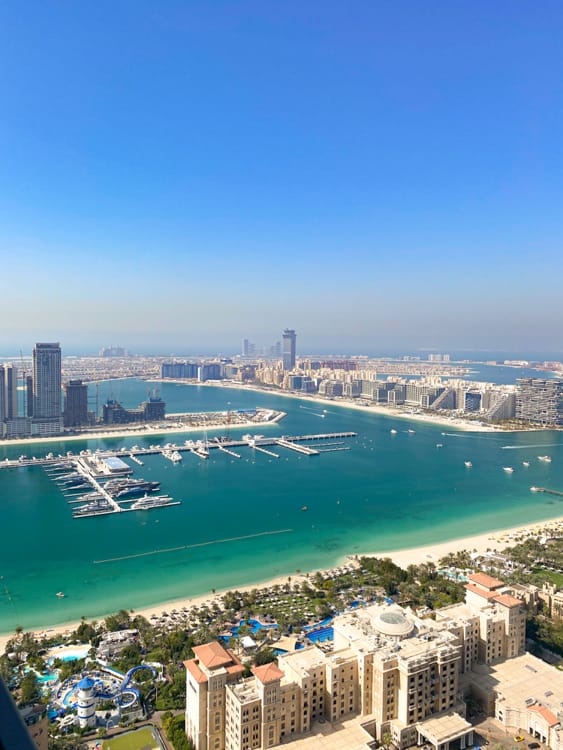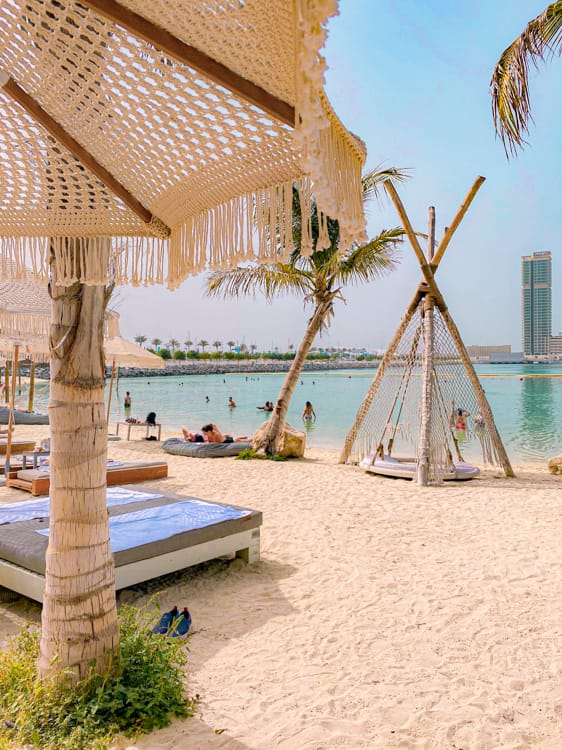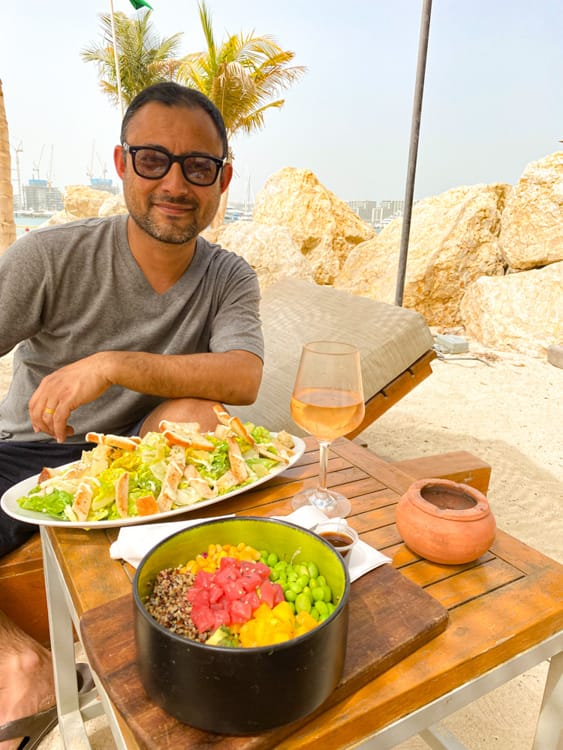 ---
Shopping Areas in Dubai
---
Dubai Spice Souk
I love local markets and the Dubai Spice Souk is fun to wander around. There are many stalls full of spices and teas. You can find unique gifts to bring home to friends and family. This is an incredible place to get lost and to feel like you're really in the Middle East.
Jumeirah City Market
Jumeirah City Market is a little more upscale as it's located in between a bunch of five-star hotels. That being said, you can bargain, and if you're looking for some unique expensive souvenirs, then this is the perfect place. I bought a top here that I love! I've never seen anything like it in all my travels.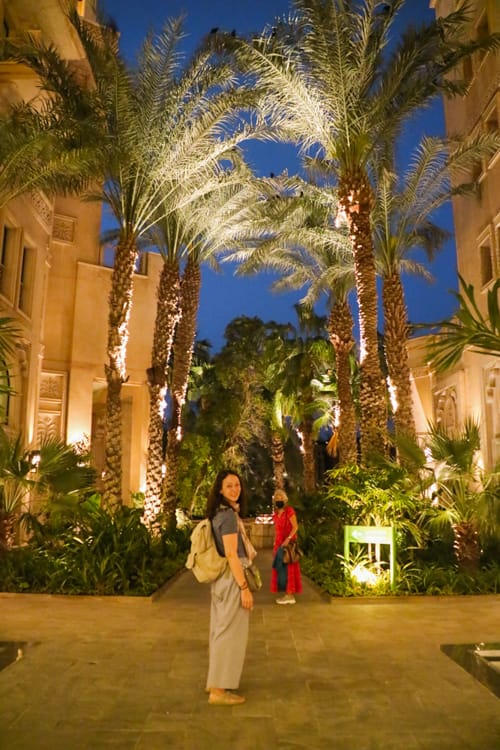 Al Fahidi
Al Fahidi was my favorite market. It has traditional style buildings with stores full of different goodies inside. There are also cafes and restaurants. It's such a scenic place to shop, but you'll find many of the stores selling similar items.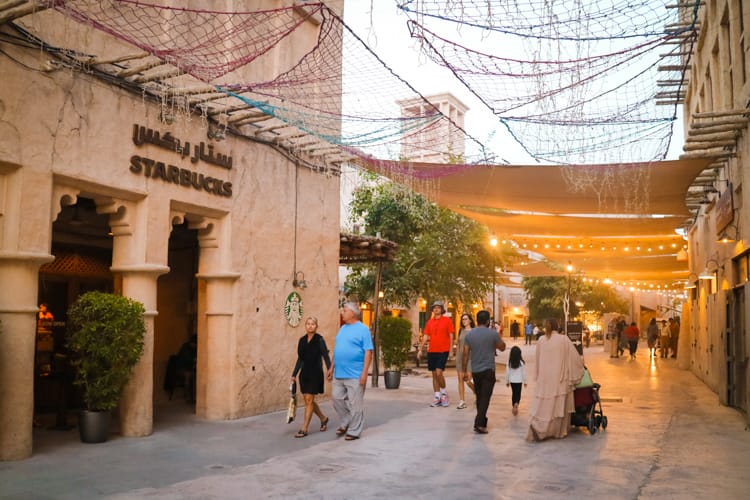 Dubai Mall
Dubai Mall is a must when visiting Dubai, "the shopping capital of the world." Almost every store to ever exist is in Dubai Mall. Even stores that went out of business in the U.S. are still there! They also have an aquarium, indoor skiing, an ice skating rink, mini museum, and a ton of other random stuff to see besides shopping.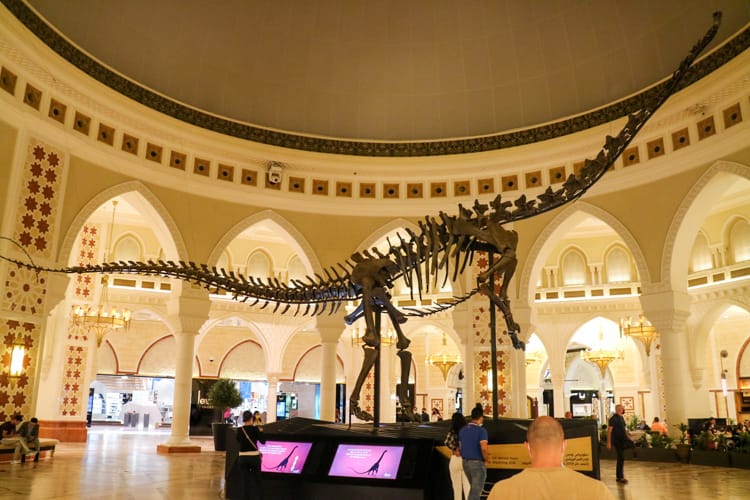 ---
Favorite Restaurants & Foods
---
Al Ateeq Café
We ate at a lot of different restaurants but a few stood out to me. Al Ateeq Café was our favorite restaurant. It's located in the Dubai Marina and offers Middle Eastern food. We had the Al Ateeq Breakfast which the waiter recommended. It was big enough for us to share. It was only 45 Dirham which is $12.25 USD. They had a special promotion where we even got a free drink with it. It was the cheapest meal we had in Dubai and the meal we enjoyed the most.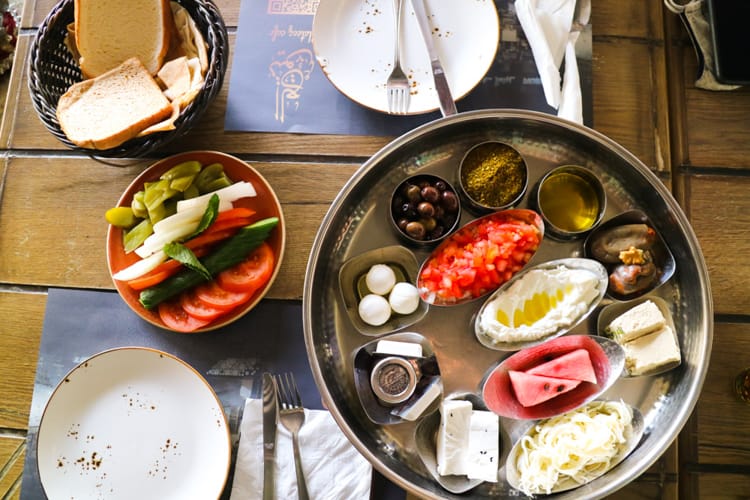 Turkish Ice Cream
I like to try something new on each trip I take, and in Dubai, that new thing was Turkish ice cream. I've eaten a lot of Middle Eastern foods before, but this was new to me. Turkish ice cream has an odd sticky consistency. It was interesting to try because it almost felt like bubble gum at times, but it was still yummy and was something oddly new.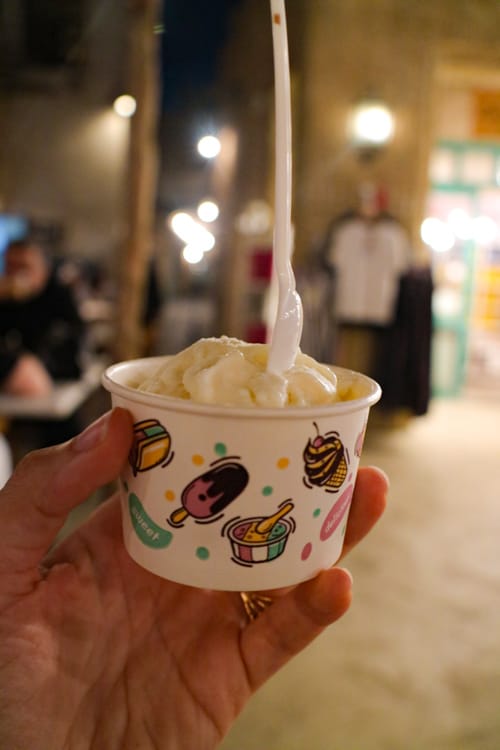 Mazmi Coffee & More
Mazmi is located near Al Fahidi right on the waterway. It made me feel like we took a random side trip to Venice. Mazmi has fantastic Italian food, and I was completely blown away by their buffalo mozzarella (burrata). Our wonderful host, Aunty Olga, took us here as it's one of her favorite restaurants and I can see why. The salad was 45 Dirham ($12.25 USD) but was not big enough to share. So, expect to spend about $25-$30 USD if you're a couple.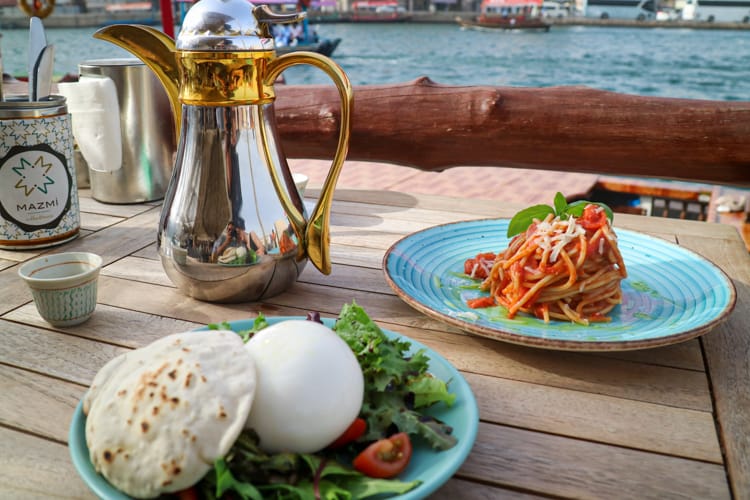 Arabian Tea House
A friend recommended Arabian Tea House and we ended up walking past it at dinner time which was perfectly unplanned. We hopped in, and we weren't disappointed. We ordered a few items to share including the Arabian Tea House Special Salad, Cheese Sambosa, and Laqaimat for dessert. Overall, we liked this place a lot. We had a late lunch that day and weren't too hungry for dinner, but I wish we'd had more room to try more items.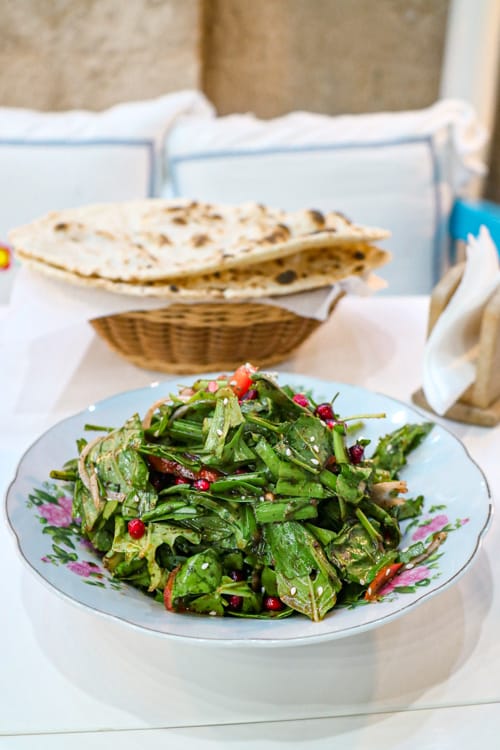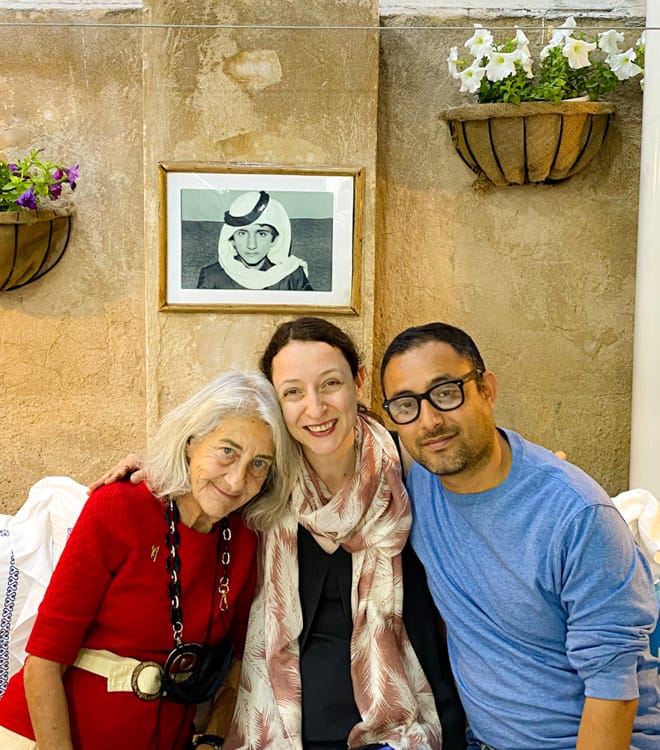 ---
You might also like…
---