I was googling things to do in Cambodia when I came across a webpage featuring a description of what it was like to visit the killing fields while backpacking through the country. My curiosity kicked in, and I began researching the Khmer Rouge, Pol Pot, and the genocide in Cambodia. It's a subject I'm embarrassed to say I knew almost nothing about. It wasn't until I began reading First They Killed My Father that I realized, a majority of young Americans have never even heard of Pol Pot. Every time a friend asked me what I was reading, I got blank stares back. Then, I would begin to tell the history of Cambodia, and people were shocked.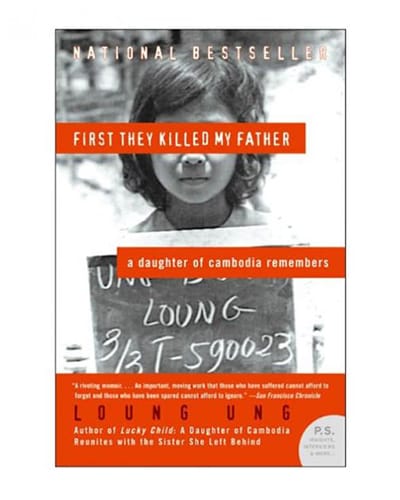 ---
First They Killed My Father is a historical biography written by Loung Ung, who was four years old when the Khmer Rouge overthrew the government in Cambodia. Lucky to have a very wise father who knew how to act under the new regime, they were able to avoid the first of many killings. Her family lived in the city of Phnom Penh, was fairly wealthy, and well educated. The exact people that were being targeted. The Khmer Rouge tried to rid the country of anyone who would be able to rebel or who was smart enough to overthrow them. They would brutally murder people who wore glasses simply because they looked intelligent.
Forced to leave their home and walk for days, they had to leave behind all of their belongings except the items they could carry on their backs. In an instant, money is as valuable as toilet paper and only survival matters. After several days, they arrive at their destination in the countryside where they are given new clothes and job assignments. Treated like animals, they are forced to work seventeen hour days and in exchange are rationed small amounts of rice. Anyone who complains or can't keep up is sent to a special camp where they never return. Word begins to spread that those who are educated are being killed as well as those who are weak. After surviving for years through near starvation, the family is split up and each person has to fight for their own survival.
Loung's story is honest and thought provoking. She shares her deep rooted regrets over stealing a handful of rice from her family, while at the same time is completely desensitized to death. She shares her nightmares as a child and her deep hatred that drives her to want to kill. The story of Cambodia and it's history leaves you sad and shocked, but it's Loung's personal story that is truly moving. The effects of war, starvation, and death on a young child makes you wonder how she was able to survive. This book is a must read for anyone who plans to visit Cambodia.
---
Don't have time to sit down and read a book? Check out audible! You can sign up for a 30-day free trial and get two books free by clicking the banner below! If it's not for you, you can cancel any time. This is a great option if you're on the road or commuting and want to listen as you go.
---
You might also like…