Last year, one of my friends asked me to meet her at the last stop of the 7 train. We were headed out to Long Island, and she was going to pick me up there. I stepped out of the train and was sure that I must have gone the wrong way. Suddenly, I was in Chinatown, except I was in Queens. This was Flushing. I was dying to go back and see all the things to do in Flushing, and this week, I finally got to do it! Three of my friends joined me on the adventure, and we had a blast!
---
10:00am Queens Botanical Garden
---
$4 each (Free from November to March, Sunday 9am-11am, Wednesdays 3pm-6pm)
I had never been to any of the places on this itinerary, so you might notice a theme of us getting lost a lot in this post. Thank goodness my friends were troopers about it. The Queens Botanical Garden was small but charming. We were able to walk the entire thing in less than an hour while stopping to take photos. It's the kind of place you could have a quiet picnic or a romantic walk with your loved one. It was much smaller than the Brooklyn Botanical Garden but also a lot less crowded. We watched women doing Tai Chi and couples strolling hand in hand. There were tons of tulips in bloom and birds chirping in the distance.
12:00pm Asian Jewels Dim Sum
---
$12 per person
Over the years I've heard Sharmaine mention that the best dim sum in NYC was in Flushing. We always talked about going together but never really got around to it, so of course it was my first pick when planning the schedule. Asian Jewels doesn't look like much on the outside, but on the inside you'll see it's packed with locals. Instead of ordering, carts are wheeled around the room and you pick and choose what you want. In order to stay on budget, each person at the table can order two plates to share. We had a group of four, which meant ordering eight plates of food.
Full disclosure, we actually got into a lot of the places on this list for free for having student ID's, corporate memberships, and season passes. Since we paid so little on the attractions, we put all of our money into the food. We actually ordered approximately 18 plates of food and spent $30 each including tax and tip. I'll admit, we may have gotten a little carried away here.
1:00pm 10Below Ice Cream
---
$7 per ice cream (one is big enough to share with a friend)
After lunch we were completely stuffed, but I had read about 10Below on Facebook and really wanted to try it! At first, we couldn't find it, but after stalking a few people holding ice cream we found 10Below on the bottom floor of a mall. I opted for the "Ain't got no Thai fo' dat" flavor, which was Thai iced tea. The cool thing about this ice cream is that they make it in front of you! They pour a small cup of liquid onto a cold surface and let it freeze in front of your eyes.
The young girl making my ice cream drew a picture on it with chocolate syrup. She started with a whale (the company logo) and someone else said to give it a party hat. One of her other colleagues yelled do a Harry Potter theme. So we ended up with a Harry Potter whale celebrating his birthday. Besides having fun watching this process, it was really delicious. The ice cream was smooth and full of flavor. It might be one of the best ice creams I've ever had.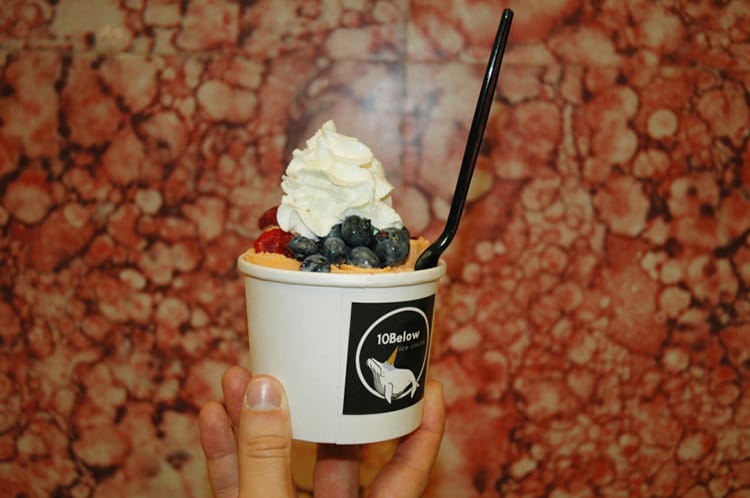 1:30pm Corona Park World Fair Sculptures
---
Free
Next up was Corona Park! I'll admit that getting from 10Below to the park was a bit of a challenge. On Google Maps it looked simple. In reality, we ended up going down some sketchy back roads that lead to a Home Depot parking lot. What we liked to call, "the scenic route." The crazy thing was, there was a fence separating the never ending parking lot and the park. It was too high to scale (yes, we thought about it). Finally, we found an opening and made it across.
The park is huge, open, and spread out. We walked through and made it to the giant "Unisphere". When we stopped to think about how many people came from all over the world to view this place it was kind of crazy. Now it's a somewhat deserted fountain where locals come on the weekends. I'm not sure if my photo does it justice, but this sculpture is huge and worth seeing in person. It's no Eiffel Tower, but it's still pretty amazing. Not to mention the "space ships" from Men in Black are right next door!
2:30pm The Queens Zoo
---
$8 per person
Make sure you head to the right of the Queens Museum to get to the Queens Zoo. Otherwise you end up stuck trying to cross the Grand Central Parkway (another part of the "scenic route"). The zoo closes earlier than the museum, so it made sense to go there first even though the museum was closer. The zoo, much like the botanical garden, was pretty small. The great thing is that the crowd is small too. Not a lot of tourists go to Corona Park, so you're mostly surrounded by locals. There were no lines, barely any crowds, and no rush. We took our time wandering around aimlessly. My favorite parts were feeding goats at the petting zoo, almost getting my eye poked out by the horn of a bull, and seeing the world's smallest deer. The aviary was also pretty awesome and reminded me of Jurassic Park (but safer).
4:30pm Queens Museum
---
Suggested Donation $8. To stay on budget, we recommend $3.
The Queens Museum is smaller than most NYC museums, but again it was empty. You could walk at your own pace, and see everything without a crowd. We ended up sitting and watching a video in one room, which consisted of people saying "your momma" jokes in different languages. After realizing we were the only people in the museum spending so much time in the "your momma" joke room we moved on. Clearly we're very cultured. My favorite part of the museum was a panorama of the city that was built in 1964 for the World's Fair. It was the most visited attraction at the time and was billed as an indoor helicopter tour of NYC. You can walk around and see how much NYC has changed since then. Some neighborhoods didn't really exist, and the twin towers were still a prominent part of the skyline.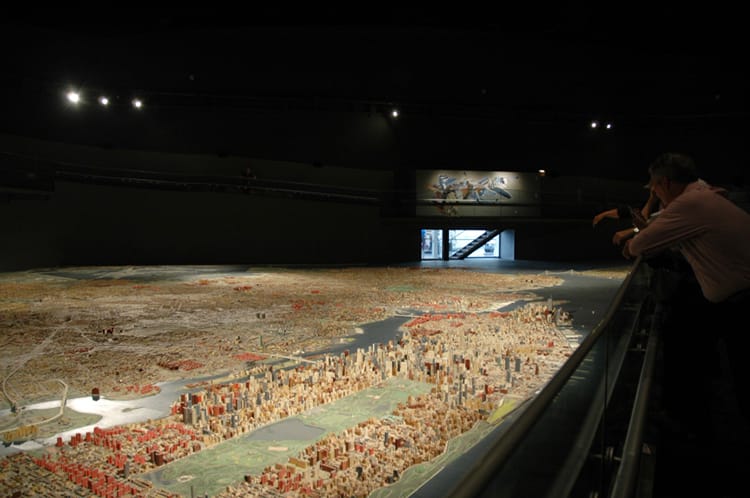 6:00pm Street Meat
---
$1.50 a skewer (chicken, beef, lamb). Some skewers are more expensive.
I wish I could tell you the name of this food cart, but it was pretty nondescript. It was on the corner of Prince and 39th Street and isn't always there. It will be there on Saturdays at 6:00pm though. You can tell it's good, because locals are lined up ordering tons of food. We tried a few skewers but were still pretty full from lunch. I tried the lamb and a bit of Sharmaine's chicken. The skewers are $1.50 each, so you can order as many as you want. We budgeted for 2 per person. These are some of the best skewers I've ever had and were worth waiting on the line.
As I mentioned earlier, we went way over budget on food. If you stick to the schedule and prices above you'll end up spending $33.50 (price if you split an ice cream at 10Below). If you get carried away at dim sum like some people (cough cough), you'll probably spend closer to $50. All in all, it was an amazing day and worth every penny.
*This schedule is based on Saturday hours during the spring/summer. Hours and prices of attractions may change based on the day and time of year.
---
Alternative things to do in Flushing:
---
New York Hall of Science– This is a great place if you have kids. It's $15 for adults and $12 for kids.
Arthur Ashe Stadium– Take a tour or watch a tennis match where the U.S. Open takes place. It's $12 each for a tour.
Citi Field– Take a tour of the home of the Mets for $20 each.
Flushing Meadows Golf Center – Play 18 holes for between $17 and $19 each.
Thinking of trying all the things to do in Flushing? Ask any questions in the comments!
---
Looking for a Hotel in Queens?
---
You might also like…