The Upper East Side is no longer the old money neighborhood ruled by the upper class. It's now considered one of the cheapest places to live in Manhattan, and therefore, is the neighborhood that 20 year olds flock to after graduating. My high school BFF, Sharmaine, decided to join me in this adventure as a fellow Upper East Sider. We wanted to dive a little deeper into our surrounding neighborhood which I frankly know little about.
---
Yoga at Lululemon
---
The day started with Yoga at Lululemon. They offers free yoga classes once a week in most of their locations. At the Madison Avenue store they are offered at 9:30am every Sunday. I should start by saying that I have only done yoga once or twice and am pretty intimidated by the New York yoga scene. Yoga here is like a cult, and I often feel like someone in Mean Girls is yelling, "You can't sit with us" whenever I go to sign up for a class. Despite my yoga self esteem issues, I couldn't pass up a chance to go for free.
The first half hour of the class I struggled, but finally I got into the flow of things. I even managed to get my breathing right for 10 whole minutes (yes, I consider this an accomplishment). My only negative comment would be that it was crowded. When I needed to extend my arms out to the side, I had to maneuver with my neighbors to make sure no one got slapped in the face. But hey, it was free.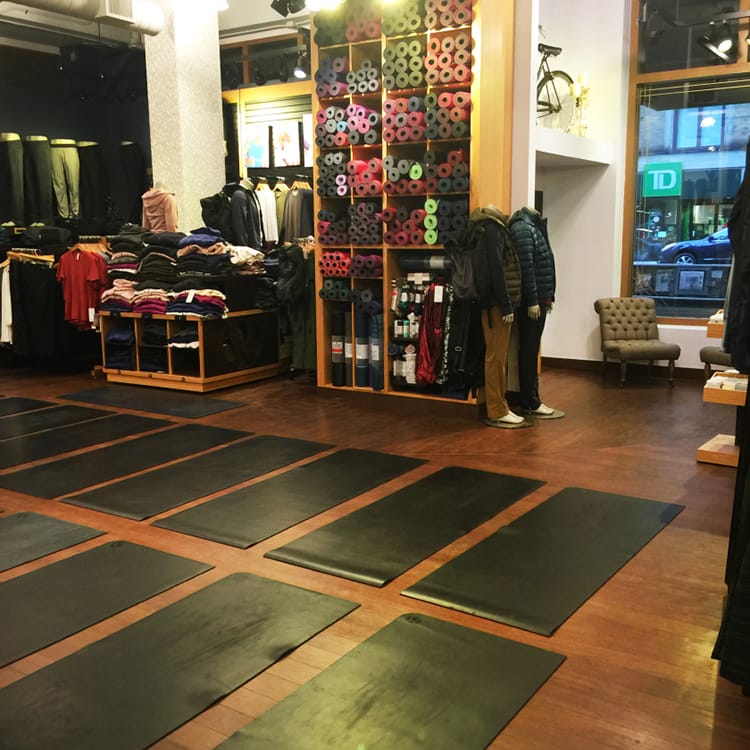 Earl's Beer and Cheese
---
After an extremely relaxing workout, we walked up to Earl's Beer and Cheese on 97th Street. This quaint little restaurant is easy to miss. There are no signs outside except a tiny blackboard to welcome you in. Once inside, you order your food at the bar in front and choose your own seat. At 11am it was empty with the exception of two small groups. I ordered the chicken pot pie and Sharmaine got the New York state cheddar grilled cheese with pork belly, kimchi, and fried egg on sourdough. Our bill was $11 each including tax and tip. The food was extremely fresh, filling, and was perfect for a cold fall day.
---
Central Park Conservatory Garden
---
We made our way further uptown to the Central Park Conservatory Garden on 104th Street. Admission to this garden is completely free, and it feels like an escape from Manhattan. In fact, the cold rainy weather made me feel as though I was transported to London instantaneously. I don't know if it was the rain, or the fact that not many people know about this little haven, but it was practically empty. Walking around the serene flowers and fountains was the highlight of my day. I honestly can't wait to go back when the weather is nicer just to hang out with my dog and read a book.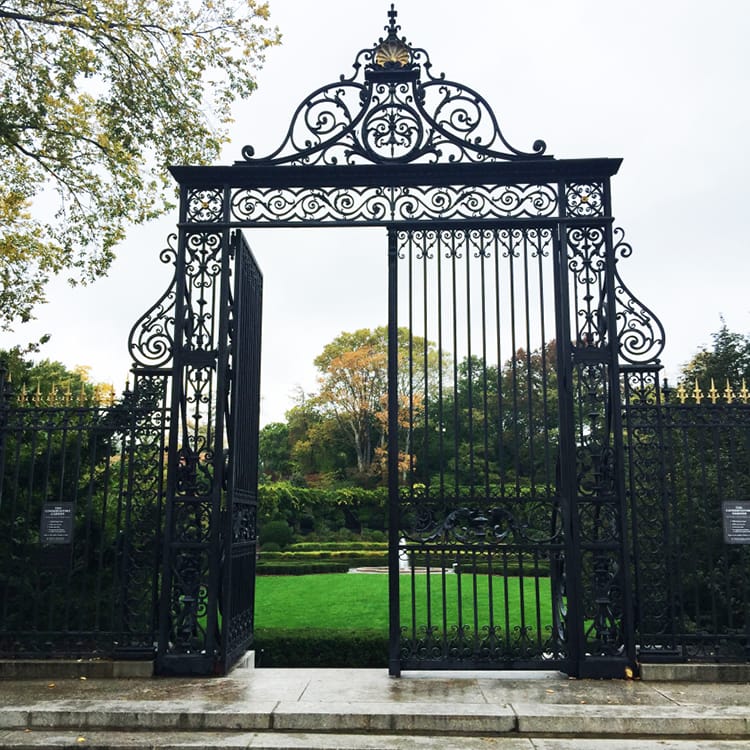 Museum of the City of New York
---
Across the street from the garden is the Museum of the City of New York, also known as "Constance School for Girls" in Gossip Girl. There is a suggested donation of $14 for adults, however we paid $3 each with the intention of only being there an hour or so. This museum has some exhibits that are long term like the affordable housing and architecture exhibits. Others rotate more often like the exhibit on the NYC marathon and folk music. My favorite exhibit however was on protesters in New York City which covered everything from factory worker rights to gay marriage equality. This museum is extremely heavy on the information and light on the displays, so come ready to do some reading. It was a little early on a Sunday morning for me, so I had a hard time absorbing so much information.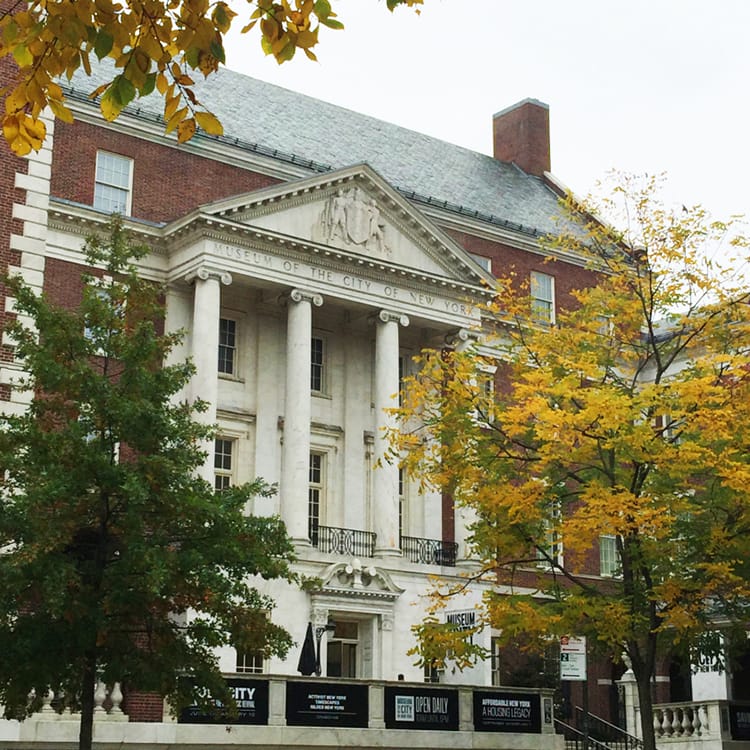 Madison Avenue
---
After an information overload, we decided to walk down Madison Avenue until we reached 83rd Street. Madison Ave is the perfect place to window shop. Most of the stores are very expensive and the windows are always expertly decorated making it easy to admire from the street. In the 70's, 80's and 90's the streets aren't too crowded and there's plenty of space to stop and stare. As you get closer to midtown you'll run into more crowds. You can also walk down Fifth Ave (aka Museum Mile) along the park and see museums like the Cooper Hewitt and Guggenheim.
---
The Metropolitan Museum of Art
---
With our minds clear, it was time to head to the MET. The recommended donation is $25 for adults, but we opted to give $5 each. The Metropolitan Museum of Art is my favorite museum in the city. It's so large, that after visiting it multiple times, I still haven't covered everything. Make sure to grab a map when you enter because trying to navigate the MET is like trying to navigate Venice. If you are anything like me, you're bound to get lost.
It was Sharmaine's first time visiting, so I took her to my favorite spots to see the highlights. We started in the Roman wing which is an immediate left when you walk in. After viewing the beautiful sculptures (and getting reprimanded for periscoping), we went back across the entrance to the Egyptian wing. My favorite part is seeing the temple which has been reconstructed inside a glass room on the North side of the MET. Finally we checked out the armor exhibit. It was fun to revisit this section, since it was the inspiration for my designs last year.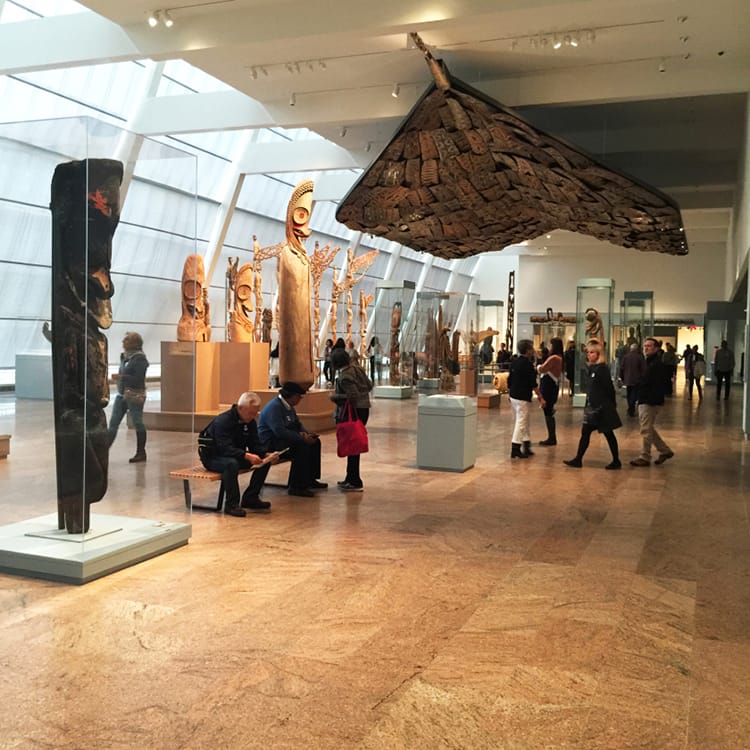 Xi'an Famous Foods
---
Finally it was time to eat! My favorite parts of the day always revolve around food. We went to Xi'an Famous Foods which grew in popularity after Anthony Bourdain boosted about its Lamb Burgers on his TV show. We ordered a Spicy Cumin Lamb Burger, Spinach Dumplings, and a Noodle Soup to share. Our grand total was $11 each including tax. The food was delicious, however it was seriously spicy. We asked for mild, but most of the dishes seem to already have the spices cooked in them. I still enjoyed the food, but you may have to go over budget to get an ice tea to cool down your mouth after!
---
Carl Schurz Park
---
Since it's Fall and the sun goes down so early, we called it quits after dinner. However, I'd recommend taking a walk through Carl Schurz Park if the sun is still out when you finish eating. It's a beautiful park full of winding trails that overlook the East River. It's also the home of Gracie Mansion where the Mayor of NYC resides. It's a nice contrast to Central Park as it's a beloved local spot that most tourists don't know about.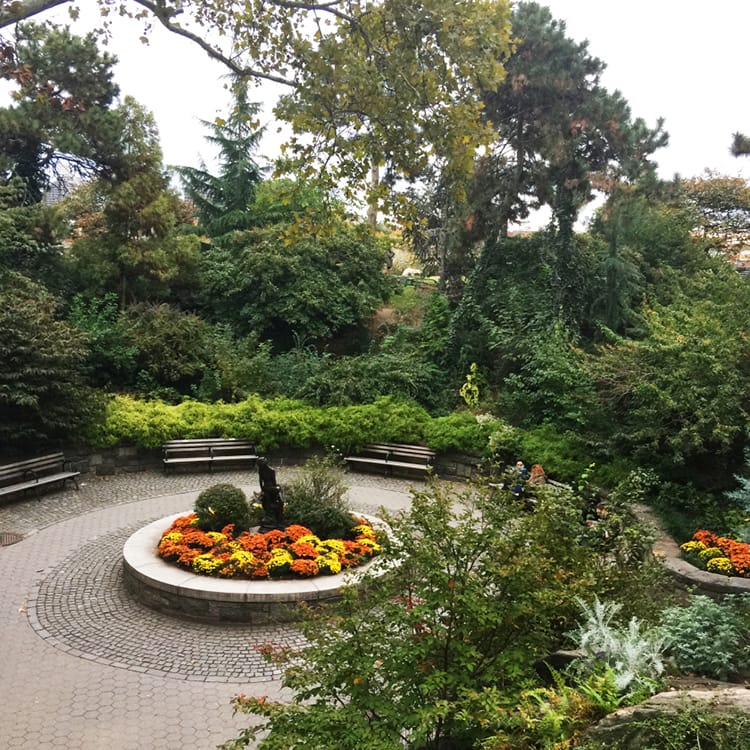 Itinerary for the Upper East Side
---
9:30am – Yoga at Lululemon – Free
11:00am – Brunch at Earl's Beer and Cheese – $11
12:00pm – Central Park Conservatory Garden – Free
1:00pm – Museum of the City of New York – $3
2:00pm – Walk Down Madison Avenue – Free
2:30pm – The Metropolitan Museum of Art – $5
5:30pm – Walk Down Madison Avenue or Fifth Avenue – Free
6:30pm – Dinner at Xi'an Famous Foods- $11
7:30pm- Walk through Carl Schurz Park – Free
---
Total Spent on the Upper East Side – $30
---
Wandering around my new neighborhood definitely made me realize how much there is to do around here. Plus, you don't have to be a tourist to go out and enjoy the city. We came in right on budget at $30 each for the day and managed to see so much. I will definitely be taking more yoga classes in the future and hanging out at the Conservatory Garden.
Planning to do everything on my list of things to do on the Upper East Side? Ask any questions in the comments!
---
Looking for a Hotel in NYC?
---
You might also like…