I was driving down the West Side Highway one day when I saw a girl flying through the air and doing a back flip on the top of one of the piers. Under her was a banner that read "Trapeze School New York" in black and red lettering. I couldn't stop smiling as I watched, and I knew I had to give it a try. I managed to convince a friend to take Trapeze classes in NYC with me, and we showed up ready to fly through the air.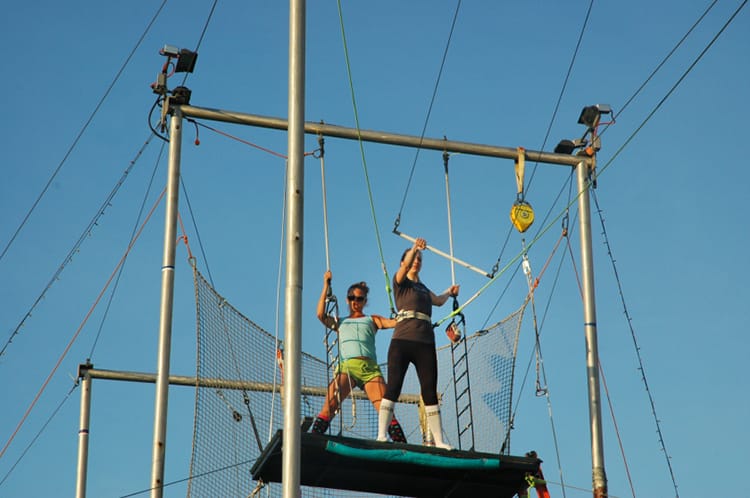 Taking Trapeze Classes in NYC
---
Even thinking back on it gives me butterflies. It was the feeling you get before a first date only amplified. We were given instructions on how to do a knee hang which involved putting your knees over the bar, releasing your hands, and hanging upside down.
I should mention here that I am terrified of heights. Unfortunately for me, I constantly feel the need to overcome my fears. My name was first on a list with 9 other participants behind me. I approached the ladder and ascended it so slowly that I was practically standing still. Step by step I made my way up the rungs with nothing but socks on my feet. The ladder wiggled under my grip and I almost peed my pants as my feet slid around beneath me. I tried desperately not to look down as I got higher.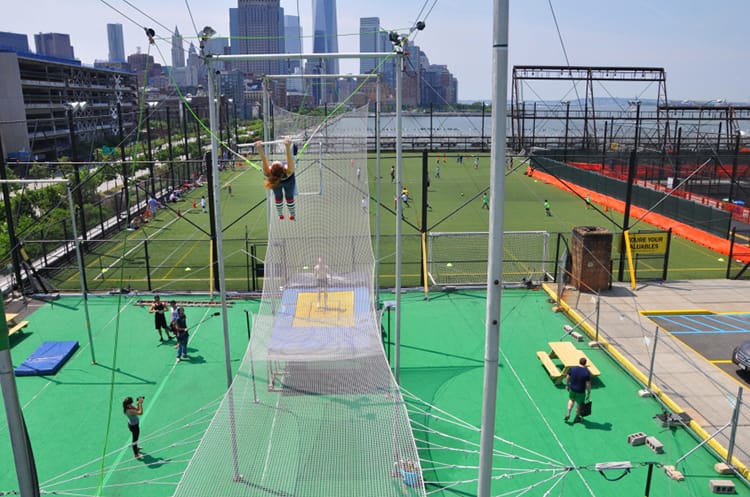 I reached the top triumphantly and clung for dear life to a small pole on the platform. As instructed, I placed my toes over the edge. At this point there was absolutely no way to avoid looking down. My eyes made contact with the pavement below me and my heart began to pound out of my chest. My inner dialogue gave me something along the lines of a pep talk. More of a "if you don't do this you'll look stupid" talk. I leaned over the edge to grab the bar and was told that I needed to lean over further. I slowly pushed myself over the edge while keeping my feet planted on the platform. My entire body trembled with fear. The only thing keeping me from falling off the edge was the instructors grip on my safety harness. She yelled out the command "Ready" and I shook my head violently no. Then she said "Hep" (meaning jump) and I took the mildest step off the platform.
I flew through the air dangling like an uncoordinated sack of flour. My weight pulled on my fingers as I swung back and forth. Finally, I focused enough to realize that the instructor on the ground was yelling to me, "Feet up." I hesitated and then with great difficulty tried to lift my legs. "Put your feet up as soon as I tell you. Don't hesitate" He yelled it a second time, and I got an ankle hooked on the bar, but failed to get my knees over. I let go of the bar and fell into the net, making my way back to solid ground. I was shaking uncontrollably.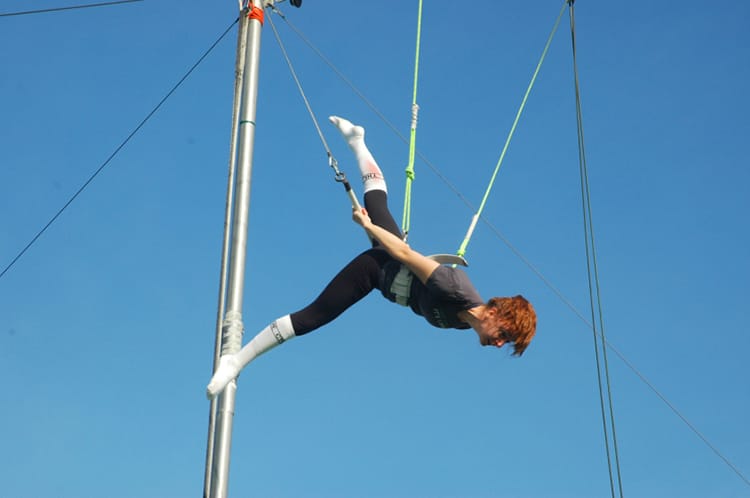 Next, my friend went and accomplished little more than I had on my first try. Shortly after, my name was called again, and I realized how quickly it had become my turn. I hated the idea of going up a second time, but would be more upset if I didn't. I've always regretted not doing things more than I've regretted doing them. So, I climbed the ladder slightly quicker this time keeping pace with a sloth. One of the instructors told me what I had done wrong. I needed to lift my legs when they said so that I would be working with the momentum of the swing instead of working against it.
I was determined to get this right. I had been bragging about taking trapeze lessons all week, and the video of my first try was embarrassing beyond words. I grabbed the bar with a little more confidence and when she said "Hep" I jumped. I heard the call for "Legs Up" and went for it without hesitation. My legs flew over the bar and I was ecstatic. "Hands Off." My stomach turned to knots as I slowly took my hands off of the bar. I immediately felt unstable as I reached them over my head. I arched backward and only after I had committed to the madness did I feel the rush. I was flying. I was upside down, and I was shaking like crazy, but I was flying. The wind brushed back my hair as I surged forward.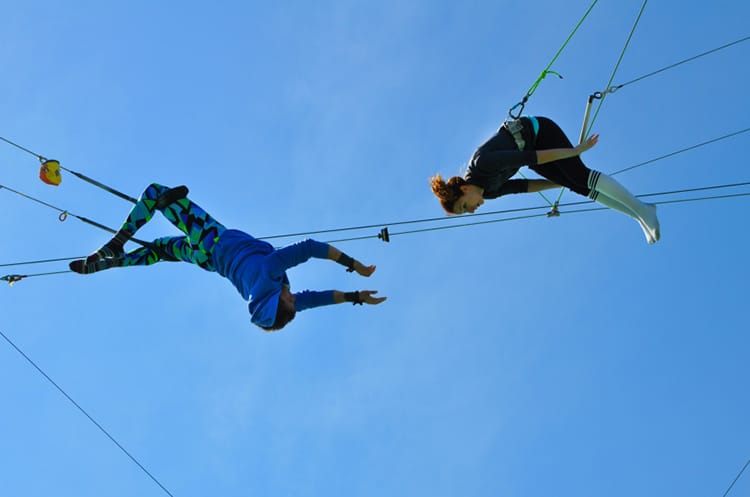 After practicing several times, the whole group began to get the hang of it. It was almost the end of class and that meant it was time for the grand finale. It was time to attempt a catch. I climbed the ladder feeling braver than ever before. I grabbed onto the bar with my head held high. My arms were exhausted from the weight of my body, but I had to try. It was the first time I had felt more excitement than fear. I leaned forward toward the leotard clad man swinging opposite me and jumped into the abyss. Everything was a blur. The rush of adrenaline was so intense that I didn't have time to think. I didn't have time to be afraid. I reached out my hands and felt the strong grip of the other flyer against my wrists. I released my legs from the bar and in that moment I was alive.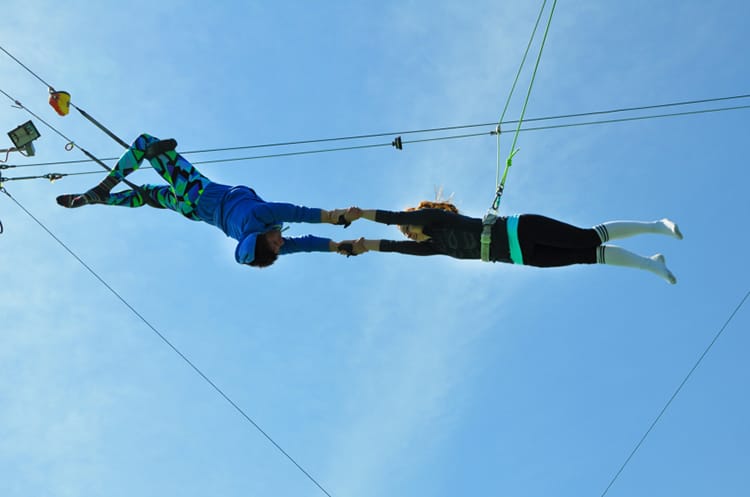 Trapeze School New York's slogan is "Forget Fear. Worry About the Addiction." This quote could not have described my first time at trapeze school any better. I fell completely head over heels (literally) in love with the adrenaline rush from flying. I've taken classes here over the last two years and have consistently invited friends along for the ride. Although it's not for everyone, I could not have enjoyed my time at Trapeze School New York more.
Two hour classes range from $50 to $70 depending on the day of the week and the time of the year. Yoga and spin classes in NYC often cost $30 an hour so I felt this was actually a great value given the experience.
Are you thinking about taking Trapeze classes in NYC? Ask any questions in the comments!
---
You might also like…