When I set out on my trek, I thought it would change me. The hike to Everest Base Camp sounds so impressive that I was sure I'd have some kind of epiphany in the middle of the Himalaya. It was a sure thing. Is there any better place to find yourself then at the bottom of the top of the world? Everest isn't just a mountain. It's THE Mountain. But the truth is, I didn't have an epiphany. I didn't have an eye opening moment. In fact, I came back feeling basically the same. I know, that's not what you came here to read, but it's the truth.
My hike to Everest Base Camp was filled with ups and downs. It all started with a failed attempt to catch a plane to Lukla, which is known as the most dangerous airport in the world. We missed our first flight to Lukla, and had to wait until another became available while praying the weather held out for us to land. Lucky for us, it did, and we arrived safe and sound.
---
Day 1 & 2 – Phakding (2652m) & Namche Bazaar (3446m)
---
The first few days were filled with small talk as I got to know my group. We played games, made bets on how many helicopters we would see, and I practiced Nepali with my guides. We trekked on what they call "Nepali flat." A constant up and down where you never seem to increase in elevation. No matter how many hills you walk over, you end up at almost the same elevation that you started. It's a perfect metaphor for my journey. A lot of ups and downs, but at the end of the day, there wasn't that much change.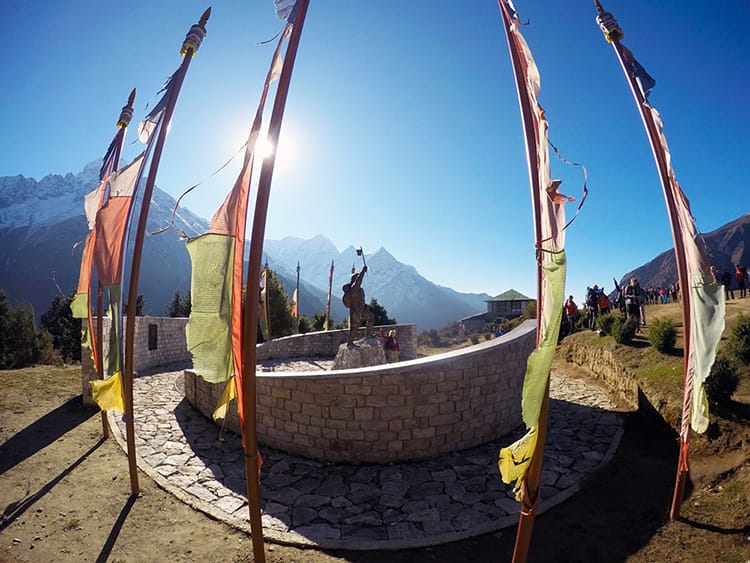 Day 3 – Namche Bazaar (3446m)
---
By day three, we started to get views of the Himalaya. It's a funny thing. They're so big and so incredible that my brain couldn't really process them. They looked almost fake. It seemed impossible that they were really there. I stopped and looked at them. I mean really looked at them, but nothing happened. My brain felt blank. Someone told me that when you go skydiving, you're so high that you can't actually process how high you are. Your brain can't tell the difference between 1,000 feet and 10,000 feet. I can't help but wonder if that same theory works when you are looking at a mountain. Maybe your brain can't process how incredible 29,030 feet is.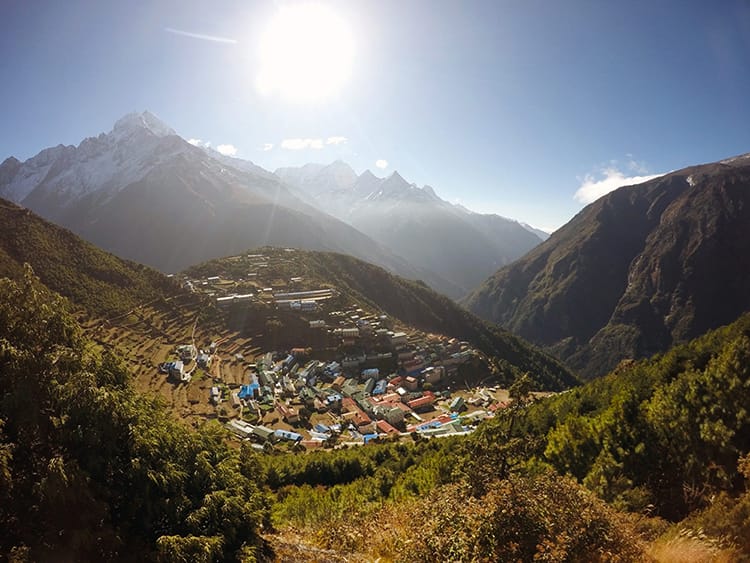 Day 4 – Mongla (3970m)
---
I'm running on autopilot. My mind seems to be a total blank as the lack of oxygen begins to take its toll. I walk for hours while just staring at my feet. One foot in front of the other, in front of the other. My breath is labored but steady. I'm drinking three liters of water a day and the altitude makes me have to pee more often than normal. In the middle of the night, I wake up and walk outside to find the toilet. The sky is filled with millions of stars. The Himalaya, which I thought would blend into the darkness, stands out against the dark sky. Its bright white snow illuminated by the moon. It's the most breathtaking view I've ever seen. I stand there as long as I can before the cold forces me back to the comfort of my sleeping bag.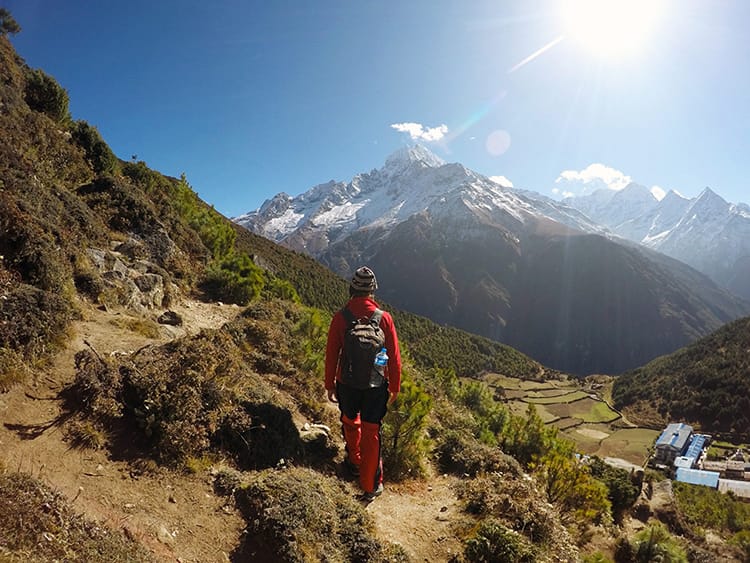 Day 5 – Dole (4038m)
---
At some point, I start to pull away from the group. I get along with everyone, but I've noticed that I barely pay attention to my surroundings when I'm busy talking. By myself, I can see so much more. I can take things in. I'm trying to be more mindful, but it's hard to form thoughts. I try to think as hard as I can, but the oxygen levels are less and less and my brain can't function.
This week marks six months since my dad passed away. I was supposed to be doing this trek in May, but I went home when he got sick. On the bad days, I wished I were here. Now, I wish I were with him. I shake the thoughts from my head as my eyes get watery. I look back down at my feet and watch them go forward one step at a time. The uneven terrain challenging my balance.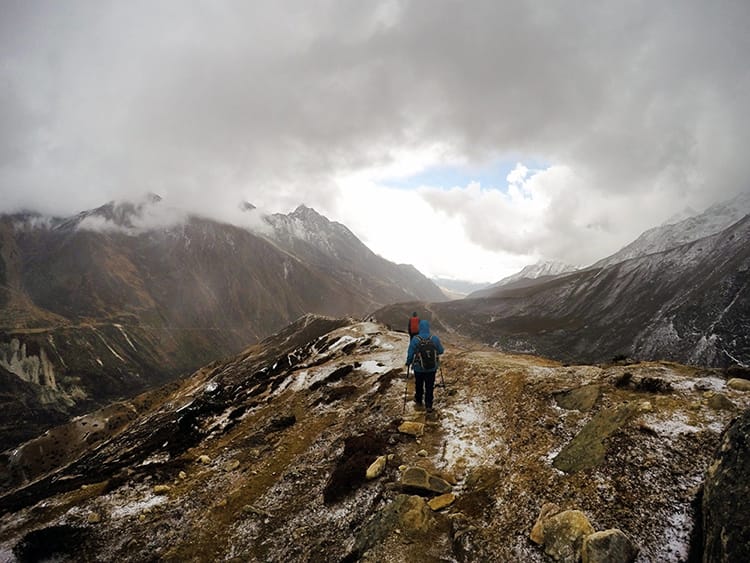 Day 6 – Machhermo (4465m)
---
My emotions are a mess. We watch another group say goodbye to a girl with altitude sickness. She'll have to descend while her group moves on. The altitude has made my emotions erratic, and I begin to cry as she says her goodbyes. They'll leave her behind. I don't even know her, but my heart breaks. Moments later, a discussion about a yak falling off a cliff brings another girl in our group to tears. We both blame it on the altitude and laugh at the ridiculousness of it all.
In the afternoon, I'm back to my mindless walking. One step in front of the other. Every once in a while, I look up to see the scenery has changed. This time, I see snow. Sujan, our guide, grabs a handful and throws it into the air. It rains down, glistening in the sun. It hits one of the girls, and she yelps as it goes down her shirt. In retaliation, I grab a handful myself, but Sujan has spotted me and begins to sprint. The Himalaya envelop us as laughter fills the air. Full power, I chase him. The altitude barely affecting my run. I nail him in the back of the head, and a snowball fight commences as we race down the narrow mountain path. "I hope he has the oxygen tank," someone jokes as we fly past. It's a small moment in a long day, but it's perfect.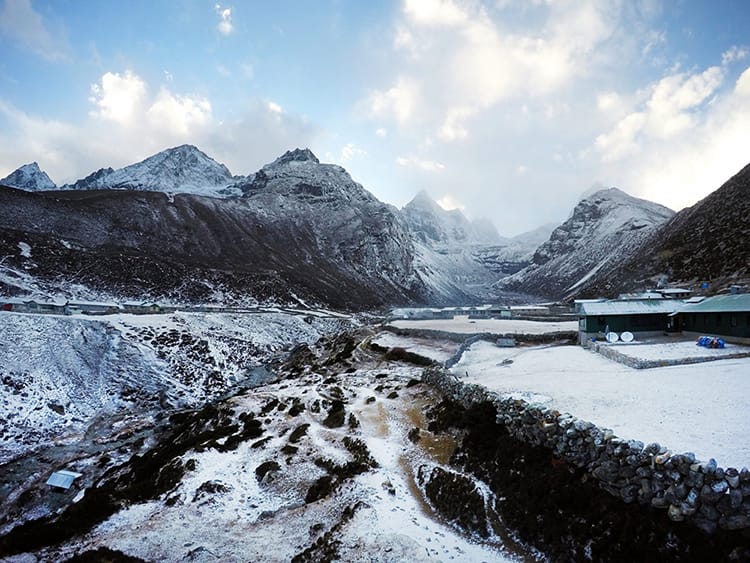 Day 7 – Gokyo (4720m)
---
Day seven arrives, and breathing is becoming more and more difficult. My mind is foggy. I feel absent in my own skin. I walk and walk. The scenery is stunning, but I can't wrap my mind around it. We approach the lakes, which are abnormally blue. The water crystal clear. A day hike takes us to view one of the worlds largest glaciers. It looks a bit like a destroyed parking lot. A huge one, but a giant torn apart piece of cement nonetheless. It takes staring at it for 20 minutes to really appreciate its beauty, its chaos. The small pieces that look like ripples of ice amongst the debris.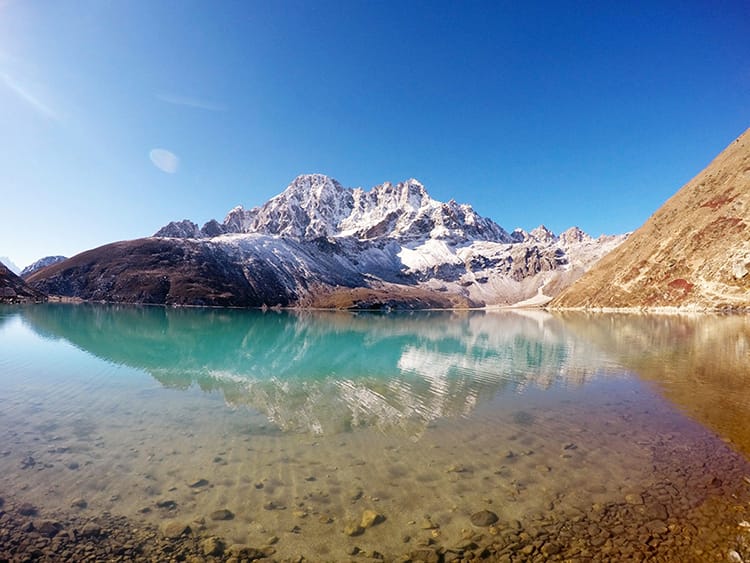 Day 8 – Machhermo (4465m)
---
A new day and a new challenge arrive. We wake up at 4:00am to hike to the top of Gokyo Ri (5357m) under the light of a full moon. Locals believe that touching the lake's water and praying during a full moon will make their wishes come true. I say a special prayer and close my eyes as we hop over stones to cross to the other side. The hike is steep and brutal. I can feel the lack of oxygen deep in my lungs. I feel out of breath with every step.
I stop to take a moment to breathe and once my breath slows down I can hear absolute silence. Not even the wind dares to make a sound. The juxtaposition of the chaos I feel inside and the serenity here astounds me. There's something special about this place. It's without a question the most beautiful place I've ever been. With the time difference, I realize that it's night back home. It's almost 10:25pm. The time my dad passed away six months prior. It's the perfect place to spread his ashes. The sun has risen and the light reflects off the mountains. Everest hovers over us in the distance as I watch my dad drift away in the wind. A tear escapes my eye. I love you.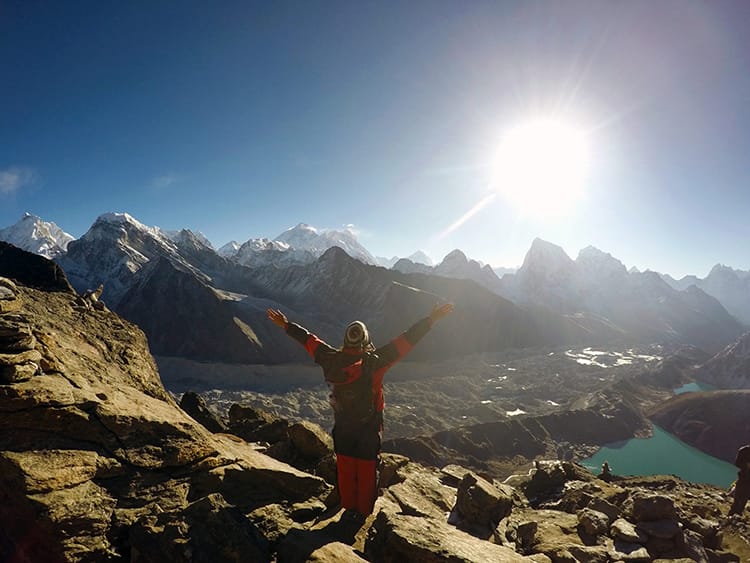 Day 9 & 10 – Phortse (3840m) & Dingboche (4360m)
---
We begin to descend, and I feel high on oxygen. My mind bounces back. My body feels strong. Energy and life come back to me as I breathe deep unconstrained breaths. The feeling is fleeting, and soon, I realize I'm coming down with a cold. Breathing at altitude is hard. Breathing with a cold is hard. Breathing at altitude with a cold is really f***ing hard. I honestly can't remember what I see on day ten. It's a blur. Eventually, we get to our hotel for the night. My breath is labored, and people look at me with concern. I don't know if I can do this.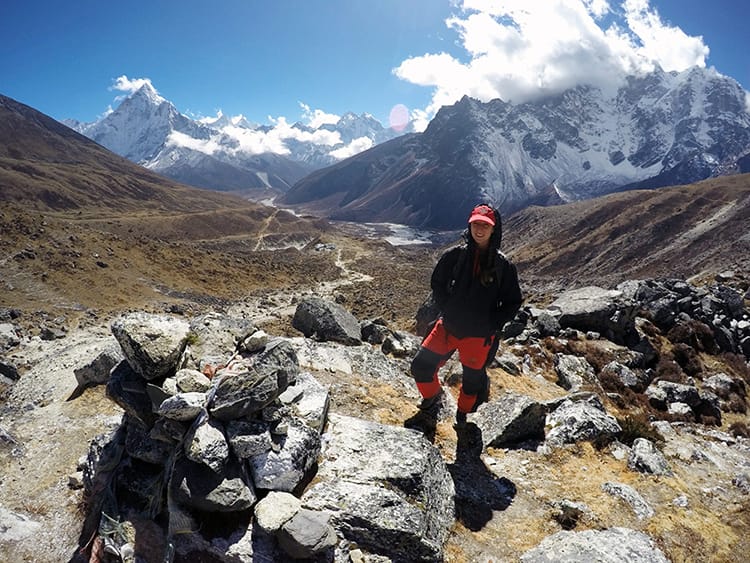 Day 11 – Lobuje (4930m)
---
By day eleven, I start to make small goals. Just make it to the tea break. It's only two hours. Make it to lunch. Another three hours. Make it up the small hill and back down. One hour. By the end, I'm one day closer to Base Camp. I start to look better. I definitely feel better. Everyone begins to tell me how concerned they were yesterday. Apparently, I looked like death.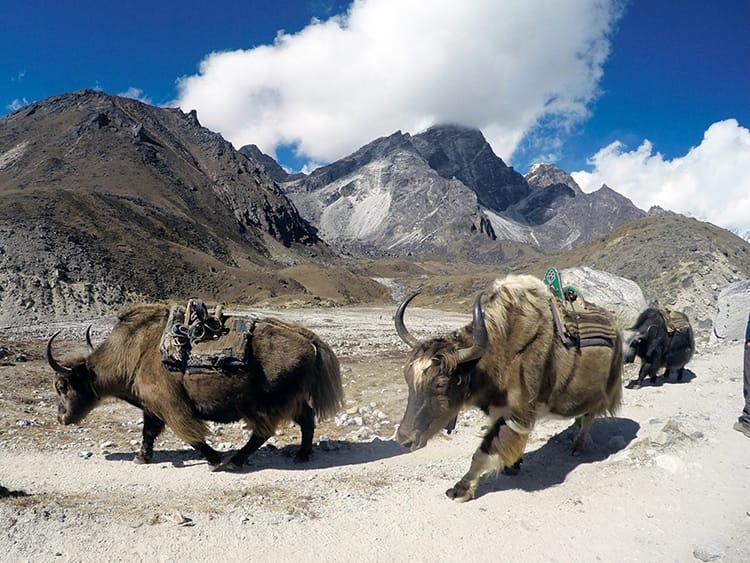 Day 12 – Gorak Shep (5164m)
---
Another good night sleep, and I'm ready to take on day twelve. It's one of the longest days of the trek with a total of eight hours of walking. Today, we go to Base Camp (5364m). The route isn't particularly hard, but it's so difficult to breathe. Taking a small step feels like I've run a marathon, leaving me constantly out of breath. I pant and struggle to breathe at even the easiest of times. I end up walking behind a man who sways like a drunk climbing over rocks. His movements erratic, and his breathing short and desperate. I wonder why his guide hasn't turned him back.
We approach the descent into the glacier. Base Camp is in sight, but we have one more obstacle to overcome. Nothing adds a bit of adrenaline like your guide telling you you are about to go through a landslide zone. We have to walk no closer than one meter to the person in front of us, and we can't stop to take photos or catch our breath. I try to stay calm as we descend for what feels like forever. When we finally arrive at the coveted camp, we climb over a glacier and sit right in the middle of the Himalayas. It's breathtaking.
On the way back to our teahouse, we see someone throwing up, and he is rushed oxygen. My mind can't concentrate, and I begin to feel weak. My cold is returning and my eyes can barely stay open. I get a chill I can't shake but keep putting one step in front of the other until we make it back.
I go to bed telling myself I don't need to climb Kala Patar (a 5643m peak we are meant to summit at sunrise). It's a battle I fight in my head for an hour. Is summiting worth my health? The summit would give me bragging rights, but in my current condition I'm guaranteed to struggle the entire way and come out of it even sicker. Or, I could skip the peak and start to feel better.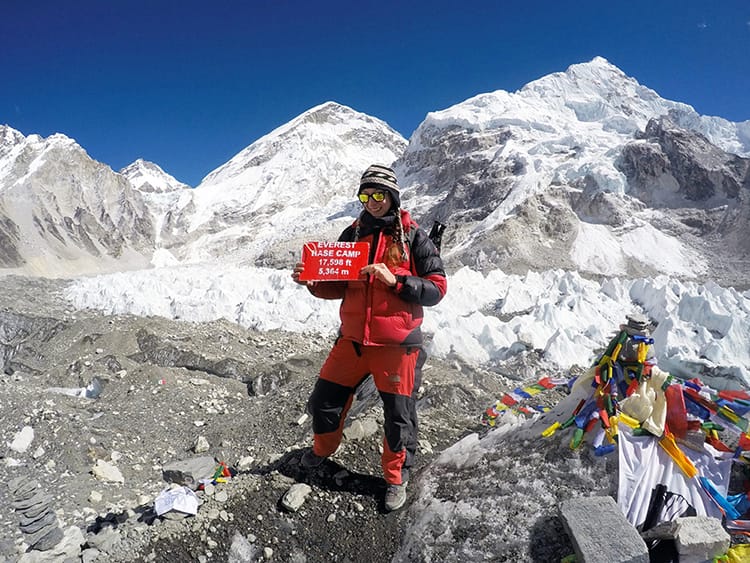 Day 13 – Pheriche (4270m)
---
4:00am rolls around, and as I hear my roommates alarm go off, I feel great. A little voice in my head shouts, "Kala Patar day!" I feel my head and my temperature has gone down. Suddenly, I think I can do this. I have to at least try. I hop out of my warm sleeping bag into the frigid room. I make my way to the shared bathroom, and as I wait my turn, I realize I can barely breathe. Each inhale of freezing cold air feels like razor blades in my throat. In the 30 seconds I stand there choking on the air, I realize there is no way I can summit. I let go of my ego and go back to sleep, happy with my decision.
Even as the sun comes up, the air is so chilled that I can barely breathe. We start the day off slowly, but I can't catch my breath. The entire group has to stop and wait for me while I breathe heavily, my heart pounding hard and causing chest pains. I can barely walk. It feels like I'm breathing fire. I begin to choke on phlegm. I gag until I can't breathe, and finally, I'm able to clear my throat as I bend over my knees ready to hurl. I look down and am shocked by what I see. My spit is a vibrant red against the pale grey rocks. Tears well in my eyes. Exhaustion takes over combined with fear as I look at the red splatter. As my guide approaches, I point. What feels like full volume but comes out as barely a whisper is, "I coughed up blood."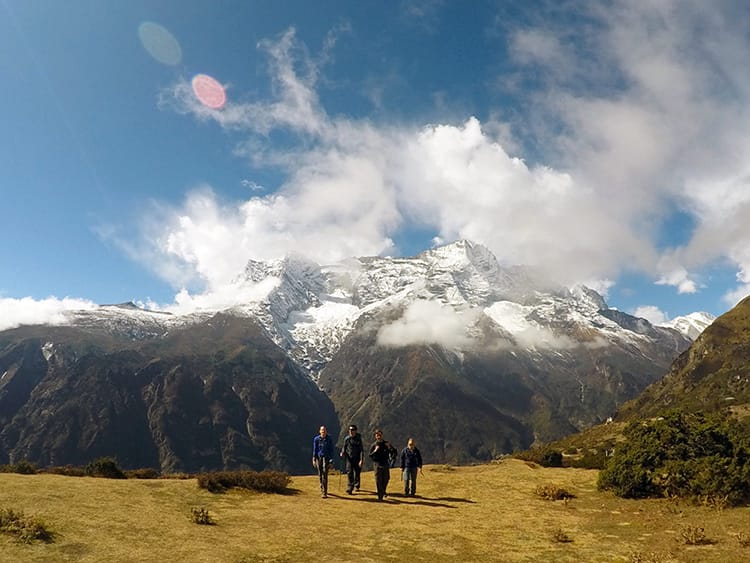 Day 14 – Namche Bazaar (3346m)
---
Yesterday everyone took a beating. It seemed like the whole group was falling apart. Today everyone wakes up a little more alive, ready to descend. As soon as we start walking the sun comes out and warms our faces. It feels like it's warming our souls at the same time. It's easier to breathe today. I take a slow pace and one of the guides walks next to me chatting in basic Nepali expressions so I can understand.
At some point, I got so sick and tired that I stopped looking around. Today, I make an effort to be more mindful. Not of each step I take, but of how beautiful my surroundings are. I've learned not to take oxygen, heat, or potable water for granted, but over the last two weeks I've taken the scenery for granted. I've also forgotten how much I love trees which don't grow above a certain altitude. I walk through forests that feel so lush. The sun dances between the leaves and hits my face. I can't help but smile and remember how lucky I am to be here.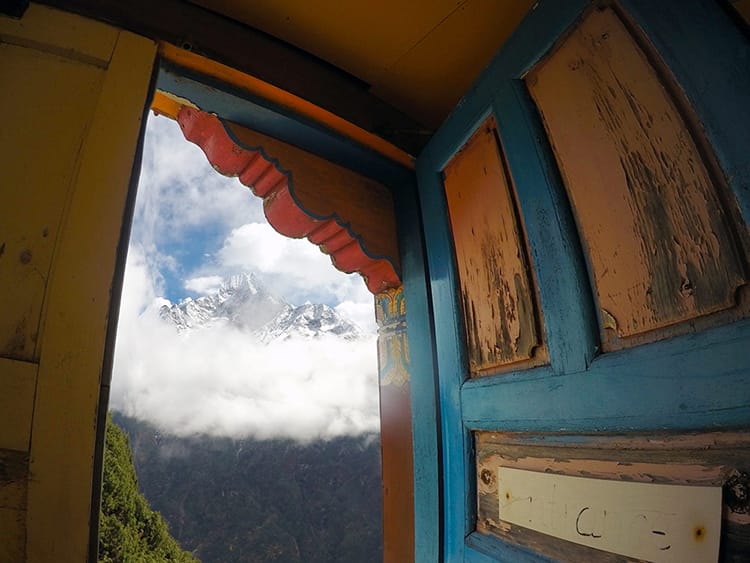 Day 15 & 16 – Phakding (2652m) & Lukla (2800m)
---
It's day fifteen and a member of our group faints at dinner. Our group has an unexplainable bond. We've had no privacy for weeks. We've discussed how many buckets of water it takes to flush poop down the toilet. We've talked about every bodily function you can imagine. We've even joked about who we would eat first if we were starving to death. So, it's no surprise that when our friend hits the floor of the dining room, the boys start to fight over who gets to eat his dinner. The group next to us who is just starting their journey looks appalled. They're all freshly showered while we look like animals. One day they'll understand.
On our last night it seems appropriate to celebrate. What starts as dinner with our porters and guides, turns into a full on dance party. There are certain things that bring cultures together and as Gangnam Style comes blasting over the stereo system, we all break out in dance. Nepalese, Aussi's, Welsh, Dutch, Danish, Brits, and Americans all dancing to the same ridiculous song, doing the same ridiculous dance moves. It's a moment of pure unity in the most ridiculous setting.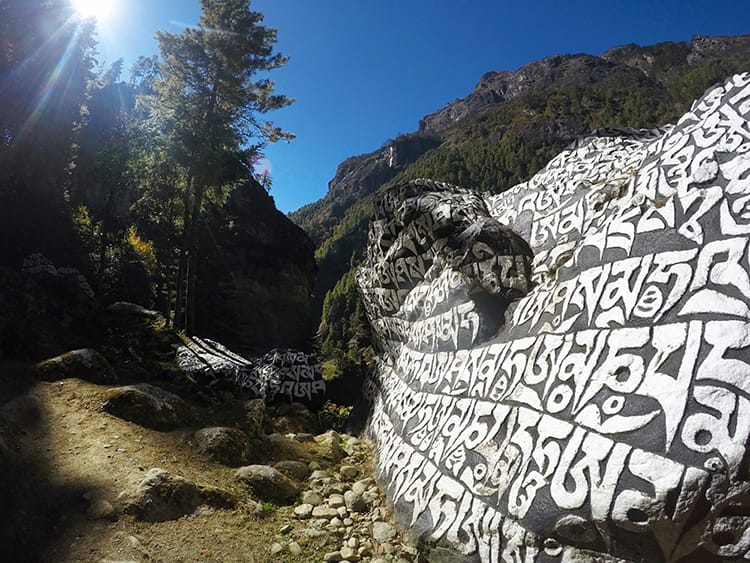 Day 17 – Kathmandu (1400m)
---
As everyone makes their way to breakfast in the morning, we realize a member is missing. He went to the pub last night and never came back. Our guides form a pseudo search party in an attempt to find him before our flight out. We only have a half hour. Our Sherpa finds him running down the street, his bright orange coat standing out against his surroundings. A monk woke him up in a monastery and told him he was going to miss his flight. He was running in circles hungover trying to find the airport. We all board the plane and take off back to Kathmandu where our adventure will come to an end. Somehow, we all survived the hike to Everest Base Camp.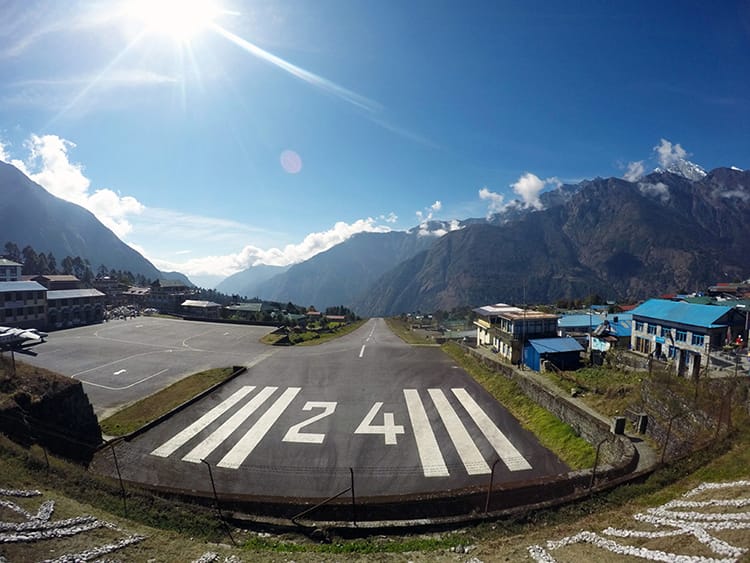 In Retrospect
---
My hike to Everest Base Camp was not what I thought it would be. It wasn't filled with life changing moments, but maybe life isn't about big epiphanies. Maybe it's about the little things. It's a snowball fight in the Himalaya. It's a multicultural dance party. It's stargazing alone in the middle of the night. It's laughing over dinner as a friend passes out and awakens to scavengers taking his food. Maybe it's the sun shining through trees or understanding the importance of a breath of air. Maybe it's the little details we often ignore. The small moments that make life so incredibly beautiful.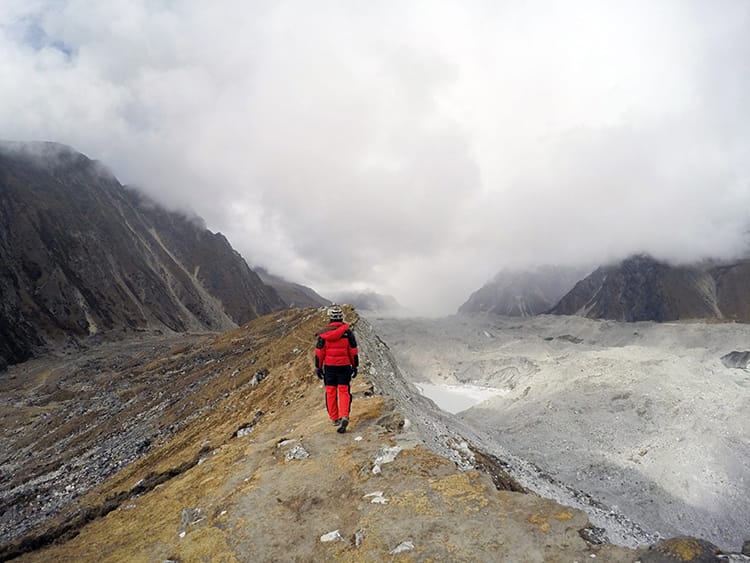 ---
You might also like…