Nepal is an incredibly stunning country full of magnificent geographical marvels. It's known worldwide for being home to the world's tallest mountains. Thus, it comes as no surprise that it's considered a top destination for trekking. And while trekking the Himalayas might seem like a challenging feat, there are several short treks best suited for beginners. These treks are perfect for all levels of hikers and will take you to extraordinary sceneries of turquoise lakes, beautiful green valleys, and picturesque mountain villages. If you're planning a trekking adventure to Nepal, here are the best Nepalese trekking routes for beginners.
---
Annapurna Circuit Trek
---
The Annapurna Circuit is one of the most popular treks in the Himalayas. Although it's a high-altitude trek taking about two weeks, with sufficient preparation, it is doable for beginners. Sure, it's not an easy feat, but your efforts will be rewarded with an extraordinary journey of splendid views, especially as you get to the top.
When hiking the Annapurna Circuit, you will experience an extraordinary trekking journey. Several things are optional, so you can customize your itinerary, decide where to stay, and how many days you need to acclimatize. Some other things are compulsory, such as obtaining a trekking permit. The better prepared you are for your trek, the better your experience will be.
The Annapurna Circuit is a popular hike since you'll come across incredibly diverse landscapes. It's also a fantastic way to learn about local Nepali culture since you'll stop at local villages and spend the night at local teahouses.
You will share some trails with other trekkers and cars, so set your expectations right. The hike can take 10 to 21 days, depending on your pace and how often you will stop. It will start below 800 meters until you reach the highest point on the Annapurna Circuit, Thorong La Pass, about 5416 meters above sea level.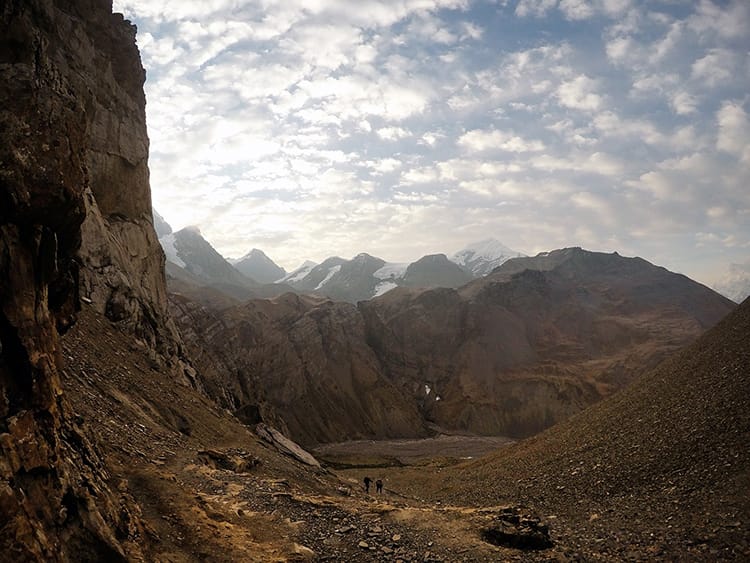 ---
Everest Base Camp Trek
---
As the world's tallest mountain, trekking Mount Everest is a dream trek for many. Sure, it's challenging, but it's a journey that will take you through some of the world's most spectacular mountain views and numerous beautiful villages. The trek can take between 9 and 15 days, depending on your route and how well you acclimatize.
The highest point of the Everest Base Camp Trek is 5,640 meters at Kala Patthar, which you will reach in the morning from Everest Base Camp. While it can be challenging for beginners, anyone can do the trek with proper preparation. The biggest challenge is managing the altitude, requiring several acclimatization days and rest days.
You will be sleeping in guest houses, also called tea houses. They have comfortable beds and access to basic amenities like showers and restaurants. You can also join a group trek in Nepal, great for those looking to travel with experienced hikers.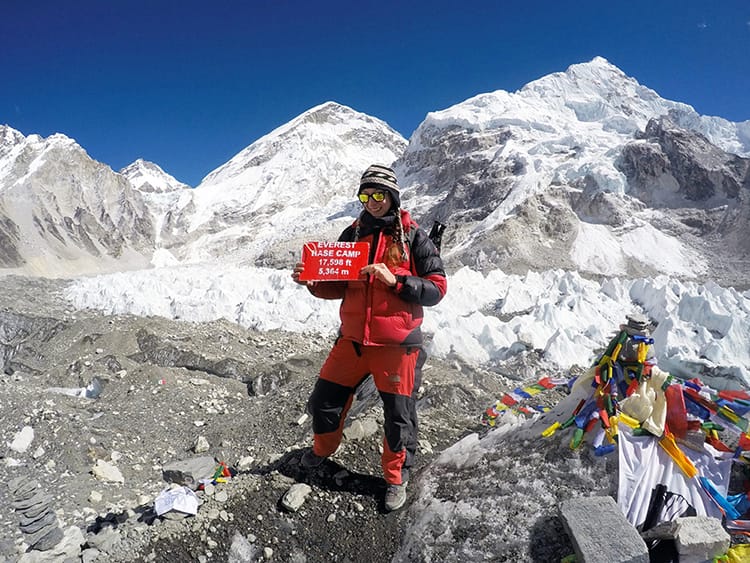 ---
Manaslu Circuit Trek
---
Beginners looking for an off-the-beaten-path trail in the Himalayas should consider the Manaslu Circuit Trek. The route takes you up and around the base of Mount Manaslu, spending each night in numerous Tibetan villages. Like the other trails, you will enjoy incredible scenery along the way, especially during the last sections of the hike, as you reach heights of over 5,000 meters.
While the Manaslu Circuit Trek is more challenging than the Everest Base Camp Trek, it is quieter and less crowded. Unlike the more popular trails, the Manaslu Trek is much less impacted by road building and construction. Plus, you'll have the opportunity to visit Tibetan villages, allowing for a more cultural and local experience.
It should take between 13 and 15 days to conquer the Manaslu Circuit Trek. That includes the two travel days to get to and from the trail. However, you must also consider the acclimatization and rest days.
---
Kathmandu Valley Trek
---
For those planning a tour or holiday in Nepal the Kathmandu Valley Trek is an excellent choice. Perfect for beginners, this hike will take you through the stunning countryside, alongside some incredible historical sites along the way.
Visit the Kathmandu Valley where you can explore the oldest temple in Nepal, Changu Narayan. You can also appreciate the culture throughout this hike as you learn more about the Nepalese people and their way of life.
Wander through the rural parts of Nepal as you enjoy the route through the Kathmandu Valley where you can gain insight into local life and the breathtaking landscapes. This trek is also ideal for beginners as the low altitude provides a less challenging experience.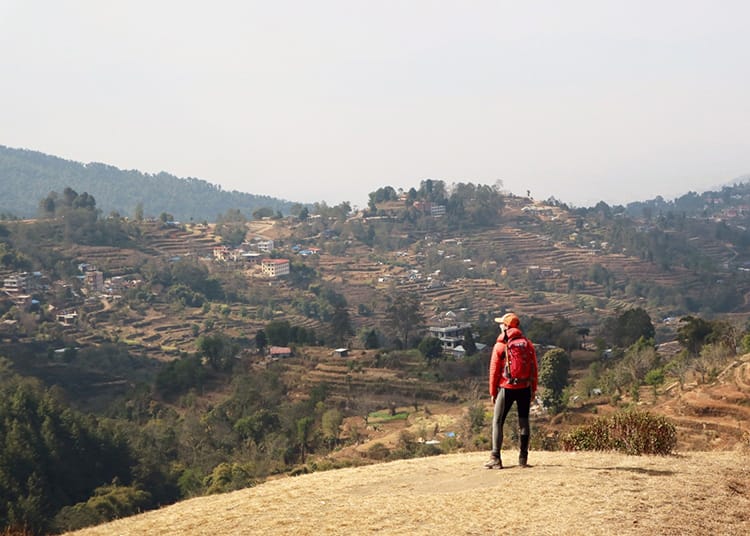 ---
Poon Hill Trek
---
The Poon Hill Trek is among one of the shorter treks in Nepal, great for those looking for a challenging yet short route. It takes only three days, yet the views are incredibly spectacular. If you have a limited time but want a glimpse of the majestic Himalayan range, the Poon Hill Trek is worth a try.
The starting point of the trek is about an hour and a half drive from the famous tourist town of Pokhara. You should expect to climb over 3,000 steps of stairs as you pass through local villages, providing visitors with breathtaking vistas along the way.
You will be spending the night at tea houses along the trails. They are pretty basic, but the rooms are cosy and comfortable enough to spread out. Most have shower and toilet facilities. Others also offer Wi-Fi access.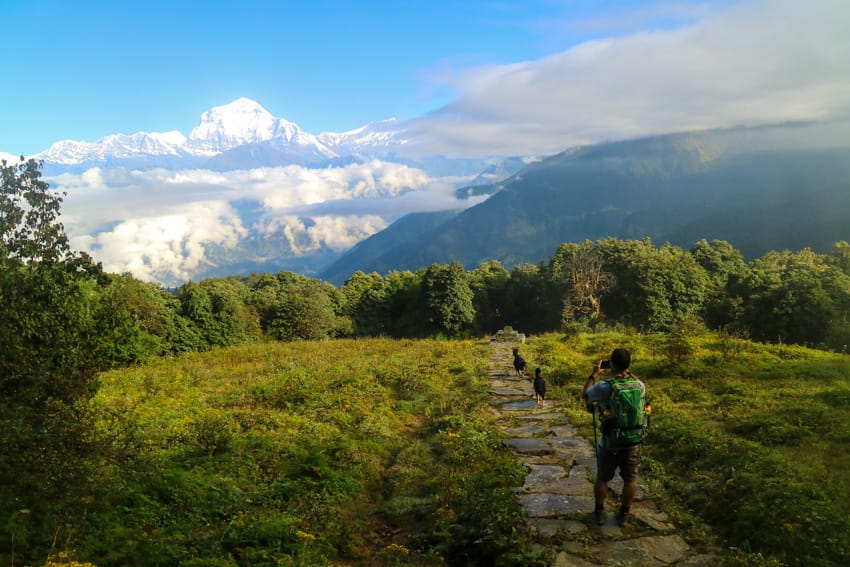 Have any questions about the best Nepalese trekking routes for beginners… ask me in the comments!
You might also like…