I decided to rearrange my schedule to go Mount Rinjani trekking after hearing several people say it was their favorite part of visiting Indonesia. When everyone agrees that one thing was his or her favorite, it's a no brainer. I'd been told that the trek was extremely difficult and not everyone would summit. This idea made me want to do it even more, but I had no clue what to expect. Here's what the three days and two night trip involves.
---
Mount Rinjani Trekking : Day 1
---
Last night was sleepless. My flight was late, so I didn't arrive until almost midnight. The mosque across the street started blaring music at 3:00am, and a knock sounded on my door at 5:30am. Turns out, my clock hadn't adjusted to the time difference, so I was already late.
A truck pulled up with three young men sitting in the back. I was given a choice between the front seat or joining the porters in the back. Sitting in the back of a truck isn't something we get to do in NYC, so the adventure began as we sped through small towns, around bends, and up hills on our way to pick up two more people. Having the wind in my hair and the sun shining on my face completely erased any anxiety I had about waking up late.
A lovely French couple joined us, and we headed to the registration desk to sign into the park. The trek started off easy as we climbed over rolling hills. The view of Mount Rinjani in the backdrop was beautiful and didn't seem so intimidating from afar. I'd heard this trek was brutal, so I tried to enjoy the mellow vibe while it lasted.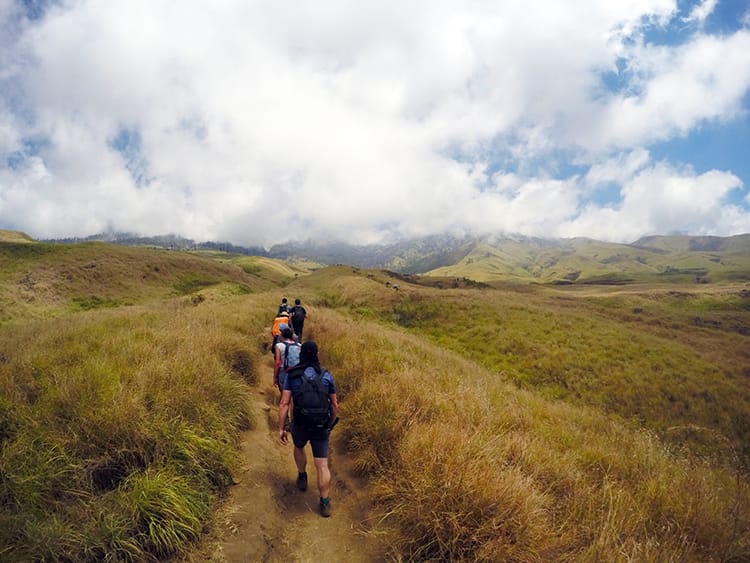 Position I
I was worried about feeling left out since I'd be trekking with a couple. Turns out, every group stops at the same check points. On my way to the bathroom, I ran into the girl who sat next to me on the plane. "Fancy meeting you here!" We laughed at the "toilet" situation, which was a cement building with a small hole dug in the ground. The hole was full.
Our porters set up a tent and three chairs, however I opted to lie down on the mat while the porters cooked us a feast. And feast is the right word. Not only was it delicious, but it was also plated like a restaurant. It was so much food that I couldn't even finish it. They sincerely apologized for it not being perfect because they were making it on the side of a mountain. It was honestly better than anything I could make in my kitchen.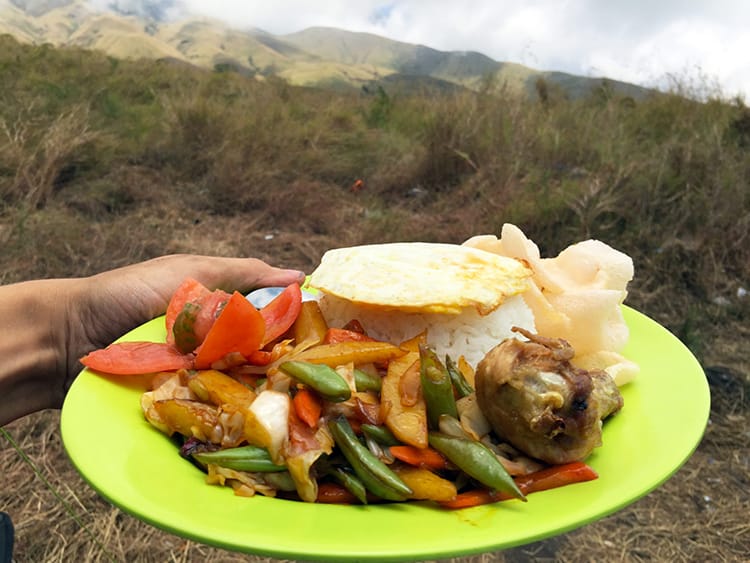 Position II
On the way to position 2, the climb started to get intense. I overheard someone say it's 1,000 meters up per 1km (3,000 feet per .6 miles) Translation: you're going uphill… A LOT. Point 2 featured some cute monkeys who oddly didn't try to steal anything. It also featured three Austrian guys on holiday and a really lovely couple from Cali who were on their honeymoon. I'm absolutely amazed by anyone who would choose to do this on a honeymoon. I've never been so dirty or sweaty in my life. So, that's true love.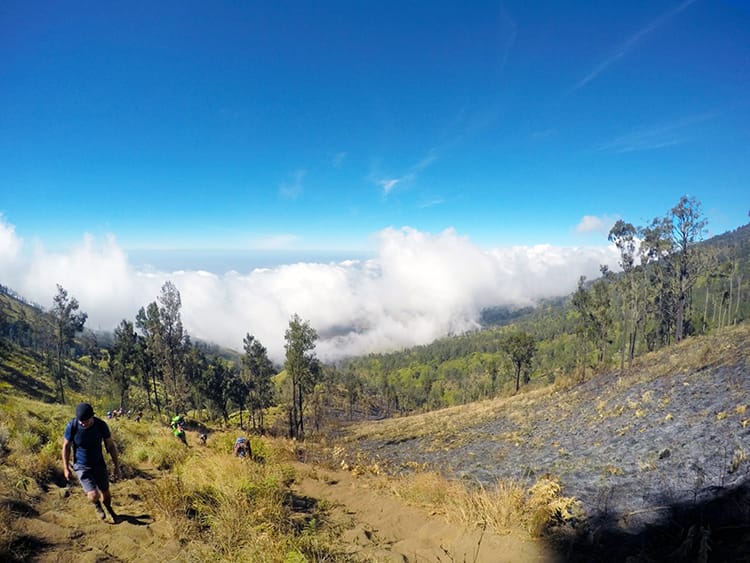 Position III
There always seems to be a point after I've committed to something where I think, "Why am I here?" That point was position 3. Somehow, you can see the top of where you are walking, and you think, "Ah, okay. It must be flat after that." Then, you get to the top of that chunk, and magically, a new mountain pops up out of nowhere. It wasn't there one minute, and then, the next, you have at least another hour of straight incline in front of you.
If you want a lesson in being mindful, trek Mount Rinjani. It was amazing how focused I was on each step. How in tune I was with each muscle in my body. It was impossible to be distracted or to have my mind wander. Forget meditation; just climb a really high mountain. Same results.
On the way to position 3, I couldn't help but be blown away by the porters. They each have a load of what looks like over 40 lbs. They climb the same exact path as us, and they do it in flip-flops! The thing that cracks me up is that a few have stereos playing. The mix of music is incredible. One second, you hear a traditional Indonesian song, and the next, you hear Miley Cyrus' We Won't Stop. I found one porter with a good mix and tried to keep pace with him as long as I could, but he was too fast.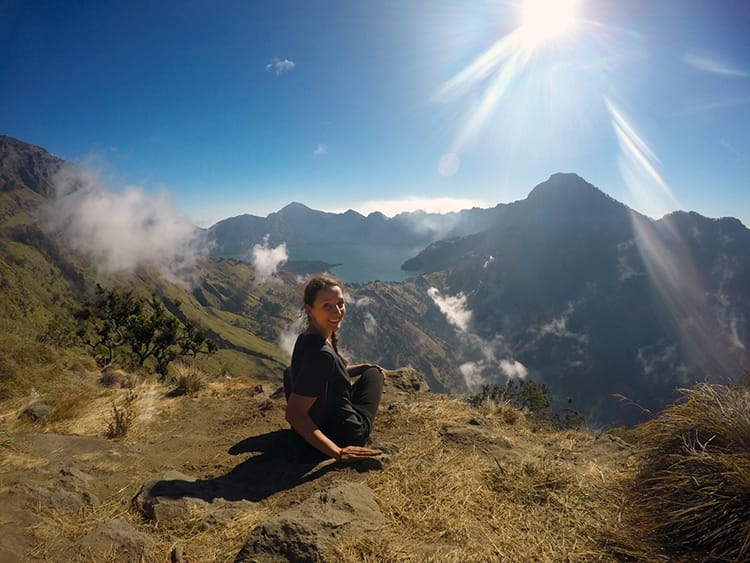 Crater Rim
After a few stops to catch my breath, plus a few jolts of energy, and one cookie break, we were told that the top of this hill was really the top where our camp awaited us. Just three minutes away. I think everyone got a second wind despite our feet pulling us down as if weights had been tied to them when we weren't looking. Oddly, I wasn't tired in a breathless way. Even my mind felt calm. But, my legs. Those sneaky bastards were plotting against me. My muscles revolted. My feet told me no. Eventually, my eyes saw the rim, and my feet got on board with moving forward.
The lake is as spectacular as the photos. The water a crisp turquoise. Clouds floated beneath us in every direction. I saw the Austrian guys, smiled, and said "worth it." They smiled back in agreement, all too tired to move. The American girls who were on my plane had also made it and said a congratulations. The newlyweds did a happy dance, and my tour mates took a kissing photo in front of the beautiful scenery. All of the groups formed an amazing kind of camaraderie after having accomplished day one together.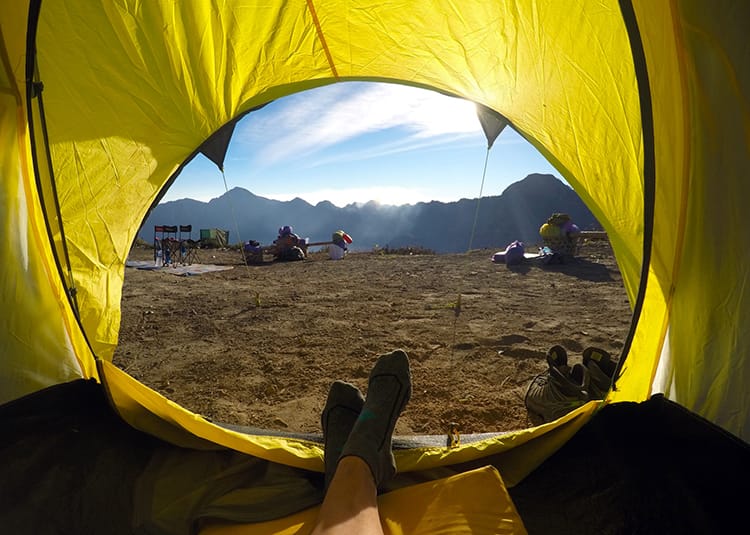 Mount Rinjani Trekking : Campsite 1
---
I was shown to my tent which by some miracle had already been set up. How fast were those porters? Inside was a piece of padding and a sleeping bag. Later, I'd find that it had a hood, making it the coziest sleeping bag I'd ever been in. I heard other groups complain about being cold in the night, but I felt snug as a bug in a rug. I put my stuff in my tent and walked around to take in the view a little longer.
But wait, something was missing. I looked around and realized there was no toilet. I'd been holding it in for the last couple of hours waiting for us to get to the next hole in the ground. We hadn't seen one since position 1. There are days when I wish I was a guy. This was one of those days. As I approached the crater rim, I noticed it was littered with toilet paper. I was almost too tired to be disgusted. Almost. A little later, our porters erected a small square tent and dug a hole in the ground which would be our toilet for the evening. At that moment, it felt like the greatest gift anyone has ever given me.
Adi, our guide, gave us all a high ten and a giant hug of congratulations for making it this far. He described the morning itinerary where we would be getting up at 2am to summit. Summiting a mountain is on my bucket list, so I told Adi not to let me quit. He smiled and said, "Yes, we will try."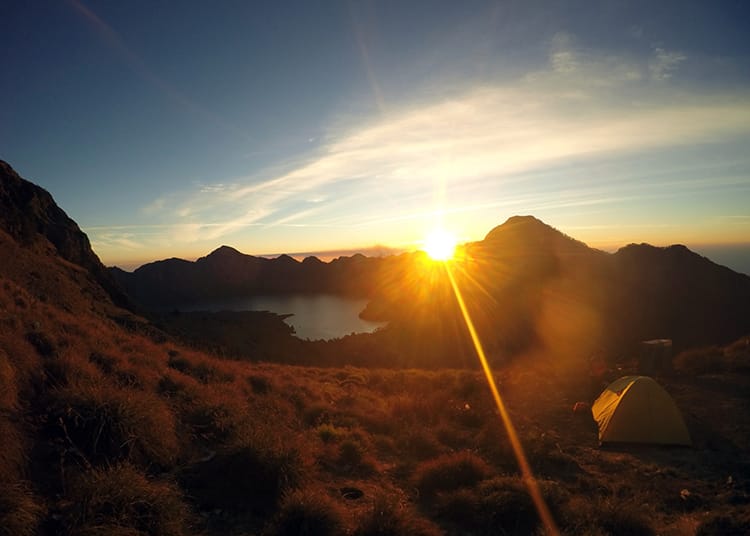 Mount Rinjani Trekking : Day 2
---
The Summit
Getting to the summit was one of the most physically challenging things I've ever done. I pulled a muscle, my whole body was fatigued, and I felt like I couldn't move another inch forward. I've never been so physically exhausted in my life. We stopped for a snack at some point, and I couldn't even chew a small chocolate bar. I wanted to give up, but Adi, true to his word, pushed me forward and practically dragged me up the mountain to make sure I arrived at the summit. I've written a separate blog specifically about my personal experience climbing to the top. You can my post about surving the Mount Rinjani summit.
The Descent
The climb down included what I like to call "volcano skating." Basically, you slide down ash and gravel as if ice-skating or downhill skiing. Dust flies everywhere and gravel fills your shoes. You fall pretty much every 5 minutes or so. The crazy thing is that the area that took me over an hour to climb looks so small. Suddenly, the sun is out and you can see everything you couldn't on the way there. The views are spectacular. It's amazing that we passed all of this stuff this morning (in the dark) not knowing how gorgeous it was.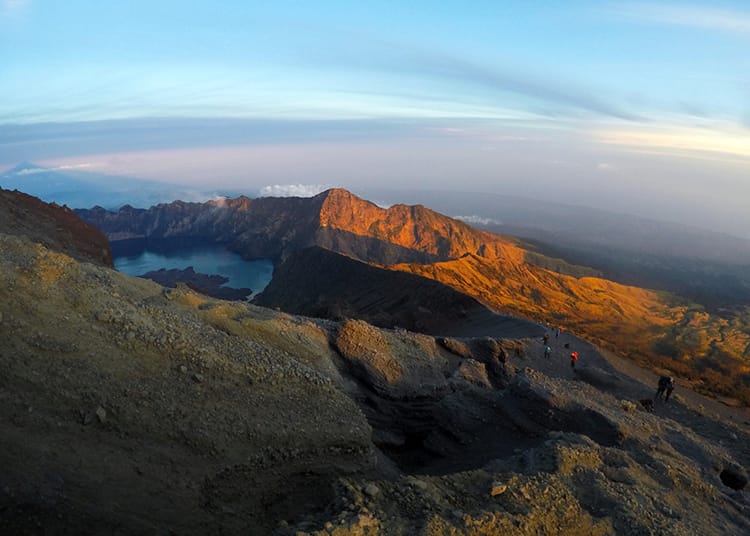 Hot Springs
We made it back to camp and were given breakfast. I laid down in my tent with no plans to move the rest of the day when Adi informed me that we would hike down to the lake and then up the other side of the mountain to the opposite summit. I laughed because he had to be joking. He wasn't. Apparently, we would be camping in another location for the second night.
The way to the lake was all downhill and didn't hurt my injured leg. I scrambled down rocks, which was actually really fun. I was so glad there wasn't more dust and ash on this stretch. When we got to the bottom, there was a hot spring. There's nowhere to change and none of us wore our swimsuits, so I took the opportunity to just wash my hands and legs wishing I could submerge all of my sore muscles.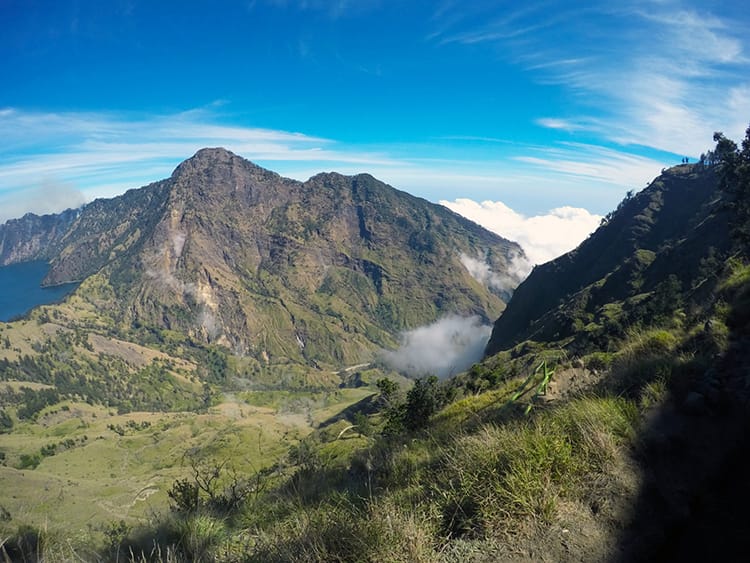 Mount Rinjani Trekking : Campsite 2
---
We had lunch by the lake and took 20 minutes to just relax. All too soon, it was time to move again. Our next campsite was two to three hours away, and the next stretch was uphill. My muscles cooled down, and every time I lifted my right leg, it screamed with pain. I began moving so slowly that I fell behind my group. After an hour, I thought there was no way I would make it, but I had no choice but to move forward.
Adi let me catch up, and I told him my leg hurt too bad to continue. All of my emotions caught up with me. I was over exhausted and in so much pain that all I could do was cry. Adi took my backpack to help take some of the weight off of me, and we moved excruciatingly slow up the mountain. Every time I lifted my leg to take a step, the pain came back with a jolt.
The next section included some serious rock climbing. When I saw it, I cringed and tears threatened to well up in my eyes. Adi let me go first, and I began to puzzle out the rocks in front of me. Some of the steps were huge, and I wasn't sure I could lift my leg that high with the pulled muscle. I started up and found that being in front kept me distracted. Having to figure out each step ahead of me used all my mental capacity. The pain in my leg was still there, but it wasn't the first thing on my mind.
We finally made it to camp, which was secluded from all the other groups. This section seemed to be a lot more spread out, whereas the day before, we all camped in the same area. I was so tired that I didn't care about the sunset or the view. I took two photos, ate dinner, and fell asleep by 6:00pm.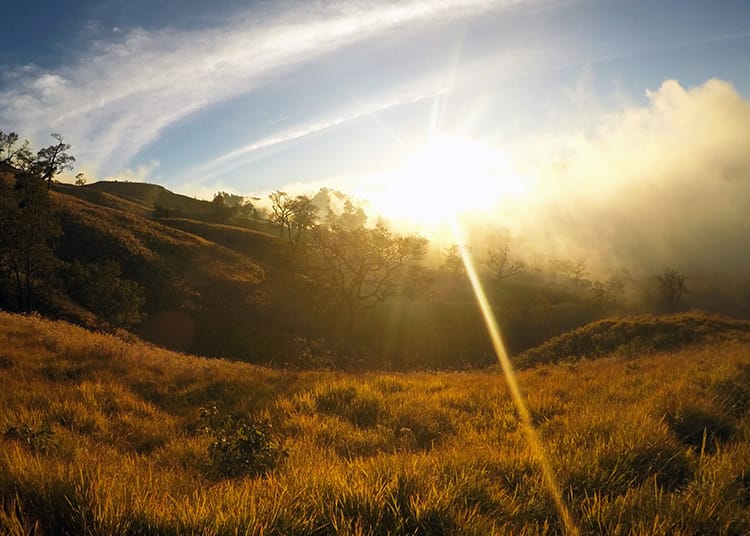 Mount Rinjani Trekking : Day 3
---
We got to sleep in until 6:30am when breakfast was delivered to my tent. Today, we'd finish our final descent off of the mountain and out of the national park. The entire trip was downhill. Normally, this would be great news, but the slippery sand was back. I used my walking stick to slowly maneuver myself around each little step. One guy went running down the hill past me. I have no idea how he kept his balance.
Position III
The other girl in my group tripped over a tree root and twisted her ankle, so I gave her my walking stick. I started going down the path ahead of my group as the guide helped her down each section. At first, I felt unbalanced and unsteady, but then something happened. Suddenly, I became focused more on my feet and my weight and less on the walking stick. I started moving a little faster and soon I had a quick jog going as I flew down the mountain.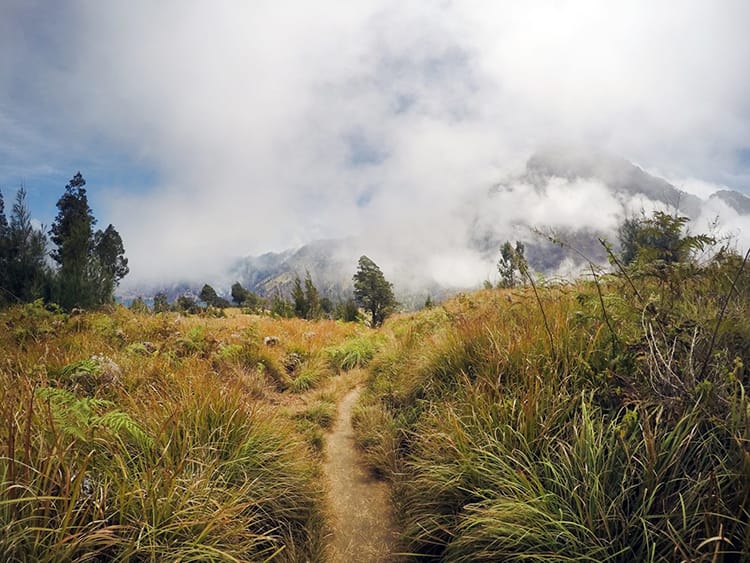 Position II
I start to bounce off of tree roots and slide down loose dirt. I feel like a kid in a jungle gym. I'm off by myself for the first time in days, and it's great. I feel like I'm alone in the jungle. I pass porters and other groups headed up the mountain and say hello with a giant smile. Monkeys sit near the path not bothering anyone. This is by far my favorite part of the trek. I reach a checkpoint and the guy who ran past me earlier is there. "Feels good without the walking stick, huh?" he says with a huge grin.
Position I
Getting my footing and balance is the perfect end to an incredible experience. We all made it to the end and signed out of the park, happy to be done and looking forward to real toilets and showers. I said goodbye to the other groups I met on the mountain as we headed back to reality.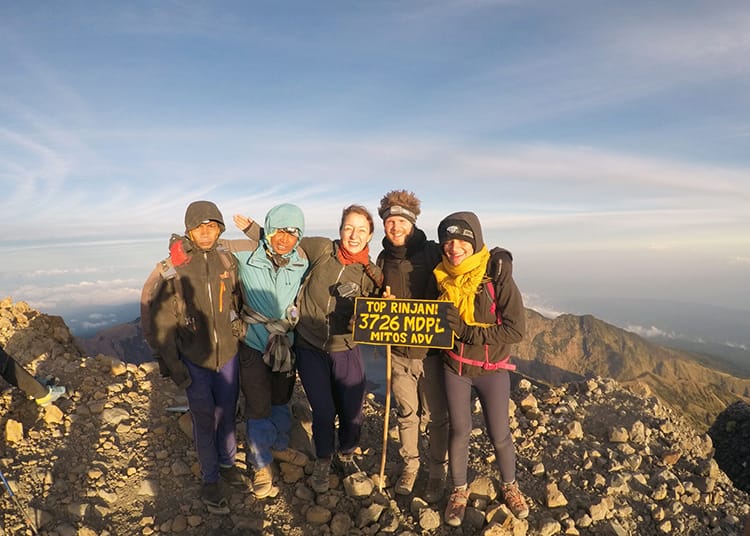 The entire trek was so exhausting, but the views were the best I've ever seen in my life. I pushed myself as hard as I could, and it completely paid off. For those who want to try this trek, I recommend doing some training ahead of time to make it a little easier. Apparently, drinking mojitos by the pool for two weeks does not count as "training."
My friend Kam, who I met in Thailand and spent three days with in Cambodia, did the climb a couple of weeks before me. Check out his experience here. I highly recommend downloading his playlist for the summit before going since it sounds epic, and I wish I'd had it with me!
Special thanks to Rinjani Trek Centre for arranging my trip. I received a discount in exchange for writing this post. As always, the opinions expressed in this post are honest regardless of any discount given.
---
You might also like…