Trekking for beginners can be daunting to say the least! My very first time trekking, I honestly had no idea what I was doing. I signed up for a three day two-night trek in the hills of Myanmar. It was beautiful, but I didn't know what to pack or what "trekking" actually was. Once I got bit by the trekking bug it seemed impossible to stop. The big trek I'd been preparing for was 16 days to Gokyo Lake and Everest Base Camp in Nepal. It would go up to 5380m (17,600 ft) in altitude in a very cold climate. After completing 4 high altitude treks, I realized how many tips and tricks I'd picked up along the way.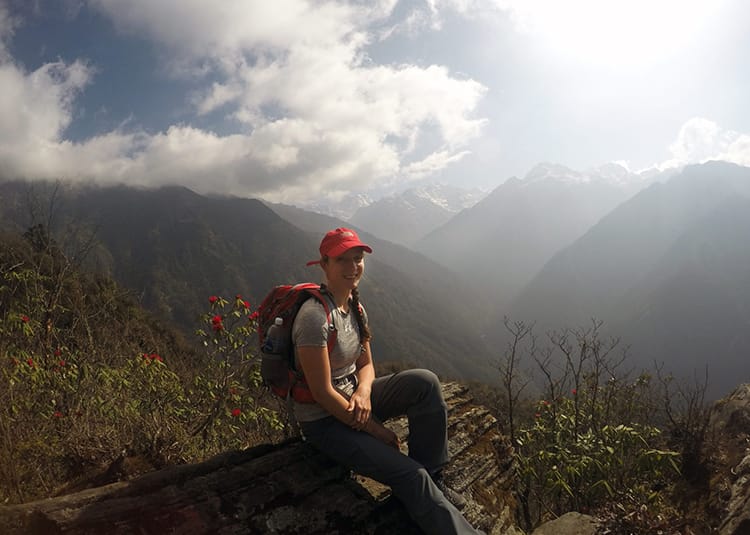 Wet Wipe Showers
---
Depending on where you go trekking, showers might be limited. You may be able to score a bucket of water, but honestly you won't feel clean throughout your entire trek no matter how many buckets they give you. Since most of my long term treks have been in a cold climate, I highly recommend wet wipe showers. They really do help you feel a bit more human before climbing into your sleeping bag at night. I recommend Dude Wipes which are biodegradable.
---
Bring Baby Powder
---
Baby Powder will be your best friend after a long day. As soon as you get to your tent, cabin, lodge, etc. make sure to take off your shoes and socks and rub baby powder on your feet to dry them out. Then keep one pair of clean socks to wear at night. That way, you never have to sleep in wet or smelly socks, and your feet will get a chance to breathe. Baby powder also doubles as dry shampoo if your hair is getting greasy.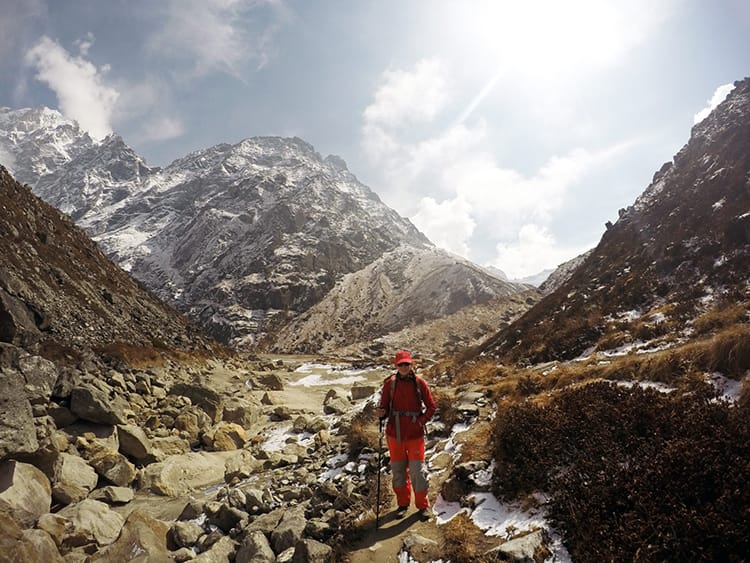 Pre Warm Your Clothing
---
If you're somewhere cold, always lay your clothing out the night before. And by "lay out" I mean put them on your bed flat and then lay your sleeping bag over them. That way your body will warm them up at night, and in the morning, you can pull them out from under you without ever leaving your sleeping bag to change. If it's insanely cold, just sleep in your clothes for the next day.
---
Sleep with Electronics
---
Not only should you sleep on top of your clothes, you should also put your electronics in your sleeping bag with you. Just be careful with fragile items. I accidentally rolled onto my phone with my head torch and broke the screen on route to Everest Base Camp. Batteries tend to die really quickly in the cold, especially cellphones. I find that GoPro Cameras and Kindles hold up extremely well in the cold and don't need to go in your sleeping bag.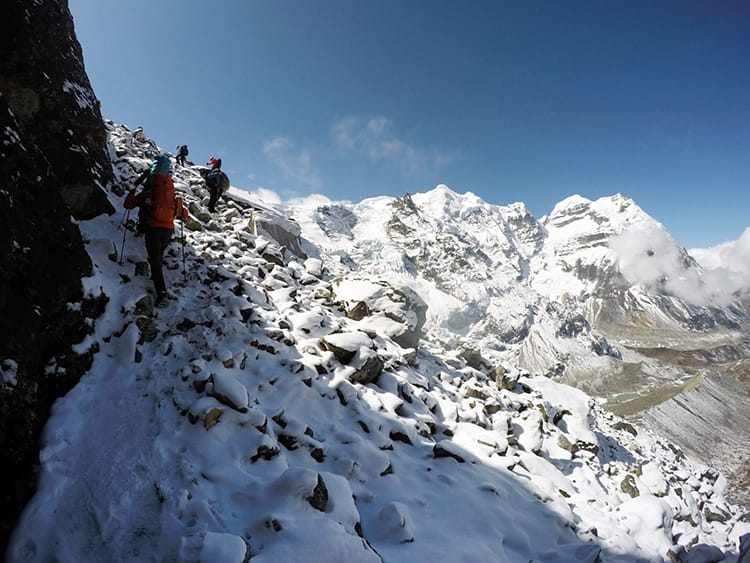 Braid Your Hair
---
For the women (and long haired guys), braiding your hair will make your life so much easier. First of all, it keeps your hair out of your face, but the real reason to braid is that your hair won't get as dirty. If I braid my hair, I can look almost presentable for a week. If my hair is in a ponytail or down it will be filthy within two days.
---
Carry Fabric Softener Sheets
---
This may seem weird, but fabric softener sheets take up no room and weigh nothing, so they are the easiest way to keep your stuff smelling clean. I always have a few of these in my main bag, a few with my clean clothes, and a few in the laundry bag. It makes such a huge difference when you are wearing the same outfit for a week straight.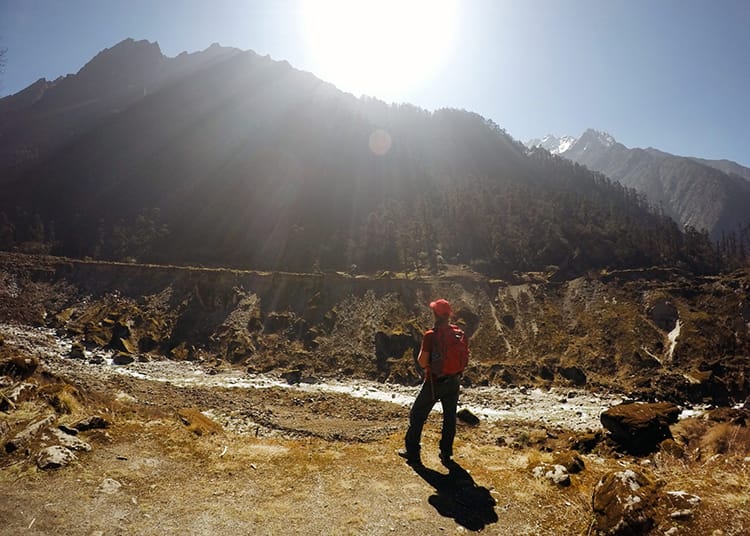 Bring the Right Snacks
---
Do some research before you leave for your trek. See what kind of foods you'll most likely be eating. In the Everest region, it's common to eat a lot of carbs including rice, pasta, and potatoes. Since meat isn't always fresh, you are risking getting sick by ordering meat in the area. Also, vegetables and fruits can't grow above a certain altitude, making them very expensive. Therefore, I chose to pack beef jerky and peanut butter for protein. I also got KIND Pressed bars for my serving of fruits and veggies.
---
Fix Loose Rocks on the Trail
---
On my way to Mera Peak, there were a few rough patches where I'd step on a rock and it would tip under my feet. Although I was fine, if I'd stepped on it wrong, I could have twisted my ankle. I always believe in leaving a place nicer than I found it, so if this happens, take a second and fix the uneven rock by sticking a smaller rock under it. That way, the next person doesn't trip.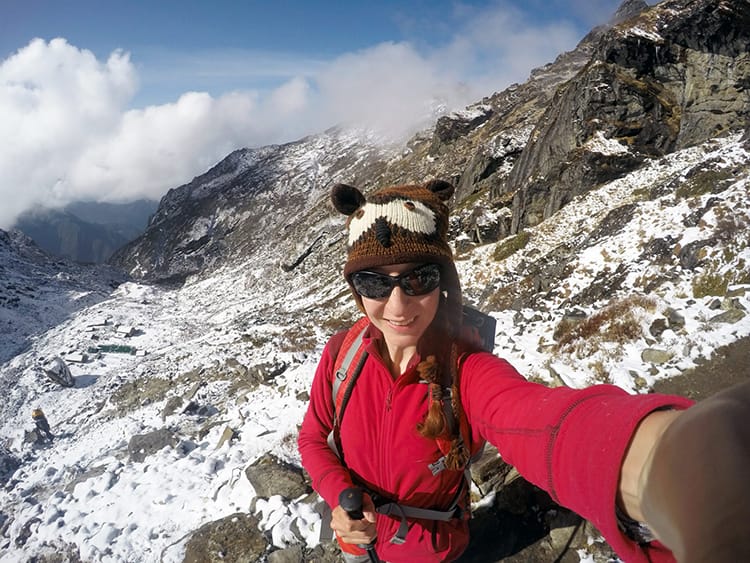 Weave Your Way Up Steep Hills
---
In Indonesia, I tried to walk straight up a volcano, and it was brutal. If you come to a really steep section of mountain, don't walk straight up. Try to weave your way back and forth. Think of downhill skiing. The way skiers go from side to side to slow down. By walking back and forth, you'll be taking more steps, but they aren't as steep, and it makes the hills so much easier to climb.
---
Have the Right Mindset
---
At the end of the day, trekking is just putting one foot in front of the other. There are times when taking one step feels like the hardest thing you've ever done, but if you have the right mindset you can overcome it. When I'm really struggling, I just have to remember that every single step gets me closer to food or a bed. If I stop and stand still, I'll never arrive. Thinking of one single step is a lot easier than thinking about going 500m up or walking an hour longer.
What are your tips for beginner trekkers? Is there anything you wish you'd known ahead of time? And if you have questions, ask in the comments! I know I had tons of questions when I started out.
---
You might also like…