I'm going to be honest, traveling during the pandemic is no cup of tea. You'll be full of stress and uncertainty until the moment you land. Planning trips used to be so simple, but these days, there's a million extra things to consider and a ton of hoops to jump through. Suraj and I recently met in Dubai. The moment we both landed, we breathed a sigh of relief because we were so certain that we would both end up stranded somewhere. Luckily, we both made it. Here's the things that really stood out that I wasn't prepared for at all!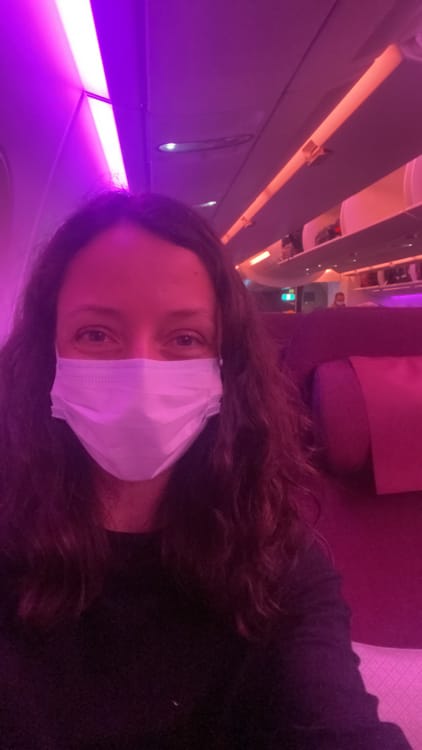 Leave Long Layovers
---
I used to book trips with one or two-hour layovers if I was familiar with the airport, but that's something I would not do while traveling during the pandemic. Plan for unexpected delays and changes in how the airports function.
I had a two-hour layover in Dallas on the way home from Nepal. While boarding the flight in Qatar, a couple was removed from the plane because they had a high temperature. Once removed, the airline staff had to check that every single carry-on bag belonged to someone. It took one hour which cut my layover in half.
When we finally landed, I was informed that they changed airport protocol and that I would need to collect my bag from baggage claim and check it back in, plus go through security again. My bag was the last one out. I ran through security and had to change terminals in a matter of minutes. I got on the plane just as the doors were closing. It was a nightmare. I wouldn't book anything less than three hours for a layover if any of your flights are international.
---
Don't Combine International & Domestic Flights
---
As someone who doesn't live close to an international airport, I booked a domestic flight prior to my international flight. My schedule was Myrtle Beach to Philadelphia to Qatar. Because my first flight was domestic, I ran into so many issues.
First, my baggage allowance changed. I was only allowed one checked bag and had to pay $100 for the second one which is normally free.
Second, my PCR test had to be within 72 hours from my first international flight (not the first domestic flight), however I needed the results in my hand before boarding the domestic flight or I couldn't check in. Since I had a 7 hour layover in Philadelphia, it cut down on the amount of time I had to get my test results. The three days before my flight were so stressful, I broke down crying at least once a day out of frustration.
---
Budget for Unexpected Expenses
---
Traveling comes with so many extra expenses now. For instance, the PCR test I got in Nepal only cost $20, but in the U.S. it costs $140 to get a PCR test for travel! Not to mention, Dubai required every visitor to have travel insurance which cost me an extra $75 for the week I was there. I was angry when no one at the airport even checked the paperwork, yet they required you to buy it.
When in Dubai, we had to get another PCR to leave which cost $30. We also needed a PCR if we wanted to go to Abu Dhabi on a day trip which we decided against, but that would have cost another $30. For an international trip, plan at least an extra $300 for Covid-19 requirements.
---
Confirm Everything Twice
---
Unfortunately, things change on a daily basis right now, and the staff at airlines, Covid-19 testing facilities, and airports can't keep up with the changes. For every call I made, I received a different answer. I had to call each place and speak to several different people before confirming which information was right.
I was told my PCR report would have a QR code (something required to enter Dubai). I received the test 24 hours before my flight and there was no QR code. I called to ask how I get access to it and they informed me they don't give a QR code. It was the only place I didn't call to double check. I just took the first person's word for it. At that point it was too late to do anything, so I showed up at the airport not knowing if I'd be allowed to board the flight. Luckily, they let me on.
---
Plan Your Flight for Your PCR Test
---
I always book my flight on a Tuesday because it tends to be the cheapest day to fly internationally. My domestic flight was scheduled in the morning, but my international flight didn't leave until 9:00pm. That means, with 72 hours to get my test, I had to get my test Saturday night at 9:00pm. Except there was nowhere open at 9:00pm on a Saturday.
Add in that places opened late on Sunday and my problems kept getting worse. The earliest I could get tested was at 10:00am on Sunday. When arriving, they informed me that it didn't matter what time I got there because all the tests were picked up at 6:00pm each day.
I lost an entire day for my test results to come in because my flight was at night. And remember, I had to have my results in time to board my domestic flight which I checked in for 10 hours ahead of my international flight (because I had a long layover). I only had about 36 hours to get my test results in time for my flight. My mom had been tested a month prior and got her results after 7 days.
Luckily, omicron had started to slow down and home tests were being delivered in the U.S., so the queue to get results wasn't too long. The website said it would take 1-3 days and by some miracle I got mine within 24 hours! But the stress surrounding all of this was insane. The lesson here is not to book a flight where you'll need to get tested on the weekend or at night.
Will you be traveling during the pandemic? Ask me any questions in the comments.
---
You might also like…