ABC Base Camp is a small village set in the Himalaya mountains just south of the famous Annapurna Mountain range. This area, once used for sheep grazing by locals, is now a popular tourist destination due to its gorgeous 360 degree views and the fame it gained from being the first 8,000m peak ever to be summited. Here's everything you need to know for your visit…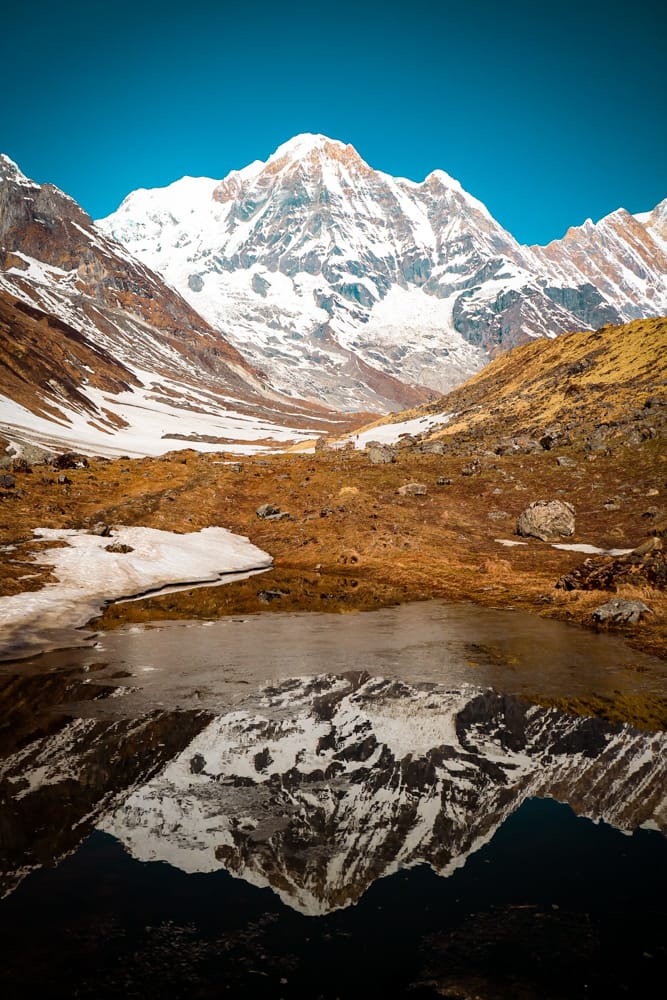 Brief History of ABC Base Camp
---
Annapurna I is 8,091m (26,545 ft) high in altitude and it was the first mountain above 8,000m to be successfully climbed. In 1950, Maurice Herzog and his French expedition succeeded in reaching the summit of what is now known as one of the most technically challenging mountains in the world. After that, Annapurna became famous worldwide as others wanted to attempt to follow in their footsteps.
ABC Base Camp became the starting point for future expeditions as the French had succeeded in climbing up the north face of the mountain. By the 1970's, trekkers started arriving, not to summit the mountain, but to reach the base camp. The Annapurna Base Camp trek became the first in Nepal (local's claim). In the 70's, teahouses started being built to meet the demands of tourism. Today, the small village is growing larger due to peak season being so crowded that they often find themselves running out of beds.
---
Annapurna Base Camp Village Guide
---
Major ethnicity:
The major ethnicity in ABC is Gurung.
Major Religion:
Most people in the area are Bon which means that they worship nature.
Language:
Most people speak Gurung and Nepali.
Annapurna Base Camp Height / Altitude:
4,130 m (13,549 feet)
Oxygen Concentration:
62% compared to 100% at sea level
ABC Base Camp Population:
Approximately 25-30 people live here during trekking season, however this is not their permanent place of residence. They only stay here to watch over the teahouses. In the summer, only one teahouse is open.
Best Time of Year to Visit:
Locals say it's best to visit in October or the beginning of November. In the winter, there is a lot of snow and the area is sometimes closed depending on safety as the route up is an avalanche prone area. In summer, there are monsoons which make it dangerous to get to due to landslides and over flowing rivers. The second best time of year to visit is March and April which is when we went, but the views are not as good as in October.
Location:
ABC Base Camp is located about 66 km (41 miles) north of Pokhara. It's located in the Annapurna Conservation Area in Nepal and is just south of the Himalaya Mountain range. Some of the smaller peaks in the range wrap around ABC giving a 360 degree view.
How to get to ABC Base Camp:
ABC Base Camp is far from any road. To get here, you'll need to take a jeep about 3 hours from Kathmandu and then walk for at least 3 days (longer if you need more time to adjust to the altitude or prefer to walk slowly).
Entry Permit:
An entry permit is required for foreigners which costs 3,000 rupees ($26 USD). ACAP permits can be purchased at the Nepal Tourism Board office in Kathmandu or Pokhara.
NTC or Ncell service:
There is no NTC or Ncell service at ABC.
---
What to Eat in ABC
---
Locals recommend eating traditional Nepali dal bhat or Gurung bread with curry. Dal bhat consists of rice, vegetable curry, lentil soup, spinach (depending on if it's available) and a spicy achar (chutney). They also pride themselves on the fact that they make pizza!
---
Things to do in ABC Base Camp
---
While most people walk here for the view and are excited to sit down and take it all in, there are a few things to do in the area. Just a few minutes beyond the village are the chortens that commemorate those lost in the mountains. From here there is also a gorgeous viewpoint perfect for taking photos. There are also some small peaks in the area including Tent Peak (which needs a special permit arranged in advance). If you aren't prepared for a peak, you can ask the locals how to get to some higher viewpoints in the area that don't require special training or a permit. The teahouse owner we spoke to said it's possible to go up to 5,000 m nearby, although I'll honestly say, I couldn't spot a pathway anywhere that looked safe as much of the area is known for avalanches.
---
ABC Base Camp Lodges
---
Types of accommodation:
Teahouses and basic lodges
Number of accommodations:
There are currently 4 lodges and 2 more are being built.
Our choice:
Annapurna Sanctuary Lodge
Price of a Room:
500 rupees (about $5.00 USD) for a double room.
Price of Veg Dal Bhat:
670 rupees (about $6.70 USD)
Electricity:
There was electricity, however if you want to charge a phone or device it's 200 rupees ($2 USD) per item.
Toilet Situation:
The lodge has two squat toilets which are attached to the building and easy to get to at night, however you do need to go outside to access them.
Shower:
Gas showers are available for 350 rupees (about $3.50 USD).
Wifi:
Wifi is available for 300 rupees (about $3.00 USD) for unlimited wifi on one device.
---
Annapurna Base Camp View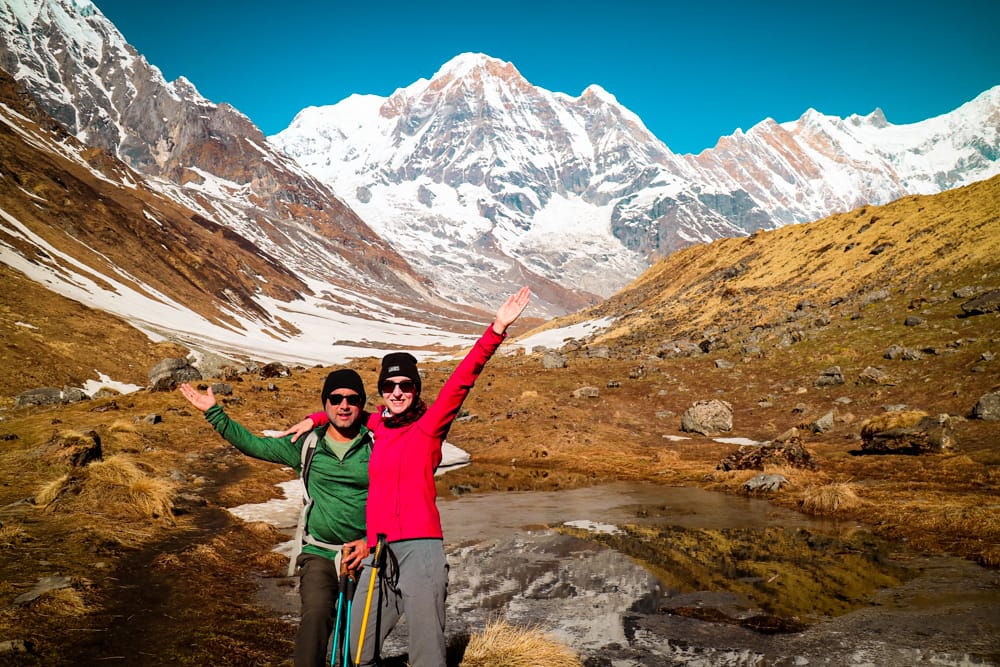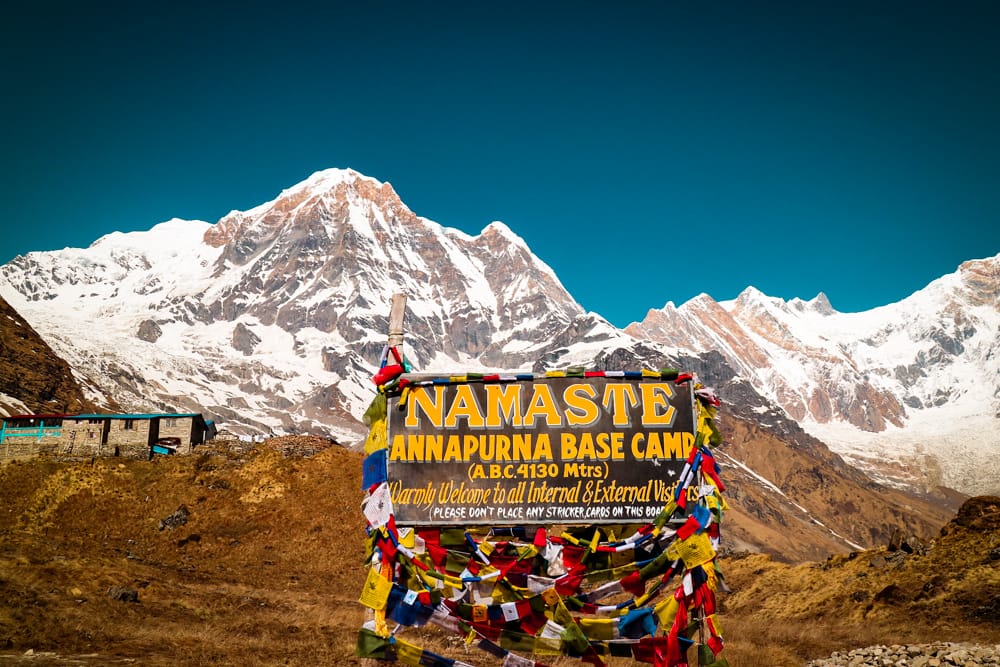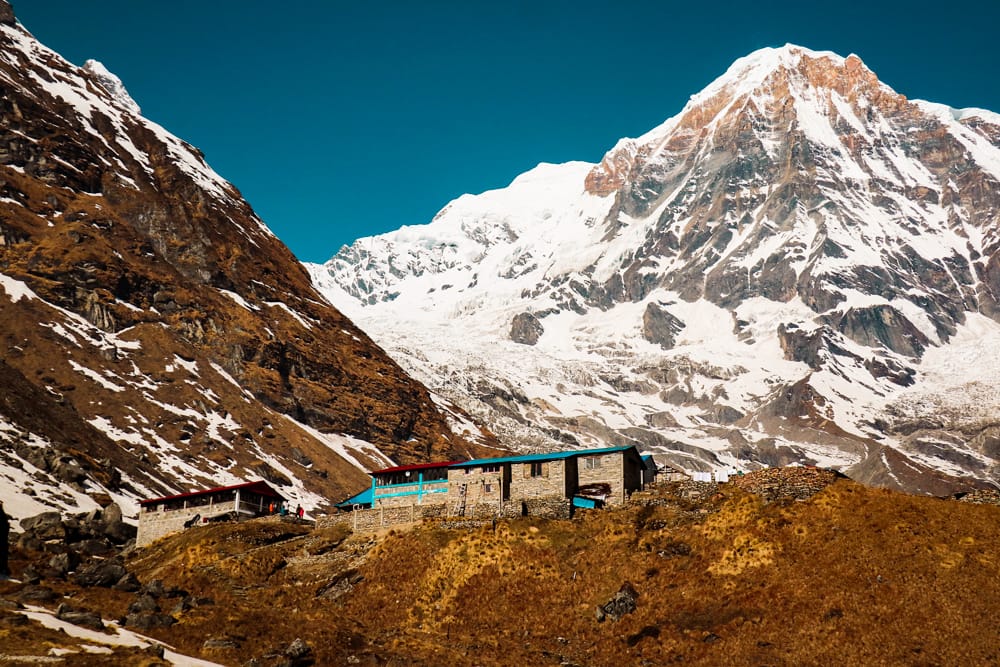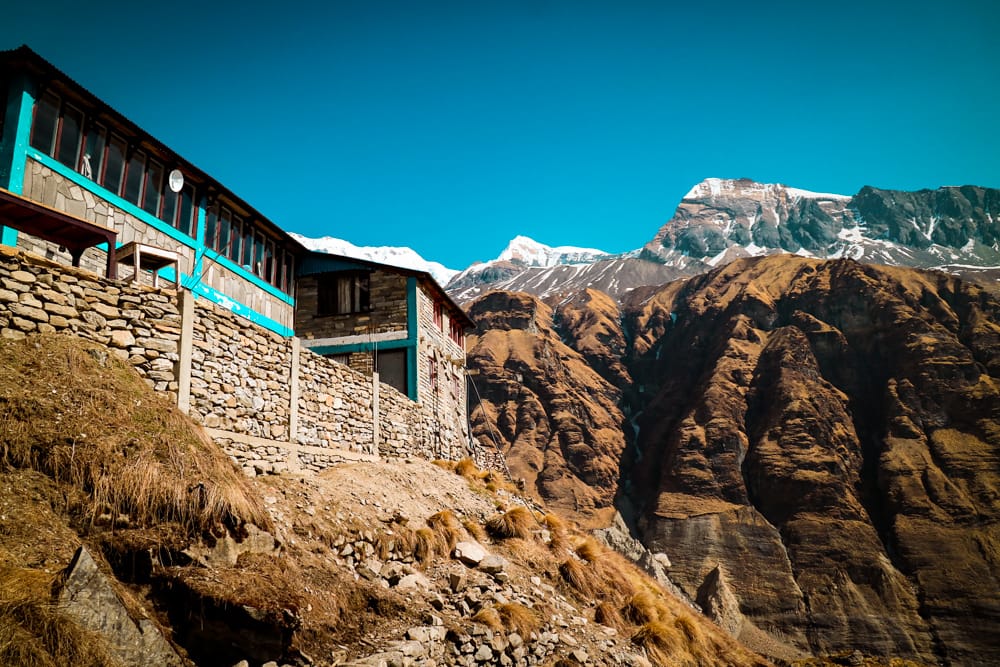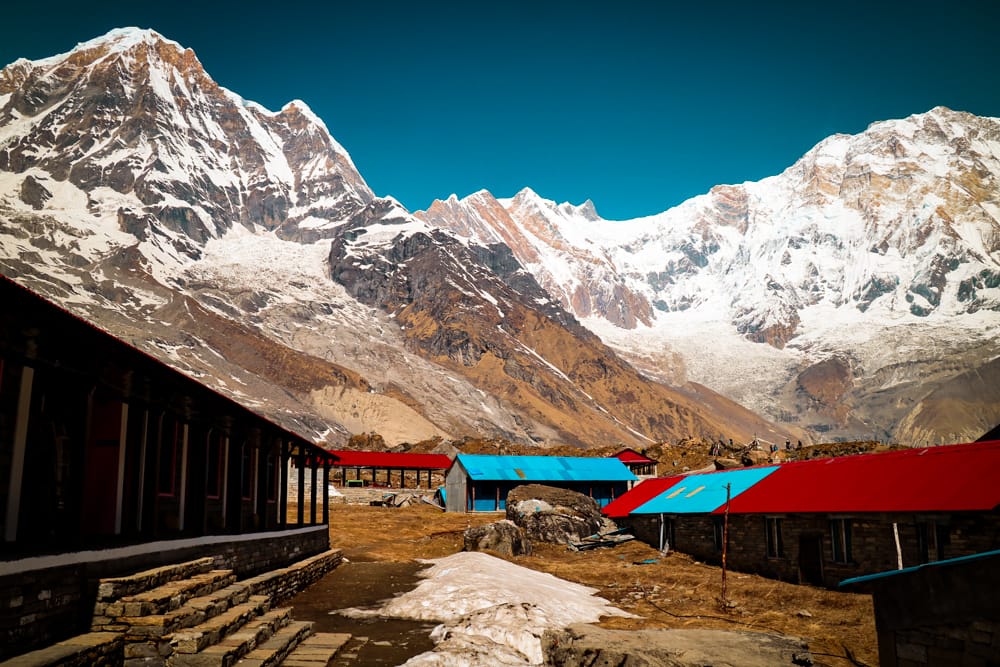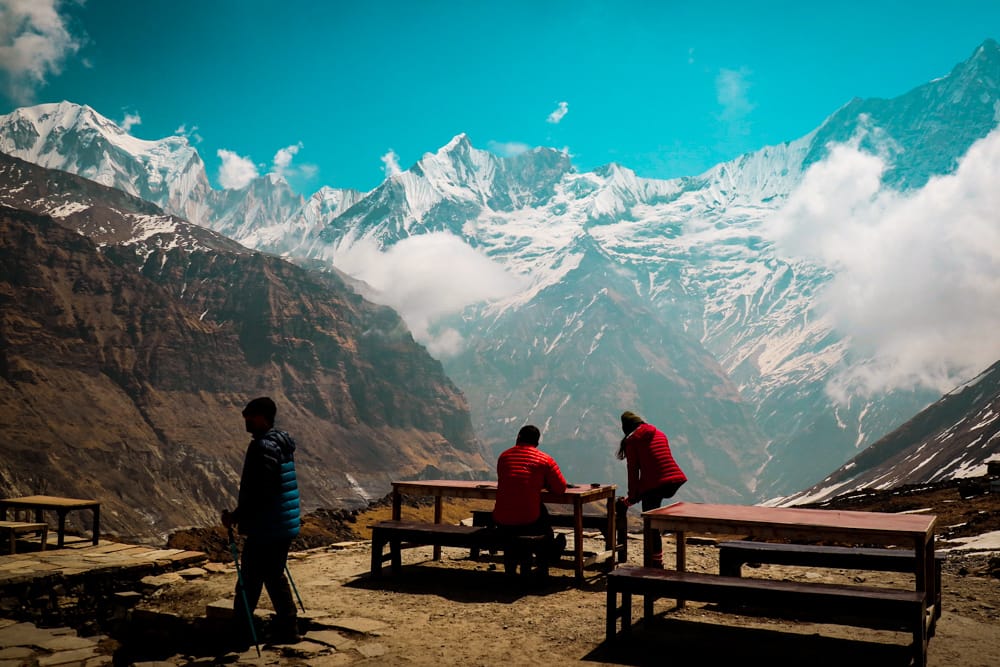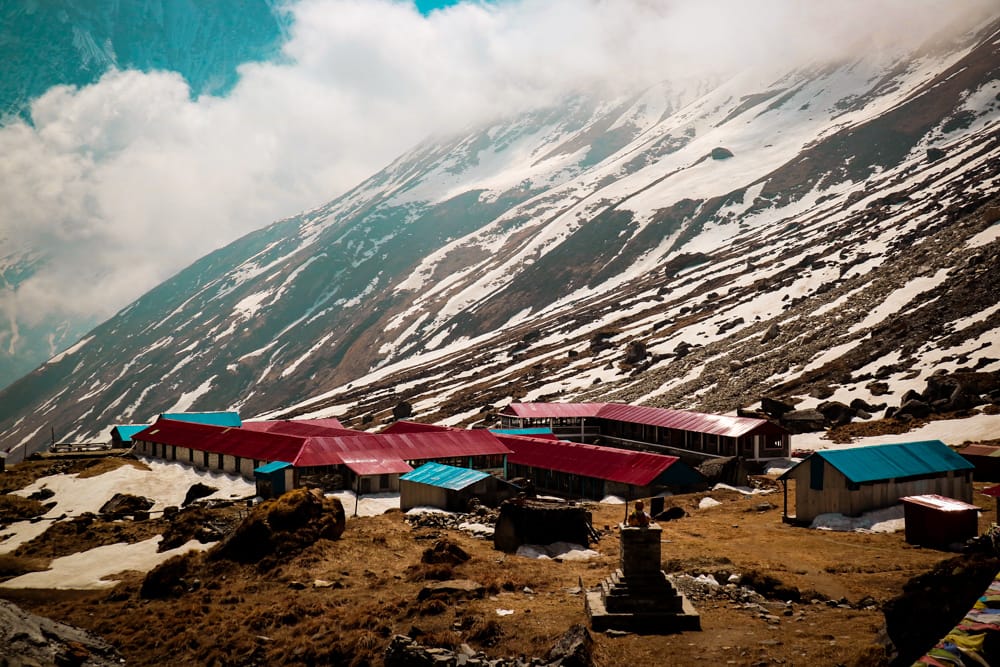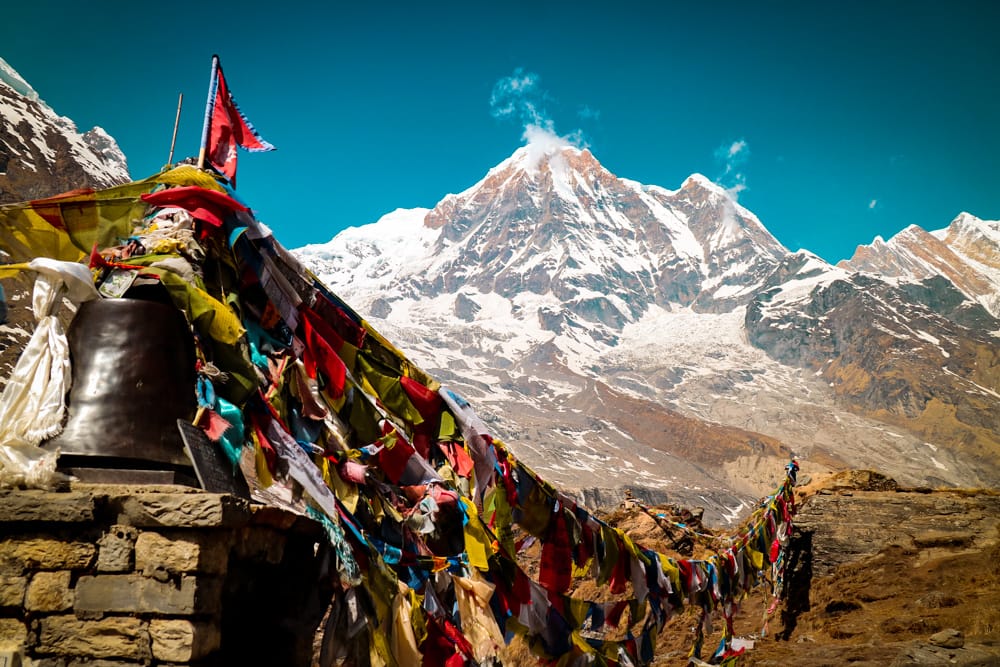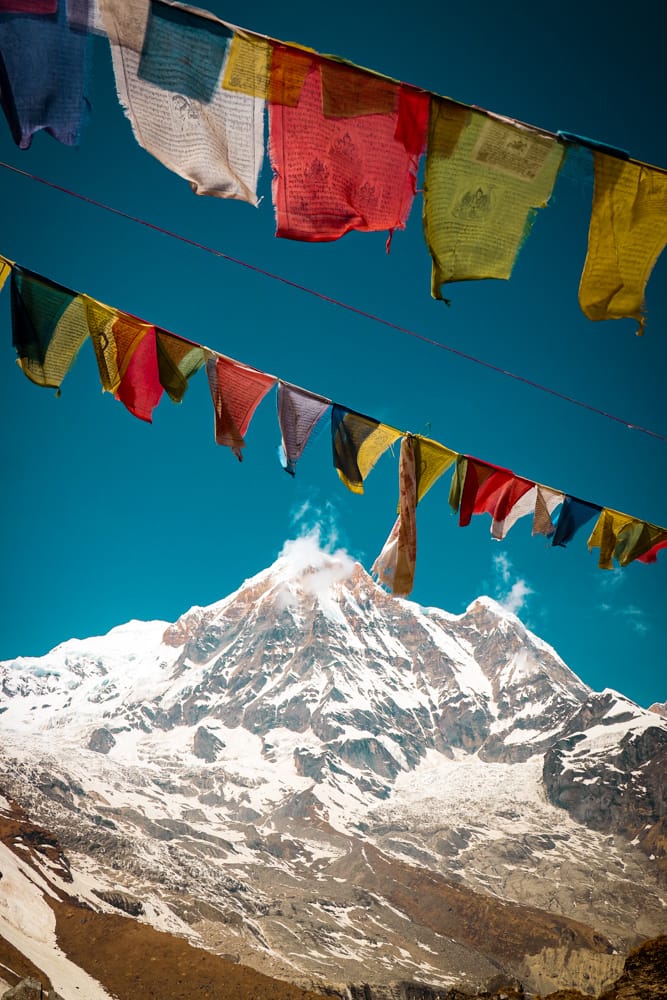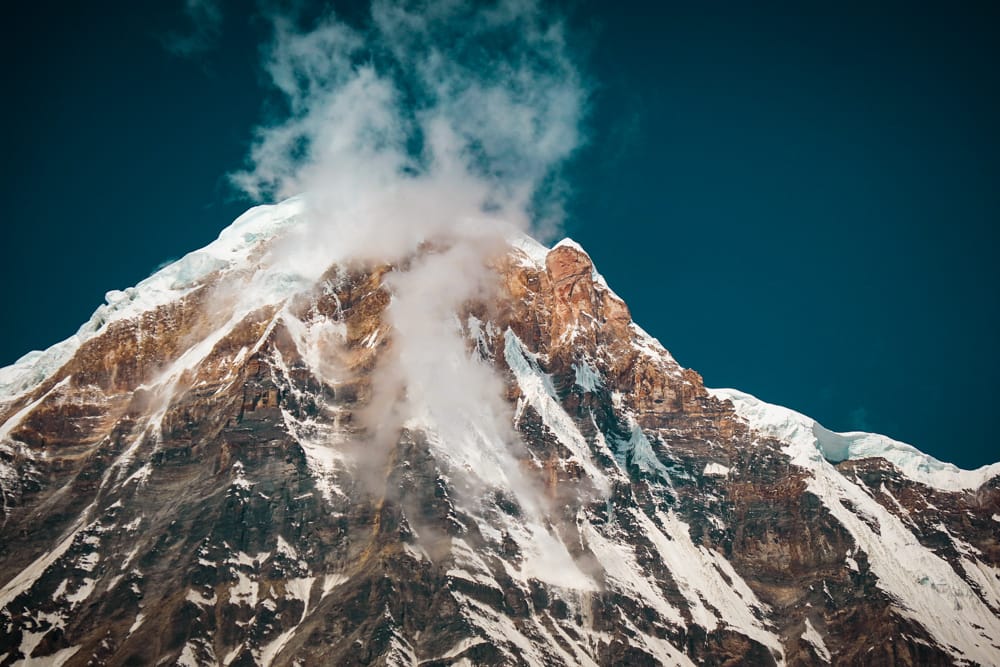 ---
You might also like…