October in Nepal is arguably the best time of the year to visit the country. With optimal trekking and mountaineering conditions, October is when most tourists flock to Nepal. With little rain, there are promises of spectacular views and moderate temperatures. Not to mention, one of Nepal's most popular festivals is usually in October making it a great time to experience the culture.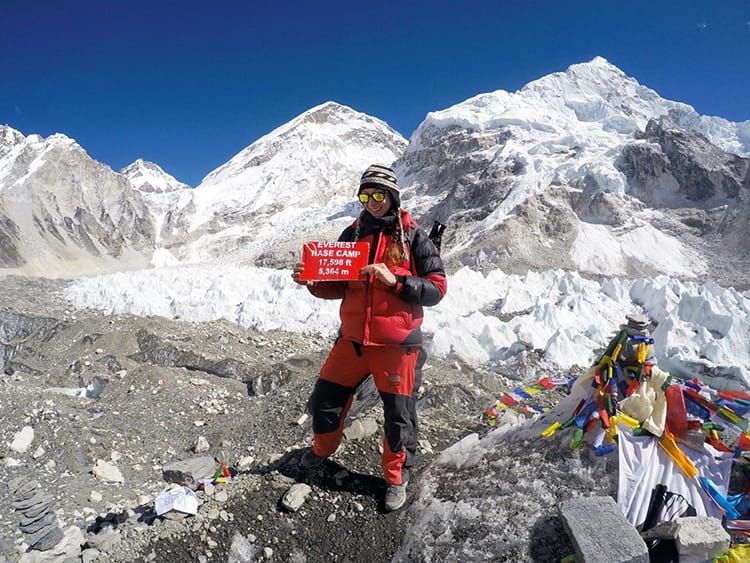 Nepal's Weather in October
---
Season:
Fall / Peak Season
Average Temperature:
55-80 F (13-27 C)
Average Days of Rain:
4
What to expect:
The average daytime temperature around the Kathmandu Valley is 68 F (20 C). In areas like Chitwan, Lumbini, and Bardia, the temperature is usually between 70-80 F with highs of 93 F (33 F). Pokhara has the best weather this time of year with temps between 72 and 84 F (22-28 C). In the mountains, the weather can be cold at night, but it's usually beautiful during the day making it easy to walk in a t-shirt or light layers.
---
Trekking in Nepal in October
---
High Altitude Trekking:
October is arguably the best time of year to go trekking in the Himalayas. Great visibility, moderate temperatures, and little rain create optimal trekking conditions. There's not much to worry about as far as avalanches and landslides as these are less common this time of year.
Low Altitude Trekking:
Low altitude trekking can be done almost any month of the year in Nepal. With high visibility, October is no exception. Views of the mountains can often be seen from the Kathmandu Valley before 10am. Views from Pokhara and surrounding areas like Sarangkot are also spectacular this time of year.
---
Tourism in Nepal in October
---
Crowds:
Unfortunately, great weather comes with great crowds. According to stats from the Nepal Tourism Board, October is the month with the most tourists coming to Nepal. October generally has more than 100,000 people visiting. That's 6k more than the second most popular month of March and 12k-60k more than any other month! People often complain about the density of trekkers on popular routes, so it's best to choose off the beaten path adventures this time of year to beat the crowds.
Budget:
Another downfall to peak season is peak season pricing. Nepal has a scale on pricing that fluctuates throughout the year, and October is the high point. In off season, someone can go paragliding for $40 USD. In peak season, the same flight costs $80. Hotels are at top dollar with no discounts offered and negotiating is more difficult.
Safety:
There's not too much to worry about that's specific to October. Landslides are not very common. Neither are avalanches. October typically only sees a little snowfall this time of year and very little rain. But, conditions in the mountains can change in a second, so it's best to always check with locals on route.
Wildlife:
Nepal is famous for having incredible wildlife including the Bengal tiger, greater one-horned rhino, and gharial crocodiles. October is a great month to see them since there is little rainfall this time of year and the animals must come to the river to drink. Winter is the best time to see wildlife, so visiting at the end of October is better than the beginning.
Best areas to visit:
Pokhara has the best weather out of most of the low altitude destinations, however the mountains are really the place to be this time of year. You can pretty much go anywhere in Nepal in October and the weather will be enjoyable.
Best areas to avoid:
Nowhere. Almost everywhere is great.
---
Festivals in October
(dates listed are for 2023)
---
Oct 15th Dashain – Ghatasthapana
Ghatasthapana is the first day of Dashain, one of the biggest festivals in Nepal. Dashain is a 15-day celebration about good triumphing over evil. Ghatasthapana is typically celebrated in people's homes.
Oct 21st Dashain – Fulpaati
Fulpaati is also part of Dashain where families bring 9 different plants into their puja (devotional) room.
Oct 22nd Dashain – Maha Ashtami
Maha Ashtami is the 8th day of Dashain which celebrates the fierce goddess Kali. You can see celebrations for this at the Dakshinkali Temple in Pharping. I only recommend this for those who aren't squeamish as the best way to appease this god is animal sacrifices (typically roosters and male goats).
Oct 23rd Dashain – Maha Navami
Maha Navami is the last day to celebrate goddesses in Dashain. In the story of good triumphing over evil, the families of the demons who were destroyed hid inside animal's bodies in order to escape the goddesses. So, the goddesses had to hunt them. Today, celebrations take place at Hanuman Dhoka in Kathmandu Durbar Square. Hundreds of animals (mostly buffalo) are sacrificed. I'm honestly not on board with sacrifices, but this is the only day of the year when this courtyard is open to the public, so those wishing to see it would need to go on this day.
Oct 24th Dashain – Vijaya Dashami
Vijaya Dashami is the 10th day of Dashain and is a day of blessings within the family. Older family members bless younger members by putting tike (the red dot) on their foreheads, saying a blessing, and wishing them a prosperous and happy year.
Oct 25th Dashain – Ekadashi
Ekadashi celebrates Lord Vishnu. Those who want to see the celebrations can visit one of his shrines. My favorite is the one in Budhanilkantha in Kathmandu.
Oct 26th Dashain – Dwadashi
Dwadashi celebrates the Tulasi tree which is also known as holy basil.
Oct 28th Dashain – Kojagrat Purnima
Kojagrat Purnima is the final day of Dashain. People worship the goddess Laxmi on this day. It's believed she favors those who stay up all night, so families gather to play cards and celebrate all evening.
---
Pros & Cons
---
Pros
Amazing Trekking Conditions
Perfect for Peak Climbing or Mountain Climbing
Wonderful Temperatures
Little Rainfall
Wildlife Spotting
Festival Season
Cons
Crowds
Prices
Many businesses are closed during the Dashain Festival
---
Packing Essentials for Nepal in October
---
Bringing a few warm layers for everyday use would be helpful as it gets cool in the evenings. Those going trekking should carry extra warm clothes as nighttime in the mountains is very cold and there's no heat in the bedrooms of teahouses.
Check out my packing list for Nepal for everything you need year round!
---
More Monthly Guides for Nepal…
---
---
You might also like…