Have you ever seen someone do something and they make it look so easy that you're absolutely convinced that you could do it too, only to find out later that what they were doing was insanely hard? That pretty much sums up my Saturday. After watching one too many episodes of American Ninja Warrior, I thought, "Hey, I bet I could do that." I didn't think I could do it as fast or as gracefully, (I'm not that cocky) but I did think it would be fun to try. I convinced my sister, Nicole, and her hubby, Chris, to do a ropes course on my birthday weekend because you can't say no to someone's birthday wish.
Let me tell you, I grossly overestimated my abilities.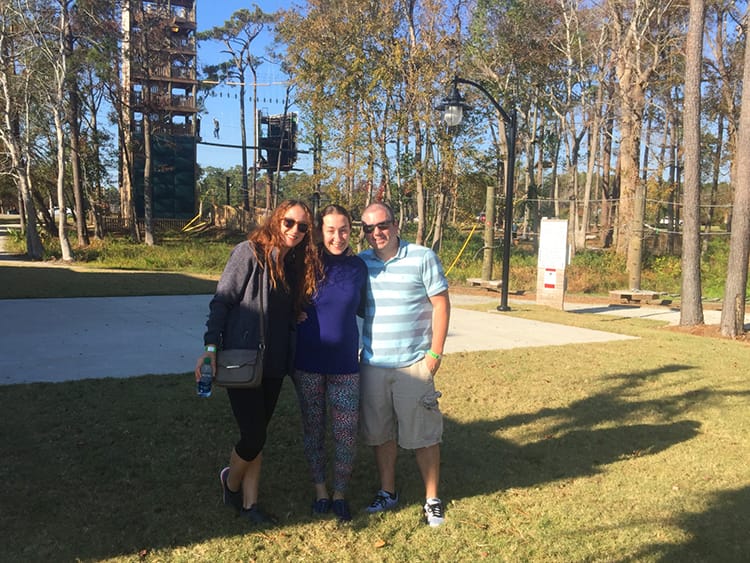 We decided to attend Radical Ropes in Myrtle Beach, South Carolina. It cost $50 per person to climb the ropes course, and we were told to leave at least three hours of time if we wanted to complete all three levels. We arrived without a reservation and were put in a small group with only one other person. We suited up in our harnesses. (Unfortunately, you are not allowed to carry a camera or phone on you, so I don't have photos.) Then, we did a small course set up on the ground so that we knew how to navigate up high.
Finally, the time had come to conquer the course. We headed up a set of stairs to level 1, which was approximately 15 feet off the ground. Looking at it from afar, it did not look very high, but somehow it feels like you are on Everest when all that's beneath you is a tightrope and nothing to hold onto. The course starts out fairly easy with planks of wood to step on and ropes to hold onto. The scary part is that nothing on this course is stationary. As soon as you grab something, everything else starts to move underneath you. Lucky for us, the staff was on the ground to give us pointers on how to get through each obstacle.
What surprised me most about the course was the amount of strength it actually took. My hands were exhausted from gripping onto the rope so tight, my legs hurt from balancing, and my arms dangled limply by my sides when we finished. It was a full body workout even though we were moving at a gruelingly slow pace. Honestly, snails could have passed us.
After an hour, we reached level 2, which was approximately 30 feet off the ground. Although we were all exhausted, we somehow decided that level 2 was worth a try. I'd like to note, that once you start a level, there is no way back down except to finish it. The good thing is, you can't quit when it gets hard. The bad thing is, you can't quit when it gets hard. Level 2 was MUCH harder. First of all, you're already exhausted from round one. Second, the obstacles are more challenging. So you're getting more and more tired, as they get harder. Awesome.
We reached one section toward the end, which was the hardest one we did. As soon as you stepped on one piece of wood, the entire obstacle moved. Then you'd reach for the next piece of wood and the piece you were already standing on would move backwards and sideways putting you in a very awkward split with one foot in the air. A man on the ground encouraged me that I was in fact tall enough to reach if I stretched a little further. This bit of advice was given after a very girly scream escaped my lips followed by "I'm too short for this!" I followed his advice and reached for the plank of wood, which (to my surprise) I actually was tall enough to reach. I shouted back a thank you and acknowledged that I was learning so much about myself, like the fact that my irrational fear of heights wasn't so irrational after all.
Finally we made it to the last obstacle, which was a military net. We each had to scale it sideways before reaching safety. I thought, "Oh this will be a breeze." Wrong. I kid you not, I almost didn't make it. In fact, I hung from the net for a good 5 minutes creating a queue of people behind us. I have never been so tired in my entire life. My hands were so weak that if you had handed me a glass of water, I would have dropped it. I finally made it across after coming to the conclusion that I couldn't hang there forever.
Nicole described the day as, "you'll never see me here again." Chris gave a rave review of, "We are going to be so sore tomorrow." And I called it "Time to get Krispy Kremes." But honestly, it was a great bonding experience, and humbling to know how truly out of shape I am. I'd definitely recommend this for anyone who wants an amazing workout, loves heights, or wants to punish their friends.
Thanks Radical Ropes for a great experience, and a special thanks to the employee on the ground who had enough patience to literally talk me through every obstacle.
---
---
You might also like…