The Annapurna Circuit is a circular trek around the Annapurna Mountain Range in Nepal. Although the trek is a giant loop, it offers a lot of side treks as well. One of the most popular places to do these treks is in Braka, a small village located right before Manang. Braka is positioned at an altitude of 3439m (11,282 feet) making it the perfect place to stop and acclimate. In Braka, there are two acclimation hikes including Milarepa Cave and Ice Lake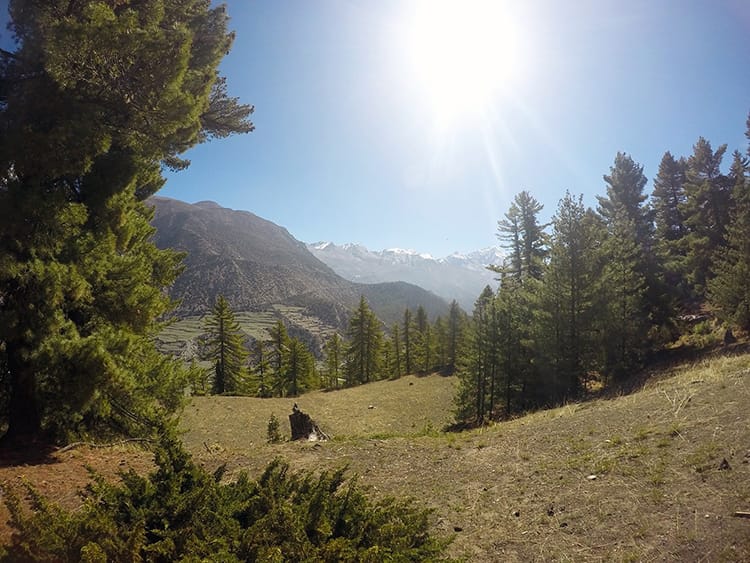 We originally had the intention of going to Ice Lake, but after much debate decided to do the lesser visited Milarepa's Cave which is located at 4250m (13,943 feet). The cave is meant to be the place where the great Tibetan philosopher, Milarepa, spent a great deal of time in what is now modern day Nepal, but was once Tibet. There's even a story about a hunter trying to shoot Milarepa at this location.
---
How to get to Milarepa Cave
---
The route to the cave is extremely easy to follow once you find the starting point. That part however, is a little tricky. You'll need to walk back towards Upper Pisang for about 100m. On the right-hand side is a bridge with a sign pointing you toward Milarepa's Cave. Cross the bridge and then turn to the right. You'll need to walk back the 100m towards the town and then turn left towards the mountains where you'll see a foot path leading up. The trail is marked with blue and white stripes painted on the trees and rocks. From here it's just a steep climb uphill among some switchbacks.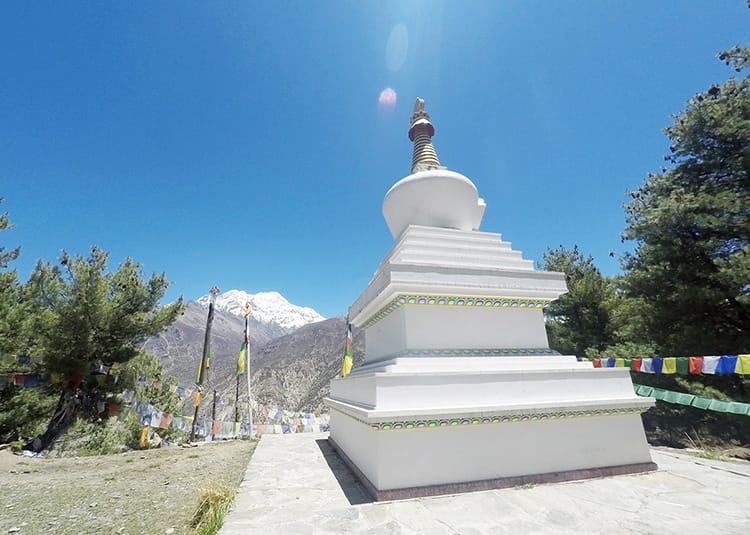 The hike itself isn't so hard, but the altitude will make it harder to breathe. We each brought a liter of water which was enough, but you may want to bring extra just in case. Halfway up the hill (about 1 hour in) you'll stumble across some ruins. Two thirds of the way up, you'll see a beautiful white pagoda with bright colors painted on the trim. Prayer flags flap in the wind making it a peaceful spot to take a break. Once you reach the pagoda, the views only get better and better.
---
---
In the distance you can see several large mountains in almost every direction. Chulu is the most prominent, sticking out behind Braka Village. Once you reach the small village near the cave, you'll feel like you are so close to the Annapurna's that you could touch them. Reaching the village took us about 2 hours without going too fast. Follow the paths leading up to the right where the prayer flags are abundant. Here you'll find a shrine. Although maps have this marked as the cave at (4050m), we weren't convinced this was it.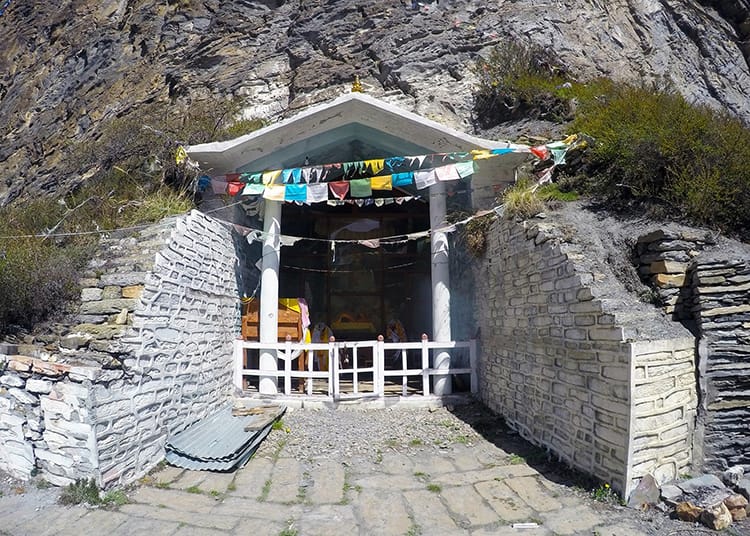 What to expect when you arrive
---
What we found wasn't really a "cave." There is a beautiful large statue of Buddha set into the mountain, but you can't actually walk into the cave, making it a bit of a disappointment for some visitors. Having been in Nepal, I didn't expect a proper cave and thought the shrine was beautiful. We weren't sure that this was in fact the cave, so we continued to explore and followed the path up toward the large gray stone mountain to the right.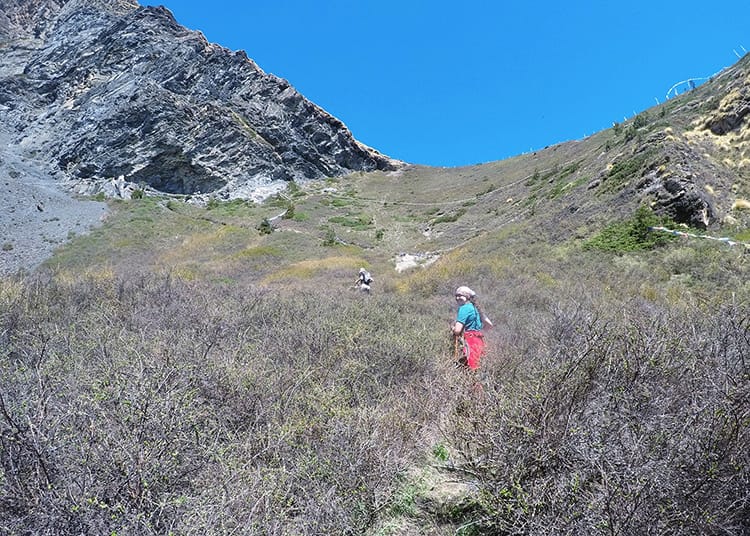 After a confusing conversation half in English and half in Nepali, a worker told us to follow him. We continued on a narrow path around the mountain and stumbled upon a monk working to fix a water line that led to the village below. He pointed us to the "cave" where we found his small living quarters underneath a tent on a cliff and another statue set in some stone. It was a really peaceful place located at 4,150m (13,615 feet). This extra walk took us another half hour to complete, mostly because we didn't know where we were going.
---
---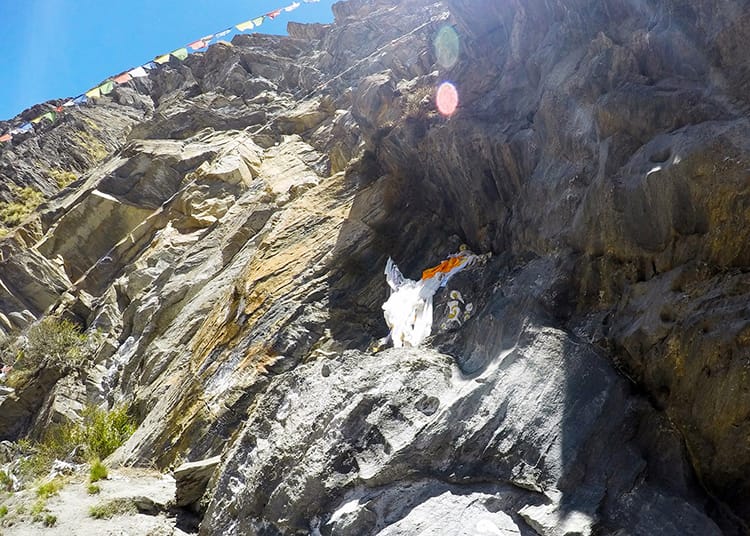 After seeing the smaller "cave" with another statue, we felt like maybe the cave didn't really exist. I'd heard from a previous traveler that they couldn't find it, and they believed it had collapsed in the earthquake. Even the locals working nearby didn't seem to know where it was. It wasn't until three days later, that another traveler who I'd told about the missing cave informed me that he found it. Another 100m in altitude, up the same trail we took, was in fact a small cave about 10 feet deep with the statue of Milarepa. It took him at least another half hour to find it, but it did exist.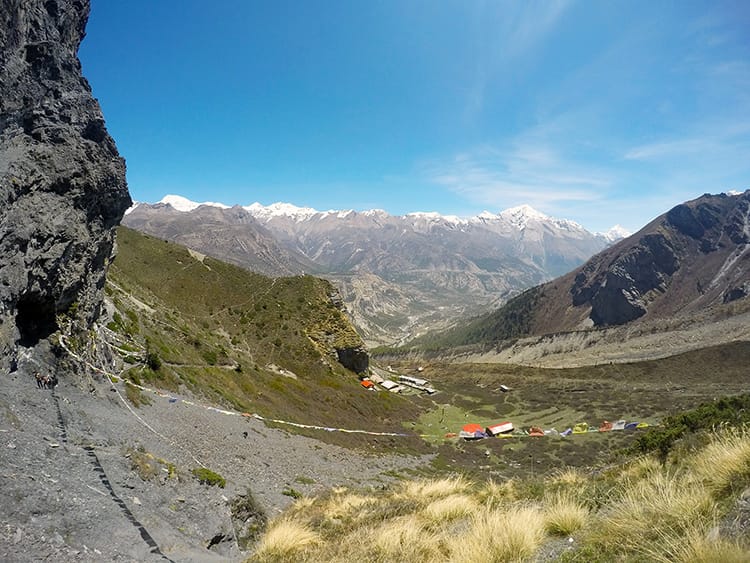 Although we didn't see Milarepa's Cave, I thought the views were stunning, and it was a great way to acclimate to the altitude. Descending back down felt amazing and made it so easy to breathe. I would recommend bringing a snack because there is nowhere to stop along the way for tea or food. Overall, the trek took us about 3.5 hours. It would take about 4.5 to reach the actual cave. We left around 8:00am and were back in time for lunch.
---
You might also like…