The Annapurna Circuit was my fourth major trek, three of which had taken place in Nepal. I was finally starting to feel like I had the hang of this whole trekking thing, but there was one thing I still had yet to do, and it made me feel like I wasn't a "real trekker." I had never actually carried my own bag. For every trek, I'd always had a strong sturdy porter who lugged the majority of my things up the mountain. I always overpacked knowing I didn't have to carry everything. Creating the perfect Annapurna Circuit packing list took a lot of research and some trial and error.
In Nepal, being a porter is a stepping stone to be a guide. So, I also felt like hiring a young man was giving him the opportunity to support his family in between sessions at school. Regardless, I'd always wanted to attempt to carry my own luggage, and the Annapurna Circuit seemed like the perfect opportunity. You'll find that this list is small. As I went, I ended up leaving items along the way. I'd also recommend thinking about every single tiny bit of weight because let me tell you, the easy days felt so much harder simply because of my backpack.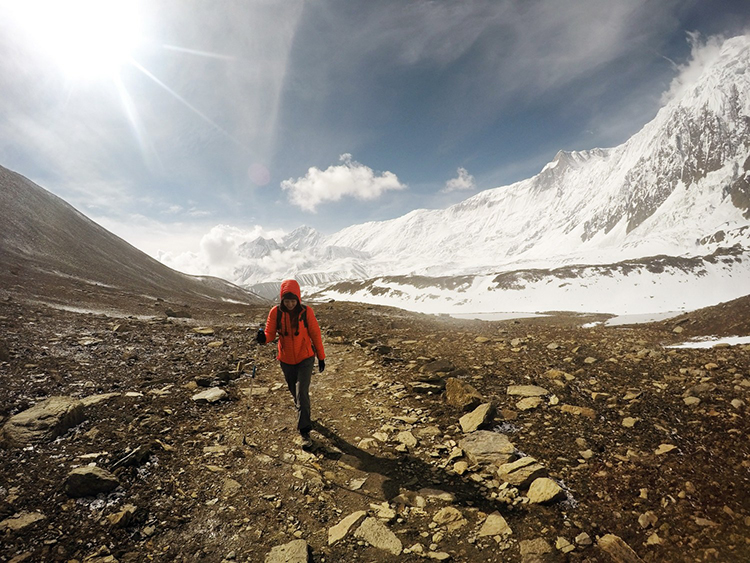 ---
Clothing
---
When I started trekking, I purchased cheap knock offs in Kathmandu. Over time, I've invested in good quality trekking gear and clothing. My favorite brand is Eddie Bauer, so I'll mostly be referring to them below. I find the quality of their clothing to be a lot better than other companies, and I usually buy things when they have a 40-60% off sale (these happen fairly often). That way I'm able to get everything for a great price. Here's the clothes you should have when planning your Annapurna Circuit packing list.
---
---
---
---
---
---
---
---
Pajamas
Lightweight pants/ leggings and a long sleeve shirt are usually fine. I wore thermals at altitude when it was cold. If you go in warmer months like May, you might want a short sleeve shirt instead.
---
8 Underwear
I always bring extra underwear. I know some people just bring three or four pairs and wash them constantly. I find it hard to wash underwear while trekking. If they don't dry before it gets dark then you have to hang them from your bag to dry the next day and that's not always acceptable. I carry extra and wash them on acclimation days when I know we'll be staying put.
---
2 Sports Bras
I treat sports bras the same way I do t-shirts. Wash one while you wear the other.
---
Bags & Storage
---
---
---
---
---
Backpack Rain Cover
This is a must if your backpack isn't waterproof. Many backpacks are water resistant but won't stay dry in a downpour.
---
Plastic Bag for Laundry
I bring a simple grocery store plastic bag for laundry to keep it separate from my other clothes. I only put dirty underwear in it as the larger items like pants and shirts will be worn more than once. A plastic bag adds no weight and doesn't take up any room.
---
Ziplock Bags
Never underestimate the ziplock bag. These come in handy more often than you would think.
---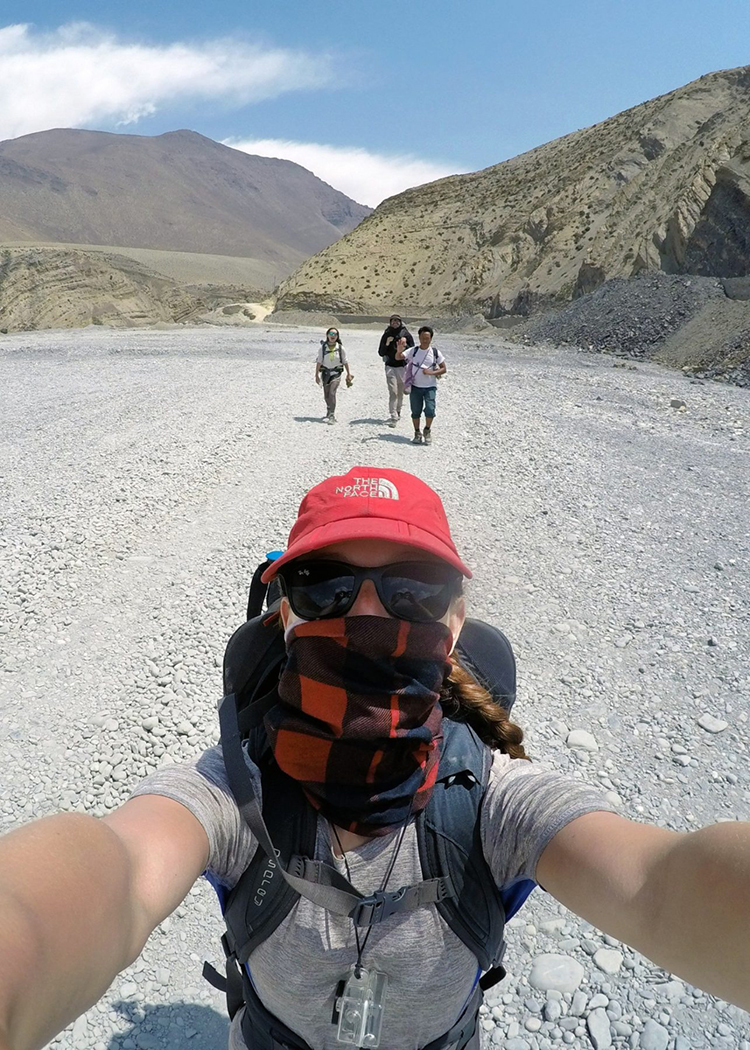 ---
Accessories
---
---
---
---
---
---
---
Sandals
There are several places to take showers on this trek, so these are great for shower shoes. I also wore them in the teahouses. It's nice to have something to slip into besides your boots and they aren't heavy in your bag.
---
First Aid & Medicine
---
Unfortunately, you never know what you might need, so it's best to carry a little bit of everything. My best advice is not to take full bottles or boxes of medicine. Just take out what you need, and put it in a small Zip Lock bag. That way you don't have the weight of the packaging or an entire bottle of pills when you'll only need ten. I'd recommend putting all of these on your Annapurna Circuit packing list, just in case.
---
---
---
---
---
---
---
---
---
---
---
---
Diamox
I don't take Diamox unless I'm experiencing symptoms of altitude sickness, but I always have some on me. Talk to your doctor about when to use it.
---
Electronics
---
I would bring the bare minimum for electronics. Most tea houses have outlets and will let you charge things for free. Therefore, you don't need anything excessive like a solar panel. We did hit a chunk of the circuit that had lost power for over a month and my power bank (although heavy) came in handy. I would advise asking people who just returned from the trek what the electricity situation is that way you can plan your Annapurna Circuit packing list accordingly.
---
Cell Phone & Charger
I always bring my cell phone. Sometimes there's a little bit of service and I like to check in with family when I can. There's also wifi on this route.
---
Camera, Charger, & Spare Batteries
I did a slow version of this trek which took 30 days, so I refused to carry a giant camera. I take a GoPro to keep things light and compact.
---
Power Bank
I always have my power bank fully charged in case there is no power on route and I need to charge my GoPro or phone.
---
Travel Adapter
You" likely need an adapter to charge things. This one is lightweight compared to chunkier options.
---
Headlamp
Power outages are common and there's often no electricity at night. You'll need this to go to the toilet.
---
Kindle
I refuse to carry books. I like that the kindle has a back light and is easy to read. It also holds a charge for a long time.
---
Audible
Don't like carrying a book or Kindle? Check out audible! You can sign up for a 30-day free trial and get two books free by clicking the banner below! If it's not for you, you can cancel any time.
---
SIM Card
I'd recommend a Namaste SIM since it seems to get better data in the mountains. Some hotels charged $1.00 for WiFi, so having a data plan will end up being cheaper if you really want to stay connected. You can read my post about SIM cards in Nepal.
---
Maps.me Downloaded
Maps.me is a free phone app that has all the trekking trails on it. This is great as a backup if you get lost. Make sure to download it before starting the trek as you need a good wifi signal to download the map.
---
Toiletries
---
I started out with a travel size shampoo and conditioner. After two days, I left them behind. I was able to buy small individual packets of shampoo along the way, so I didn't have to carry anything extra. Make sure everything you bring is small and travel sized. I wish I brought a lightweight comb instead of a heavy hairbrush. A tiny toothbrush and toothpaste are also good. The smaller and lighter the better when planning your Annapurna Circuit packing list.
---
---
Quick Dry Towel
A small microfiber towel is a must if you plan to shower on the way. These dry incredibly fast and pack into a small space.
---
Bug Repellent
I like Badger Bug Balm which is a natural bug repellent. It's a solid stick, so it won't spill in your bag and it works very well!
---
Sunscreen
I've seen so many people coming down from the mountains looking like lobsters. The sun is STRONG at altitude. Buy a good quality SPF 50 sweat proof sunscreen.
---
Tooth Care
Bring a small travel sized tube of toothpaste, a travel sized toothbrush and floss.
---
Hand Sanitizer
Hand soap isn't always available, so having a way to clean up is key.
---
Vaseline
A mini vaseline is important for windy cold days. Put it on in the morning before going trekking. I didn't do this on one trek and got wind burn on my face ouch.
---
Deodorant
Pack a small travel sized deodorant.
---
Roll of Toilet Paper
Pack 1 roll at the beginning of the trek and then buy more as you go. You won't find toilet paper in the teahouse bathrooms. It's important to bring your own.
---
Feminine Hygiene
It's hard to find pads in the mountain and impossible to find tampons in Nepal, so bring what you need with you. I'm usually a big supporter of Diva cups, but it's hard to wash them properly on trekking routes.
---
Hair Care
Bring hair ties and a lightweight travel hairbrush (or comb). Don't make the mistake of packing a heavy brush.
---
Shower Supplies
Bring a small travel sized bottle of shampoo, conditioner, and shower gel. If you bring soap, make sure to have a plastic zip lock bag to store it in after using it. I also recommend a nail clipper or nail file.
---
Laundry Detergent
Bring a ziplock bag with some powdered detergent in it. This is a long trek and you'll likely want to wash your clothes every so often. Try to choose an environmentally friendly detergent.
---
Other
---
Make sure to have copies of all your major documents plus your permits. I'd also recommend at least one trekking pole. Having one set of hand and toe warmers for the day you go over the pass is also helpful since it'll be cold in the morning.
---
---
Chocolate
You can buy everything you need on this route, but chocolate is expensive. I recommend bringing some with you in case you need a little sugar to get moving.
---
Protein Bars
There are plenty of places to stop for snacks, but for some reason, it's impossible to find protein bars or trail mix on the way. These are great for eating at tea breaks and in between meals.
---
Important Documents
You'll want t have a copy of your passport, visa and your original trekking permits with you.
---
Money
Make sure to bring money in small denominations (500, 100, and 50) to make it easier for teahouse owners. If you only carry 1,000 rupee notes, it will be difficult to get change when you pay your bill.
---
Travel Insurance
Have a copy of your trekking insurance with you. It's worth considering getting travel insurance because you never know when something will go wrong. This route has no road access and rescues are done by helicopter which is expensive. Because of the altitude gains on this route and poorly written information telling people they can do the trek in three days, this route has a high helicopter rescue rate.
---
Annapurna Circuit Packing List Printout
---
Have any questions about my Annapurna Circuit packing list? Ask me in the comments!
---
You might also like…