The Annapurna Circuit was my fourth major trek, three of which had taken place in Nepal. I was finally starting to feel like I had the hang of this whole trekking thing, but there was one thing I still had yet to do, and it made me feel like I wasn't a "real trekker." I had never actually carried my own bag. For every trek, I'd always had a strong sturdy porter who lugged the majority of my things up the mountain. I always overpacked knowing I didn't have to carry everything. Creating the perfect Annapurna Circuit packing list took a lot of research and some trial and error.
In Nepal, being a porter is a stepping stone to be a guide. So, I also felt like hiring a young man was giving him the opportunity to support his family in between sessions at school. Regardless, I'd always wanted to attempt to carry my own luggage, and the Annapurna Circuit seemed like the perfect opportunity. You'll find that this list is small. As I went, I ended up leaving items along the way. I'd also recommend thinking about every single tiny bit of weight because let me tell you, the easy days felt so much harder simply because of my backpack.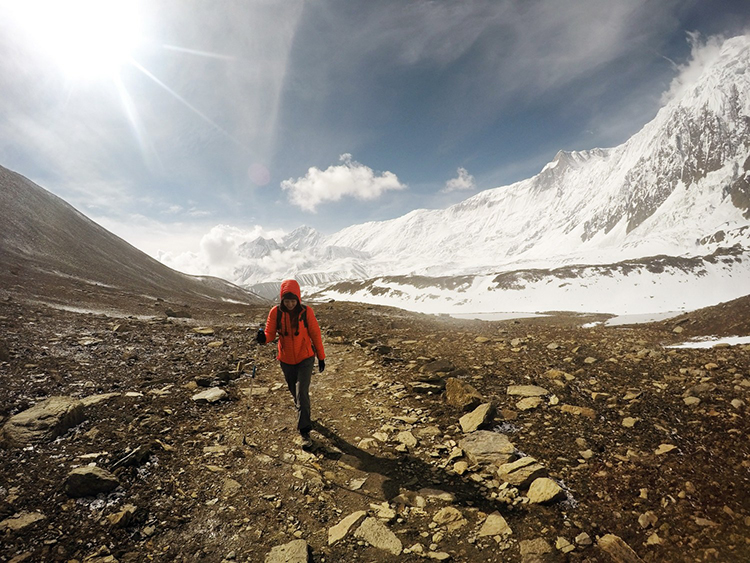 Annapurna Circuit Online Packing List
---
I've hand selected each of these items and curated them into my own Annapurna Circuit kit. That way you can find them all easily in one place without opening a million search tabs on your browser. These are the items I mention in this article. I'm only mentioning things that I took with me on the Annapurna Circuit that I felt were necessary or came in handy. I had other items in my bag that I felt were a waste of space and weight. I do not mention those in this post or on this list. Most of the items below come from Amazon, Eddie Bauer, or REI.
Itemized Annapurna Circuit Packing List
---
Clothing
When I started trekking, I purchased cheap knock offs in Kathmandu. Over time, I've invested in good quality trekking gear and clothing. My favorite brand is Eddie Bauer, so I'll mostly be referring to them below. I find the quality of their clothing to be a lot better than other companies, and I usually buy things when they have a 40-60% off sale (these happen fairly often). That way I'm able to get everything for a great price.
2 Quick Dry T-shirts – I like to have two t-shirts so that I can wash one while I wear the other. Quick dry fabric is important because I tend to sweat a lot when my pack is on and my back gets wet. If it doesn't dry quickly, then I get a chill. It's also handy for doing laundry since the shirt will dry quicker when you're done.
1 Quick Dry Long Sleeve Shirt – Again, I prefer quick dry shirts. I like to have one long sleeve for the days at higher altitude.
1 Thermal Top & 1 Thermal Bottom – Thermals are so important on this trek. There's no heat in the bedrooms of teahouses, so I wear mine to bed at night. They're also great for the days when you trek before sunrise.
1 Fleece Jacket – I wear my fleece constantly while trekking. I like to put it on whenever I stop for a tea break because my body cools down as soon as I stop walking. It's great for nights in the teahouse and for sleeping. It's also perfect for layering on the coldest days.
1 Rain Jacket – A rain jacket is important. I prefer mine to be a little big so that I can layer it over my down coat if necessary. I plan to upgrade to a more expensive coat in the near future, but this will definitely get the job done if you don't plan to trek constantly.
1 Storm Down Microtherm Coat – I was a little worried this wouldn't be warm enough because it's so thin that it zippers up into its own pocket, but it's one of the warmest coats I've ever had. I've had so many people ask me about my coat, and it's become my "signature look" since I'm wearing it in nearly all my photos haha.
1 Lightweight Hiking Trouser – I love these pants for hot days. They're super lightweight and comfortable. They're also cute which seems to be rare in hiking pants.
1 Pair Rain Repellent Pants – A warm pair of water-repellent and wind repellent pants are important for rainy days, and days at altitude when it's cold.
1 Legging – Any active wear legging will do, but I like to have these for an option instead of trekking pants. I also like that I can layer them under trekking pants in the morning when it's cold and remove the top layer in the afternoon when it gets warm.
1 Pair of Pajamas – Lightweight pants and a long sleeve shirt are usually fine. I wore thermals at altitude when it was cold. If you go in warmer months like May, you might want a short sleeve shirt instead.
3 Ankle Socks – I rotate two ankle socks for daytime use and keep one separate to sleep in, that way they don't smell.
1 Long Sock – I only wore these on the coldest days or days when we trekked before sunrise. For instance, going to Tilicho Lake Base Camp or going over the pass.
8 Underwear – I always bring extra underwear. I know some people just bring three or four pairs and wash them constantly. I find it hard to wash underwear while trekking. If they don't dry before it gets dark then you have to hang them from your bag to dry the next day and that's not always acceptable. I carry extra and wash them on acclimation days when I know we'll be staying put.
2 Sports Bras – I treat sports bras the same way I do t-shirts. Wash one while you wear the other.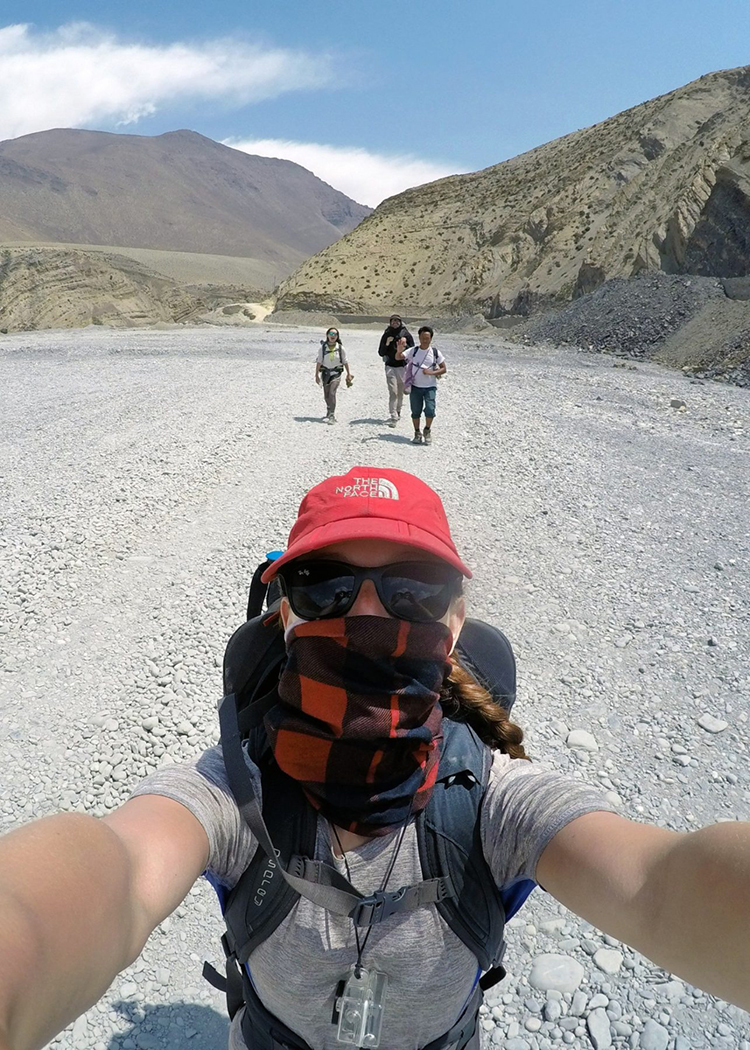 Accessories
Lightweight Buff – Having a buff is crucial. There are some dusty areas on this hike, and it's great on cold days. I also wore mine to bed at altitude to keep my neck warm.
Polarized Sunglasses – You should definitely have polarized sunglasses. Snow blindness is a real thing, so this is important.
Fleece Gloves – Early morning hikes and high altitude days will require a good warm glove. A few girls I was with didn't have any and their fingers were freezing. Frost bite can happen on this trek if you're careless.
Winter Hat – Make sure to choose a warm and well-fitting hat. It gets windy up high so you want one that's snug on your head.
Baseball Cap – I had a baseball cap with me and that worked fine. If you want to spend extra you can get an official hiking hat with SPF protection. They're a bit expensive though if you're not an avid trekker.
1 Pair Hiking Boots – It took me a while to invest in a great pair of hiking boots because they aren't cheap, but I really love these. They have good grip and great ankle support. I'm super clumsy, so those things are important to me. I bought them on sale at REI so they were $160, and I'm part of the co-op so I'll get some money back at the end of the year. I know they'll last a long time and get a lot of use, so for me it was worth buying a high quality pair.
1 Pair Flip Flops – There are several places to take showers on this trek, so these are great for shower shoes. I also wore them in the teahouses. It's nice to have something to slip into besides your boots and they aren't heavy in your bag.
Medicine
Unfortunately, you never know what you might need, so it's best to carry a little bit of everything. My best advice is not to take full bottles or boxes of medicine. Just take out what you need, and put it in a small Zip Lock bag. That way you don't have the weight of the packaging or an entire bottle of pills when you'll only need ten.
Diamox – I don't take Diamox unless I'm experiencing symptoms of altitude sickness but I always have some on me.
Cold Medicine – I got a nasty cold on my first major trek and it sucked. Having cold medicine was a life saver.
Water Purification Tablets – Water isn't potable in Nepal, so you need to have a filtration system. This is the cheapest and lightest way to have clean drinking water.
Diarrhea Medicine – Traveler's diarrhea is very common in Nepal. I always have pills in my bag just in case.
Electrolyte Powder/Tablets – Staying hydrated at altitude is difficult. You have to drink 3L of water a day. These are great in case you feel dehydrated.
Vitamins – It's hard to get proper vegetables, fruit, or even protein above 4,000m so I always bring vitamin supplements to stay healthy.
Antibiotics – There are no western hospitals on the trek. I always carry a high-grade antibiotic in case of an emergency.
Pain Killers – Sore muscles can get intense, having a pain-killer is helpful if you have any back or knee problems. I never use mine, but I like having them for an emergency.
Neosporin – I've never needed to use this myself, but a friend cut her hand accidentally on a trek and this came in handy after washing it with hand sanitizer.
Bandaids or Compeed – It's best to break your shoes in before the trek, but blisters can always happen.
Activated Charcoal – This is known to cut down the recovery time of food poisoning. Note it can affect and negate other medication, so ask your doctor if it will interfere with any prescriptions you take.
Electronics
I would bring the bare minimum for electronics. Most tea houses have outlets and will let you charge things for free. Therefore, you don't need anything excessive like a solar panel. We did hit a chunk of the circuit that had lost power for over a month and my power bank (although heavy) came in handy. I would advise asking people who just returned from the trek what the electricity situation is.
Cell Phone & Charger – I always bring my cell phone. Sometimes there's a little bit of service and I like to check in with family when I can. There's also wifi on this route.
GoPro, Spare Batteries, Charger – I refuse to carry a giant camera so I take a GoPro to keep things light and compact.
Headlamp – Power outages are common and there's often no electricity at night.
Kindle – I refuse to carry books. I like that the kindle has a back light and is easy to read. It also holds a charge for a long time.
Audible – Don't like carrying a book or Kindle? Check out audible! You can sign up for a 30-day free trial and get two books free by clicking the banner below! If it's not for you, you can cancel any time.
Power Adapter – If you have American style plugs, you'll need an adapter to charge things.
Power Bank – I always have my power bank fully charged in case there is no power on route and I need to charge my GoPro or phone.
SIM Cards – I'd recommend a Namaste SIM since it seems to get better data in the mountains. Some hotels charged $1.00 for WiFi, so having a data plan will end up being cheaper if you really want to stay connected. You can read my post about SIM cards in Nepal.
Toiletries
I started out with a travel size shampoo and conditioner. After two days, I left them behind. I was able to buy small individual packets of shampoo along the way, so I didn't have to carry anything extra. Make sure everything you bring is small and travel sized. I wish I brought a lightweight comb instead of a heavy hairbrush. A tiny toothbrush and toothpaste are also good.
Hand Sanitizer – Hand soap isn't always available, so having a way to clean up is key.
Toothbrush (travel size)
Toothpaste
Small Comb
Soap
Biodegradable Wet Wipes – Some days you can't find access to showers or it's too cold to shower and there's no hot water. Wet wipe showers are a great alternative. These are biodegradable which I like since garbage disposal on the trek isn't great.
Nail Clipper
Tampons / Blossom Cup (pads can be bought along the way)
Vaseline – A mini vaseline is important for windy cold days. Put it on in the morning before going trekking. I didn't do this on one trek and got wind burn on my face ouch.
Toilet Paper – Pack 1 roll at the beginning of the trek and then buy more as you go. You won't find toilet paper in the teahouse bathrooms. It's important to bring your own.
Sunscreen (sweat proof) – I've seen so many people coming down from the mountains looking like lobsters. The sun is STRONG at altitude. Buy a good quality SPF 50 sweat proof sunscreen.
Other
Make sure to have copies of all your major documents plus your permits. I'd also recommend at least one trekking pole. Having one set of hand and toe warmers for the day you go over the pass is also helpful since it'll be cold in the morning.
Hand and Toe Warmers – These are good for the Tilicho Lake Base Camp trek and for the day you go over the pass. You only need to carry two hand and two toe warmers. I gave a bunch out to girls who forgot to bring gloves since I brought 6 of each kind with me.
Ziplock Bags – Never underestimate the need for ziplock bags
Copies of Passport and Visa
Trekking Permits
Trekking Pole – I used to hate trekking poles, but now I really love them. They really help make the hard days a little bit easier. You can rent some in Kathmandu for around $16 but I got this pair on sale for $25 so it was worth the investment to just buy some.
Sleeping Bag – I always bring a sleeping bag, but it weighed too much. I considered a fleece sleeping bag liner, but it took up too much room in my bag. Most tea houses have blankets. We went at the end of peak trekking season, so it was easy to get extra blankets if necessary. It was also extremely warm when I went in May. We were walking above 4000m (13,120 ft) with t-shirts on during the day. One day I'll invest in a sleeping bag, but for now I rent them in Kathmandu for less than $20 a trek.
Insurance Paperwork – I use World Nomad in case I ever need a helicopter rescue.
Annapurna Circuit Packing List Printout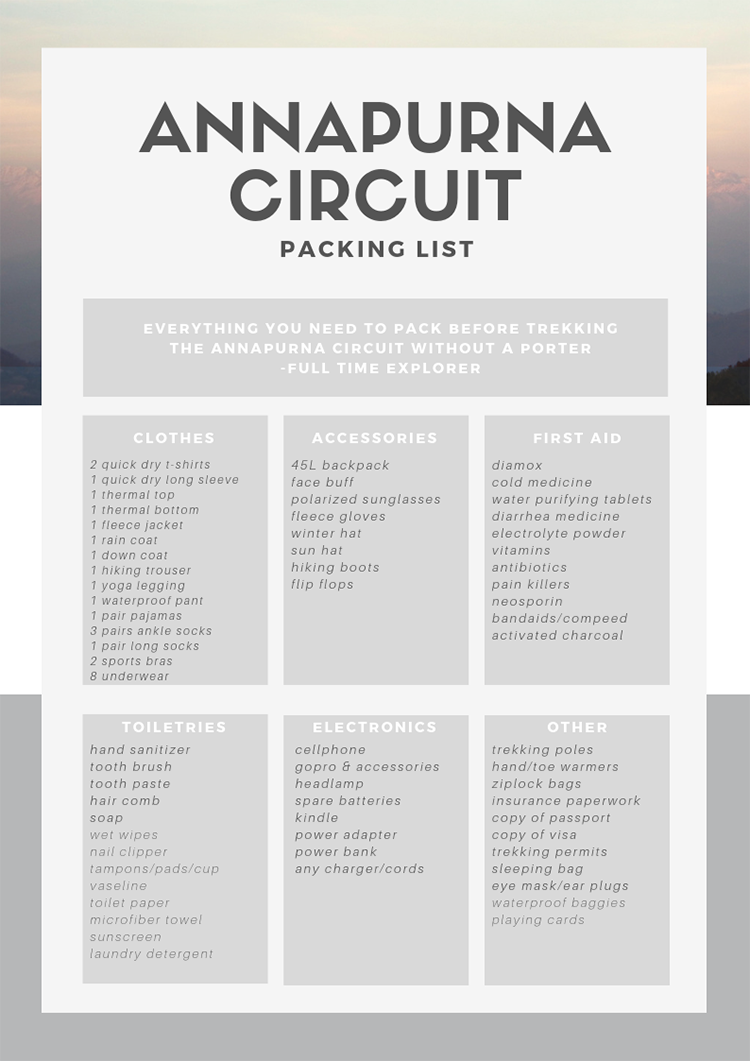 ---
You might also like…